Abstract
Purpose
To review available evidence to assess the efficacy and safety of thrombolysis therapy for non-cirrhosis-related portal vein thrombosis (PVT) that has not improved with anti-coagulation.
Methods
A literature search of databases MEDLINE, EMBASE, PUBMED, Cochrane and World Wide Web identified studies after 2000 utilizing portal vein thrombolysis in non-cirrhotic patients, with a minimum of 5 patients. Nine studies met criteria with 134 patients. The primary outcome evaluated was radiological re-canalization of the portal vein and symptomatic improvement post treatment. Secondary data points obtained included morbidity, mortality, thrombolysis approach and technique.
Results
The re-canalization rate following thrombolysis was 84% (0.67–1.02 CI 95%) and the symptomatic improvement rate 86% (0.70–1.01 CI 95%). The major complication rate was 7% (0.01–0.14 CI 95%) and the overall complication rate 25% (0.08–0.41 CI 95%). The direct and systemic thrombolysis approach showed no significant re-canalization rates with an odds ratio of 0.78 (0.24–2.55 CI 95%, P = 0.68). Thrombectomy in conjunction with thrombolysis demonstrated no improved patency or symptom relief with an odds ratio of 1 (0.17–6.03 CI 95%, P = 1.00).
Conclusion
Thrombolysis is an effective and safe therapy for portal vein thrombosis in non-cirrhotic patients where systemic anti-coagulation has failed. The heterogenicity of study thrombolysis protocols limits the evaluation of secondary outcomes, and future data should be standardized to determine the role of the thrombolysis access route and thrombectomy.
Access options
Buy single article
Instant access to the full article PDF.
US$ 39.95
Tax calculation will be finalised during checkout.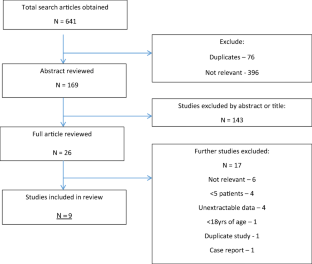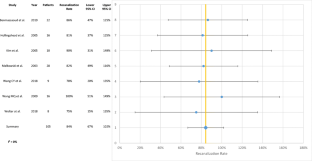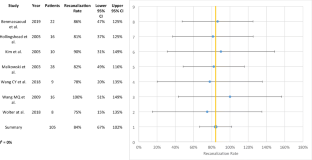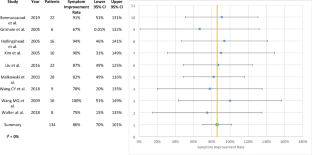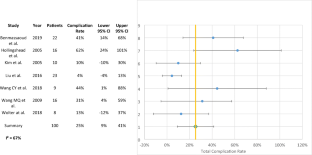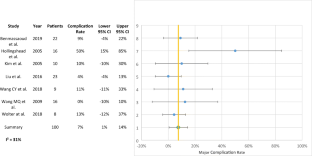 References
1.

Ogren M, Bergqvist D, Bjorck M, Acosta S, Eriksson H, Sternby NH. Portal vein thrombosis: prevalence, patient characteristics and lifetime risk: a population study based on 23,796 consecutive autopsies. World J Gastroenterol. 2006;12(13):2115-9.

2.

Rajani R, Björnsson E, Bergquist A, Danielsson Å, Gustavsson A, Grip O, et al. The epidemiology and clinical features of portal vein thrombosis: a multicentre study. Alimentary Pharmacology & Therapeutics. 2010;32(9):1154-62.

3.

Francoz C, Valla D, Durand F. Portal vein thrombosis, cirrhosis, and liver transplantation. Journal of Hepatology. 2012;57(1):203-12.

4.

Amitrano L, Guardascione MA, Menchise A, Martino R, Scaglione M, Giovine S, et al. Safety and efficacy of anticoagulation therapy with low molecular weight heparin for portal vein thrombosis in patients with liver cirrhosis. J Clin Gastroenterol. 2010;44(6):448-51.

5.

Francoz C, Belghiti J, Vilgrain V, Sommacale D, Paradis V, Condat B, et al. Splanchnic vein thrombosis in candidates for liver transplantation: usefulness of screening and anticoagulation. Gut. 2005;54(5):691.

6.

Gayowski TJ, Marino IR, Doyle HR, Echeverri L, Mieles L, Todo S, et al. A high incidence of native portal vein thrombosis in veterans undergoing liver transplantation. J Surg Res. 1996;60(2):333-8.

7.

Ponziani FR, Zocco MA, Campanale C, Rinninella E, Tortora A, Di Maurizio L, et al. Portal vein thrombosis: insight into physiopathology, diagnosis, and treatment. World J Gastroenterol. 2010;16(2):143-55.

8.

Plessier A, Darwish-Murad S, Hernandez-Guerra M, Consigny Y, Fabris F, Trebicka J, et al. Acute portal vein thrombosis unrelated to cirrhosis: a prospective multicenter follow-up study. Hepatology. 2010;51(1):210-8.

9.

Dentali F, Galli M, Gianni M, Ageno W. Inherited thrombophilic abnormalities and risk of portal vein thrombosis. Thromb Haemost. 2008;99(04):675-82.

10.

Maconi G, Bolzacchini E, Dell'Era A, Russo U, Ardizzone S, de Franchis R. Portal vein thrombosis in inflammatory bowel diseases: A single-center case series☆. Journal of Crohn's and Colitis. 2012;6(3):362-7.

11.

DeLeve LD, Valla D-C, Garcia-Tsao G. Vascular disorders of the liver. Hepatology. 2009;49(5):1729-64.

12.

Sharma AM, Zhu D, Henry Z. Portal vein thrombosis: When to treat and how? Vascular Medicine. 2015;21(1):61-9.

13.

Abu-Daff S, Abu-Daff N, Al-Shahed M. Mesenteric Venous Thrombosis and Factors Associated with Mortality: A Statistical Analysis with Five-Year Follow-Up. Journal of Gastrointestinal Surgery. 2009;13(7):1245-50.

14.

Brunaud L, Antunes L, Collinet-Adler S, Marchal F, Ayav A, Bresler L, et al. Acute mesenteric venous thrombosis: Case for nonoperative management. Journal of Vascular Surgery. 2001;34(4):673-9.

15.

Hall TC, Garcea G, Metcalfe M, Bilku D, Dennison AR. Management of Acute Non-cirrhotic and Non-malignant Portal Vein Thrombosis: A Systematic Review. World Journal of Surgery. 2011;35(11):2510.

16.

Espeel B, Gerard C, Mansvelt B, Bertrand C, Vermonden J. Extensive mesenteric venous thrombosis treatment by regional thrombolysis. Ann Fr Anesth Reanim. 2005;24(3):274-7.

17.

Kim HS, Patra A, Khan J, Arepally A, Streiff MB. Transhepatic Catheter-directed Thrombectomy and Thrombolysis of Acute Superior Mesenteric Venous Thrombosis. Journal of Vascular and Interventional Radiology. 2005;16(12):1685-91.

18.

Semiz-Oysu A, Keussen I, Cwikiel W. Interventional Radiological Management of Prehepatic Obstruction the Splanchnic Venous System. CardioVascular and Interventional Radiology. 2007;30(4):688-95.

19.

Wang MQ, Liu FY, Duan F, Wang ZJ, Song P, Fan QS. Acute symptomatic mesenteric venous thrombosis: treatment by catheter-directed thrombolysis with transjugular intrahepatic route. Abdominal Imaging. 2011;36(4):390-8.

20.

Moher D, Liberati A, Tetzlaff J, Altman DG, The PG. Preferred Reporting Items for Systematic Reviews and Meta-Analyses: The PRISMA Statement. PLOS Medicine. 2009;6(7):e1000097.

21.

Neyeloff JL, Fuchs SC, Moreira LB. Meta-analyses and Forest plots using a microsoft excel spreadsheet: step-by-step guide focusing on descriptive data analysis. BMC Research Notes. 2012;5(1):52.

22.

Higgins JPT, Thompson SG, Deeks JJ, Altman DG. Measuring inconsistency in meta-analyses. BMJ. 2003;327(7414):557.

23.

Review Manager (RevMan). Version 5.3 ed Copenhagen: The Nordic Cochrane Centre: The Cochrane Collaboration; 2014.

24.

Benmassaoud A, AlRubaiy L, Yu D, Chowdary P, Sekhar M, Parikh P, et al. A stepwise thrombolysis regimen in the management of acute portal vein thrombosis in patients with evidence of intestinal ischaemia. Alimentary Pharmacology & Therapeutics. 2019;50(9):1049-58.

25.

Hollingshead M, Burke CT, Mauro MA, Weeks SM, Dixon RG, Jaques PF. Transcatheter Thrombolytic Therapy for Acute Mesenteric and Portal Vein Thrombosis. Journal of Vascular and Interventional Radiology. 2005;16(5):651-61.

26.

Liu K, Li WD, Du XL, Li CL, Li XQ. Comparison of Systemic Thrombolysis Versus Indirect Thrombolysis via the Superior Mesenteric Artery in Patients with Acute Portal Vein Thrombosis. Ann Vasc Surg. 2017;39:264-9.

27.

Wang MQ, Guo LP, Lin HY, Liu FY, Duan F, Wang ZJ. Transradial Approach for Transcatheter Selective Superior Mesenteric Artery Urokinase Infusion Therapy in Patients with Acute Extensive Portal and Superior Mesenteric Vein Thrombosis. CardioVascular and Interventional Radiology. 2010;33(1):80-9.

28.

Wang CY, Wei LQ, Niu HZ, Gao WQ, Wang T, Chen SJ. Agitation thrombolysis combined with catheter-directed thrombolysis for the treatment of non-cirrhotic acute portal vein thrombosis. World J Gastroenterol. 2018;24(39):4482-8.

29.

Wolter K, Decker G, Kuetting D, Trebicka J, Manekeller S, Meyer C, et al. Interventional Treatment of Acute Portal Vein Thrombosis. Fortschr Röntgenstr. 2018;190(08):740-6.

30.

Malkowski P, Pawlak J, Michalowicz B, Szczerban J, Wroblewski T, Leowska E, et al. Thrombolytic treatment of portal thrombosis. Hepatogastroenterology. 2003;50(54):2098-100.

31.

Grisham A, Lohr J, Guenther JM, Engel AM. Deciphering mesenteric venous thrombosis: imaging and treatment. Vasc Endovascular Surg. 2005;39(6):473-9.

32.

Condat B, Pessione F, Hillaire S, Denninger M-H, Guillin M-C, Poliquin M, et al. Current outcome of portal vein thrombosis in adults: Risk and benefit of anticoagulant therapy. Gastroenterology. 2001;120(2):490-7.

33.

Spaander MC, Hoekstra J, Hansen BE, Van Buuren HR, Leebeek FW, Janssen HL. Anticoagulant therapy in patients with non-cirrhotic portal vein thrombosis: effect on new thrombotic events and gastrointestinal bleeding. J Thromb Haemost. 2013;11(3):452-9.

34.

Lang SA, Loss M, Wohlgemuth WA, Schlitt HJ. Clinical Management of Acute Portal/Mesenteric Vein Thrombosis. Viszeralmedizin. 2014;30(6):394-400.

35.

Oldenburg WA, Lau LL, Rodenberg TJ, Edmonds HJ, Burger CD. Acute mesenteric ischemia: a clinical review. Arch Intern Med. 2004;164(10):1054-62.

36.

Kearon C, Akl EA, Comerota AJ, Prandoni P, Bounameaux H, Goldhaber SZ, et al. Antithrombotic Therapy for VTE Disease: Antithrombotic Therapy and Prevention of Thrombosis, 9th ed: American College of Chest Physicians Evidence-Based Clinical Practice Guidelines. CHEST. 2012;141(2):e419S-e96S.

37.

Mewissen MW, Seabrook GR, Meissner MH, Cynamon J, Labropoulos N, Haughton SH. Catheter-directed thrombolysis for lower extremity deep venous thrombosis: report of a national multicenter registry. Radiology. 1999;211(1):39-49.

38.

Sze DY, O'Sullivan GJ, Johnson DL, Dake MD. Mesenteric and Portal Venous Thrombosis Treated by Transjugular Mechanical Thrombolysis. American Journal of Roentgenology. 2000;175(3):732-4.

39.

Uflacker R. Applications of percutaneous mechanical thrombectomy in transjugular intrahepatic portosystemic shunt and portal vein thrombosis. Tech Vasc Interv Radiol. 2003;6(1):59-69.
Ethics declarations
Conflict of Interest
The authors declare that they have no competing interests.
Additional information
Permissions
Nil permissions were required.
Publisher's Note
Springer Nature remains neutral with regard to jurisdictional claims in published maps and institutional affiliations.
About this article
Cite this article
Cheng, Q., Tree, K. Systematic Review of Thrombolysis Therapy in the Management of Non-Cirrhosis-Related Portal Vein Thrombosis. J Gastrointest Surg (2021). https://doi.org/10.1007/s11605-020-04624-4
Received:

Accepted:

Published:
Keywords
Portal vein thrombosis

Portal vein

Thrombosis

Thrombolysis

Thrombectomy