Abstract
Background
Small bowel obstruction (SBO) no longer mandates urgent surgical evaluation raising the question of the role of operating room (OR) access on SBO outcomes.
Methods
Data from our 2015 survey on emergency general surgery (EGS) practices, including queries on OR availability and surgical staffing, were anonymously linked to adult SBO patient data from 17 Statewide Inpatient Databases (SIDs). Univariate and multivariable associations between OR access and timing of operation, complications, length of stay (LOS), and in-hospital mortality were measured.
Results
Of 32,422 SBO patients, 83% were treated non-operatively. Operative patients were older (median 66 vs 65 years), had more comorbidities (53% vs 46% with ≥ 3), and experienced more systemic complications (36% vs 23%), higher mortality (2.8% vs 1.4%), and longer LOS (median 10 vs 4 days). Patients had lower odds of operation if treated at hospitals lacking processes to tier urgent cases (aOR 0.90, 95% CI [0.83–0.99]) and defer elective cases (aOR 0.87 [0.80–0.94]). Patients had higher odds of operation if treated at hospitals with surgeons sometimes (aOR 1.14 [1.04–1.26]) or rarely/never (aOR 1.16 [1.06–1.26]) covering EGS at more than one location compared to always. Odds of systemic complication (OR 2.0 [1.6–2.4]), operative complication (OR 1.5 [1.2–1.8]), and mortality were increased for very late versus early operation (OR 2.6 [1.7–4.0]).
Conclusions
Although few patients with SBO require emergency surgery, we identified EGS structures and processes that are important for providing timely and appropriate intervention for patients whose SBO remains unresolved and requires surgery.
Access options
Buy single article
Instant access to the full article PDF.
USD 39.95
Price excludes VAT (USA)
Tax calculation will be finalised during checkout.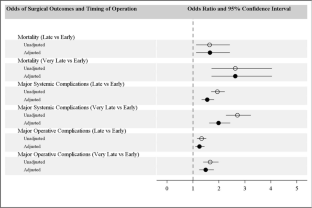 References
Sikirica V, Bapat B, Candrilli SD, Davis KL, Wilson M, Johns A. The inpatient burden of abdominal and gynecological adhesiolysis in the US. BMC Surg. 2011;11:13.

Hwang J-Y, Lee JK, Lee JE, Baek SY. Value of multidetector CT in decision making regarding surgery in patients with small-bowel obstruction due to adhesion. Eur Radiol. 2009;19:2425–31.

Ray NF, Denton WG, Thamer M, Henderson SC, Perry S. Abdominal adhesiolysis: inpatient care and expenditures in the United States in 1994. J Am Coll Surg. 1998;186:1–9.

Wandling MW, Ko CY, Bankey PE, Cribari C, Cryer HG, Diaz JJ, et al. Expanding the scope of quality measurement in surgery to include nonoperative care: Results from the American College of Surgeons National Surgical Quality Improvement Program emergency general surgery pilot. J Trauma Acute Care Surg. 2017;83:837–45.

Hwabejire JO, Tran DD, Fullum TM. Non-operative management of adhesive small bowel obstruction: Should there be a time limit after which surgery is performed? Am J Surg. 2018;215:1068–70.

Matsushima K, Sabour A, Park C, Strumwasser A, Inaba K, Demetriades D. Management of adhesive small bowel obstruction: a distinct paradigm shift in the United States. J Trauma Acute Care Surg. 2018.

Zielinski MD, Haddad NN, Cullinane DC, Inaba K, Yeh DD, Wydo S, et al. Multi-institutional, prospective, observational study comparing the Gastrografin challenge versus standard treatment in adhesive small bowel obstruction. J Trauma Acute Care Surg. 2017;83:47–54.

Committee to Develop the Reorganized Specialty of Trauma, Surgical Critical Care, and Emergency Surgery. Acute care surgery: trauma, critical care, and emergency surgery. J Trauma. 2005;58:614–6.

Lynge DC, Larson EH, Thompson MJ, Rosenblatt RA, Hart LG. A longitudinal analysis of the general surgery workforce in the United States, 1981-2005. Arch Surg Chic Ill 1960. 2008;143:345–50; discussion 351.

Williams TE, Ellison EC. Population analysis predicts a future critical shortage of general surgeons. Surgery. 2008;144:548–54; discussion 554-556.

Khubchandani JA, Ingraham AM, Daniel VT, Ayturk D, Kiefe CI, Santry HP. Geographic Diffusion and Implementation of Acute Care Surgery: An Uneven Solution to the National Emergency General Surgery Crisis. JAMA Surg. 2018;153:150–9.

Ricci KB, Rushing AP, Daniel VT, Ingraham AM, Paredes AZ, Diaz A, et al. The Association between Self-Declared Acute Care Surgery Services and Operating Room Access: Results from a National Survey. J Trauma Acute Care Surg. 2019;Publish Ahead of Print.

Institute of Medicine. Hospital-Based Emergency Care: At the Breaking Point. Washington, DC: The National Academies Press; 2007. https://doi.org/10.17226/11621.

Fischer JE. The impending disappearance of the general surgeon. JAMA. 2007;298:2191–3.

Division of Advocacy and Health Policy. A growing crisis in patient access to emergency surgical care. Bull Am Coll Surg. 2006;91:8–19.

Goldberg RF, Reid-Lombardo KM, Hoyt D, Pellegrini C, Rattner DW, Kent T, et al. Will there be a good general surgeon when you need one? J Gastrointest Surg Off J Soc Surg Aliment Tract. 2014;18:1032–9.

Khubchandani JA, Shen C, Ayturk D, Kiefe CI, Santry HP. Disparities in access to emergency general surgery care in the United States. Surgery. 2018;163:243–50.

Daniel VT, Ingraham AM, Khubchandani JA, Ayturk D, Kiefe CI, Santry HP. Variations in the Delivery of Emergency General Surgery Care in the Era of Acute Care Surgery. Jt Comm J Qual Patient Saf. 2018.

Ingraham AM, Ayturk MD, Kiefe CI, Santry HP. Adherence to 20 Emergency General Surgery Best Practices: Results of a National Survey. Ann Surg. 2018.

Introduction to the HCUP State Inpatient Databases (SID). https://www.hcup-us.ahrq.gov/db/state/siddist/SID_Introduction.jsp. Accessed 13 Nov 2018.

Elixhauser A, Steiner C, Harris DR, Coffey RM. Comorbidity measures for use with administrative data. Med Care. 1998;36:8–27.

Collins CE, Pringle PL, Santry HP. Innovation or rebranding, acute care surgery diffusion will continue. J Surg Res. 2015;197:354–62.

Santry HP, Pringle PL, Collins CE, Kiefe CI. A qualitative analysis of acute care surgery in the United States: it's more than just "a competent surgeon with a sharp knife and a willing attitude." Surgery. 2014;155:809–25.

Santry HP, Madore JC, Collins CE, Ayturk MD, Velmahos GC, Britt LD, et al. Variations in the implementation of acute care surgery: results from a national survey of university-affiliated hospitals. J Trauma Acute Care Surg. 2015;78:60–7; discussion 67-68.

Cox MR, Gunn IF, Eastman MC, Hunt RF, Heinz AW. The safety and duration of non-operative treatment for adhesive small bowel obstruction. Aust N Z J Surg. 1993;63:367–71.

Fevang BT, Jensen D, Svanes K, Viste A. Early operation or conservative management of patients with small bowel obstruction? Eur J Surg Acta Chir. 2002;168:475–81.

Maung AA, Johnson DC, Piper GL, Barbosa RR, Rowell SE, Bokhari F, et al. Evaluation and management of small-bowel obstruction: an Eastern Association for the Surgery of Trauma practice management guideline. J Trauma Acute Care Surg. 2012;73 5 Suppl 4:S362–369.

Fevang BT, Jensen D, Fevang J, Søndenaa K, Ovrebø K, Røkke O, et al. Upper gastrointestinal contrast study in the management of small bowel obstruction--a prospective randomised study. Eur J Surg Acta Chir. 2000;166:39–43.

Ceresoli M, Coccolini F, Catena F, Montori G, Di Saverio S, Sartelli M, et al. Water-soluble contrast agent in adhesive small bowel obstruction: a systematic review and meta-analysis of diagnostic and therapeutic value. Am J Surg. 2016;211:1114–25.

Schraufnagel D, Rajaee S, Millham FH. How many sunsets? Timing of surgery in adhesive small bowel obstruction: a study of the Nationwide Inpatient Sample. J Trauma Acute Care Surg. 2013;74:181–7; discussion 187-189.

Pearl JP, Marks JM, Hardacre JM, Ponsky JL, Delaney CP, Rosen MJ. Laparoscopic treatment of complex small bowel obstruction: is it safe? Surg Innov. 2008;15:110–3.

Wang Q, Hu ZQ, Wang WJ, Zhang J, Wang Y, Ruan CP. Laparoscopic management of recurrent adhesive small-bowel obstruction: Long-term followup. Surg Today. 2009;39:493–9.

O'Connor DB, Winter DC. The role of laparoscopy in the management of acute small-bowel obstruction: a review of over 2,000 cases. Surg Endosc. 2012;26:12–7.

Zerey M, Sechrist CW, Kercher KW, Sing RF, Matthews BD, Heniford BT. The laparoscopic management of small-bowel obstruction. Am J Surg. 2007;194:882–7; discussion 887-888.
Acknowledgments
The authors would like to thank Dr. Catarina I Kiefe, Professor and Chair, and Ms. M. Didem Ayturk, Biostatistician Department of Population & Quantitative Health Sciences at the University of Massachusetts Medical School, for their contributions to the overall aims of the project from which this research originates and for earlier analyses, respectively.
Funding
This research is supported by a grant from the Agency for Healthcare Research Quality (R01HS022694) to HPS. The content represents the thoughts and opinions of the authors and not the funding agencies. Dr. Heena Santry and Dr. Victor Heh had full access to all the data in the study and take responsibility for the integrity of the data and the accuracy of the data analysis.
Ethics declarations
Conflict of Interest
Dr. Santry is a paid consultant by the Johnson & Johnson Company on a fragility fracture advisory board. The submitted work is not related to this topic.
Additional information
Publisher's Note
Springer Nature remains neutral with regard to jurisdictional claims in published maps and institutional affiliations.
Electronic Supplementary Material
About this article
Cite this article
Diaz, A., Ricci, K.B., Rushing, A.P. et al. Re-examining "Never Letting the Sun Rise or Set on a Bowel Obstruction" in the Era of Acute Care Surgery. J Gastrointest Surg 25, 512–522 (2021). https://doi.org/10.1007/s11605-019-04496-3
Received:

Accepted:

Published:

Issue Date:

DOI: https://doi.org/10.1007/s11605-019-04496-3
Keywords
Emergency general surgery

workforce

mortality

survey

small bowel obstruction