Abstract
Background
We sought to assess the effect of nurse-to-patient ratio on outcomes with a focus on defining whether nurse-to-patient ratio altered outcomes relative to pancreaticoduodenectomy (PD) surgeon specific volume.
Methods
Medicare SAFs from 2013–2015 were used to identify patients who underwent PD. Nurse-to-patient ratio, PD specific surgeon volume were stratified. Association of factors associated with short term outcomes was evaluated.
Results
Overall, 6668 patients (median age 73, IQR 68–77; 52.8% male) were identified. The median annual PD volume of surgeons in the highest volume tier was 24 (IQR 21–29), whereas surgeons in the lowest tier performed 2 PDs annually (IQR 1–3) (p < 0.001). Compared with hospitals that had the highest nurse-to-patient ratio tier, patients at hospitals with the lowest nurse-to-patient ratio tier were 26% more likely to have a complication (OR 1.26, 95% CI 1.02–1.55). Additionally, patients of surgeons in the lowest tier had 43% greater odds of suffering a complication compared to patients of surgeons in the highest tier (OR 1.43, 95% CI 1.11–1.84). However, patients who underwent a PD by a surgeon within the lowest tier had similar odds of a complication irrespective of nurse-to-patient ratio (OR 1.34, 95% CI 0.97–1.86).
Conclusion
Compared with patients who underwent an operation by a surgeon in highest PD volume tier, patients treated by surgeons in the lowest tier had higher odds of post-operative complications which was not mitigated by a higher nurse-to-patient ratio.
Access options
Buy single article
Instant access to the full article PDF.
USD 39.95
Price excludes VAT (USA)
Tax calculation will be finalised during checkout.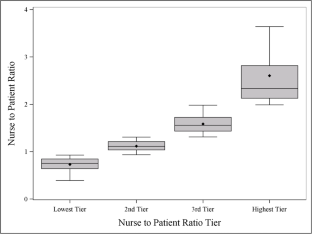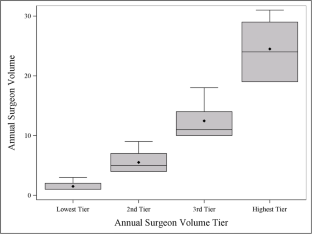 References
Likosky DS. Clinical microsystems: a critical framework for crossing the quality chasm. J Extra Corpor Technol. 2014;46(1):33-7.

Donaldson MS, Mohr JJ. Exploring Innovation and Quality Improvement in Health Care Micro-Systems: A Cross-Case Analysis. Washington (DC) 2001.

Sanchez JA, Barach PR. High reliability organizations and surgical microsystems: re-engineering surgical care. Surg Clin North Am. 2012;92(1):1-14.

Sheetz KH, Dimick JB, Ghaferi AA. Impact of Hospital Characteristics on Failure to Rescue Following Major Surgery. Ann Surg. 2016;263(4):692-7.

Ghaferi AA, Osborne NH, Birkmeyer JD, Dimick JB. Hospital characteristics associated with failure to rescue from complications after pancreatectomy. J Am Coll Surg. 2010;211(3):325-30.

Chen Q, Olsen G, Bagante F, Merath K, Idrees JJ, Akgul O, et al. Procedure-Specific Volume and Nurse-to-Patient Ratio: Implications for Failure to Rescue Patients Following Liver Surgery. World J Surg. 2019;43(3):910-9.

Mehta HB, Parmar AD, Adhikari D, Tamirisa NP, Dimou F, Jupiter D, et al. Relative impact of surgeon and hospital volume on operative mortality and complications following pancreatic resection in Medicare patients. J Surg Res. 2016;204(2):326-34.

Nappo G, Perinel J, El Bechwaty M, Adham M. The Standardization of Pancreatoduodenectomy: Where Are We? Pancreas. 2016;45(4):493-502.

Kneuertz PJ, Pitt HA, Bilimoria KY, Smiley JP, Cohen ME, Ko CY, et al. Risk of morbidity and mortality following hepato-pancreato-biliary surgery. J Gastrointest Surg. 2012;16(9):1727-35.

Okunrintemi V, Gani F, Pawlik TM. National Trends in Postoperative Outcomes and Cost Comparing Minimally Invasive Versus Open Liver and Pancreatic Surgery. J Gastrointest Surg. 2016;20(11):1836-43.

Schneider EB, Hyder O, Wolfgang CL, Dodson RM, Haider AH, Herman JM, et al. Provider versus patient factors impacting hospital length of stay after pancreaticoduodenectomy. Surgery. 2013;154(2):152-61.

Massachusetts Question 1, Nurse-Patient Assignment Limits Initiative (2018) [Available from: https://ballotpedia.org/Massachusetts_Question_1,_Nurse-Patient_Assignment_Limits_Initiative_(2018).

Kelly L, Vincent D. The dimensions of nursing surveillance: a concept analysis. J Adv Nurs. 2011;67(3):652-61.

Powell-Cope G, Nelson AL, Patterson ES. Patient Care Technology and Safety. In: Hughes RG, editor. Patient Safety and Quality: An Evidence-Based Handbook for Nurses. Advances in Patient Safety. Rockville (MD) 2008.

Driscoll A, Grant MJ, Carroll D, Dalton S, Deaton C, Jones I, et al. The effect of nurse-to-patient ratios on nurse-sensitive patient outcomes in acute specialist units: a systematic review and meta-analysis. Eur J Cardiovasc Nurs. 2018;17(1):6-22.

Quan H, Sundararajan V, Halfon P, Fong A, Burnand B, Luthi JC, et al. Coding algorithms for defining comorbidities in ICD-9-CM and ICD-10 administrative data. Med Care. 2005;43(11):1130-9.

Iezzoni LI, Daley J, Heeren T, Foley SM, Hughes JS, Fisher ES, et al. Using administrative data to screen hospitals for high complication rates. Inquiry. 1994;31(1):40-55.

Iezzoni LI, Daley J, Heeren T, Foley SM, Fisher ES, Duncan C, et al. Identifying complications of care using administrative data. Med Care. 1994;32(7):700-15.

Osborne NH, Nicholas LH, Ryan AM, Thumma JR, Dimick JB. Association of hospital participation in a quality reporting program with surgical outcomes and expenditures for Medicare beneficiaries. JAMA. 2015;313(5):496-504.

Spetz J, Donaldson N, Aydin C, Brown DS. How many nurses per patient? Measurements of nurse staffing in health services research. Health Serv Res. 2008;43(5 Pt 1):1674-92.

Tan P-N, Steinbach M, Karpatne A, Kumar V. Introduction to Data Mining. 2 ed: Pearson; 2018.

Ward ST, Dimick JB, Zhang W, Campbell DA, Ghaferi AA. Association Between Hospital Staffing Models and Failure to Rescue. Ann Surg. 2019; 270(1):91-94.

Merath K, Chen Q, Bagante F, Sun S, Akgul O, Idrees JJ, et al. Variation in the cost-of-rescue among medicare patients with complications following hepatopancreatic surgery. HPB (Oxford). 2019; 21(3):310-318.

Birkmeyer JD, Stukel TA, Siewers AE, Goodney PP, Wennberg DE, Lucas FL. Surgeon volume and operative mortality in the United States. N Engl J Med. 2003;349(22):2117-27.

Birkmeyer JD, Dimick JB. Potential benefits of the new Leapfrog standards: effect of process and outcomes measures. Surgery. 2004;135(6):569-75.

Nathan H, Cameron JL, Choti MA, Schulick RD, Pawlik TM. The volume-outcomes effect in hepato-pancreato-biliary surgery: hospital versus surgeon contributions and specificity of the relationship. J Am Coll Surg. 2009;208(4):528-38.

Schmidt CM, Turrini O, Parikh P, House MG, Zyromski NJ, Nakeeb A, et al. Effect of hospital volume, surgeon experience, and surgeon volume on patient outcomes after pancreaticoduodenectomy: a single-institution experience. Arch Surg. 2010;145(7):634-40.

Pecorelli N, Balzano G, Capretti G, Zerbi A, Di Carlo V, Braga M. Effect of surgeon volume on outcome following pancreaticoduodenectomy in a high-volume hospital. J Gastrointest Surg. 2012;16(3):518-23.

Dimick JB, Swoboda SM, Pronovost PJ, Lipsett PA. Effect of nurse-to-patient ratio in the intensive care unit on pulmonary complications and resource use after hepatectomy. Am J Crit Care. 2001;10(6):376-82.

Ramzan AA, Behbakht K, Corr BR, Sheeder J, Guntupalli SR. Minority Race Predicts Treatment by Non-gynecologic Oncologists in Women with Gynecologic Cancer. Ann Surg Oncol. 2018;25(12):3685-91.

Rothenberg BM, Pearson T, Zwanziger J, Mukamel D. Explaining disparities in access to high-quality cardiac surgeons. Ann Thorac Surg. 2004;78(1):18-24; discussion -5.

Sheka AC, Kizy S, Wirth K, Grams J, Leslie D, Ikramuddin S. Racial disparities in perioperative outcomes after bariatric surgery. Surg Obes Relat Dis. 2018.

Udyavar NR, Salim A, Cornwell EE, Hashmi Z, Lipsitz SR, Havens JM, et al. Racial Differences in Complication Risk Following Emergency General Surgery: Who Your Surgeon Is May Matter. Journal of Surgical Research. 2019;235:424-31.

Weingart SN, Iezzoni LI, Davis RB, Palmer RH, Cahalane M, Hamel MB, et al. Use of administrative data to find substandard care: validation of the complications screening program. Med Care. 2000;38(8):796-806.
Additional information
Publisher's Note
Springer Nature remains neutral with regard to jurisdictional claims in published maps and institutional affiliations.
About this article
Cite this article
Paredes, A.Z., Hyer, J.M., Tsilimigras, D.I. et al. Interaction of Surgeon Volume and Nurse-to-Patient Ratio on Post-operative Outcomes of Medicare Beneficiaries Following Pancreaticoduodenectomy. J Gastrointest Surg 24, 2551–2559 (2020). https://doi.org/10.1007/s11605-019-04449-w
Received:

Accepted:

Published:

Issue Date:

DOI: https://doi.org/10.1007/s11605-019-04449-w
Keywords
Surgeon volume

Nurse-to-patient ratio

Pancreaticoduodenectomy