Abstract
Purpose
To identify discrepancies between intraoperative and histological evaluations of the appendix in acute appendicitis and to evaluate the effect on surgical outcome.
Methods
Data was used from our previous multicentre, prospective, cohort study of patients with suspected acute appendicitis. Appendices were scored during intraoperative and histological evaluation as uncomplicated or complicated appendicitis. Primary outcome was percentage of concordance between intraoperative and histological evaluation. Secondary outcomes were (infectious) postoperative complications, length of hospital stay, hospital re-admission and re-intervention rate, all within 30 days of surgery.
Results
A total of 1850 patients were included. In 65.7% (1215/1850) of the appendices, the intraoperative evaluation was uncomplicated and in 34.3% (635/1850), complicated appendicitis. Patients with uncomplicated appendicitis had a postoperative course with significantly less postoperative complications (7.2% vs 24.3%), a shorter length of hospital stay (2 vs 5 days) and a lower re-admission (4.2% vs 9.6%) and re-intervention rate (1.1% vs 4.3%) than intraoperative complicated appendicitis (p < 0.001). In 93.5% (1136/1215) of the intraoperative uncomplicated patients and in 46.6% (296/635) of the intraoperative complicated patients, there was an agreement with pathology (Kappa 0.45). In 23.9% (81/339) of patients with intraoperative complicated and histological uncomplicated appendicitis, a postoperative complication was observed, which was similar to the postoperative complication rate of complicated appendicitis both on intraoperative and histological evaluation (24.7% (73/296)).
Conclusions
There is a moderate agreement between a surgeon and pathologist in diagnosing patients with complicated appendicitis. However, the intraoperative diagnosis of complicated appendicitis was significantly associated with postoperative complications. Routine histological evaluation should be preserved for excluding malignancies in suspect appendices.
This is a preview of subscription content, log in to check access.
Access options
Buy single article
Instant access to the full article PDF.
US$ 39.95
Price includes VAT for USA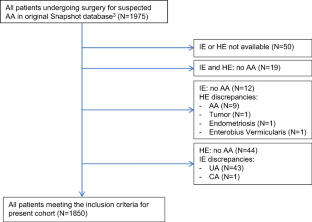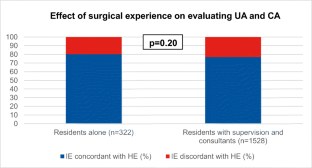 References
1.

Stewart B, Khanduri P, McCord C, et al. Global disease burden of conditions requiring emergency surgery. Br J Surg. 2014. https://doi.org/10.1002/bjs.9329.

2.

CBS appendectomies.

3.

Van Rossem CC, Bolmers M, Schreinemacher MHF, Van Geloven AAW, Bemelman WA. Prospective nationwide outcome audit of surgery for suspected acute appendicitis. 2015. https://doi.org/10.1002/bjs.9964.

4.

Buckius MT, McGrath B, Monk J, Grim R, Bell T, Ahuja V. Changing epidemiology of acute appendicitis in the United States: Study period 1993-2008. J Surg Res. 2012. https://doi.org/10.1016/j.jss.2011.07.017.

5.

Cueto J, D'Allemagne B, Vázquez-Frias JA, et al. Morbidity of laparoscopic surgery for complicated appendicitis: An international study. Surg Endosc Other Interv Tech. 2006. https://doi.org/10.1007/s00464-005-0402-4.

6.

Kay Yau K, Tai Siu W, Ngai Tang C, Pei Cheung Yang G, Ka Wah Li M. Laparoscopic Versus Open Appendectomy for Complicated Appendicitis. https://doi.org/10.1016/j.jamcollsurg.2007.03.017.

7.

Bliss D, McKee J, Cho D, et al. Discordance of the pediatric surgeon's intraoperative assessment of pediatric appendicitis with the pathologists report. J Pediatr Surg. 2010. https://doi.org/10.1016/j.jpedsurg.2010.02.048.

8.

Fallon SC, Kim ME, Hallmark CA, et al. Correlating surgical and pathological diagnoses in pediatric appendicitis. J Pediatr Surg. 2015. https://doi.org/10.1016/j.jpedsurg.2014.11.001.

9.

Landis JR, Koch GG. The Measurement of Observer Agreement for Categorical Data. Biometrics. 1977. https://doi.org/10.2307/2529310.

10.

Feinstein AR, Cicchetti D V. High agreement but low Kappa: I. the problems of two paradoxes. J Clin Epidemiol. 1990. https://doi.org/10.1016/0895-4356(90)90158-L.

11.

Hajian-Tilaki K. Receiver operating characteristic (ROC) curve analysis for medical diagnostic test evaluation. Casp J Intern Med. 2013. https://doi.org/10.1017/CBO9781107415324.004.

12.

Cicchetti D V, Feinstien a R. High Agreement but Low Kappa. J Clin Epidemiol. 1990;43(6):551–585. https://doi.org/10.1016/0895-4356(90)90159-M.

13.

Marudanayagam R, Williams GT, Rees BI. Review of the pathological results of 2660 appendicectomy specimens. J Gastroenterol. 2006. https://doi.org/10.1007/s00535-006-1855-5.

14.

Pardy C, Rajwani K, Lahiri R. Laparoscopic Appendectomy for Chronic Right Iliac Fossa Pain: Correlating Histology with Outcome. https://doi.org/10.1089/lap.2015.0431.

15.

Roberts JK, Behravesh M, Dmitrewski J. Macroscopic Findings at Appendicectomy Are Unreliable: Implications for Laparoscopy and Malignant Conditions of the Appendix. https://doi.org/10.1177/1066896908315746.

16.

Correa J, Jimeno J, Vallverdu H, et al. Correlation Between Intraoperative Surgical Diagnosis of Complicated Acute Appendicitis and the Pathology Report: Clinical Implications. https://doi.org/10.1089/sur.2013.155.

17.

Tind S, Qvist N. Acute Appendicitis: A Weak Concordance Between Perioperative Diagnosis, Pathology and Peritoneal Fluid Cultivation. https://doi.org/10.1007/s00268-016-3686-8.

18.

Ponsky TA, Hafi M, Heiss K, Dinsmore J, Newman KD, Gilbert J. Interobserver Variation in the Assessment of Appendiceal Perforation. J Laparoendosc Adv Surg Tech. 2009;19(1). https://doi.org/10.1089/lap.2008.0095.supp.

19.

Pham H, Devadas M, Howle J. Effect of surgical experience on the macroscopic diagnosis of appendicitis: A retrospective cohort study. Int J Surg. 2015. https://doi.org/10.1016/j.ijsu.2015.02.019.

20.

Imran JB, Madni TD, Minshall CT, et al. Predictors of a histopathologic diagnosis of complicated appendicitis. J Surg Res. 2017;214:197–202. https://doi.org/10.1016/j.jss.2017.02.051.

21.

van den Boom AL, de Wijkerslooth EML, Mauff KAL, Dawson I, van Rossem CC, Toorenvliet BR, Wijnhoven BPL: Interobserver variability in the classification of appendicitis during laparoscopy. Br J Surg 2018, 105(8):1014–1019.
Acknowledgement
Snapshot Appendicitis Collaborative Study group: Van AckerGJ, Akkermans B, AkkersdijkGJ, Algie GD, Allema JH, Andeweg CS, Appeldoorn N, van Baal JG, den Bakker CM, Bartels SA, van den Berg C, Boekestijn, B, den Boer FC, Boerma D, van den Boom AL, Boute MC, Bouwense SA, Bransen J, van Brussel FA, Busch OR, de Castro SM, Cense HA, Croese, C, van dalen T, Dawson I, van Dessel E, Dettmers R, DharN, Dohmen FY, van Dongen KW, van Duijvendijk P, DulferRR, Dwars BJ, Eerenberg JP, van der Elst M, van den Ende E, Fassaert LM, Fikkers JT, Foppen, JW, Furnee, EJ, Garssen FP, Gerhards MF, van Goor H, de Graaf JS, Graat LJ, Grootr J, van der Ham AC, Hamming JF, Hamminga JT, van der Harst E, Heemskerk J, Heijne A, Heikens JT, Heineman E, Hertogs R, van Heurn E, van den Hil LC, Hooftwijk AG, Hulsker CC, Hunen DR, Ibelings MS, Klaase JM, Klicks R, Knaapen L, Kortekaas RT, Kruyt F, Kwant S, Lases SS, LettingaT, Loupatty A, Matthijsen RA, Minnee RC, Mirck B, Mitalas L, Moes D, Moorman AM, Nieuwenhuijs VB, Nieuwenhuizen GA, Nijk PD, Omloo JM, Ottenhof AG, Palamba HW, van der Peet DL, Pereboom IT, Plaisier PW, van der Ploeg AP, Raber MH, Reijen MM, Rijna H, Rosman C, Roumen RM, Scmitz RF, Schouten van der Velden AP, Scheurs WH, Sigterman TA, Smeets HJ, Sonnevled DJ, Sosef MN, Spoor SF, Stassen LP, van Steensel L, Stortelder E, Straatman J, van Susante HJ, Suykerbuyk de Hoog DE, Terwisscha van Scheltinga C, Toorenvliet BR, Verbeek PC, Verseveld M, Volders JH, Vriens MR, Vriens PW, Vrouenraets BC, van de wall BJ, Wegdam JA, WesterduinE, Wever JJ, Wijfels NA, Wijnhoven BP, Winkel TA, van der Zee DC Zeillemaker AM, Zietse C.
Ethics declarations
Conflict of Interest
The authors declare that they have no conflict of interest.
Approval
The medical ethics committee approved the original study and no informed consent was necessary because of the observational design.
Authorship declaration
All authors meet all of the criteria of the International Committee of Medical Journal Editors (ICMJE).
Additional information
Publisher's Note
Springer Nature remains neutral with regard to jurisdictional claims in published maps and institutional affiliations.
Matthijs D. M. Bolmers and Joske de Jonge shared first authorship
About this article
Cite this article
Bolmers, M.D.M., de Jonge, J., van Rossem, C.C. et al. Discrepancies between Intraoperative and Histological Evaluation of the Appendix in Acute Appendicitis. J Gastrointest Surg 24, 2088–2095 (2020). https://doi.org/10.1007/s11605-019-04345-3
Received:

Accepted:

Published:

Issue Date:
Keywords
Acute appendicitis

Intraoperative evaluation

Surgical evaluation

Histological evaluation

Interobserver agreement