Abstract
Introduction
Given the need to increase female representation in hepatopancreatobiliary (HPB) surgery, as well as the need to increase the academic pipeline of women in this subspecialty, we sought to characterize the prevalence of female authorship in the HPB literature. In particular, the objective of the current study was to determine the proportion of women who published HPB research articles as first, second, or last author over the last decade.
Methods
All articles pertaining to hepatopancreaticobiliary (HPB) surgery appearing in seven surgical journals (Annals of Surgery, British Journal of Surgery, JAMA Surgery, Annals of Surgical Oncology, HPB (Oxford), Surgery, and Journal of Gastrointestinal Surgery) were reviewed for the years 2008 and 2018. Information on sex of author, country of author's institution, and article type was collected and entered into a computerized database.
Results
Among the 1473 index articles included in the final analytic cohort, 414 (28%) publications had a woman as the first or last author, while the vast majority (n = 1,059, 72%) had a man as the first or last author. The number of female first authors increased from 15.6% (n = 92/591) in 2008 to 25.7% (n = 227/882) in 2018 (p < 0.001). There were no differences in the proportion of second (n = 123/536, 23.0% vs n = 214/869, 24.6%, p = 0.47) or last (n = 44/564, 7.8% vs n = 88/875, 10.1%, p = 0.15) authors. Women were more likely to publish papers appearing in medium-impact journals (OR 1.40, 95% CI 1.04–1.88) and articles with a female author were more likely to be from a North American institution (referent: North America, Asia OR 0.43, 95% CI 0.31–0.59 vs Europe OR 0.67, 95% CI 0.51–0.87).
Conclusion
Women first/last authors in HPB research articles have increased over the past 10 years from 22 to 32%. Women as last authors remain low, however, as only 1 in 10 papers had a senior woman author. These data should prompt HPB leaders to find solutions to the gap in female authorship including mentorship of young female researchers and surgeons.
This is a preview of subscription content, log in to check access.
Access options
Buy single article
Instant access to the full article PDF.
US$ 39.95
Tax calculation will be finalised during checkout.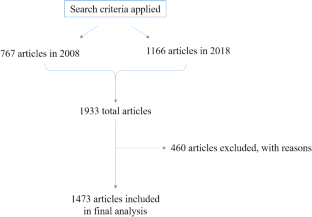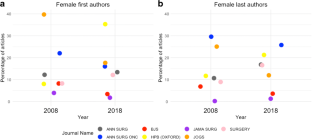 References
1.

Russo G, Goncalves L, Craveiro I, Dussault G. Feminization of the medical workforce in low-income settings; findings from surveys in three African capital cities. Hum Resour Health. 2015;13:64.

2.

Table 1: Medical Students Selected Years, 1965–2015. Association of American Medical Colleges, Washington DC; 2016.

3.

Vassar L. How medical specialties vary by gender 2015 [Available from: https://www.ama-assn.org/residents-students/specialty-profiles/how-medical-specialties-vary-gender.

4.

Lautenberger D, Dandar V, Raezer C, Sloane R. The State of Women in Academic Medicine. The Pipeline and Pathways to Leadership2014. p. 6.

5.

Ng-Sueng LF, Vargas-Matos I, Mayta-Tristan P, Pereyra-Elias R, Montenegro-Idrogo JJ, Inga-Berrospi F, et al. Gender Associated with the Intention to Choose a Medical Specialty in Medical Students: A Cross-Sectional Study in 11 Countries in Latin America. PLoS One. 2016;11(8):e0161000.

6.

Sexton KW, Hocking KM, Wise E, Osgood MJ, Cheung-Flynn J, Komalavilas P, et al. Women in academic surgery: the pipeline is busted. J Surg Educ. 2012;69(1):84–90.

7.

Table 2: Distribution Of Residents By Specialty, 2005 Compared To 2015. Association of American Medical Colleges, Washington DC; 2016.

8.

Table 1.3 Number and Percentage of Active Physicians by Sex and Specialty, 2015. 2015.

9.

The Global Gender Gap Report. 2018.

10.

Tomizawa Y. Women in surgery: little change in gender equality in Japanese medical societies over the past 3 years. Surg Today. 2013;43(10):1202–5.

11.

Faucett EA, McCrary HC, Milinic T, Hassanzadeh T, Roward SG, Neumayer LA. The role of same-sex mentorship and organizational support in encouraging women to pursue surgery. Am J Surg. 2017;214(4):640–4.

12.

About AWS [Available from: https://www.womensurgeons.org/page/AboutAWS.

13.

Raptis DA, Clavien PA, International Hepato-Pancreato-Biliary Association E, Training C. Evaluation of Hepato-Pancreato-Biliary (HPB) fellowships: an international survey of programme directors. HPB (Oxford). 2011;13(4):279–85.

14.

Warner SG, Alseidi AA, Hong J, Pawlik TM, Minter RM. What to expect when you're expecting a hepatopancreatobiliary surgeon: self-reported experiences of HPB surgeons from different training pathways. HPB (Oxford). 2015;17(9):785–90.

15.

Seshadri RM, Ali N, Warner S, Cochran A, Vrochides D, Iannitti D, et al. Training and practice of the next generation HPB surgeon: analysis of the 2014 AHPBA residents' and fellows' symposium survey. HPB (Oxford). 2015;17(12):1096–104.

16.

Minter RM, Alseidi A, Hong JC, Jeyarajah DR, Greig PD, Dixon E, et al. Training in Hepatopancreatobiliary Surgery: Assessment of the Hepatopancreatobiliary Surgery Workforce in North America. Ann Surg. 2015;262(6):1065–70.

17.

Andry D, Moliver C, Phillips LG. An Analysis of Female Plastic Surgery Authorship: Where Are We Today? Plast Reconstr Surg. 2019;143(1):327–31.

18.

Lin TR, Kocher NJ, Klausner AP, Raman JD. Longitudinal Gender Disparity in Female Urology Resident Primary Authorship at an American Urological Association Sectional Meeting. Urology. 2017;110:40–4.

19.

Brinker AR, Liao JL, Kraus KR, Young J, Sandelski M, Mikesell C, et al. Bibliometric Analysis of Gender Authorship Trends and Collaboration Dynamics Over 30 Years of Spine 1985 to 2015. Spine (Phila Pa 1976). 2018;43(14):E849-E54.

20.

National Resident Matching Program, Data Release and Research Committee: Results of the 2018 NRMP Program Director Survey. National Resident Matching Program, Washington, DC. 2018.; 2018.

21.

National Resident Matching Program, Data Release and Research Committee: Results of the 2016 NRMP Program Director Survey, Specialties Matching Service. National Resident Matching Program, Washington, DC. 2016.; 2016.

22.

Seemann NM, Webster F, Holden HA, Moulton CA, Baxter N, Desjardins C, et al. Women in academic surgery: why is the playing field still not level? Am J Surg. 2016;211(2):343–9.

23.

Filardo G, da Graca B, Sass DM, Pollock BD, Smith EB, Martinez MA. Trends and comparison of female first authorship in high impact medical journals: observational study (1994-2014). BMJ. 2016;352:i847.

24.

Shen YA, Webster JM, Shoda Y, Fine I. Persistent Underrepresentation of Women's Science in High Profile Journals. bioRxiv. 2018:275362.

25.

Knobloch-Westerwick S, Glynn CJ, Huge M. The Matilda Effect in Science Communication:An Experiment on Gender Bias in Publication Quality Perceptions and Collaboration Interest. Science Communication. 2013;35(5):603–25.

26.

Gorman E, Kmec J. We (Have to) Try Harder: Gender and Required Work Effort in Britain and the United States. Gender & Society. 2007;21(6):828–56

27.

Johnson WB, Smith D. Athena Rising : How and Why Men Should Mentor Women. London, UNITED KINGDOM: Routledge; 2016.

28.

Ensher EA, Murphy SE. The Mentoring Relationship Challenges Scale: The impact of mentoring stage, type, and gender. Journal of Vocational Behavior. 2011;79(1):253–66.

29.

Ahmadiyeh N, Cho NL, Kellogg KC, Lipsitz SR, Moore FD, Jr., Ashley SW, et al. Career satisfaction of women in surgery: perceptions, factors, and strategies. J Am Coll Surg. 2010;210(1):23–8.

30.

Zhuge Y, Kaufman J, Simeone DM, Chen H, Velazquez OC. Is there still a glass ceiling for women in academic surgery? Ann Surg. 2011;253(4):637–43.

31.

Closing the Gender Gap World Economic Forum2019 [Available from: https://www.weforum.org/projects/closing-the-gender-gap-gender-parity-task-forces.

32.

Baptiste D, Fecher AM, Dolejs SC, Yoder J, Schmidt CM, Couch ME, et al. Gender differences in academic surgery, work-life balance, and satisfaction. J Surg Res. 2017;218:99–107.

33.

The Global Gender Gap Report. 2018.

34.

Too Few Female Doctors: Japan Ranks Last Among OECD Nations 2018 [Available from: https://www.nippon.com/en/features/h00261/too-few-female-doctors-japan-ranks-last-among-oecd-nations.html.
Ethics declarations
Conflict of Interest
The authors declare that they have no conflicts of interest.
Additional information
Publisher's Note
Springer Nature remains neutral with regard to jurisdictional claims in published maps and institutional affiliations.
About this article
Cite this article
Farooq, A., Sahara, K., Muneeb, A. et al. Analysis of Authorship in Hepatopancreaticobiliary Surgery: Women Remain Underrepresented. J Gastrointest Surg 24, 2070–2076 (2020). https://doi.org/10.1007/s11605-019-04340-8
Received:

Accepted:

Published:

Issue Date:
Keywords
Authorship

Women surgeons

Mentorship