Abstract
Background
Current guidelines recommend extended venothromboembolism (VTE) prophylaxis for most patients following colorectal cancer surgery, but provider uptake has been limited. The purpose of this study was to identify thresholds for when such extended prophylaxis (ePpx) may be value-appropriate.
Methods
All colorectal cancer postoperative discharges were identified within a private payer administrative database (MarketScan® 2010–2014, IBM Truven Health Analytics). Outcomes of interest were VTE event rate, mortality, and overall costs of care. The data along with published literature were used as parameter estimations for a decision analysis model with probabilistic sensitivity analysis.
Results
We identified 22,463 colorectal cancer surgical patients (4.0% with ePpx) that served as the parameter estimates for the decision model with a VTE event rate of 0.2%. Decision analysis demonstrated that prescribing ePpx was dominated by usual practice with the former having higher probability-adjusted incremental costs ($1078.68 per person) and lower probability-adjusted benefits (− 0.000098 quality adjusted life years). Broad sensitivity analysis found that probability of a VTE event, bleeding case fatality rate, and probability of an ePpx-associated bleeding event were the primary effectors of the model. VTE event rates of greater than 3.0% benefited from prescribing ePpx to all patients.
Conclusions
Very few patients are discharged on ePpx following colorectal cancer surgery despite its endorsement by national guidelines. A decision analysis model does not support the use of ePpx except in cases of markedly high VTE rates. Clinical guidance could be improved by further recognizing the role of risk stratification in the determination of high-risk patients requiring ePpx.
This is a preview of subscription content, log in to check access.
Access options
Buy single article
Instant access to the full article PDF.
US$ 39.95
Price includes VAT for USA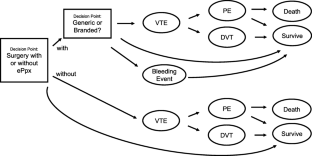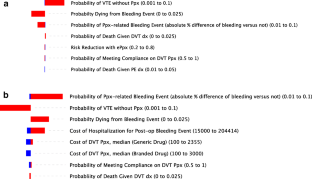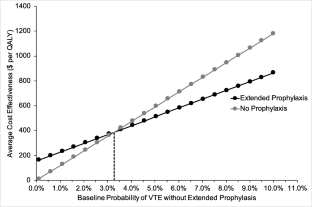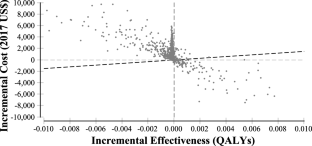 References
1.

Geerts WH, Heit JA, Clagett GP, Pineo GF, Colwell CW, Anderson FA, et al. Prevention of Venous Thromboembolism. Chest. 2001;119(1):132S–175S.

2.

Wu C, Alotaibi GS, Alsaleh K, Linkins L-A, McMurtry MS, Prandoni P, et al. Case-fatality of recurrent venous thromboembolism and major bleeding associated with aspirin, warfarin, and direct oral anticoagulants for secondary prevention. Thromb Res. 2015 Feb;135(2):243–8.

3.

Haut ER, Lau BD, Kraus PS, Hobson DB, Maheshwari B, Pronovost PJ, et al. Preventability of Hospital-Acquired Venous Thromboembolism. JAMA Surg. 2015 Sep 1;150(9):912.

4.

Streiff MB. The CMS Ruling on Venous Thromboembolism After Total Knee or Hip Arthroplasty. JAMA. 2009 Mar 11;301(10):1063.

5.

Merkow RP, Bilimoria KY, McCarter MD, Cohen ME, Barnett CC, Raval M V, et al. Post-discharge venous thromboembolism after cancer surgery: extending the case for extended prophylaxis. Ann Surg. 2011;254(1):131–7.

6.

Gould MK, Garcia DA, Wren SM, Karanicolas PJ, Arcelus JI, Heit JA, et al. Prevention of vte in nonorthopedic surgical patients: Antithrombotic therapy and prevention of thrombosis, 9th ed: american college of chest physicians evidence-based clinical practice guidelines. CHEST J. 2012;141(2_suppl):e227S–e277S.

7.

Holwell A, McKenzie J-L, Holmes M, Woods R, Nandurkar H, Tam CS, et al. Venous thromboembolism prevention in patients undergoing colorectal surgery for cancer. ANZ J Surg. 2014 Apr;84(4):284–8.

8.

Vedovati MC, Becattini C, Rondelli F, Boncompagni M, Camporese G, Balzarotti R, et al. A Randomized Study on 1-Week Versus 4-Week Prophylaxis for Venous Thromboembolism After Laparoscopic Surgery for Colorectal Cancer. Ann Surg. 2014 Apr;259(4):665–9.

9.

Kakkar V V, Balibrea JL, Martínez-González J, Prandoni P, CANBESURE Study Group. Extended prophylaxis with bemiparin for the prevention of venous thromboembolism after abdominal or pelvic surgery for cancer: the CANBESURE randomized study. J Thromb Haemost. 2010 Jun;8(6):1223–9.

10.

Akl EA, Kahale LA, Hakoum MB, Matar CF, Sperati F, Barba M, et al. Parenteral anticoagulation in ambulatory patients with cancer. Cochrane Database Syst Rev. 2017 Sep 11;(6):CD009447.

11.

Akl EA, Kahale LA, Hakoum MB, Matar CF, Sperati F, Barba M, et al. Parenteral anticoagulation in ambulatory patients with cancer. Cochrane database Syst Rev. 2017;9:CD006652.

12.

Kalka C, Spirk D, Siebenrock K-A, Metzger U, Tuor P, Sterzing D, et al. Lack of extended venous thromboembolism prophylaxis in high-risk patients undergoing major orthopaedic or major cancer surgery. Electronic Assessment of VTE Prophylaxis in High-Risk Surgical Patients at Discharge from Swiss Hospitals (ESSENTIAL). Thromb Haemost. 2009 May 12;

13.

Smart P, Burbury K, Lingaratnam S, Lynch AC, Mackay J, Heriot A. Thromboprophylaxis among Australasian colorectal surgeons. ANZ J Surg. 2013;83(9):646–50.

14.

Srinivasaiah N, Arsalani-Zadeh R, Monson JR. Thrombo-prophylaxis in colorectal surgery: A National Questionnaire Survey of the members of the Association of Coloproctology of Great Britain and Ireland. Color Dis. 2012;14(7).

15.

Merkow RP, Bilimoria KY, Sohn M-W, Oh EH, Sellers MM, Paruch JL, et al. Adherence With Postdischarge Venous Thromboembolism Chemoprophylaxis Recommendations After Colorectal Cancer Surgery Among Elderly Medicare Beneficiaries. Ann Surg. 2014 Jul;260(1):103–8.

16.

Cabana MD, Rand CS, Powe NR, Wu AW, Wilson MH, Abboud PA, et al. Why don't physicians follow clinical practice guidelines? A framework for improvement. JAMA. 1999 Oct 20;282(15):1458–65.

17.

Cockbain AJ, Singh-Sekhon N, Ilsley DW. Extended Venous Thromboembolism Prophylaxis After Colorectal Cancer Resection: A UK Perspective. Ann Surg. 2016 Feb;263(2):e26.

18.

Fleming F, Gaertner W, Ternent CA, Finlayson E, Herzig D, Paquette IM, et al. The American Society of Colon and Rectal Surgeons Clinical Practice Guideline for the Prevention of Venous Thromboembolic Disease in Colorectal Surgery. Dis Colon Rectum. 2018 Jan;61(1):14–20.

19.

Iannuzzi JC, Rickles AS, Kelly KN, Fleming FJ, Dolan JG, Monson JRT, et al. Defining High Risk: Cost-Effectiveness of Extended-Duration Thromboprophylaxis Following Major Oncologic Abdominal Surgery. J Gastrointest Surg. 2014 Jan 8;18(1):60–8.

20.

Rasmussen MS, Jørgensen LN, Wille-Jørgensen P. Prolonged thromboprophylaxis with low molecular weight heparin for abdominal or pelvic surgery. Cochrane database Syst Rev. 2009 Jan 21;(1):CD004318.

21.

Sanders GD, Neumann PJ, Basu A, Brock DW, Feeny D, Krahn M, et al. Recommendations for Conduct, Methodological Practices, and Reporting of Cost-effectiveness Analyses. JAMA. 2016 Sep 13;316(10):1093.

22.

Briggs A, Sculpher M, Claxton K. Decision Modeling for Health Economic Evaluation. Oxford, England: Oxford University Press; 2006.

23.

Food and Drug Administration. Required Warnings for Cigarette Packages and Advertisements (21 CFR Part 1141). Fed Regist. 2010;75(218):69524–65.

24.

National Center for Environmental Economics. Frequently Asked Questions on Mortality Risk Valuation [Internet]. Washington, DC; 2010.

25.

Appelbaum B. As U.S. Agencies Put More Value on a Life, Businesses Fret. New York Times. 2011 Feb 16;

26.

Brogan AJ, Talbird SE, Davis AE, Thommes EW, Meier G. Cost-effectiveness of seasonal quadrivalent versus trivalent influenza vaccination in the United States: A dynamic transmission modeling approach. Hum Vaccin Immunother. 2017;13(3):533–42.

27.

Heisen M, Treur MJ, Heemstra HE, Giesen EBW, Postma MJ. Cost-effectiveness analysis of rivaroxaban for treatment and secondary prevention of venous thromboembolism in the Netherlands. J Med Econ. 2017 Aug 3;20(8):813–24.

28.

Monahan M, Ensor J, Moore D, Fitzmaurice D, Jowett S. Economic evaluation of strategies for restarting anticoagulation therapy after a first event of unprovoked venous thromboembolism. J Thromb Haemost. 2017 Aug;15(8):1591–600.

29.

Data U.S. Bureau of Labor Statistics FRED: Federal Reserve Economic. Consumer Price Index for All Urban Consumers: Medical Care. Federal Reserver Bank of St. Louis. [Internet]. 2018 [cited 2018 Apr 10]. Available from: https://fred.stlouisfed.org/series/CPIMEDNS. Accessed 10 Apr 2018

30.

Rasmussen MS, Jorgensen LN, Wille-Jørgensen P, Nielsen JD, Horn A, Mohn AC, et al. Prolonged prophylaxis with dalteparin to prevent late thromboembolic complications in patients undergoing major abdominal surgery: a multicenter randomized open-label study. J Thromb Haemost. 2006 Nov;4(11):2384–90.

31.

Lausen I, Jensen R, Jorgensen LN, Rasmussen MS, Lyng KM, Andersen M, et al. Incidence and prevention of deep venous thrombosis occurring late after general surgery: randomised controlled study of prolonged thromboprophylaxis. Eur J Surg. 1998 Sep;164(9):657–63.

32.

Cassidy MR, Rosenkranz P, McAneny D. Reducing postoperative venous thromboembolism complications with a standardized risk-stratified prophylaxis protocol and mobilization program. J Am Coll Surg. 2014;218(6):1095–104.
Funding Source
I.L. received salary support for the preparation of this manuscript from a National Cancer Institute T32 Institutional Training Grant (5T32CA126607) and a Research Foundation of the American Society of Colon and Rectal Surgeons Resident Research Initiation Grant (GSRRIG-031).
Ethics declarations
The following study design and analysis were approved by the Johns Hopkins University School of Medicine Institutional Review Board and meet requirements of the Second Panel on Cost-Effectiveness Reporting Standards.
Conflict of Interest
The authors declare that they have no conflict of interest.
Additional information
Publisher's Note
Springer Nature remains neutral with regard to jurisdictional claims in published maps and institutional affiliations.
Appendices
Appendix 1
Appendix 2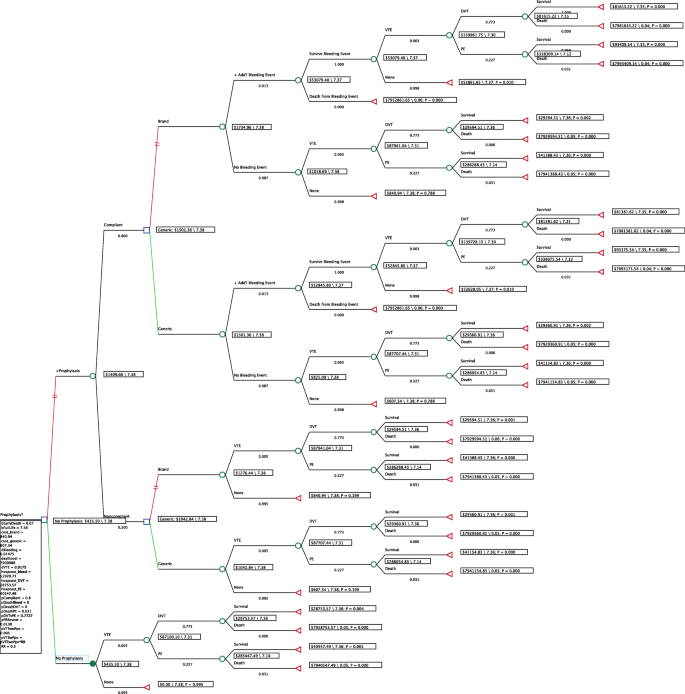 About this article
Cite this article
Leeds, I.L., Canner, J.K., DiBrito, S.R. et al. Justifying Total Costs of Extended Venothromboembolism Prophylaxis After Colorectal Cancer Surgery. J Gastrointest Surg 24, 677–687 (2020). https://doi.org/10.1007/s11605-019-04206-z
Received:

Accepted:

Published:

Issue Date:
Keywords
Surgery

Colorectal cancer

Economic evaluation

Cost-benefit analysis

Venous thrombosis

Decision trees