Abstract
Background
Intestinal autotransplantation (IATx) is a novel surgical technique for neoplasms arising from the pancreas, duodenum, mesentery, or retroperitoneum with involvement of the superior mesenteric artery (SMA). The value of this aggressive procedure remains to be defined. We describe its surgical indications, postoperative complications, and clinical outcomes after IATx.
Methods
Fifteen patients aged 20 to 67 years (mean 44.9 years) underwent IATx in our program from January 2011 to January 2018. In all patients, selection and harvesting of a healthy bowel autograft were initially carried out, and an extended en bloc resection of neoplasms was performed afterward.
Results
Of the 15 patients, there was one early death from a pancreatic leak and two late deaths either from disease recurrence or sudden cardiac arrest. Ten patients developed 23 postoperative complications. Of these, one patient lost his bowel autograft due to arterial thrombosis 48 h later. Delayed gastric emptying, pleural effusions, pancreatic fistula, and relaparotomy were the most common complications. In our series, four of nine patients with invasive malignant neoplasms had evidence of disease recurrence at 13, 13, 16, and 18 months after IATx. At a median follow-up of 29.9 months, 11 patients undergoing successful IATx remained alive with a well-functioning bowel graft.
Conclusion
Our results indicate that IATx is technically feasible with acceptable perioperative morbidity and mortality. This procedure should be considered in selected patients presenting with locally invasive neoplasms involving the SMA.
This is a preview of subscription content, log in to check access.
Access options
Buy single article
Instant access to the full article PDF.
US$ 39.95
Price includes VAT for USA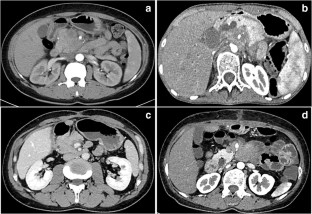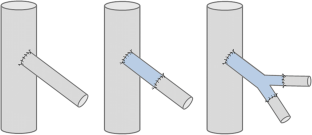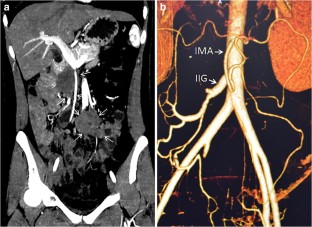 References
1.

Christians KK, Pilgrim CH, Tsai S, Ritch P, George B, Erickson B, Tolat P, Evans DB. Arterial resection at the time of pancreatectomy for cancer. Surgery 2014; 155: 919–926.

2.

Dufay C, Abdelli A, Le Pennec V, Chiche L. Mesenteric tumors: diagnosis and treatment. J Visc Surg 2012; 149: e239–251.

3.

Werner J, Combs SE, Springfeld C, Hartwig W, Hackert T, Buchler MW. Advanced-stage pancreatic cancer: therapy options. Nat Rev Clin Oncol 2013; 10: 323–333.

4.

Mollberg N, Rahbari NN, Koch M, Hartwig W, Hoeger Y, Buchler MW, Weitz J. Arterial resection during pancreatectomy for pancreatic cancer: a systematic review and meta-analysis. Ann Surg 2011; 254: 882–893.

5.

Bockhorn M, Burdelski C, Bogoevski D, Sgourakis G, Yekebas EF, Izbicki JR. Arterial en bloc resection for pancreatic carcinoma. Br J Surg 2011; 98: 86–892.

6.

Fairweather M, Gonzalez RJ, Strauss D, Raut CP. Current principles of surgery for retroperitoneal sarcomas. J Surg Oncol 2018; 117: 33–41.

7.

Tzakis AG, De Faria W, Angelis M, Verzaro R, Pinna A. Partial abdominal exenteration, ex vivo resection of a large mesenteric fibroma, and successful orthotopic intestinal autotransplantation. Surgery 2000; 128: 486–489.

8.

Tzakis AG, Pararas NB, Tekin A, Gonzalez-Pinto I, Levi D, Nishida S, Selvaggi G, Garcia J, Kato T, Ruiz P. Intestinal and multivisceral autotransplantation for tumors of the root of the mesentery: Long-term follow-up. Surgery 2012; 152: 82–89.

9.

Kato T, Lobritto SJ, Tzakis A, Raveh Y, Sandoval PR, Martinez M, Granowetter L, Armas A, Brown RS Jr, Emond J. Multivisceral ex vivo surgery for tumors involving celiac and superior mesenteric arteries. Am J Transplant 2012; 12: 1323–1328.

10.

Quintini C, Di Benedetto F, Diago T, Lauro A, Cautero N, De Ruvo N, Romano A, Di Sandro S, Ramacciato G, Pinna AD. Intestinal autotransplantation for adenocarcinoma of pancreas involving the mesenteric root: our experience and literature review. Pancreas 2007; 34: 266–268.

11.

Zeng Y, Wu H, Yang JY. Small bowel autotransplantation combined with pancreato-duodenectomy for enormous cavernous hemangioma of the small intestine mesentery. Chi Med J 2008; 121: 2110–2112.

12.

Tzvetanov IG, Bhati CS, Jeon H, Glover AE, Oberholzer J, Benedetti E. Segmental intestinal autotransplantation after extensive enterectomy for removal of large intra-abdominal desmoid tumors of the mesentery root: initial experience. Surgery 2012; 151: 621–624.

13.

Wu G, Zhao Q, Wang W, Shi H, Wang M, Zhang J, Li Z, Fan D. Clinical and nutritional outcomes after intestinal autotransplantation. Surgery 2016; 159: 1668–1676

14.

Wu G, Wang X, Zhao Q, Wang W, Shi H, Wang M, Zhang J, Li Z, Fan D. Intestinal autotransplantation for neoplasms originating in the pancreatic head with involvement of the superior mesenteric artery. Langenbeck's Arch Surg 2016; 401: 1249–1257.

15.

Bassi C, Dervenis C, Butturini G, Fingerhut A, Yeo C, Izbicki J, Neoptolemos J, Sarr M, Traveso W, Buchler M; International Study Group on Pancreatic Fistula Definition. Postoperative pancreatic fistula: an international study group (ISGPF) definition. Surgery 2005; 138: 8–13.

16.

Wente MN, Bassi C, Dervenis C, Fingerhut A, Gouma DJ, Izbicki JR, Neoptolemos JP, Padbury RT, Sarr MG, Traverso LW, Yeo CJ, Buchler MW. Delayed gastric emptying (DGE) after pancreatic surgery: a suggested definition by the International Study Group of Pancreatic Surgery (ISGPS). Surgery 2007; 142: 761–768.

17.

Wente MN, Veit JA, Bassi C, Dervenis C, Fingerhut A, Gouma DJ, Izbicki JR, Neoptolemos JP, Padbury RT, Sarr MG, Yeo CJ, Buchler MW. Postpancreatectomy hemorrhage (PPH): an International Study Group of Pancreatic Surgery (ISGPS) definition. Surgery 2007; 142: 20–25.

18.

Payne RF, Pain JA. Duct-to-mucosa pancreaticogastrostomy is a safe anastomosis following pancreaticoduodenectomy. Br J Surg 2006; 93: 73–77.

19.

Xiong JJ, Tan CL, Szatmary P, Huang W, Ke NW, Hu WM, Nunes QM, Sutton R, Liu XB. Meta-analysis of pancreaticogastrostomy versus pancreaticojejunostomy after pancreaticoduodenectomy. Br J Surg 2014; 101: 1196–1208.

20.

Menahem B, Guittet L, Mulliri A, Alves A, Lubrano J. Pancreaticogastrostomy is superior to pancreaticojejunostomy for prevention of pancreatic fistula after pancreaticoduodenectomy: an updated meta-analysis of randomized controlled trials. Ann Surg 2015; 261: 882–887.

21.

Hartwig W, Gluth A, Hinz U, Koliogiannis D, Strobel O, Hackert T, Werner J, Buchler MW. Outcomes after extended pancreatectomy in patients with borderline resectable and locally advanced pancreatic cancer. Br J Surg 2016; 103: 1683–1694.

22.

Kulemann B, Hoeppner J, Wittel U, Glatz T, Keck T, Wellner UF, Bronsert P, Sick O, Hopt UT, Makowiec F, Riediger H. Perioperative and long-term outcome after standard pancreaticoduodenectomy, additional portal vein and multivisceral resection for pancreatic head cancer. J Gastrointest Surg 2015; 19: 438–444.

23.

Bhayani NH, Enomoto LM, James BC, Ortenzi G, Kaifi JT, Kimchi ET, Staveley-O'Carroll KF, Gusani NJ. Multivisceral and extended resections during pancreatoduodenectomy increase morbidity and mortality. Surgery 2014; 155: 567–574.

24.

Onkendi EO, Boostrom SY, Sarr MG, Farnell MB, Nagorney DM, Donohue JH, Kendrick ML, Lombardo KM, Haddock MG, Que FG. Neoadjuvant treatment of duodenal adenocarcinoma: a rescue strategy. J Gastrointest Surg 2012; 16: 320–324.

25.

Nikeghbalian S, Aliakbarian M, Kazemi K, Shamsaeefar AR, Mehdi SH, Bahreini A, Malek-Hosseini SA. Ex-vivo Resection and Small-Bowel Auto-transplantation for the Treatment of Tumors at the Root of the Mesentery. Int J Organ Transplant Med 2014; 5: 120–124.
Acknowledgements
The authors would like to thank the surgical team and the nursing staff at Xijing Hospital of Digestive Diseases, the Fourth Military Medical University, for their excellent patient care. The authors thank Mr. Yinglun Wu for help with English grammar.
Funding
This work was supported by the grant from the National Natural Science Foundation of China (#81570588).
Ethics declarations
Conflict of Interest
The authors declare that they have no conflict of interest.
Additional information
Publisher's Note
Springer Nature remains neutral with regard to jurisdictional claims in published maps and institutional affiliations.
About this article
Cite this article
Wu, G., Zhao, Q., Li, X. et al. Perioperative Complications and Outcomes after Intestinal Autotransplantation for Neoplasms Involving the Superior Mesenteric Artery. J Gastrointest Surg 24, 650–658 (2020). https://doi.org/10.1007/s11605-019-04204-1
Received:

Accepted:

Published:

Issue Date:
Keywords
Intestinal autotransplantation

Neoplasms

SMA resection

Clinical outcomes