Abstract
Background
Although existing histopathologic protocols for pancreatic cancer have been standardized, the relevance between prognosis and resection margin clearance is still controversial. Reconstruction of specimens as in situ to appropriately assess the margin is desirable in these protocols.
Methods
The three-dimensional fixation protocol defined specimen handling of pancreaticoduodenectomy (PD) with portal vein (PV) resection. The superior mesenteric artery (SMA) margin of the specimen was tidily fixed around an artificial SMA as if in an in situ setting. In this prospective study, patients undergoing PD with PV resection for pancreatic cancer in 2016 were enrolled. To evaluate the feasibility of the three-dimensional fixation protocol, the SMA margin distance and PV involvement of tumor assessed by computed tomography (CT) were compared with those assessed by pathology.
Results
Thirty-three patients with/without preoperative chemotherapy were enrolled. The entire cohort did not present with high-quality diagnostic assessment of the medial margins around SMA and PV (correct estimation, 58% and 73%, respectively). In contrast, in 16 patients undergoing upfront surgery, the concordance value of the SMA margin, which assesses the agreement between CT and pathology measures, was 0.48 (moderate agreement). The PV involvement examined by imaging was significantly associated with that by pathology (P = 0.013).
Conclusions
The three-dimensional fixation protocol was applicable to all cases undergoing PD with PV resection. Focusing on the patients with upfront surgery demonstrated the feasibility of accurate pathological assessment of medial margins. We propose this protocol as a promising standard for the assessment of true surgical margin status.
This is a preview of subscription content, log in to check access.
Access options
Buy single article
Instant access to the full article PDF.
US$ 39.95
Price includes VAT for USA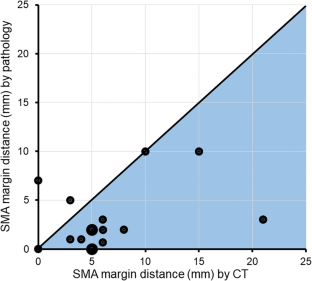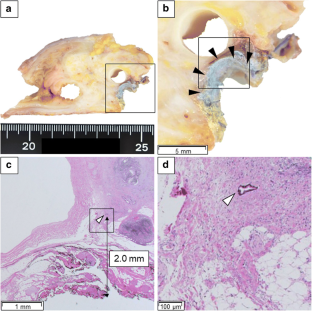 References
1.

Neoptolemos JP, Stocken DD, Bassi C, et al. Adjuvant chemotherapy with fluorouracil plus folinic acid vs gemcitabine following pancreatic cancer resection: a randomized controlled trial. JAMA 2010;304:1073–1081.

2.

Ducreux M, Cuhna AS, Caramella C, et al. Cancer of the pancreas: ESMO Clinical Practice Guidelines for diagnosis, treatment and follow-up. Ann Oncol 2015;26 Suppl 5:v56–68.

3.

Wagner M, Redaelli C, Lietz M, et al. Curative resection is the single most important factor determining outcome in patients with pancreatic adenocarcinoma. Br J Surg 2004;91:586–594.

4.

Jamieson NB, Foulis AK, Oien KA, et al. Positive mobilization margins alone do not influence survival following pancreatico-duodenectomy for pancreatic ductal adenocarcinoma. Ann Surg 2010;251:1003–1010.

5.

Campbell F, Smith RA, Whelan P, et al. Classification of R1 resections for pancreatic cancer: the prognostic relevance of tumour involvement within 1 mm of a resection margin. Histopathology 2009;55:277–283.

6.

Fatima J, Schnelldorfer T, Barton J, et al. Pancreatoduodenectomy for ductal adenocarcinoma: implications of positive margin on survival. Arch Surg 2010;145:167–172.

7.

Strobel O, Hank T, Hinz U, et al. Pancreatic Cancer Surgery: The New R-status Counts. Ann Surg 2017;265:565–573.

8.

Ghaneh P, Kleeff J, Halloran CM, et al. The Impact of Positive Resection Margins on Survival and Recurrence Following Resection and Adjuvant Chemotherapy for Pancreatic Ductal Adenocarcinoma. Ann Surg 2019;269:520–529.

9.

Chandrasegaram MD, Goldstein D, Simes J, et al. Meta-analysis of radical resection rates and margin assessment in pancreatic cancer. Br J Surg 2015;102:1459–1472.

10.

van Roessel S, Kasumova GG, Tabatabaie O, et al. Pathological Margin Clearance and Survival After Pancreaticoduodenectomy in a US and European Pancreatic Center. Ann Surg Oncol 2018;25:1760–1767.

11.

Konstantinidis IT, Warshaw AL, Allen JN, et al. Pancreatic ductal adenocarcinoma: is there a survival difference for R1 resections versus locally advanced unresectable tumors? What is a "true" R0 resection? Ann Surg 2013;257:731–736.

12.

Sobin LH, Gospodarowicz MK, Wittekind C. UICC: TNM Classification of Malignant Tumours, 7th Edition. Oxford, England: Wiley-Blackwell; 2009.

13.

Edge S, Byrd DR, Compton CC, Fritz AG, Greene FL, Trotti A. AJCC cancer staging manual. 7th Edition. New York: Springer; 2009.

14.

Menon KV, Gomez D, Smith AM, et al. Impact of margin status on survival following pancreatoduodenectomy for cancer: the Leeds Pathology Protocol (LEEPP). HPB (Oxford) 2009;11:18–24.

15.

The Royal College of Pathologists. Standards and datasets for reporting cancers. Minimum dataset for the histopathological reporting of pancreatic, ampulla of vater and bile duct carcinoma. London, UK: The Royal College of Pathologists; 2002.

16.

Gockel I, Domeyer M, Wolloscheck T, et al. Resection of the mesopancreas (RMP): a new surgical classification of a known anatomical space. World J Surg Oncol 2007;5:44.

17.

Esposito I, Kleeff J, Bergmann F, et al. Most pancreatic cancer resections are R1 resections. Ann Surg Oncol 2008;15:1651–1660.

18.

NCCN: National Comprehensive Cancer Network. NCCN Guidelines Version 2.2015 Pancreatic Adenocarcinoma. https://www.trikobe.org/nccn/guideline/archive/pancreas2015/english/pancreatic.pdf. [accessed 1 December 2018]

19.

Inoue Y, Saiura A, Yoshioka R, et al. Pancreatoduodenectomy With Systematic Mesopancreas Dissection Using a Supracolic Anterior Artery-first Approach. Ann Surg 2015;262:1092–1101.

20.

Lin LI. A concordance correlation coefficient to evaluate reproducibility. Biometrics 1989;45:255–268.

21.

Quinn C, Haber MJ, Pan Y. Use of the concordance correlation coefficient when examining agreement in dyadic research. Nurs Res 2009;58:368–373.

22.

Dholakia AS, Hacker-Prietz A, Wild AT, et al. Resection of borderline resectable pancreatic cancer after neoadjuvant chemoradiation does not depend on improved radiographic appearance of tumor-vessel relationships. J Radiat Oncol 2013;2:413–425.

23.

Gebauer F, Tachezy M, Vashist YK, et al. Resection margin clearance in pancreatic cancer after implementation of the Leeds Pathology Protocol (LEEPP): clinically relevant or just academic? World J Surg 2015;39:493–499.

24.

Takahashi D, Kojima M, Sugimoto M, et al. Pathologic Evaluation of Surgical Margins in Pancreatic Cancer Specimens Using Color Coding With Tissue Marking Dyes. Pancreas 2018;47:830–836.

25.

Ikoma N, Estrella JS, Hofstetter WL, et al. Surgeon Assessment of Gastric Cancer Lymph Node Specimens with a Video of Technique. J Gastrointest Surg 2018;22:2013–2019.

26.

Zaky AM, Wolfgang CL, Weiss MJ, et al. Tumor-Vessel Relationships in Pancreatic Ductal Adenocarcinoma at Multidetector CT: Different Classification Systems and Their Influence on Treatment Planning. Radiographics 2017;37:93–112.

27.

Ferrone CR, Marchegiani G, Hong TS, et al. Radiological and surgical implications of neoadjuvant treatment with FOLFIRINOX for locally advanced and borderline resectable pancreatic cancer. Ann Surg 2015;261:12–17.

28.

Katz MH, Fleming JB, Bhosale P, et al. Response of borderline resectable pancreatic cancer to neoadjuvant therapy is not reflected by radiographic indicators. Cancer 2012;118:5749–5756.
Ethics declarations
Conflict of Interest
The authors declare that they have no conflict of interest.
Additional information
Publisher's Note
Springer Nature remains neutral with regard to jurisdictional claims in published maps and institutional affiliations.
This paper is not based on a previous communication to a society or meeting.
About this article
Cite this article
Tanaka, M., Inoue, Y., Matsueda, K. et al. Three-Dimensional Fixation: Pathological Protocol Following Pancreaticoduodenectomy with Portal Vein Resection for Pancreatic Cancer. J Gastrointest Surg 24, 619–626 (2020). https://doi.org/10.1007/s11605-019-04203-2
Received:

Accepted:

Published:

Issue Date:
Keywords
Pathological protocol

Pancreaticoduodenectomy

Medial margin

Prospective study