Abstract
Background
The American College of Surgeons National Surgical Quality Improvement Program (ACS NSQIP) surgical risk calculator (SRC) aims to help predict patient-specific risk for morbidity and mortality. The performance of the SRC among an elderly population undergoing curative-intent hepatectomy for hepatocellular carcinoma (HCC) remains unknown.
Methods
Patients > 70 years of age who underwent hepatectomy for HCC between 1998 and 2017 were identified using a multi-institutional international database. To estimate the performance of SRC, 12 observed postoperative outcomes were compared with median SRC-predicted risk, and C-statistics and Brier scores were calculated.
Results
Among 500 patients, median age was 75 years (IQR 72–78). Most patients (n = 324, 64.8%) underwent a minor hepatectomy, while 35.2% underwent a major hepatectomy. The observed incidence of venous thromboembolism (VTE) (3.2%) and renal failure (RF) (4.4%) exceeded the median predicted risk (VTE, 1.8%; IQR 1.5–3.1 and RF, 1.0%; IQR 0.5–2.0). In contrast, the observed incidence of 30-day readmission (7.0%) and non-home discharge (2.5%) was lower than median-predicted risk (30-day readmission, 9.4%; IQR 7.4–12.8 and non-home discharge, 5.7%; IQR 3.3–11.7). Only 57.8% and 71.2% of patients who experienced readmission (C-statistic, 0.578; 95%CI 0.468–0.688) or mortality (C-statistic, 0.712; 95%CI 0.508–0.917) were correctly identified by the model.
Conclusion
Among elderly patients undergoing hepatectomy for HCC, the SRC underestimated the risk of complications such as VTE and RF, while being no better than chance in estimating the risk of readmission. The ACS SRC has limited clinical applicability in estimating perioperative risk among elderly patients being considered for hepatic resection of HCC.
This is a preview of subscription content, log in to check access.
Access options
Buy single article
Instant access to the full article PDF.
US$ 39.95
Price includes VAT for USA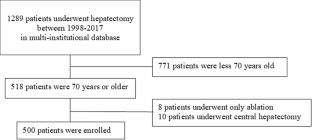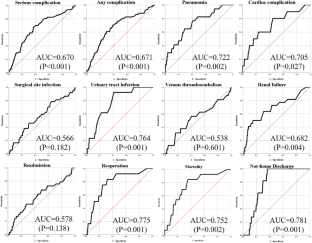 References
1.

Bray F, Ferlay J, Soerjomataram I, Siegel RL, Torre LA, Jemal A. Global cancer statistics 2018: GLOBOCAN estimates of incidence and mortality worldwide for 36 cancers in 185 countries. CA Cancer J Clin. 2018;68(6):394–424.

2.

Bertuccio P, Turati F, Carioli G, Rodriguez T, La Vecchia C, Malvezzi M, et al. Global trends and predictions in hepatocellular carcinoma mortality. J Hepatol. 2017;67(2):302–9.

3.

Beal EW, Tumin D, Kabir A, Moris D, Zhang XF, Chakedis J, et al. Trends in the Mortality of Hepatocellular Carcinoma in the United States. J Gastrointest Surg. 2017;21(12):2033–8.

4.

White DL, Thrift AP, Kanwal F, Davila J, El-Serag HB. Incidence of Hepatocellular Carcinoma in All 50 United States, From 2000 Through 2012. Gastroenterology. 2017;152(4):812–20.e5.

5.

Ueno M, Hayami S, Tani M, Kawai M, Hirono S, Yamaue H. Recent trends in hepatectomy for elderly patients with hepatocellular carcinoma. Surg Today. 2014;44(9):1651–9.

6.

Rosero EB, Cheng GS, Khatri KP, Joshi GP. Evaluation of epidural analgesia for open major liver resection surgery from a US inpatient sample. Proceedings (Baylor University Medical Center). 2014;27(4):305–12.

7.

Hankey BF, Ries LA, Kosary CL, Feuer EJ, Merrill RM, Clegg LX, et al. Partitioning linear trends in age-adjusted rates. Cancer causes & control : CCC. 2000;11(1):31–5.

8.

Okinaga H, Yasunaga H, Hasegawa K, Fushimi K, Kokudo N. Short-Term Outcomes following Hepatectomy in Elderly Patients with Hepatocellular Carcinoma: An Analysis of 10,805 Septuagenarians and 2,381 Octo- and Nonagenarians in Japan. Liver Cancer. 2018;7(1):55–64.

9.

Al-Refaie WB, Parsons HM, Henderson WG, Jensen EH, Tuttle TM, Vickers SM, et al. Major cancer surgery in the elderly: results from the American College of Surgeons National Surgical Quality Improvement Program. Annals of surgery. 2010;251(2):311–8.

10.

Kneuertz PJ, Pitt HA, Bilimoria KY, Smiley JP, Cohen ME, Ko CY, et al. Risk of morbidity and mortality following hepato-pancreato-biliary surgery. Journal of gastrointestinal surgery : official journal of the Society for Surgery of the Alimentary Tract. 2012;16(9):1727–35.

11.

Oliveira-Cunha M, Malde DJ, Aldouri A, Morris-Stiff G, Menon KV, Smith AM. Results of pancreatic surgery in the elderly: is age a barrier? HPB : the official journal of the International Hepato Pancreato Biliary Association. 2013;15(1):24–30.

12.

Tzeng CW, Cooper AB, Vauthey JN, Curley SA, Aloia TA. Predictors of morbidity and mortality after hepatectomy in elderly patients: analysis of 7621 NSQIP patients. HPB : the official journal of the International Hepato Pancreato Biliary Association. 2014;16(5):459–68.

13.

Bergquist JR, Shubert CR, Ubl DS, Thiels CA, Kendrick ML, Truty MJ, et al. Risk by indication for pancreaticoduodenectomy in patients 80 years and older: a study from the American College of Surgeons National Surgical Quality Improvement Program. HPB : the official journal of the International Hepato Pancreato Biliary Association. 2016;18(11):900–7.

14.

Cho SW, Steel J, Tsung A, Marsh JW, Geller DA, Gamblin TC. Safety of Liver Resection in the Elderly: How Important Is Age? Annals of surgical oncology. 2011;18(4):1088–95.

15.

Ruzzenente A, Conci S, Ciangherotti A, Campagnaro T, Valdegamberi A, Bertuzzo F, et al. Impact of age on short-term outcomes of liver surgery: Lessons learned in 10-years' experience in a tertiary referral hepato-pancreato-biliary center. Medicine. 2017;96(20):e6955.

16.

Merkow RP, Bilimoria KY, Tomlinson JS, Paruch JL, Fleming JB, Talamonti MS, et al. Postoperative Complications Reduce Adjuvant Chemotherapy Use in Resectable Pancreatic Cancer. Annals of surgery. 2014;260(2):372–7.

17.

Wu W, He J, Cameron JL, Makary M, Soares K, Ahuja N, et al. The Impact of Postoperative Complications on the Administration of Adjuvant Therapy Following Pancreaticoduodenectomy for Adenocarcinoma. Annals of surgical oncology. 2014;21(9):2873–81.

18.

Grady D, Berkowitz SA. Why is a good clinical prediction rule so hard to find? Archives of Internal Medicine. 2011;171(19):1701–2.

19.

Wilson PW, D'Agostino RB, Levy D, Belanger AM, Silbershatz H, Kannel WB. Prediction of coronary heart disease using risk factor categories. Circulation. 1998;97(18):1837–47.

20.

Cologne KG, Keller DS, Liwanag L, Devaraj B, Senagore AJ. Use of the American College of Surgeons NSQIP Surgical Risk Calculator for Laparoscopic Colectomy: how good is it and how can we improve it? Journal of the American College of Surgeons. 2015;220(3):281–6.

21.

Beal EW, Lyon E, Kearney J, Wei L, Ethun CG, Black SM, et al. Evaluating the American College of Surgeons National Surgical Quality Improvement project risk calculator: results from the U.S. Extrahepatic Biliary Malignancy Consortium. HPB : the official journal of the International Hepato Pancreato Biliary Association. 2017;19(12):1104–11.

22.

Pencina MJ, D'Agostino RB. Evaluating Discrimination of Risk Prediction Models: The C Statistic. JAMA. 2015;314(10):1063–4.

23.

Austin PC, Steyerberg EW. Interpreting the concordance statistic of a logistic regression model: relation to the variance and odds ratio of a continuous explanatory variable. BMC Med Res Methodol. 2012;12:82.

24.

Rufibach K. Use of Brier score to assess binary predictions. J Clin Epidemiol. 2010;63(8):938–9; author reply 9.

25.

Centers for Medicare and Medicaid Services. The Administration, Cost, and Impact of the Quality Improvement Organization Program for Medicare Beneficiaries for Fiscal Year 20172018. Available from: https://www.cms.gov/Medicare/Quality-Initiatives-Patient-Assessment-Instruments/QualityImprovementOrgs/Downloads/Annual-Report-to-Congress-QIO-Program-Fiscal-Year-2017.pdf. Accessed 4 Jan 2019.

26.

Rix TE, Bates T. Pre-operative risk scores for the prediction of outcome in elderly people who require emergency surgery. World Journal of Emergency Surgery. 2007;2(1):16.

27.

Edelstein AI, Kwasny MJ, Suleiman LI, Khakhkhar RH, Moore MA, Beal MD, et al. Can the American College of Surgeons Risk Calculator Predict 30-Day Complications After Knee and Hip Arthroplasty? The Journal of arthroplasty. 2015;30(9 Suppl):5–10.

28.

Adegboyega TO, Borgert AJ, Lambert PJ, Jarman BT. Applying the National Surgical Quality Improvement Program risk calculator to patients undergoing colorectal surgery: theory vs reality. American journal of surgery. 2017;213(1):30–5.

29.

Teoh D, Halloway RN, Heim J, Vogel RI, Rivard C. Evaluation of the American College of Surgeons National Surgical Quality Improvement Program Surgical Risk Calculator in Gynecologic Oncology Patients Undergoing Minimally Invasive Surgery. Journal of minimally invasive gynecology. 2017;24(1):48–54.

30.

Mogal HD, Fino N, Clark C, Shen P. Comparison of observed to predicted outcomes using the ACS NSQIP risk calculator in patients undergoing pancreaticoduodenectomy. Journal of surgical oncology. 2016;114(2):157–62.

31.

Kishida N, Hibi T, Itano O, Okabayashi K, Shinoda M, Kitago M, et al. Validation of hepatectomy for elderly patients with hepatocellular carcinoma. Ann Surg Oncol. 2015;22(9):3094–101.

32.

Joseph B, Zangbar B, Pandit V, Fain M, Mohler MJ, Kulvatunyou N, et al. Emergency General Surgery in the Elderly: Too Old or Too Frail? J Am Coll Surg. 2016;222(5):805–13.

33.

Vitale A, Spolverato G, Bagante F, Gani F, Popescu I, Marques HP, et al. A multi-institutional analysis of elderly patients undergoing a liver resection for intrahepatic cholangiocarcinoma. J Surg Oncol. 2016;113(4):420–6.

34.

Jin S, Fu Q, Wuyun G, Wuyun T. Management of post-hepatectomy complications. World J Gastroenterol. 2013;19(44):7983–91.

35.

Lafaro K, Buettner S, Maqsood H, Wagner D, Bagante F, Spolverato G, et al. Defining Post Hepatectomy Liver Insufficiency: Where do We stand? J Gastrointest Surg. 2015;19(11):2079–92.

36.

Paredes AZ, Beal EW, Bagante F, Dillhoff ME, Cloyd JM, Pawlik TM. Patterns of readmission among the elderly after hepatopancreatobiliary surgery. American journal of surgery. 2018.

37.

Adam R, Frilling A, Elias D, Laurent C, Ramos E, Capussotti L, et al. Liver resection of colorectal metastases in elderly patients. The British journal of surgery. 2010;97(3):366–76.

38.

Yasunaga H, Horiguchi H, Matsuda S, Fushimi K, Hashimoto H, Ohe K, et al. Relationship between hospital volume and operative mortality for liver resection: Data from the Japanese Diagnosis Procedure Combination database. Hepatology research : the official journal of the Japan Society of Hepatology. 2012;42(11):1073–80.

39.

Saraiva MD, Karnakis T, Gil-Junior LA, Oliveira JC, Suemoto CK, Jacob-Filho W. Functional Status is a Predictor of Postoperative Complications After Cancer Surgery in the Very Old. Ann Surg Oncol. 2017;24(5):1159–64.

40.

Wagner D, DeMarco MM, Amini N, Buttner S, Segev D, Gani F, et al. Role of frailty and sarcopenia in predicting outcomes among patients undergoing gastrointestinal surgery. World J Gastrointest Surg. 2016;8(1):27–40.

41.

Gani F, Cerullo M, Amini N, Buettner S, Margonis GA, Sasaki K, et al. Frailty as a Risk Predictor of Morbidity and Mortality Following Liver Surgery. J Gastrointest Surg. 2017;21(5):822–30.

42.

Valero V, Amini N, Spolverato G, Weiss MJ, Hirose K, Dagher NN, et al. Sarcopenia adversely impacts postoperative complications following resection or transplantation in patients with primary liver tumors. J Gastrointest Surg. 2015;19(2):272–81.

43.

Robinson TN, Eiseman B, Wallace JI, Church SD, McFann KK, Pfister SM, et al. Redefining geriatric preoperative assessment using frailty, disability and co-morbidity. Ann Surg. 2009;250(3):449–55.

44.

Cohen ME, Liu Y, Ko CY, Hall BL. An Examination of American College of Surgeons NSQIP Surgical Risk Calculator Accuracy. J Am Coll Surg. 2017;224(5):787–95.e1.

45.

Landefeld CS, Palmer RM, Kresevic DM, Fortinsky RH, Kowal J. A randomized trial of care in a hospital medical unit especially designed to improve the functional outcomes of acutely ill older patients. N Engl J Med. 1995;332(20):1338–44.

46.

Carli F, Brown R, Kennepohl S. Prehabilitation to enhance postoperative recovery for an octogenarian following robotic-assisted hysterectomy with endometrial cancer. Can J Anaesth. 2012;59(8):779–84.

47.

Cerullo M, Chen SY, Dillhoff M, Schmidt C, Canner JK, Pawlik TM. Association of Hospital Market Concentration With Costs of Complex Hepatopancreaticobiliary Surgery. JAMA surgery. 2017;152(9):e172158.
Ethics declarations
The study was approved by the Institutional Review Boards of all participating institutions.
Conflict of Interest
The authors declare that they have no conflict of interest.
Additional information
Publisher's Note
Springer Nature remains neutral with regard to jurisdictional claims in published maps and institutional affiliations.
About this article
Cite this article
Sahara, K., Paredes, A.Z., Merath, K. et al. Evaluation of the ACS NSQIP Surgical Risk Calculator in Elderly Patients Undergoing Hepatectomy for Hepatocellular Carcinoma. J Gastrointest Surg 24, 551–559 (2020). https://doi.org/10.1007/s11605-019-04174-4
Received:

Accepted:

Published:

Issue Date:
Keywords
NSQIP

Risk calculator

Elderly

Hepatectomy