Abstract
Background
Necrotizing pancreatitis (NP) is a severe systemic inflammatory process. We have observed a high incidence of venous thromboembolism (VTE) in NP patients. However, remarkably few data exist to document the true incidence of VTE—including splanchnic vein thrombosis (SVT), extremity deep venous thrombosis (eDVT), and pulmonary embolism (PE)—in NP. Therefore, we sought to determine the incidence and risk factors for VTE in NP patients.
Methods
Retrospective review of all NP patients treated at a single academic center between 2005 and 2015. VTE diagnosis was confirmed by ultrasound (US), computed tomography (CT), magnetic resonance imaging (MRI), and/or ventilation/perfusion (V/Q) scan. Descriptive statistics and univariate analysis were applied where appropriate; p value < 0.05 was considered statistically significant.
Results
Five hundred and forty-five NP patients (median age 53 years; 65% males) were reviewed. VTE was diagnosed in 312 patients (57%). SVT was found in 50%, eDVT in 16%, and PE in 6%. VTE in multiple sites was found in 22% of patients. VTE was diagnosed a median of 37 days following pancreatitis diagnosis. Seventy-nine percent of patients required at least one surgical procedure over the course of their NP. Patients requiring surgery had a DVT incidence of 58%; however, VTE was diagnosed preoperatively in 63%. Male gender, history of previous DVT, infected necrosis, development of organ failure, and development of respiratory failure were identified as risk factors for VTE (p = 0.001–0.04) by univariate analysis.
Conclusions
Venous thromboembolism is extremely common in necrotizing pancreatitis. Regular ultrasound screening may be considered to facilitate early diagnosis in this extremely high-risk population.
This is a preview of subscription content, log in to check access.
Access options
Buy single article
Instant access to the full article PDF.
US$ 39.95
Price includes VAT for USA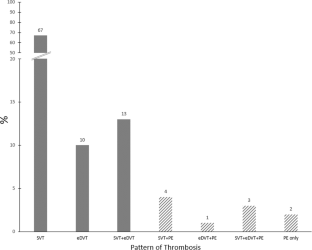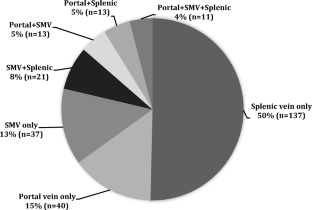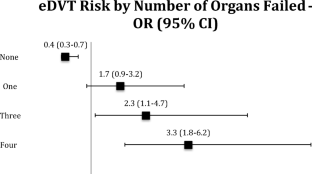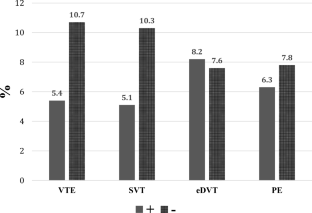 References
1.

Peery AF, Dellon ES, Lund J, Crockett SD, McGowan CE, Bulsiewicz WJ, Gangarosa LM, Thiny MT, Stizenberg K, Morgan DR, Ringel Y, Kim HP, DiBonaventura MD, Carroll CF, Allen JK, Cook SF, Sandler RS, Kappelman MD, Shaheen NJ. Burden of gastrointestinal disease in the United States: 2012 update. Gastroenterology. 2012;143(5):1179-87 e3

2.

Fagenholz P, Fernández-del Castillo C, Harris N, Pelletier A, Camargo C Jr. Direct Medical Costs of Acute Pancreatitis Hospitalizations in the United States. Pancreas. 2007;35(4):302-7.

3.

Howard TJ, Patel JB, Zyromski N, Sandrasegaran K, Yu J, Nakeeb A, Pitt HA, Lillemoe KD. Declining morbidity and mortality rates in the surgical management of pancreatic necrosis. J Gastrointest Surg. 2007;11(1):43-9.

4.

Kokosis G, Perez A, Pappas TN. Surgical Management of Necrotizing Pancreatitis: An Overview. World J Gastroenterol. 2014;20(43):16106-12.

5.

Freeman M, Werner J, van Santvoort H, Baron T, Besselink M, Windsor J, Horvath K, vanSonnenberg E, Bollen T, Vege S. Interventions for Necrotizing pancreatitis: Summary of a Multidisciplinary Consensus Conference. Pancreas. 2012;41(8):1176-94.

6.

Stein PD, Beemath A, Olson RE. Trends in the incidence of pulmonary embolism and deep venous thrombosis in hospitalized patients. Am J Cardiol. 2005;95(12):1525-6.

7.

Ageno W, Squizzato A, Togna A, Magistrali F, Mangini M, Fugazzola C, Dentali F. Incidental diagnosis of a deep vein thrombosis in consecutive patients undergoing a computed tomography scan of the abdomen: a retrospective cohort study. J Thromb Haemost. 2012;10(1):158-60.

8.

Easler J, Muddana V, Furlan A, Dasyam A, Vipperla K, Slivka A, Whitcomb DC, Papachristou GI, Yadav D. Portosplenomesenteric venous thrombosis in patients with acute pancreatitis is associated with pancreatic necrosis and usually has a benign course. Clin Gastroenterol Hepatol. 2014;12(5):854-62.

9.

Di Nisio M, van Es N, Büller HR. Deep vein thrombosis and pulmonary embolism. The Lancet. 2016;388(10063):3060-73.

10.

Geerts WH, Bergqvist D, Pineo GF, Heit JA, Samama CM, Lassen MR, Colwell CW. Prevention of venous thromboembolism: American College of Chest Physicians Evidence-Based Clinical Practice Guidelines (8th Edition). Chest. 2008;133(6 Suppl):381S-453S.

11.

Banks PA, Bollen TL, Dervenis C, Gooszen HG, Johnson CD, Sarr MG, Tsiotos GG, Vege SS, Acute Pancreatitis Classification Working G. Classification of acute pancreatitis--2012: revision of the Atlanta classification and definitions by international consensus. Gut. 2013;62(1):102-11.

12.

Marshall J, Cook D, Christou N, Bernard G, Sprung C, Sibbald W. Multiple Organ Dysfunction Score: A Reliable Descriptor of a Complex Clinical Outcome. Critical Care Medicine. 1995;23(10):1638-52.

13.

Heit J, Silverstein M, Mohr D, Petterson T, O'Fallon W, Melton III L. Predictors of Survival After Deep Vein Thrombosis and Pulmonary Embolism. Arch Intern Med. 1999;159:9.

14.

Gearhart MM, Luchette FA, Proctor MC, Lutomski DM, Witsken C, James L, Davis K, Jr, Johannigman JA, Hurst JM, Frame SB. The risk assessment profile score identifies trauma patients at risk for deep vein thrombosis. Surgery. 2000;128(4):631-40.

15.

Harris S, Nadkarni N, Naina H, Vege S. Splanchnic Vein Thrombosis in Acute Pancreatitis. Pancreas. 2013;42(8):4.

16.

Gonzelez HJ, Sahay SJ, Samadi B, Davidson BR, Rahman SH. Splanchnic vein thrombosis in severe acute pancreatitis: a 2-year, single-institution experience. HPB (Oxford). 2011;13(12):860-4.

17.

Butler JR, Eckert GJ, Zyromski NJ, Leonardi MJ, Lillemoe KD, Howard TJ. Natural history of pancreatitis-induced splenic vein thrombosis: a systematic review and meta-analysis of its incidence and rate of gastrointestinal bleeding. HPB (Oxford). 2011;13(12):839-45.

18.

Alpert J, Smith R, Carlson J, Ockene I, Dexter L, Dalen J. Mortality in Patients Treated for Pulmonary Embolism. JAMA. 1976;236:4.

19.

Singer GA, Riggi G, Karcutskie CA, Vaghaiwalla TM, Lieberman HM, Ginzburg E, Namias N, Lineen EB. Anti-Xa-guided enoxaparin thromboprophylaxis reduces rate of deep venous thromboembolism in high-risk trauma patients. J Trauma Acute Care Surg. 2016;81(6):1101-8.

20.

Van Santvoort H, Besselink M, Bakker O, Hofker S, Boermeester M, Dejong C, van Goor H, Schaapherder A, van Eijck C, Bollen T, van Ramshorst B, Nieuwenhuijs V, Timmer R, Lameris J, Kruyt P, Manusama E, van der Harst E, van der Schelling G, Karsten T, Hesselink E, van Laarhoven C, Rosman C, Bosscha K, de Wit R, Houdijk A, van Leeuwen M, Buskens E, Gooszen H. A Step-up Approach or Open Necrosectomy for Necrotizing Pancreatitis. NEJM. 2010;362:1491-502.

21.

Roch AM, Maatman T, Carr RA, Easler JJ, Schmidt CM, House MG, Nakeeb A, Ceppa EP, Zyromski NJ. Evolving treatment of necrotizing pancreatitis. Am J Surg. 2018;215(3):526-9.
Ethics declarations
Conflict of Interest
The authors declare that they have no conflict of interest.
Additional information
Publisher's Note
Springer Nature remains neutral with regard to jurisdictional claims in published maps and institutional affiliations.
Alexandra M. Roch and Thomas K. Maatman contributed evenly to this manuscript and share co-first authorship.
About this article
Cite this article
Roch, A.M., Maatman, T.K., Carr, R.A. et al. Venous Thromboembolism in Necrotizing Pancreatitis: an Underappreciated Risk. J Gastrointest Surg 23, 2430–2438 (2019). https://doi.org/10.1007/s11605-019-04124-0
Received:

Accepted:

Published:

Issue Date:
Keywords
Acute necrotizing pancreatitis

Venous thromboembolism

Deep venous thrombosis

Venous thrombosis