Abstract
Background
Anastomotic leak after gastroesophageal surgery is a life-threatening complication. Self-expanding metal stent (SEMS) implantation or endoscopic vacuum therapy (EVT) have been established as alternatives to reoperation. This study compares the outcome of both interventions for anastomotic leak clinical management.
Methods
In this retrospective study, we identified all patients who received SEMS or EVT for anastomotic leaks after oncological gastroesophageal surgery between January 2007 and December 2016. Only patients with type II leaks according to the Esophagectomy Complications Consensus Group were included. Sealing rates, intervention-related complications, demographic characteristics, clinical history, leak characteristics, therapy duration, and in-hospital mortality were analyzed.
Results
One hundred eleven patients who received SEMS (n = 76) or EVT (n = 35) were identified and categorized by primary and final treatment. The overall closure rate in the final treatment analysis was 85.7% for EVT and 72.4% for SEMS (p = 0.152). ICU stay ranged from 0 to 60 days (median 6 days) for EVT and from 0 to 295 days (median 9 days) for SEMS (p = 0.704). EVT patients were hospitalized for 19–119 days (median 39 days) and SEMS patients for 13–296 days (median 37 days; p = 0.812). Demographic factors, comorbidities, and surgical parameters did not correlate with treatment or treatment success.
Conclusions
SEMS and EVT show comparable results for anastomotic leak management after oncologic gastroesophageal surgery. No superior outcome could be found for either one of the two treatments options.
This is a preview of subscription content, log in to check access.
Access options
Buy single article
Instant access to the full article PDF.
US$ 39.95
Price includes VAT for USA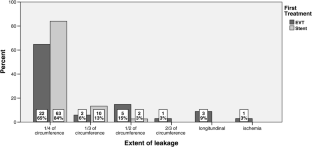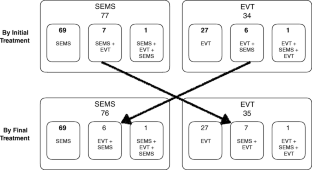 Abbreviations
H.S.:

Hartmut Schäfer

T.H.:

Till Herbold

S.C.:

Seung-Hun Chon
References
1.

Low DE, Kuppusamy MK, Alderson D, Cecconello I, Chang AC, Darling G, Davies A, D'Journo XB, Gisbertz SS, Griffin SM, Hardwick R, Hoelscher A, Hofstetter W, Jobe B, Kitagawa Y, Law S, Mariette C, Maynard N, Morse CR, Nafteux P, Pera M, Pramesh CS, Puig S, Reynolds JV, Schroeder W, Smithers M, Wijnhoven BPL. Benchmarking Complications Associated with Esophagectomy. Ann Surg 2017. https://doi.org/10.1097/SLA.0000000000002611

2.

Seesing MFJ, Gisbertz SS, Goense L, van Hillegersberg R, Kroon HM, Lagarde SM, Ruurda JP, Slaman AE, van Berge Henegouwen MI, Wijnhoven BPL. A Propensity Score Matched Analysis of Open Versus Minimally Invasive Transthoracic Esophagectomy in the Netherlands. Ann Surg 2017;266(5):839–846. https://doi.org/10.1097/SLA.0000000000002393.

3.

Schmidt HM, Gisbertz SS, Moons J, Rouvelas I, Kauppi J, Brown A, Asti E, Luyer M, Lagarde SM, Berlth F, Philippron A, Bruns C, Hoelscher A, Schneider PM, Raptis DA, van Berge Henegouwen MI, Nafteux P, Nilsson M, Räsanen J, Palazzo F, Rosato E, Mercer S, Bonavina L, Nieuwenhuijzen G, Wijnhoven BPL, Schröder W, Pattyn P, Grimminger PP, Gutschow CA. A Multicenter Analysis of Total Minimally Invasive Esophagectomy in Low Risk Patients. Ann Surg. 2017;266(5):814–821. https://doi.org/10.1097/SLA.0000000000002445.

4.

Talsma AK, Lingsma HF, Steyerberg EW, Wijnhoven BPL, Van Lanschot JJ. The 30-day versus in-hospital and 90-day mortality after esophagectomy as indicators for quality of care. Ann Surg 2014;260(2):267–273. https://doi.org/10.1097/SLA.0000000000000482

5.

Sierzega M, Kolodziejczyk P, Kulig J. Impact of anastomotic leak on long-term survival after total gastrectomy for carcinoma of the stomach. Br J Surg 2010;97(7):1035–1042. https://doi.org/10.1002/bjs.7038

6.

Markar S, Gronnier C, Duhamel A, Mabrut JY, Bail JP, Carrere N, Lefevre JH, Brigand C, Vaillant JC, Adham M, Msika S, Demartines N, Nakadi IE, Meunier B, Collet D, Mariette C. The Impact of Severe Anastomotic Leak on Long-term Survival and Cancer Recurrence After Surgical Resection for Esophageal Malignancy. Ann Surg 2015;262(6):972–980. https://doi.org/10.1097/SLA.0000000000001011

7.

Rogalski P, Daniluk J, Baniukiewicz A, Wroblewski E, Dabrowski A. Endoscopic management of gastrointestinal perforations, leaks and fistulas. World J Gastroenterol 2015;21(37):10542–10552. https://doi.org/10.3748/wjg.v21.i37.10542

8.

Aryaie AH, Singer JL, Fayezizadeh M, Lash J, Marks JM. Efficacy of endoscopic management of leak after foregut surgery with endoscopic covered self-expanding metal stents (SEMS). Surg Endosc Other Interv Tech 2017;31(2):612–617. https://doi.org/10.1007/s00464-016-5005-8

9.

Dasari BV, Neely D, Kennedy A, Spence G, Rice P, Mackle E, Epanomeritakis E. The Role of Esophageal Stents in the Management of Esophageal Anastomotic Leaks and Benign Esophageal Perforations. Ann Surg 2014;259(5):852–860. https://doi.org/10.1097/SLA.0000000000000564

10.

Loske G, Mueller C. Vakuumtherapie einer Anastomoseninsuffizienz am Ösophagus – ein Fallbericht. Zentralbl Chir 2009;134(3):267–270. https://doi.org/10.1055/s-0028-1098764

11.

Bludau M, Fuchs HF, Herbold T, Maus MKH, Alakus H, Popp F, Leers JM, Bruns CJ, Hoelscher AH, Schroeder W, Chon SH. Results of endoscopic vacuum-assisted closure device for treatment of upper GI leaks. Surg Endosc 2018;32(4):1906–1914. https://doi.org/10.1007/s00464-017-5883-4.

12.

Kuehn F, Loske G, Schiffmann L, Gock M, Klar E. Endoscopic vacuum therapy for various defects of the upper gastrointestinal tract. Surgical Endoscopy and Other Interventional Techniques 2017:1–10.

13.

Laukoetter MG, Mennigen R, Neumann PA, Dhayat S, Horst G, Palmes D, Senninger N, Vowinkel T. Successful closure of defects in the upper gastrointestinal tract by endoscopic vacuum therapy (EVT): a prospective cohort study. Surg Endosc Other Interv Tech 2017;31(6):2687–2696. https://doi.org/10.1007/s00464-016-5265-3

14.

Brangewitz M, Voigtländer T, Helfritz FA, Lankisch TO, Winkler M, Klempnauer J, Manns MP, Schneider AS, Wedemeyer J. Endoscopic closure of esophageal intrathoracic leaks: stent versus endoscopic vacuum-assisted closure, a retrospective analysis. Endoscopy 2013;45(6):433–438. https://doi.org/10.1055/s-0032-1326435

15.

Schniewind B, Schafmayer C, Voehrs G, Egberts J, von Schoenfels W, Rose T, Kurdow R, Arlt A, Ellrichmann M, Jürgensen C, Schreiber S, Becker T, Hampe J. Endoscopic endoluminal vacuum therapy is superior to other regimens in managing anastomotic leak after esophagectomy: a comparative retrospective study. Surg Endosc Other Interv Tech 2013;27(10):3883–3890. https://doi.org/10.1007/s00464-013-2998-0

16.

Mennigen R, Harting C, Lindner K, Vowinkel T, Rijcken E, Palmes D, Senninger N, Laukoetter MG. Comparison of Endoscopic Vacuum Therapy Versus Stent for Anastomotic Leak After Esophagectomy. J Gastrointest Surg 2015;19(7):1229–1235. https://doi.org/10.1007/s11605-015-2847-7

17.

Hwang JJ, Jeong YS, Park YS, Yoon H, Shin CM, Kim N, Lee DH. Comparison of Endoscopic Vacuum Therapy and Endoscopic Stent Implantation With Self-Expandable Metal Stent in Treating Postsurgical Gastroesophageal Leak. Med 2016;95(16):e3416-e3416. https://doi.org/10.1097/MD.0000000000003416

18.

Low DE, Alderson D, Cecconello I, Chang AC, Darling GE, D'Journo XB, Griffin SM, Hoelscher AH, Hofstetter WL, Jobe BA, Kitagawa Y, Kucharczuk JC, Law SY, Lerut TE, Maynard N, Pera M, Peters JH, Pramesh CS, Reynolds JV, Smithers BM, van Lanschot JJ. International consensus on standardization of data collection for complications associated with esophagectomy: Esophagectomy Complications Consensus Group (ECCG). Ann Surg 2015;262(2):286–294. https://doi.org/10.1097/SLA.0000000000001098

19.

Hoelscher AH, Schneider PM, Gutschow C, Schroeder W. Laparoscopic ischemic conditioning of the stomach for esophageal replacement. Ann Surg 2007;245(2):241–246. https://doi.org/10.1097/01.sla.0000245847.40779.10

20.

Schroeder W, Hoelscher AH, Bludau M, Vallböhmer D, Bollschweiler E, Gutschow C. Ivor-lewis esophagectomy with and without laparoscopic conditioning of the gastric conduit. World J Surg 2010;34(4):738–743. https://doi.org/10.1007/s00268-010-0403-x

21.

Strauss C, Mal F, Perniceni T, Bouzar N, Lenoir S, Gayet B, Palau R. Computed tomography versus water-soluble contrast swallow in the detection of intrathoracic anastomotic leak complicating esophagogastrectomy (Ivor Lewis): a prospective study in 97 patients. Ann Surg 2010;251(4):647–651. https://doi.org/10.1097/SLA.0b013e3181c1aeb8

22.

Hampe J, Schniewind B, Both M, Fritscher-Ravens A. Use of a NOTES closure device for full-thickness suturing of a postoperative anastomotic esophageal leak. Endoscopy 2010;42(7):595–598. https://doi.org/10.1055/s-0030-1255518

23.

Ahrens M, Schulte T, Egberts J, Schafmayer C, Hampe J, Fritscher-Ravens A, Broering DC, Schniewind B. Drainage of esophageal leak using endoscopic vacuum therapy: a prospective pilot study. Endoscopy 2010;42(9):693–698. https://doi.org/10.1055/s-0030-1255688

24.

Rausa E, Asti E, Aiolfi A, Bianco F, Bonitta G, Bonavina L. Comparison of endoscopic vacuum therapy versus endoscopic stenting for esophageal leaks: systematic review and meta-analysis. Dis Esophagus (2018), 1–8. https://doi.org/10.1093/dote/doy060

25.

Lambertz R, Hoelscher AH, Bludau M, Leers JM, Gutschow C, Schroeder W. Management of Tracheo- or Bronchoesophageal Fistula After Ivor-Lewis Esophagectomy. World J Surg 2016;40(7):1680–1687. https://doi.org/10.1007/s00268-016-3470-9
Acknowledgments
We would like to thank all the nurses in our surgical endoscopy department for their expert technical assistance. We thank Lisa-Maria Teubler for proofreading. We thank Dr. Thomas Dratsch for the statistical consultation. We thank Hartmut Schäfer for his technical expertise and his guidance as interventional endoscopist.
Additional information
DDW 2018 SSAT PLENARY PRESENTATION, Washington D.C
Electronic supplementary material
About this article
Cite this article
Berlth, F., Bludau, M., Plum, P.S. et al. Self-Expanding Metal Stents Versus Endoscopic Vacuum Therapy in Anastomotic Leak Treatment After Oncologic Gastroesophageal Surgery. J Gastrointest Surg 23, 67–75 (2019). https://doi.org/10.1007/s11605-018-4000-x
Received:

Accepted:

Published:

Issue Date:
Keywords
Anastomotic leak

Self-expanding metal stent

Endoscopic vacuum therapy

Esophagectomy

Complication management