Abstract
Background
Cost report cards have demonstrated variation in intraoperative supply costs and may allow comparisons between surgeons. However, cost data are complex and, if not properly vetted, may be inaccurate.
Methods
A retrospective assessment of intraoperative supply costs for consecutive laparoscopic cholecystectomies (2013–2017) at a 4-facility academic center was performed. Using unadjusted data (akin to an auto-generated report card), surgeons were ranked and highest to lowest-cost ratios were calculated. Then, four stepwise adjustments were performed: (1) excluded non-comparable operations and low volume (< 10 cases) surgeons, (2) eliminated outlier cases based on instrument profiles, (3) stratified by facility, and (4) adjusted prices (assigned one price; corrected aberrant/missing prices). Surgeon rank and highest to lowest-cost ratios were then re-calculated.
Results
The unadjusted data identified 1392 cases for 33 surgeons (range, 1–317 cases). The ratio between the highest cost and lowest cost surgeon was 4.13. Steps 1 and 2 excluded 272 cases and 15 surgeons. Facility sample sizes ranged from 144 to 621 (step 3). Adjusting prices (step 4) required manual review of 472 unique items: 45% had > 1 price and 16 had missing prices. After all adjustments, surgeons had different rankings and highest to lowest-cost ratios within sites were smaller (ratio range, 1.17–2.10).
Conclusions
Evaluating surgeons based on intraoperative supply costs is sensitive to analytic methods. Surgeons who were initially considered cost outliers became the least expensive within a given site. Auto-generated cost report cards may require additional analyses to produce accurate comparative assessments.
This is a preview of subscription content,
to check access.
Access this article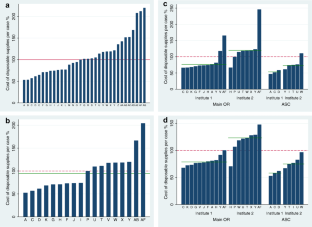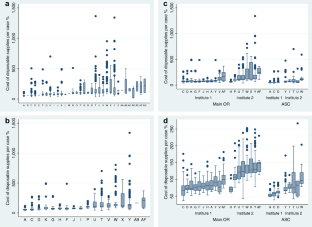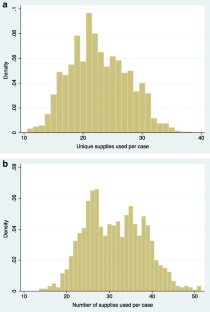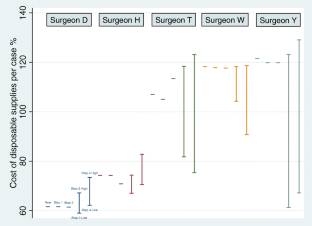 Similar content being viewed by others
References
Porter ME. What is value in health care? N Engl J Med. 2010;363(26):2477–81. https://doi.org/10.1056/NEJMp1011024.

Cutler DM. Rising Medical Costs Mean More Rough Times Ahead. JAMA. 2017;318(6):508–9. https://doi.org/10.1001/jama.2017.8931.

Childers CP, Maggard-Gibbons M. Understanding Costs of Care in the Operating Room. JAMA Surg. 2018:e176233. https://doi.org/10.1001/jamasurg.2017.6233.

Brauer DG, Hawkins WG, Strasberg SM, Brunt LM, Jaques DP, Mercurio NR et al. Cost variation in a laparoscopic cholecystectomy and the association with outcomes across a single health system: implications for standardization and improved resource utilization. HPB : the official journal of the International Hepato Pancreato Biliary Association. 2015;17(12):1113–8. https://doi.org/10.1111/hpb.12500.

Rosenbaum BP, Modic MT, Krishnaney AA. Value in Single-level Lumbar Discectomy: Surgical Disposable Item Cost and Relationship to Patient-reported Outcomes. Clin Spine Surg. 2017. https://doi.org/10.1097/BSD.0000000000000504.

Zygourakis CC, Valencia V, Boscardin C, Nayak RU, Moriates C, Gonzales R et al. Predictors of Variation in Neurosurgical Supply Costs and Outcomes Across 4904 Surgeries at a Single Institution. World neurosurgery. 2016;96:177–83. https://doi.org/10.1016/j.wneu.2016.08.121.

Childers CP, Showen A, Nuckols T, Maggard-Gibbons M. Interventions to Reduce Intraoperative Costs: A Systematic Review. Ann Surg. 2018;268(1):48–57.

Austin LS, Tjoumakaris FP, Ong AC, Lombardi NJ, Wowkanech CD, Mehnert MJ. Surgical Cost Disclosure May Reduce Operating Room Expenditures. Orthopedics. 2017;40(2):e269-e74. https://doi.org/10.3928/01477447-20161116-03.

Croft K, Mattingly PJ, Bosse P, Naumann RW. Physician Education on Controllable Costs Significantly Reduces Cost of Laparoscopic Hysterectomy. Journal of minimally invasive gynecology. 2017;24(1):62–6. https://doi.org/10.1016/j.jmig.2016.10.003.

Gitelis M, Vigneswaran Y, Ujiki MB, Denham W, Talamonti M, Muldoon JP et al. Educating surgeons on intraoperative disposable supply costs during laparoscopic cholecystectomy: a regional health system's experience. American journal of surgery. 2015;209(3):488–92. https://doi.org/10.1016/j.amjsurg.2014.09.023.

Guzman MJ, Gitelis ME, Linn JG, Ujiki MB, Waskerwitz M, Umanskiy K et al. A Model of Cost Reduction and Standardization: Improved Cost Savings While Maintaining the Quality of Care. Diseases of the colon and rectum. 2015;58(11):1104–7. https://doi.org/10.1097/dcr.0000000000000463.

Krpata DM, Haskins IN, Rosenblatt S, Grundfest S, Prabhu A, Rosen MJ. Development of a Disease-based Hernia Program and the Impact on Cost for a Hospital System. Annals of surgery. 2016. https://doi.org/10.1097/sla.0000000000002093.

Tabib CH, Bahler CD, Hardacker TJ, Ball KM, Sundaram CP. Reducing Operating Room Costs Through Real-Time Cost Information Feedback: A Pilot Study. Journal of endourology / Endourological Society. 2015;29(8):963–8. https://doi.org/10.1089/end.2014.0858.

Vigneswaran Y, Linn JG, Gitelis M, Muldoon JP, Lapin B, Denham W et al. Educating surgeons may allow for reduced intraoperative costs for inguinal herniorrhaphy. Journal of the American College of Surgeons. 2015;220(6):1107–12. https://doi.org/10.1016/j.jamcollsurg.2015.02.030.

Zygourakis CC, Valencia V, Moriates C, Boscardin CK, Catschegn S, Rajkomar A et al. Association Between Surgeon Scorecard Use and Operating Room Costs. JAMA Surg. 2017;152(3):284–91. https://doi.org/10.1001/jamasurg.2016.4674.

Hofer IS, Gabel E, Pfeffer M, Mahbouba M, Mahajan A. A Systematic Approach to Creation of a Perioperative Data Warehouse. Anesth Analg. 2016;122(6):1880–4. https://doi.org/10.1213/ANE.0000000000001201.

Husereau D, Drummond M, Petrou S, Carswell C, Moher D, Greenberg D et al. Consolidated Health Economic Evaluation Reporting Standards (CHEERS) statement. BMJ. 2013;346:f1049. https://doi.org/10.1136/bmj.f1049.
Funding
Christopher Childers is funded by AHRQ#F32HS025079.
Ethics declarations
Ethics
The University of California, Los Angeles (UCLA) Institutional Review Board approved this study and a waiver of informed consent was granted for retrospective electronic medical review.
About this article
Cite this article
Childers, C.P., Hofer, I.S., Cheng, D.S. et al. Evaluating Surgeons on Intraoperative Disposable Supply Costs: Details Matter. J Gastrointest Surg 23, 2054–2062 (2019). https://doi.org/10.1007/s11605-018-3889-4
Received:

Accepted:

Published:

Issue Date:

DOI: https://doi.org/10.1007/s11605-018-3889-4
Keywords