Abstract
Management of post-bariatric surgery emergencies is common practice in the USA and the world. Due to the popularity and widespread use of bariatric procedures to treat obesity and its comorbidities, emergency physicians and general surgeons will be challenged with the treatment of short- and long-term complications of bariatric procedures. In this article, we evaluate the most common long-term complications of the most commonly performed bariatric interventions.
Access options
Buy single article
Instant access to the full article PDF.
US$ 39.95
Tax calculation will be finalised during checkout.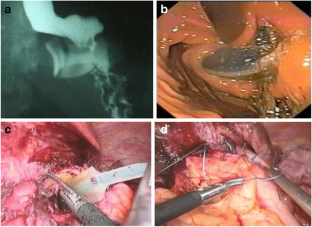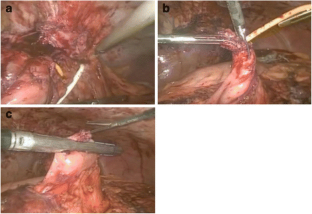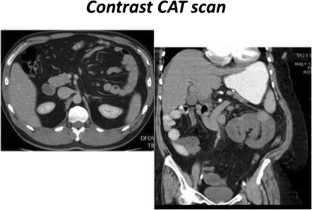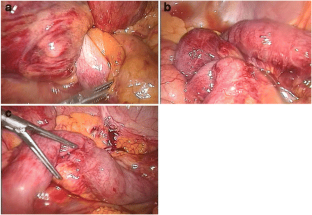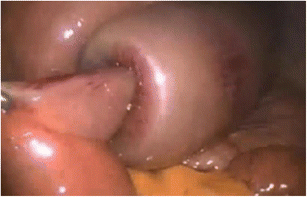 References
1.

Sudan R. Evidence based surgical treatment of GI disease. GI Surgery Winter Course Dec 2, 3, 2016. National Doral, Miami Fl.

2.

Aman MW, Steele KE, Magnuson TH, Lidor AO, Nguyen HT, Schweitzer MA. Intestinal complications after RYGB. Bariatric Times. 2015; 12: 14–18).

3.

Palermo M., Acquafresca PA, Rogula T, Duza GE, Serra E. Late Surgical complications after gastric by-pass: a literatura review. Arq Bras Cir Dig 2015; 28: 139–143

4.

Ellsmere JC, Jones D, Chen W. Late complications of bariatric surgical operations. Up to Date. Literature review current through Jan 2017

5.

Cho M, Pinto D, Carrodeguas L, Lascano C, Soto F, Whipple O, Simpfendorfer C, Gonzalvo JP, Zundel N, Szomstein S, Rosenthal RJ. Frequency and management of internal hernias after laparoscopic antecolic antegastric Roux-en-Y gastric bypass without division of the small bowel mesentery or closure of mesenteric defects: review of 1400 consecutive cases. Surg Obes Relat Dis. 2006, 2: 87–91.

6.

Al Harakeh AB. Complications of laparoscopic Roux-en-Y gastric bypass. Surgical Clinics of NA 2011, 91: 1225–1237

7.

Kodner CH, Hartman DR. Complications of adjustable gastric banding surgery for obesity. Am Fam Physician 2014, 89: 813–18

8.

Chousleb E, Szomstein S, Lo Menzo E, Higa G, Zundel N, Rosenthal RJ. Laparoscopic removal of gastric band after early gastric erosion. Case report and review of literature. Surgical Laparoscopy, Endoscopy and Percutaneous Techniques 15(1):24–27 2005

9.

Coblijn UK, Goucham AB, Lagarde SM. Development of ulcer disease after Roux-en-Y gastric bypass. Incidence, risk factors and patient presentation: a systematic review. Obes Surg 2014, 24: 299–309

10.

Chousleb E, Rosenthal R. Management of gastrointestinal bleeding after roux en y gastric bypass. In Handbook of Obesity Surgery. Deitel M, Gagner M. EDS. FD-Communications 2010:90–95

11.

Boules M, Chang J, Haskins IN, Sharma G, Froylich D, Hayek KE, Rodriguez J. Endoscopic management of post bariatric surgery complications J Gastrointest Endosc 2016, 8: 591–599

12.

Wolnerhanssen B, Peterli R. Management of complications after bariatric surgery. Chirurg 2015; 86: 1114–20

13.

Altieri MS, Pryor AD, Telem DA. Algorithmic approach to utilization of CT scans for detection of internal hernia in the gastric bypass patient. Surg Obes Relat Dis. 2015; 11: 1207–11

14.

Hosoya Y, Lefor A, Ui T, Haruta H, Kurashina K, Saito S, Zuiki T, Sata N, Yasuda Y. Internal hernia after laparoscopic gastric resection with antecolic Roux-en-Y reconstruction after gastric cancer. Surg Endosc 2011, 25: 3400–4

15.

Rogula T, Yenumula R, Schauer PR. A complication of Roux-en-Y gastric bypass: intestinal obstruction. Surg Endosc. 2007, 21: 1914–18

16.

Siddique SS, Feuerstein JD. Gastrointestinal complications of Roux-en-Y gastric bypass surgery. OA Minimally Invasive Surgery 2014 Jan 18; 2:1.

17.

O'Rourke RW. Management strategies for internal hernia after gastric bypass. J Gastrointest Surg 2011; 15: 1049–54

18.

Chiong E, Hegarty PK, Davis JW, Kamat AM, Pisters LL, Matin SF. Port-site hernias occurring after the use of bladeless radially expanding trocars. Urology. 2010;75(3):574–580.
Additional information
CME questions for this article available to SSAT members at http://ssat.com/jogscme/
Learning Objectives
The objectives of this study were to recognize and appropriately treat the most common bariatric complications seen by general surgeons in the emergency department.
Disclosure Information
Authors: Elias Chousleb, M.D. has nothing to disclose. Alberto Chousleb, M.D. has nothing to disclose. Editor-in-Chief: Jeffrey B. Matthews, M.D., has nothing to disclose. CME Overseers: Arbiter: Jeffrey B. Matthews, M.D., has nothing to disclose; Vice-Arbiter: Melanie Morris, M.D., has nothing to disclose; Question Reviewers: Guilherme Campos, M.D. has nothing to disclose; Luca Stocchi, M.D., has nothing to disclose.
About this article
Cite this article
Chousleb, E., Chousleb, A. Management of Post-Bariatric Surgery Emergencies. J Gastrointest Surg 21, 1946–1953 (2017). https://doi.org/10.1007/s11605-017-3468-0
Received:

Accepted:

Published:

Issue Date:
Keywords
Bariatric surgery

Complications

Management