Abstract
Post-operative pancreatic fistula (POPF) is a potentially severe complication following distal pancreatectomy. The aim of this study was to assess the predictive value of intra-operative amylase concentration (IOAC) in peri-pancreatic fluid after distal pancreatectomy for the diagnosis of POPF. Consecutive patients who underwent a distal pancreatectomy between November 2014 and September 2016 were included in the analysis. IOAC was measured, followed by drain fluid analysis for amylase on post-operative days (PODs) 1, 3, and 5. Receiver operator characteristic (ROC) analysis was performed to evaluate the discriminative capacity of IOAC as a predictor of POPF. IOAC was measured after distal pancreatectomy in 26 patients. The IOAC correlated significantly with (i) PODs 1, 3, and 5 drain amylase (p < 0.01); (ii) the development of POPF (p < 0.01); and (iii) the Clavien-Dindo grade of surgical complications (p = 0.02). Eighty-three percent of patients with an IOAC > 1000 experienced a post-operative complication (OR 18.3, 95% CI 2.51–103, p < 0.01). ROC curve analysis confirmed the predictive relationship of IOAC and POPF as an excellent test with an area under the curve of 0.92 (95% CI 0.81–0.99, p < 0.01). Measurement of IOAC allows early and accurate categorization of patients at risk for POPF in distal pancreatectomy.
This is a preview of subscription content, log in to check access.
Access options
Buy single article
Instant access to the full article PDF.
US$ 39.95
Price includes VAT for USA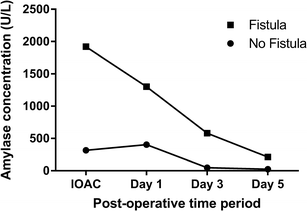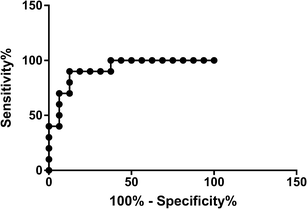 References
1.

Ferrone CR, Warshaw AL, Rattner DW, Berger D, Zheng H, Rawal B, Rodriguez R, Thayer SP, Fernandez-del Castillo AL. Pancreatic fistula rates after 462 distal pancreatectomies: staplers do not decrease fistula rates. Journal of Gastrointestinal Surgery: Official Journal of the Society for Surgery of the Alimentary Tract 2008; 12:1691–1697; discussion 1697-1698.

2.

Kleeff J, Diener MK, Z'Graggen K, Hinz U, Wagner M, Bachmann J, Zehetner J, Muller MW, Friess H, Buchler MW. Distal pancreatectomy: risk factors for surgical failure in 302 consecutive cases. Annals of Surgery 2007; 245:573–582; J Kleeff and MK Diener shared co-first authorship.

3.

Bassi C, Butturini G, Molinari E, Mascetta G, Salvia R, Falconi M, Gumbs A, Pederzoli P. Pancreatic fistula rate after pancreatic resection. The importance of definitions. Digestive Surgery 2004; 21:54–59.

4.

Bassi C, Dervenis C, Butturini G, Fingerhut A, Yeo C, Izbicki J, Neoptolemos J, Sarr M, Traverso W, Buchler M, International Study Group on Pancreatic Fistula D. Postoperative pancreatic fistula: an International Study Group (ISGPF) definition. Surgery 2005; 138:8–13.

5.

Ven Fong Z, Correa-Gallego C, Ferrone CR, Veillette GR, Warshaw AL, Lillemoe KD, Fernandez-del Castillo C. Early drain removal—the middle ground between the drain versus no drain debate in patients undergoing pancreaticoduodenectomy: a prospective validation study. Annals of Surgery 2015; 262:378–383.

6.

de Reuver PR, Gundara J, Hugh TJ, Samra JS, Mittal A. Intra-operative amylase in peri-pancreatic fluid independently predicts for pancreatic fistula post pancreaticoduodectomy. HPB (Oxford) 2016; 18:608–614.

7.

Benoist S, Dugue L, Sauvanet A, Valverde A, Mauvais F, Paye F, Farges O, Belghiti J. Is there a role of preservation of the spleen in distal pancreatectomy? Journal of the American College of Surgeons 1999; 188:255–260.

8.

Dindo D, Demartines N, Clavien PA. Classification of surgical complications: a new proposal with evaluation in a cohort of 6336 patients and results of a survey. Annals of Surgery 2004; 240:205–213.

9.

Richardson J, Di Fabio F, Clarke H, Bajalan M, Davids J, Abu Hilal M. Implementation of enhanced recovery programme for laparoscopic distal pancreatectomy: feasibility, safety and cost analysis. Pancreatology: Official Journal of the International Association of Pancreatology (IAP) 2015; 15:185–190.

10.

Yamashita S, Ishizawa T, Ichida A, Kaneko J, Aoki T, Sakamoto Y, Sugawara Y, Hasegawa K, Kokudo N. Advantages and disadvantages of prophylactic abdominal drainage in distal pancreatectomy. World Journal of Surgery 2016; 40:1226–1235.

11.

Behrman SW, Zarzaur BL, Parmar A, Riall TS, Hall BL, Pitt HA. Routine drainage of the operative bed following elective distal pancreatectomy does not reduce the occurrence of complications. Journal of Gastrointestinal Surgery: Official Journal of the Society for Surgery of the Alimentary Tract 2015; 19:72–79; discussion 79.

12.

Kaminsky PM, Mezhir JJ. Intraperitoneal drainage after pancreatic resection: a review of the evidence. The Journal of Surgical Research 2013; 184:925–930.

13.

Paulus EM, Zarzaur BL, Behrman SW. Routine peritoneal drainage of the surgical bed after elective distal pancreatectomy: is it necessary? American Journal of Surgery 2012; 204:422–427.

14.

Mori K, Ishizawa T, Yamashita S, Kamiya M, Urano Y, Kokudo N. Intraoperative visualization of pancreatic juice leaking from the pancreatic stump in a swine model. Gastroenterology 2015; 149:1334–1336.

15.

Yamashita S, Sakabe M, Ishizawa T, Hasegawa K, Urano Y, Kokudo N. Visualization of the leakage of pancreatic juice using a chymotrypsin-activated fluorescent probe. The British Journal of Surgery 2013; 100:1220–1228.

16.

Pannegeon V, Pessaux P, Sauvanet A, Vullierme MP, Kianmanesh R, Belghiti J. Pancreatic fistula after distal pancreatectomy: predictive risk factors and value of conservative treatment. Archives of Surgery 2006; 141:1071–1076; discussion 1076.

17.

Molinari E, Bassi C, Salvia R, Butturini G, Crippa S, Talamini G, Falconi M, Pederzoli P. Amylase value in drains after pancreatic resection as predictive factor of postoperative pancreatic fistula: results of a prospective study in 137 patients. Annals of Surgery 2007; 246:281–287.

18.

Nathan H, Cameron JL, Goodwin CR, Seth AK, Edil BH, Wolfgang CL, Pawlik TM, Schulick RD, Choti MA. Risk factors for pancreatic leak after distal pancreatectomy. Annals of Surgery 2009; 250:277–281.

19.

Diener MK, Seiler CM, Rossion I, Kleeff J, Glanemann M, Butturini G, Tomazic A, Bruns CJ, Busch OR, Farkas S, Belyaev O, Neoptolemos JP, Halloran C, Keck T, Niedergethmann M, Gellert K, Witzigmann H, Kollmar O, Langer P, Steger U, Neudecker J, Berrevoet F, Ganzera S, Heiss MM, Luntz SP, Bruckner T, Kieser M, Buchler MW. Efficacy of stapler versus hand-sewn closure after distal pancreatectomy (DISPACT): a randomised, controlled multicentre trial. Lancet 2011; 377:1514–1522.

20.

Yoshioka R, Saiura A, Koga R, Seki M, Kishi Y, Morimura R, Yamamoto J, Yamaguchi T. Risk factors for clinical pancreatic fistula after distal pancreatectomy: analysis of consecutive 100 patients. World Journal of Surgery 2010; 34:121–125.
Ethics declarations
Ethics approval was obtained from the Northern Sydney Local Health District Human Research Ethics Committee and the North Shore Private Hospital Ethics Committee.
Sources of Funding
Christopher B Nahm is the recipient of a Foundation for Surgery Herbert and Gloria Kees Scholarship from the Royal Australasian College of Surgeons, Sydney Vital, and the Australia New Zealand Hepatic, Pancreatic and Biliary Association for his PhD research.
Additional information
Kleeff J and Diener MK designate shared co-first authorship.
About this article
Cite this article
Nahm, C.B., de Reuver, P.R., Hugh, T.J. et al. Intra-Operative Amylase Concentration in Peri-Pancreatic Fluid Predicts Pancreatic Fistula After Distal Pancreatectomy. J Gastrointest Surg 21, 1031–1037 (2017). https://doi.org/10.1007/s11605-017-3395-0
Received:

Accepted:

Published:

Issue Date:
Keywords
Pancreatectomy

Pancreatic fistula

Amylase

Pancreas