Abstract
Introduction
Primary colorectal sarcomas are a rare entity with anecdotally poor outcomes. We sought to inform surgeons, oncologists, and researchers of the characteristics and outcomes of these understudied and difficult-to-manage tumors.
Methods
The National Cancer Data Base (NCDB) was queried for patients with pathologically confirmed primary sarcoma of the colon or rectum (1998–2012). Gastrointestinal stromal tumors were excluded. Unadjusted overall survival was reported using the Kaplan-Meier method. Patients with colorectal adenocarcinoma were used as a comparison cohort.
Results
Four hundred thirty-three patients with primary colorectal sarcoma were identified (57.5% leiomyosarcoma subtype). Median age was 63 [inter-quartile range 52, 75] years with 23.1% between the ages of 18 and 50 and 48.7% female. Majority of sarcomas were located in the colon (70.7%). When compared to 696,902 patients with adenocarcinoma, sarcoma patients were younger, had larger tumors, were more likely node negative and rectal in location, and higher grade (all p < 0.001), while sex, race, and comorbidity score were similar (all p > 0.05). Overall survival was lower at 5 years in patients with sarcoma (43.8%) than adenocarcinoma (52.3%, p < 0.001).
Conclusion
Primary colorectal sarcomas are rare and present at a younger age and higher grade than adenocarcinoma of the colon and rectum. Survival is significantly worse compared to adenocarcinoma patients.
Access options
Buy single article
Instant access to the full article PDF.
US$ 39.95
Tax calculation will be finalised during checkout.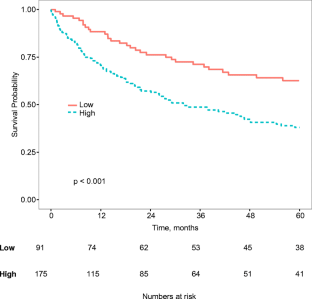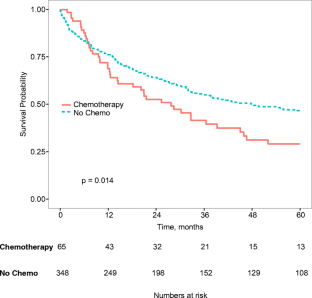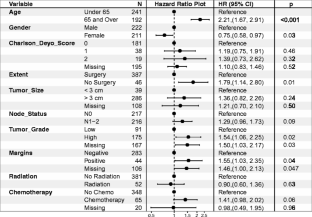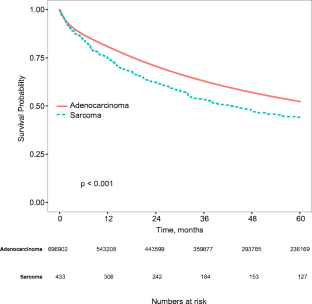 References
1.

Cuffy M, Abir F, Longo WE. Management of less common tumors of the colon, rectum, and anus. Clin. Colorectal Cancer 2006;5:327–337.

2.

Yaren A, Değirmencioğlu S, Callı Demirkan N, et al. Primary mesenchymal tumors of the colon: a report of three cases. Turk. J. Gastroenterol 2014;25:314–318.

3.

Conlon KC, Casper ES, Brennan MF. Primary gastrointestinal sarcomas: analysis of prognostic variables.Ann. Surg. Oncol 1995;2:26–31.

4.

Chou CL, Chang SC, Lin TC, Chen WS, Jiang JK, Wang HS, Yang SH, Li, AF, Lin JK. Clinical analysis and surgical results of primary colorectal sarcoma. J Soc Colon Rectal Surg (Taiwan) 2010:161–168.

5.

Yang J-L, Crowe PJ. Targeted therapies in adult soft tissue sarcomas. J Surg Oncol 2007;95:183–184.

6.

Luna-Pérez P, Rodríguez DF, Luján L, Alvarado I, Kelly J, Rojas ME, Labastida S, González JL. Colorectal sarcoma: analysis of failure patterns. J Surg Oncol 1998;69:36–40.

7.

Meijer S, Peretz T, Gaynor JJ, Tan C, Hajdu SI, Brennan MF. Primary colorectal sarcoma. A retrospective review and prognostic factor study of 50 consecutive patients. Arch Surg 1990;125:1163–1168.

8.

Diamante M, Bacon HE. Leiomyosarcoma of the rectum: report of a case. Dis Colon Rectum 1967;10:347–351.

9.

Khalifa AA, Bong WL, Rao VK, Williams MJ. Leiomyosarcoma of the rectum. Report of a case and review of the literature. Dis Colon Rectum 1986;29:427–432.

10.

Hishida Y, Ishida M. Smooth-muscle tumors of the rectum in Japanese. Dis Colon Rectum 1974; 7:226–234.

11.

Randleman CD, Wolff BG, Dozois RR, Spencer RJ, Weiland LH, Ilstrup DM. Leiomyosarcoma of the rectum and anus. A series of 22 cases. Int J Colorectal Dis 1989;4:91–96.

12.

Minsky BD, Cohen AM, Hajdu SI, Nori D. Sphincter preservation in rectal sarcoma. Dis Colon Rectum 1990;33:319–322.

13.

Martín Liberal J, Lagares-Tena L, Sáinz-Jaspeado M, Mateo-Lozano S, García Del Muro X, Tirado OM. Targeted therapies in sarcomas: challenging the challenge. Sarcoma 2012:626094.

14.

Raval MV, Bilimoria KY, Stewart AK, Bentrem DJ, Ko CY. Using the NCDB for cancer care improvement: an introduction to available quality assessment tools. J Surg Oncol. 2009 Jun 15;99(8):488-490.

15.

Radons J. The role of inflammation in sarcoma. Adv. Exp Med Biol 2014;816:259–313.
Acknowledgements
The Mayo Clinic Robert D. and Patricia E. Kern Center for the Science of Health Care Delivery provided support for this work.
Author Contribution
All authors contributed to the study design and interpretation of the data. Thiels, Bergquist, Habermann, and Cima contributed to the data acquisition and analysis. All authors contributed to the drafting, critical review, and final approval of the manuscript and agree to be held accountable for all aspects of the work.
Ethics declarations
Conflicts of Interest and Source of Funding
The authors have no relevant financial disclosures.
About this article
Cite this article
Thiels, C.A., Bergquist, J.R., Krajewski, A.C. et al. Outcomes of Primary Colorectal Sarcoma: A National Cancer Data Base (NCDB) Review. J Gastrointest Surg 21, 560–568 (2017). https://doi.org/10.1007/s11605-016-3347-0
Received:

Accepted:

Published:

Issue Date:
Keywords
Sarcoma

Colorectal cancer

National Cancer Database

Leiomyosarcoma