Abstract
Background
Hereditary diffuse gastric cancer (HDGC) syndrome is caused by germline mutations in the CDH1 gene and carries a lifetime gastric cancer risk of approximately 70 % in men and 56 % in women. Current consensus guidelines recommend that people of age ≥20 who harbor a CDH1 mutation undergo prophylactic total gastrectomy (PTG). However, the decision to proceed with a major visceral resection for prophylactic reasons may be difficult, especially since long-term outcomes are not well defined. We examined the decision-making process, physical symptoms, and psychosocial outcomes in adults who underwent PTG.
Methods
Participants completed pre- and post-operative questionnaires that included standardized measures of health-related quality of life (HRQOL), body image, psychological distress, regret, and decisional conflict. Those who declined surgery completed a questionnaire that measured decisional conflict and explored reasons for their choice.
Results
Forty of fifty (80 %) questionnaires distributed to 18 individuals were completed. In the 13 patients who underwent PTG, global HRQOL tended to decrease immediately post-operatively, climb to baseline by 6–12 months, then decrease again at 24 months. Body image and level of psychological distress remained relatively stable, and most patients expressed little decisional conflict or regret. All five individuals who declined surgery did so for practical reasons and would consider surgery in the future.
Conclusions
While most patients do not experience negative psychosocial consequences following PTG, mild physical symptoms persist and may affect long-term HRQOL. The present study emphasizes the need for long-term follow-up of this unique population of survivors.
This is a preview of subscription content, log in to check access.
Access options
Buy single article
Instant access to the full article PDF.
US$ 39.95
Price includes VAT for USA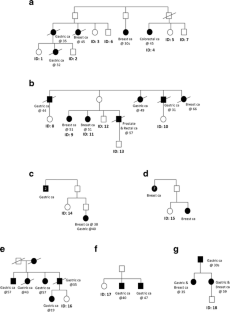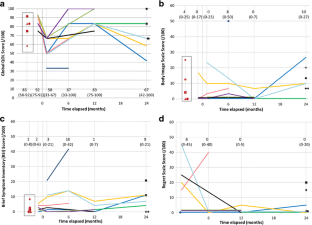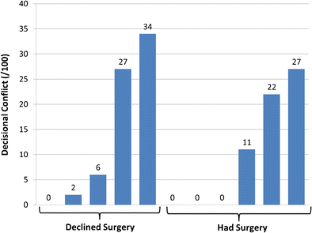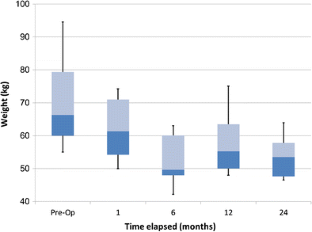 References
1.

Jemal A, Bray F, Center MM, Ferlay J, Ward E, Forman D. Global cancer statistics. CA Cancer J Clin. 2011;61: 69–90.

2.

Cisco RM, Ford JM, Norton JA. Hereditary diffuse gastric cancer: implications of genetic testing for screening and prophylactic surgery. Cancer. 2008;113: 1850–1856.

3.

Carneiro F. Hereditary gastric cancer. Pathologe. 2012;33 Suppl 2: 231–234.

4.

Guilford P, Hopkins J, Harraway J, McLeod M, McLeod N, Harawira P, et al. E-cadherin germline mutations in familial gastric cancer. Nature. 1998;392: 402–405.

5.

Hansford S, Kaurah P, Li-Chang H, Woo M, Senz J, Pinheiro H, et al. Hereditary Diffuse Gastric Cancer Syndrome: CDH1 Mutations and Beyond. JAMA Oncol. 2015;1: 23–32.

6.

van der Post RS, Vogelaar IP, Carneiro F, Guilford P, Huntsman D, Hoogerbrugge N, et al. Hereditary diffuse gastric cancer: updated clinical guidelines with an emphasis on germline CDH1 mutation carriers. J Med Genet. 2015;52: 361–374.

7.

Hebbard PC, Macmillan A, Huntsman D, Kaurah P, Carneiro F, Wen X, et al. Prophylactic total gastrectomy (PTG) for hereditary diffuse gastric cancer (HDGC): the Newfoundland experience with 23 patients. Annals of Surgical Oncology. 2009;16: 1890–1895.

8.

Newman EA, Mulholland MW. Prophylactic gastrectomy for hereditary diffuse gastric cancer syndrome. J Am Coll Surg. 2006;202: 612–617.

9.

Dixon M, Seevaratnam R, Wirtzfeld D, McLeod R, Helyer L, Law C, et al. A RAND/UCLA appropriateness study of the management of familial gastric cancer. Annals of Surgical Oncology. 2013;20: 533–541.

10.

Avery K, Hughes R, McNair A, Alderson D, Barham P, Blazeby J. Health-related quality of life and survival in the 2 years after surgery for gastric cancer. Eur J Surg Oncol. 2010;36: 148–154.

11.

Takiguchi N, Takahashi M, Ikeda M, Inagawa S, Ueda S, Nobuoka T, et al. Long-term quality-of-life comparison of total gastrectomy and proximal gastrectomy by Postgastrectomy Syndrome Assessment Scale (PGSAS-45): a nationwide multi-institutional study. Gastric Cancer. 2014.

12.

Karanicolas PJ, Graham D, Gonen M, Strong VE, Brennan MF, Coit DG. Quality of life after gastrectomy for adenocarcinoma: a prospective cohort study. Ann Surg. 2013;257: 1039–1046.

13.

Worster E, Liu X, Richardson S, Hardwick RH, Dwerryhouse S, Caldas C, et al. The Impact of Prophylactic Total Gastrectomy on Health-Related Quality of Life: A Prospective Cohort Study. Ann Surg. 2014.

14.

Fitzgerald RC, Hardwick R, Huntsman D, Carneiro F, Guilford P, Blair V, et al. Hereditary diffuse gastric cancer: updated consensus guidelines for clinical management and directions for future research. J Med Genet. 2010;47: 436–444.

15.

Aaronson NK, Ahmedzai S, Bergman B, Bullinger M, Cull A, Duez NJ, et al. The European Organization for Research and Treatment of Cancer QLQ-C30: a quality-of-life instrument for use in international clinical trials in oncology. Journal of the National Cancer Institute. 1993;85: 365–376.

16.

Vickery CW, Blazeby JM, Conroy T, Arraras J, Sezer O, Koller M, et al. Development of an EORTC disease-specific quality of life module for use in patients with gastric cancer. European Journal of Cancer. 2001;37: 966–971.

17.

Hopwood P, Fletcher I, Lee A, Al Ghazal S. A body image scale for use with cancer patients. European Journal of Cancer. 2001;37: 189–197.

18.

Zabora J, BrintzenhofeSzoc K, Jacobsen P, Curbow B, Piantadosi S, Hooker C, et al. A new psychosocial screening instrument for use with cancer patients. Psychosomatics. 2001;42: 241–246.

19.

Brehaut JC, O'Connor AM, Wood TJ, Hack TF, Siminoff L, Gordon E, et al. Validation of a decision regret scale. Med Decis Making. 2003;23: 281–292.

20.

O'Connor AM. Validation of a decisional conflict scale. Med Decis Making. 1995;15: 25–30.

21.

Kobayashi D, Kodera Y, Fujiwara M, Koike M, Nakayama G, Nakao A. Assessment of quality of life after gastrectomy using EORTC QLQ-C30 and STO22. World J Surg. 2011;35: 357–364.

22.

Kim AR, Cho J, Hsu YJ, Choi MG, Noh JH, Sohn TS, et al. Changes of quality of life in gastric cancer patients after curative resection: a longitudinal cohort study in Korea. Ann Surg. 2012;256: 1008–1013.

23.

McHorney CA, Ware JE, Jr., Raczek AE. The MOS 36-Item Short-Form Health Survey (SF-36): II. Psychometric and clinical tests of validity in measuring physical and mental health constructs. Med Care. 1993;31: 247–263.

24.

Metcalfe KA, Poll A, O'Connor A, Gershman S, Armel S, Finch A, et al. Development and testing of a decision aid for breast cancer prevention for women with a BRCA1 or BRCA2 mutation. Clin Genet. 2007;72: 208–217.

25.

Rogers WM, Dobo E, Norton JA, Van Dam J, Jeffrey RB, Huntsman DG, et al. Risk-reducing total gastrectomy for germline mutations in E-cadherin (CDH1): pathologic findings with clinical implications. American Journal of Surgical Pathology. 2008;32: 799–809.

26.

Chun YS, Lindor NM, Smyrk TC, Petersen BT, Burgart LJ, Guilford PJ, et al. Germline E-cadherin gene mutations: is prophylactic total gastrectomy indicated? Cancer. 2001;92: 181–187.

27.

Lynch HT, Kaurah P, Wirtzfeld D, Rubinstein WS, Weissman S, Lynch JF, et al. Hereditary diffuse gastric cancer: diagnosis, genetic counseling, and prophylactic total gastrectomy. Cancer. 2008;112: 2655–2663.

28.

Norton JA, Ham CM, Van Dam J, Jeffrey RB, Longacre TA, Huntsman DG, et al. CDH1 truncating mutations in the E-cadherin gene: an indication for total gastrectomy to treat hereditary diffuse gastric cancer. Ann Surg. 2007;245: 873–879.

29.

Huntsman DG, Carneiro F, Lewis FR, MacLeod PM, Hayashi A, Monaghan KG, et al. Early gastric cancer in young, asymptomatic carriers of germ-line E-cadherin mutations. New England Journal of Medicine. 2001;344: 1904–1909.
Authors' Contribution
All authors have reviewed and approved the final manuscript. JM, MA, MJE, and CJS were involved in the conception/design of the study and JM, MA, and AP were involved in data acquisition/analysis. JM and CJS drafted the manuscript.
Ethics declarations
All procedures followed were in accordance with the ethical standards of the responsible committee on human experimentation (institutional and national) and with the Helsinki Declaration of 1964 and later versions. Informed consent or substitute for it was obtained from all patients for being included in the study.
Conflict of Interest
The authors declare that they have no conflict of interest.
Funding Sources
Not applicable.
Additional information
Jennifer Muir MD MSc and Melyssa Aronson MS contributed equally to this work.
Electronic Supplementary Material
Below is the link to the electronic supplementary material.
About this article
Cite this article
Muir, J., Aronson, M., Esplen, M. et al. Prophylactic Total Gastrectomy: a Prospective Cohort Study of Long-Term Impact on Quality of Life. J Gastrointest Surg 20, 1950–1958 (2016). https://doi.org/10.1007/s11605-016-3287-8
Received:

Accepted:

Published:

Issue Date:
Keywords
Stomach neoplasms

Gastrectomy

Quality of life

Body image

Decision-making