Abstract
Introduction
The stapled hemorrhoidopexy (SH) and the Doppler-guided transanal hemorrhoidal dearterialization (DG-THD) are minimally invasive procedures for the surgical treatment of hemorrhoids. This study aims to verify the efficacy of the DG-THD versus the SH in the treatment of third-degree hemorrhoids.
Method
One hundred consecutive patients were causally allocated to either procedure, obtaining two groups of 50 pts. A clinical examination was performed at 3, 7, 15, and 30 days after the operation. Quality of life, anal symptoms, recurrence of hemorrhoids, and reoperation were assessed by means of a questionnaire and of a clinical examination at long-term follow-up (7.0 year average).
Results
At short-term follow-up, the median postoperative pain score was significantly lower in DG-THD group compared to SH group, (V.A.S 2 vs 6; t = 2.65, p < 0.01). The morbidity rate and the return to normal life and work were similar after the two procedures. At long-term follow-up, the incidence of piles was not statistically different between the two groups (DG-THD 10.0 %; SH 14.0 %). No differences were reported by patients in terms of satisfaction for surgery.
Conclusion
SH and DG-THD procedures do not show significantly different results with regard to the patients outcome. However, considering the lower p. o. pain, the DG-THD might be proposed as the first line treatment in third-degree hemorrhoids.
Access options
Buy single article
Instant access to the full article PDF.
US$ 39.95
Tax calculation will be finalised during checkout.
References
1.

Longo A: Treatment of hemorrhoidal disease by reduction of mucosa and hemorrhoidal prolapse with a circular suturing device: a new procedure. In: Proceedings of the 6th World Congress of Endoscopic Surgery, June 3–6, 1998, Rome, Italy

2.

Morinaga K, Hasuda K, Ikeda T: A novel therapy for internal haemorrhoids: ligation of the hemorrhoidal artery with newly devised instrument (Moricorn) in conjunction with a Doppler flowmeter. Am J Gastroenterol, 1995, 90:610–613

3.

Mehigan BJ, Monson JR, Hartley JE: Stapling procedure for haemorrhoids versus Milligan-Morgan haemorrhoidectomy: randomized controlled trial. Lancet, 2000, 355:782–85

4.

Bikhchandani J, Agarwal PN, Kant R, Malik VK.: Randomized controlled trial to compare the early and mid-term results of stapled versus open hemorrhoidectomy. Am J Surg., 2005, 189:56–60.

5.

Senagore AJ, Singer M, Abcarian H, Fleshman J, Corman M, Wexner S, Nivatvongs SA: Prospective, randomized, controlled multicenter trial comparing stapled hemorrhoidopexy and Ferguson hemorrhoidectomy: perioperative and one-year results. Procedure for Prolapse and Hemorrhoids (PPH) Multicenter Study Group. Dis Colon Rectum, 2004, 47:1824–36.

6.

Bursics A, Morvay K, Kupcsulik P, Flautner L :Comparison of early and 1-year follow-up results of conventional hemorrhoidectomy and hemorrhoid artery ligation: a randomized study. Int J Colorectal Dis, 2004, 19:176–180

7.

Festen S, van Hoogstraten MJ, van Geloven AAW, Gerhards MF : Treatment of grade III and IV haemorrhoidal disease with PPH or THD. A randomized trial on postoperative complications and short-term results. Int J Colorectal Dis, 2009,24:1401–1405

8.

Infantino A, Bellomo R., dal Monte PP, Salafia C, Tagariello C, Tonizzo CA, Spazzafumo L, Romano C, Altomare DF: Transanal haemorrhoidal artery ecodoppler ligation and anopexy (THD) is effective for II and III degree pt.Prospective multicentric study. Colorectal Dis., 2010, 12;804–9

9.

Ratto C, Giordano P, Donisi L, Parello A, Litta F, Doglietto GB: Transanal haemorrhoidal dearterialization (THD) for selected fourth-degree haemorrhoids. Tech Coloproctol, 2011, 15:191–197

10.

Giordano P, Tomasi I, Pascariello A, Mills E, Elahi S: Transanal dearterialization with targeted mucopexy is effective for advanced haemorroids. Colorectal Dis, 2014, 16:373–6

11.

De Nardi P, Capretti G, Corsaro A, Staudacher C: A prospective randomized trial comparing the short-and long-term results of Doppler-guided transanal hemorrhoid dearterialization with mucopexy versus excision hemorrhoidectomy for grade III hemorrhoids. Dis Colon Rectum, 2014, 57:348–53

12.

Palimento D, Picchio M, Attanasio U, Lombardi A, Bambini C, Renda A: Stapled and open hemorrhoidectomy: randomized controlled trial of early results. World J Surg, 2003, 27:203–7.

13.

Racalbuto A, Aliotta I, Corsaro G, Lanteri R, Di Cataldo A, Licata A: Hemorrhoidal stapler prolapsectomy vs. Milligan-Morgan hemorrhoidectomy: a long-term randomized trial. Int J Colorectal Dis, 2004, 19:239–44

14.

Laughlan K, Jayne DG, Jackson D, Rupprecht F, Ribaric G: Stapled haemorrhoidopexy compared to Milligan Morgan and Ferguson haemorrhoidectomy: a systemic review. Int J Colorectal, 2009, 24:335-344

15.

Ganio E, Altomare DF, Milito G, Gabrielli F, Canuti S: Long-term outcome of a multicentre randomized clinical trial of stapled haemorrhoidopexy versus Milligan Morgan haemorroidectomy. Br J Surg, 2007, 94:1033–7

16.

Lucarelli P, Picchio M, Caporossi M, De Angelis F, Di Filippo A, Stipa F, Spaziani E: Transanal haemorrhoidal dearterialisation with mucopexy versus stapler haemorrhoidopexy: a randomised trial with long-term follow-up. Ann R Coll Surg Engl, 2013, 95:246–51.

17.

Shao WJ, Li GC, Zhang ZH, Yang BL, Sun GD, Chen YQ: Systematic review and meta-analysis of randomized controlled trials comparing stapled haemorrhoidopexy with conventional haemorrhoidectomy. Br J Surg,2008, 95:147–160

18.

Giordano P, Nastro P, Davies A, Gravante G: Prospective evaluation of stapled haemorrhoidopexy versus transanal haemorrhoidal dearterialisation for stage II and III haemorrhoids: three-year outcomes. Tech Coloproctol,2011, 15:67–73

19.

Infantino A, Altomare DF, Bottini C, Bonanno M, Mancini S, the THD group of the SICCR: Prospective randomized multicenter study comparing stapler haemorrhoidopexy with Doppler-guided transanal haemorrhoid dearterialization for third degree haemorrhoids. Colorectal Dis, 2012, 14:205–2111

20.

Dal Monte PP, Tagariello C, Sarago M, Giordano P, Shafi A, Cudazzo E, Franzini M: Transanal haemorrhoidal dearterialisation: non excisional surgery for the treatment of haemorrhoidal disease. Tech Coloproctol, 2007, 11:333–338

21.

Ratto C, de Parades V: Doppler-guided ligation of hemorrhoidal arteris with mucopexy: a technique for the future. J Visc Surg, 2015, 152(2 Suppl):S15-21. doi:10.1016/j.jviscsurg.2014.08.003.

22.

Hidalgo Grau LA, Heredia Budó A, Llorca Cardeñosa S, Carbonell Roure J, Estrada Ferrer O, García Torralbo E, Suñol Sala X: Day case stapled anopexy for the treatment of haemorrhoids and rectal mucosal prolapse. Colorectal Dis, 2012, 6:765–8. doi: 10.1111/j.1463-1318.2011.02751.x

23.

Tsang YP, Fok KL, Cheunh YSH, Li KWM, Tang CN: Comparison of transanal haemorroidal dearterialisation and stappled haemorroidopexy in management of haemorrhoidal disease: a restrospective study and literature review. Tech Coloproctol., 2014, doi 10.1007/s10151-014-1170-8

24.

Sajid MS, Parampalli U, Whitehouse P, Sains P, McFall MR, Baig MK: A systemic review comparing transanal haemorrhoidal de-arterialisation to stapled haemorrhoidopexy in the management of haemorrhoidal disease. Tech Coloproctol, 2012, 16:1–8

25.

Stolfi VM, Sileri P, Micossi C, Carbonaro I, Venza M, Gentileschi P, Rossi P, Falchetti A, Gaspari A: Treatment of hemorrhoids in day surgery: stapled hemorrhoidopexy vs Milligan-Morgan hemorrhoidectomy. J Gastrointest Surg, 2008, 12:795–801

26.

Pescatori M, Gagliardi G: Postoperative complications after procedure for prolapsed hemorrhoids (PPH) and stapled transanal rectal resection (STARR) procedures. Tech Coloproctol, 2008, 2:7–19

27.

De Santis G, Gola P, Lancione L, Sista F, Pietroletti R, Leardi S: Sigmoid intramural hematoma and hemoperitoneum: an early severe complication after stapled hemorrhoidopexy. Tech Coloproctol., 2012,16:315–7

28.

Goulimaris I, Kanellos I, Christoforidis E, Mantzoros I, Odisseos Ch, Betsis D: Stapled haemorrhoidectomy compared with Milligan-Morgan excision for the treatment of prolapsing haemorrhoids: a prospective study. Eur J Surg, 2002, 168:621–5

29.

Gravié JF, Lehur PA, Huten N, Papillon M, Fantoli M, Descottes B, Pessaux P, Arnaud JP: Stapled hemorrhoidopexy versus Milligan-Morgan hemorrhoidectomy: a prospective, randomized, multicenter trial with 2-year postoperative follow up. Ann Surg.,2005, 242:29–35

30.

Mattana C, Coco C, Nanno A, Verbo A, Rizzo G, Petito A, Sermoneta D: Stapled hemorrhoidopexy and Milligan-Morgan hemorrhoidectomy in the cure of fourth-degree hemorrhoids: long term evaluation and clinical results. Dis.Colon Rectum, 2007,50 : 1770–1775

31.

Shalaby R, Desoky A: Randomized clinical trial of stapled versus Milligan-Morgan haemorrhoidectomy. Br J Surg, 2001, 88:1049–53.
Acknowledgments
The authors thank Maria Silvia Marottoli for her assistance in the translation.
Statement of Author Contribution
S. Leardi: substantial contributions to the conception and design of the work, analysis and interpretation of data for the work
B. Pessia, M. Mascio, F. Piccione, M.: acquisition data for the work
M. Schietroma: drafting the work
R. Pietroletti: revising the work critically for important intellectual content
Additional information
R. Pietroletti from 2013 is the chief of the Colon-proctology Surgery Unit—Val Vibrata Hospital—Dept. of MeSVA, University of L'Aquila—Italy.
Appendix
Appendix
Questionnaire for patients who undergone surgery for third-degree hemorrhoids.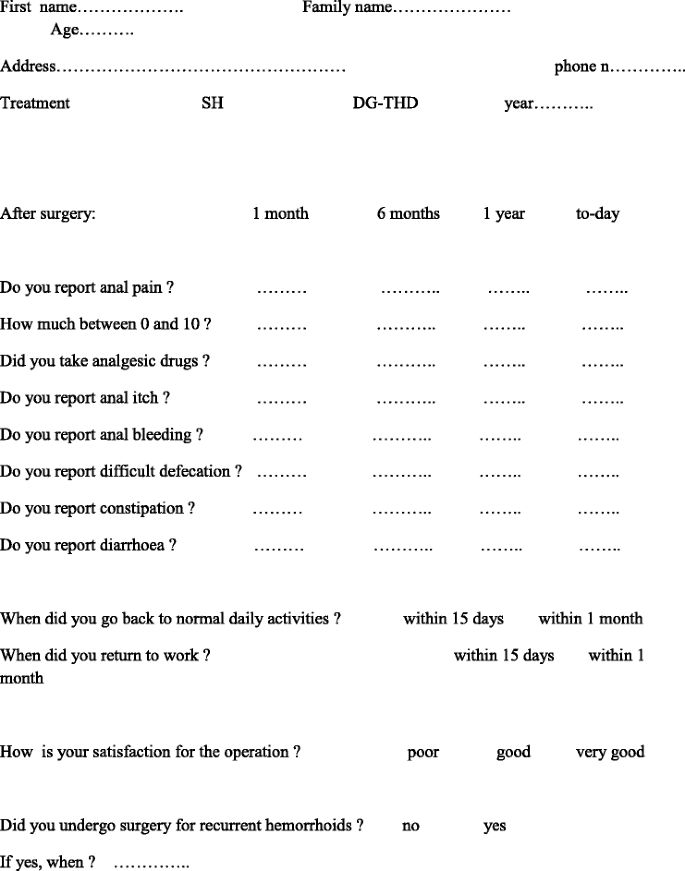 About this article
Cite this article
Leardi, S., Pessia, B., Mascio, M. et al. Doppler-Guided Transanal Hemorrhoidal Dearterialization (DG-THD) Versus Stapled Hemorrhoidopexy (SH) in the Treatment of Third-Degree Hemorrhoids: Clinical Results at Short and Long-Term Follow-Up. J Gastrointest Surg 20, 1886–1890 (2016). https://doi.org/10.1007/s11605-016-3220-1
Received:

Accepted:

Published:

Issue Date:
Keywords
Hemorrhoids

Stapled hemorrhoidopexy

DG-transanal hemorrhoidal dearterialization

Recurrence of hemorrhoids