Abstract
Background
Prolonged ileus is a common complication following gastrointestinal surgery, with an incidence of up to 40 %. Investigations examining pharmacological treatment of ileus have proved largely disappointing; however, recently, several compounds have been shown to have benefited when used as prophylaxis to prevent ileus.
Objective
This review aimed to evaluate the safety and efficacy of compounds which have been recently developed or repurposed to reduce bowel recovery time, thereby preventing ileus.
Data sources
Data were taken from a systematic review of the MEDLINE, EMBASE and Cochrane Library Databases, in addition to manual searching of reference lists up to April 2015. No limits were applied.
Study selection
Only randomized trials were eligible for inclusion.
Interventions
Opioid receptor antagonists, ghrelin receptor agonists and serotonin receptor agonists used for the prevention of postoperative ileus in gastrointestinal surgery.
Main outcome measures
Outcomes of time to first defecation, first flatus and composite bowel recovery endpoints (GI2 and GI3) were used to determine efficacy. Pooled treatment effects were presented as the standard mean difference or as hazard ratios alongside the corresponding 95 % confidence intervals. Risk of bias was assessed using the Cochrane risk of bias framework.
Results
A total of 17 studies were included in the final analysis. The μ-opioid receptor antagonist alvimopan and serotonin receptor agonists appeared to significantly shorten the duration of ileus. The use of Ghrelin receptor agonists did not appear to have any effect in five trials. No publication bias was detected.
Limitations
Most of the trials were poorly reported and of mixed quality. Future studies must focus on the development of a set of core outcomes.
Conclusions
There is evidence to make a strong recommendation for the use of alvimopan in major gastrointestinal surgery to reduce postoperative ileus. Further randomized trials are required to establish whether serotonin receptor agonists are of use. Identifying a low-cost compound to promote bowel recovery following surgery could reduce complications and shorten duration of hospital admissions.
Access options
Buy single article
Instant access to the full article PDF.
US$ 39.95
Tax calculation will be finalised during checkout.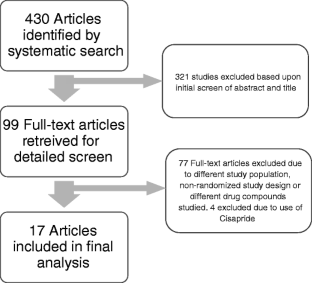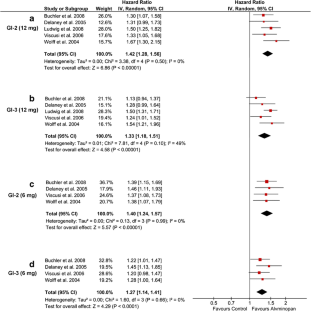 References
1.

Lubawski J, Saclarides TJ. Postoperative ileus: Strategies for reduction. Ther Clin Risk Manag. 2008;4(5):913–917.

2.

Verma R, Rl N, Verma R, Nelson RL. Prophylactic nasogastric decompression after abdominal surgery (Review) Prophylactic nasogastric decompression after abdominal surgery. 2010;(3). doi:10.1002/14651858.CD004929.pub3.Copyright.

3.

Fitzgerald JEF, Ahmed I. Systematic review and meta-analysis of chewing-gum therapy in the reduction of postoperative paralytic ileus following gastrointestinal surgery. World J Surg. 2009;33(12):2557–2566. doi:10.1007/s00268-009-0104-5.

4.

Short V, Herbert G, Perry R, et al. Chewing gum for postoperative recovery of gastrointestinal function. Cochrane Rev. 2014;(2). doi:10.1002/14651858.CD006506.pub3.Copyright.

5.

Carroll J, Alavi K. Pathogenesis and Management of Postoperative Ileus. Clinics. 2009;1(212):47–50. doi:10.1055/s-0029-1202886.

6.

Traut U, Brügger L, Kunz R, et al. Systemic prokinetic pharmacologic treatment for postoperative adynamic ileus following abdominal surgery in adults (Review) Systemic prokinetic pharmacologic treatment for postoperative adynamic ileus following abdominal surgery in adults. 2009;(4):4–6. doi:10.1002/14651858.CD004930.pub3.Copyright.

7.

Smith a J, Nissan a, Lanouette NM, et al. Prokinetic effect of erythromycin after colorectal surgery: randomized, placebo-controlled, double-blind study. Dis Colon Rectum. 2000;43(3):333–337. doi:10.1007/BF02258298.

8.

Jiang D, Zhang Y, Jiang Z, Li ZZ. Intravenous low-dose erythromycin could be an efficacious treatment for acute colonic pseudo-obstrcution (ACPO)/Ogilvie's syndrome in children. Med Hypotheses. 2008;70(3):706. doi:10.1016/j.mehy.2007.06.010.

9.

Lightfoot AJ, Eno M, Kreder KJ, O'Donnell M a., Rao SSC, Williams RD. Treatment of Postoperative Ileus After Bowel Surgery with Low-Dose Intravenous Erythromycin. Urology. 2007;69(4):611–615. doi:10.1016/j.urology.2006.12.027.

10.

De Winter BY, Boeckxstaens GE, De Man JG, et al. Effect of different prokinetic agents and a novel enterokinetic agent on postoperative ileus in rats. Gut. 1999;45(5):713–718. doi:10.1136/gut.45.5.713.

11.

Venkova K, Fraser G, Hoveyda HR, Greenwood-Van Meerveld B. Prokinetic effects of a new ghrelin receptor agonist TZP-101 in a rat model of postoperative ileus. Dig Dis Sci. 2007;52(9):2241–2248. doi:10.1007/s10620-007-9783-7.

12.

Levin F, Edholm T, Schmidt PT, et al. Ghrelin stimulates gastric emptying and hunger in normal-weight humans. J Clin Endocrinol Metab. 2006;91(9):3296–3302. doi:10.1210/jc.2005-2638.

13.

Liberati A, Altman DG, Tetzlaff J, Mulrow C, Gøtzsche PC, John PA. The PRISMA statement for reporting systematic reviews and meta-analyses of studies that evaluate healthcare interventions explanation and elaboration -- Liberati et al._ 339 b2700 -- BMJ.PDF. 2009. doi:10.1136/bmj.b2700.

14.

Mary C, Steps SR, Search L, et al. Guidelines for writing systematic reviews.

15.

Büchler MW, Seiler CM, Monson JRT, et al. Clinical trial: alvimopan for the management of post-operative ileus after abdominal surgery: results of an international randomized, double-blind, multicentre, placebo-controlled clinical study. Aliment Pharmacol Ther. 2008;28(3):312–325. doi:10.1111/j.1365-2036.2008.03696.x.

16.

Delaney CP, Weese JL, Hyman NH, et al. Phase III trial of alvimopan, a novel, peripherally acting, Mu opioid antagonist, for postoperative ileus after major abdominal surgery. Dis Colon Rectum. 2005;48(6):1114–1129. doi:10.1007/s10350-005-0035-7.

17.

Viscusi ER, Goldstein S, Witkowski T, et al. Alvimopan, a peripherally acting mu-opioid receptor antagonist, compared with placebo in postoperative ileus after major abdominal surgery: results of a randomized, double-blind, controlled study. Surg Endosc. 2006;20(1):64–70. doi:10.1007/s00464-005-0104-y.

18.

Wolff BG, Michelassi F, Gerkin TM, et al. Alvimopan, a Novel, Peripherally Acting μ Opioid Antagonist. Ann Surg. 2004;240(4):728–735. doi:10.1097/01.sla.0000141158.27977.66.

19.

Taguchi A, Sharma N, Saleem RM, et al. Selective Postoperative Inhibition of Gastrointestinal Opioid Receptors. N Engl J Med. 2001;345(13):935–940.

20.

Yu CS, Chun HK, Stambler N, et al. Safety and efficacy of methylnaltrexone in shortening the duration of postoperative ileus following segmental colectomy: Results of two randomized, placebo-controlled phase 3 trials. Dis Colon Rectum. 2011;54(5):570–578. doi:10.1007/DCR.0b013e3182092bde.

21.

Ludwig K, Enker WE, Delaney CP, et al. Gastrointestinal tract recovery in patients undergoing bowel resection: results of a randomized trial of alvimopan and placebo with a standardized accelerated postoperative care pathway. Arch Surg. 2008;143(11):1098–1105. doi:10.1001/archsurg.143.11.1098.

22.

Beck DE, Sweeney WB, McCarter MD. Prospective, randomized, controlled, proof-of-concept study of the Ghrelin mimetic ipamorelin for the management of postoperative ileus in bowel resection patients. Int J Colorectal Dis. 2014;29(12):1527–1534. doi:10.1007/s00384-014-2030-8.

23.

Shaw M, Pediconi C, McVey D, et al. Safety and efficacy of ulimorelin administered postoperatively to accelerate recovery of gastrointestinal motility following partial bowel resection: results of two randomized, placebo-controlled phase 3 trials. Dis Colon Rectum. 2013;56(7):888–897. doi:10.1097/DCR.0b013e31829196d0.

24.

Popescu I, Fleshner PR, Pezzullo JC, Charlton P a., Kosutic G, Senagore AJ. The ghrelin agonist TZP-101 for management of postoperative ileus after partial colectomy: A randomized, dose-ranging, placebo-controlled clinical trial. Dis Colon Rectum. 2010;53(2):126–134. doi:10.1007/DCR.0b013e3181b54166.

25.

Bochicchio G, Charlton P, Pezzullo JC, Kosutic G, Senagore A. Ghrelin agonist TZP-101/ulimorelin accelerates gastrointestinal recovery independently of opioid use and surgery type: Covariate analysis of phase 2 data. World J Surg. 2012;36(1):39–45. doi:10.1007/s00268-011-1335-9.

26.

Falkén Y, Webb DL, Abraham-Nordling M, Kressner U, Hellström PM, Näslund E. Intravenous ghrelin accelerates postoperative gastric emptying and time to first bowel movement in humans. Neurogastroenterol Motil. 2013;25(6):474–480. doi:10.1111/nmo.12098.

27.

Chan DC, Liu YC, Chen CJ, et al. Preventing prolonged post-operative ileus in gastric cancer patients undergoing gastrectomy and intra-peritoneal chemotherapy. World J Gastroenterol. 2005;11(31):4776–4781.

28.

Davidson ED, Hersh T, Brinner R a, Barnett SM, Boyle LP. The effects of metoclopramide on postoperative ileus. A randomized double-blind study. Ann Surg. 1979;190(1):27–30. doi:10.1097/00000658-197907000-00006.

29.

Jepsen S, Klaerke A, Nielsen PH, Simonsen O. Negative effect of Metoclopramide in postoperative adynamic ileus. A prospective, randomized, double blind study. Br J Surg. 1986;73(4):290–291.

30.

Narita K, Tsunoda A, Takenaka K, Watanabe M, Nakao K, Kusano M. Effect of mosapride on recovery of intestinal motility after hand-assisted laparoscopic colectomy for carcinoma. Dis Colon Rectum. 2008;51(11):1692–1695. doi:10.1007/s10350-008-9407-0.

31.

Toyomasu Y, Mochiki E, Morita H, et al. Mosapride Citrate Improves Postoperative Ileus of Patients with Colectomy. J Gastrointest Surg. 2011;15(8):1361–1367. doi:10.1007/s11605-011-1567-x.

32.

Montedori A, Bonacini MI, Casazza G, et al. Modified versus standard intention-to-treat reporting: are there differences in methodological quality, sponsorship, and findings in randomized trials? A cross-sectional study. Trials. 2011;12(1):58. doi:10.1186/1745-6215-12-58.

33.

Hilton WM, Lotan Y, Parekh DJ, Basler JW, Svatek RS. Alvimopan for prevention of postoperative paralytic ileus in radical cystectomy patients: A cost-effectiveness analysis. BJU Int. 2013;111(7):1054–1060. doi:10.1111/j.1464-410X.2012.11499.x.

34.

Lee CT, Chang SS, Kamat AM, et al. Alvimopan accelerates gastrointestinal recovery after radical cystectomy: A multicenter randomized placebo-controlled trial. Eur Urol. 2014;66(2):265–272. doi:10.1016/j.eururo.2014.02.036.

35.

Karuppiah S, Farrah R. Alvimopan (Entereg) for the Treatment of Postoperative Ileus. 2011. http://www.aafp.org/afp/2011/0415/p978.pdf.

36.

Quigley EM. Cisapride: What can we learn from the rise and fall of a prokinetic? J Dig Dis. 2011;12(3):147–156. doi:10.1111/j.1751-2980.2011.00491.x.
Acknowledgments
Neither author has any conflicts of interest to declare. This study was unfunded. This work was undertaken by one of the authors (TD) during a period of research funded by the Royal College of Surgeons of Edinburgh and the Pathological Society. Both authors contributed equally in the study conception, analysis and drafting of the final manuscript. Both TD and AW approved the final manuscript version prior to submission.
Ethics declarations
Conflict of Interest
TD has received research funding from the Royal College of Surgeons of Edinburgh, The Pathological Society, The Institute of Medical Ethics, The British Medical Association, The Wellcome Trust/Academy of Medical Sciences and The Bowel Disease Research Fund. Neither individual owns stocks and shares in any company related to this article. Neither individual owns any patents related to this article.
Funding
This study was unfunded. The preparation of this manuscript was unfunded. Initial data analyses were undertaken by TD and AW.
About this article
Cite this article
Drake, T.M., Ward, A.E. Pharmacological management to prevent ileus in major abdominal surgery: a systematic review and meta-analysis. J Gastrointest Surg 20, 1253–1264 (2016). https://doi.org/10.1007/s11605-016-3140-0
Received:

Accepted:

Published:

Issue Date:
Keywords
Postoperative complications

Postoperative care

Ileus

Digestive system surgery

Opioid antagonists

Serotonin receptor