Abstract
Background
Variation in surgical outcomes is often attributed to patient comorbidities and the severity of underlying disease, but little is known about the extent of variation in outcomes by surgeon and the surgeon factors that are associated with quality.
Methods
Using the Maryland Health Services Cost Review Commission database, we evaluated risk-adjusted postoperative events by surgeon. Operations studied were elective laparoscopic and open colectomy procedures for colon cancer performed over a 2-year period (July 2012–September 2014). Postoperative events were defined using the Agency for Healthcare Research and Quality Patient Safety Indicators. Surgeons performing fewer than ten procedures during the study period were excluded. Logistic regression and post-estimation were used to calculate an observed-to-expected (O/E) ratio of postoperative complications for each surgeon, adjusting for patient and surgeon characteristics.
Results
A total of 2525 patients underwent an elective colectomy during the study period by 276 surgeons at 44 hospitals. Postoperative complications varied more by surgeon (range 0 to 30.0 %) than by hospital (range 0 to 18.2 %). Surgeon-level use of laparoscopic surgery to perform colectomy ranged from 0 to 100 %. After risk adjustment with patient factors, surgeon experience, surgeon medical school, surgeon gender, and annual surgeon colectomy volume were not associated with postoperative complications. Surgeon use of laparoscopy was the strongest predictor of lower complications (vs fourth quartile of surgeons, first quartile OR = 0.47 (0.26–0.85); second quartile OR = 0.41 (0.22–0.73); and third quartile OR = 0.84 (0.52–1.36).
Conclusions
Quality metrics in health care have been measured at the hospital level, but a greater quality improvement potential exists at the surgeon level. Awareness of this variation could better inform patients undergoing elective surgery and their referring physicians.
Access options
Buy single article
Instant access to the full article PDF.
USD 39.95
Price includes VAT (USA)
Tax calculation will be finalised during checkout.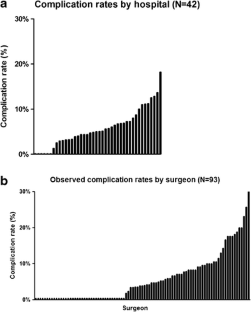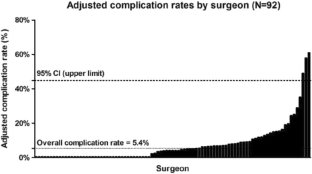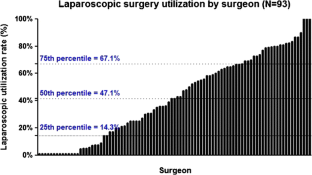 References
1.

Institute of Medicine. Best Care at Lower Cost: The Path to Continuously Learning Health Care in America. Smith M, Saunders R, Stuckhardt L, McGinnis JM, ed. National Academies Press (US): May 2013.

2.

James JT. A new, evidence-based estimate of patient harms associated with hospital care. J Patient Saf. 2013; 9(3):122–8.

3.

Ghaferi AA, Birkmeyer JD, Dimick JB. Variation in hospital mortality associated with inpatient surgery. N Engl J Med. 2009; 361(14):1368–75.

4.

Tsai TC, Jha AK. Surgical-readmission rates and quality of care. N Engl J Med. 2013; 369(25):2460–1.

5.

Schwenk W, Haase O, Neudecker J, Müller JM. Short term benefits for laparoscopic colorectal resection. Cochrane Database Syst Rev. 2005; 20(3):CD003145.

6.

Cooper MA, Hutfless S, Segev DL, Ibrahim A, Lyu H, Makary MA. Hospital level under-utilization of minimally invasive surgery in the United States: retrospective review. BMJ. 2014; 349:g4198.

7.

Xu T, Hutfless SM, Cooper MA, Zhou M, Massie AB, Makary MA. Hospital cost implications of increased use of minimally invasive surgery. JAMA Surg. 2015; 150(5):489–90.

8.

McDonald KM, Romano PS, Geppert J, et al. Measures of Patient Safety Based on Hospital Administrative Data—The Patient Safety Indicators. Agency for Healthcare Research and Quality (US); 2002 Aug. Report No.: 02–0038.

9.

Centers for Medicare and Medicaid Services. Physician Compare. https://data.medicare.gov/data/physician-compare, accessed September 4, 2015.

10.

Elixhauser A, Steiner C, Harris DR, Coffey RM. Comorbidity measures for use with administrative data. Med Care. 1998; 36(1):8–27.

11.

Cohen ME, Ko CY, Bilimoria KY, et al. Optimizing ACS NSQIP modeling for evaluation of surgical quality and risk: patient risk adjustment, procedure mix adjustment, shrinkage adjustment, and surgical focus. J Am Coll Surg. 2013; 217(2):336–46.

12.

Birkmeyer JD, Finks JF, O'Reilly A, et al. Surgical skill and complication rates after bariatric surgery. N Engl J Med. 2013; 369(15):1434–42.

13.

ProPublica. Surgeon Scorecard. https://projects.propublica.org/surgeons/, accessed September 4, 2015.

14.

Cronenwett JL, Kraiss LW, Cambria RP. The Society for Vascular Surgery Vascular Quality Initiative. J Vasc Surg. 2012; 55(5):1529–37.

15.

Quan H, Eastwood C, Cunningham CT, et al. Validity of AHRQ patient safety indicators derived from ICD-10 hospital discharge abstract data (chart review study). BMJ Open. 2013; 3(10):e003716.
Author's Contributions
T. Xu drafted the manuscript and analyzed the data. All authors were involved in conceiving the study, interpreting the results, and revising the manuscript.
Ethics declarations
Conflict of Interest
Dr. Makary reports receiving royalties for books.
About this article
Cite this article
Xu, T., Makary, M.A., Al Kazzi, E. et al. Surgeon-Level Variation in Postoperative Complications. J Gastrointest Surg 20, 1393–1399 (2016). https://doi.org/10.1007/s11605-016-3139-6
Received:

Accepted:

Published:

Issue Date:
Keywords
Quality

Variation

Surgery

Physician

Postoperative complications