Abstract
Background
The pancreas and peripancreatic region may be a site of metastasis from distant sites. Recent data suggest that pancreatic metastasectomy may achieve long-term survival. We seek to examine our experience with this metastasectomy by reporting the perioperative and survival outcomes.
Methods
Patients undergoing resection of isolated pancreatic metastasis were identified from a prospective pancreatic surgical database at the Department of Gastrointestinal Surgery, North Shore campus of the University of Sydney between January 2004 and June 2015 and selected for retrospective review. Data on operative morbidity and mortality were reported. Survival analysis was performed using the Kaplan–Meier method.
Results
Fifteen patients underwent pancreatic metastasectomy after a median disease-free interval of 63 months (range 0 to 199). Pancreatoduodenectomy was performed in six patients (40 %), distal pancreatectomy with or without splenectomy in three patients (20 %), and pancreatectomy with other visceral organ resection in six patients (40 %). Major complications occurred in six patients (40 %) without mortality. The median survival was 40 months (95 % CI 24.3 to 53.7), and 1-, 3-, and 5-year survival were 76, 48, and 31 % respectively. Cox proportional hazard model identified margin negative resection (hazard ratio (HR) 10.5; P = 0.044) as a predictor of improved survival.
Conclusion
Long-term survival may be achieved in selected patients with pancreatic metastasis through pancreatic metastasectomy with acceptable morbidity. Selection of patients should be individualized and based on their primary disease origin, biological behavior of the tumor, resectability of the tumor, and the relative effectiveness of systemic or targeted therapies.
This is a preview of subscription content, log in to check access.
Access options
Buy single article
Instant access to the full article PDF.
US$ 39.95
Price includes VAT for USA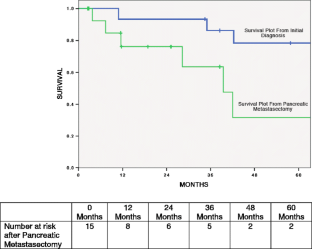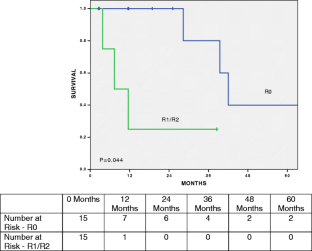 References
1.

Reddy S, Wolfgang CL. The role of surgery in the management of isolated metastases to the pancreas. Lancet Oncol. 2009;10:287–93.

2.

De Reuver PR, Mittal A, Neale M, Gill AJ, Samra JS. Extended pancreatoduodenectomy as defined by the International Study Group for Pancreatic Surgery is associated with worse survival but not with increased morbidity. Surgery. 2015;158(1):183–90.

3.

Büchler MW, Wagner M, Schmied BM, Uhl W, Friess H, Z'Graggen K. Changes in morbidity after pancreatic resection: Toward the end of completion pancreatectomy. Archives of Surgery. 2003;138(12):1310–4.

4.

Edwards AT. Malignant disease of the lung. J Thorac Surg. 1934;4:107–24.

5.

Chua TC, Moran BJ, Sugarbaker PH, Levine EA, Glehen O, Gilly FN, et al. Early- and Long-Term Outcome Data of Patients With Pseudomyxoma Peritonei From Appendiceal Origin Treated by a Strategy of Cytoreductive Surgery and Hyperthermic Intraperitoneal Chemotherapy. Journal of Clinical Oncology. 2012;30(20):2449–56.

6.

Nordlinger B, Sorbye H, Glimelius B, Poston GJ, Schlag PM, Rougier P, et al. Perioperative FOLFOX4 chemotherapy and surgery versus surgery alone for resectable liver metastases from colorectal cancer (EORTC 40983): long-term results of a randomised, controlled, phase 3 trial. The Lancet Oncology. 2013;14(12):1208–15.

7.

Pastorino U, Buyse M, Friedel G, Ginsberg RJ, Girard P, Goldstraw P, et al. Long-term results of lung metastasectomy: Prognostic analyses based on 5206 cases. The Journal of Thoracic and Cardiovascular Surgery. 1997;113(1):37–49.

8.

Radwan RW, Jones HG, Rawat N, Davies M, Evans MD, Harris DA, et al. Determinants of survival following pelvic exenteration for primary rectal cancer. British Journal of Surgery. 2015;102(10):1278–84.

9.

Untch BR, Allen PJ. Pancreatic metastasectomy: The Memorial Sloan-Kettering experience and a review of the literature. Journal of Surgical Oncology. 2014;109(1):28–30.

10.

Dindo D, Demartines N, Clavien PA. Classification of surgical complications: a new proposal with evaluation in a cohort of 6336 patients and results of a survey. Ann Surg. 2004;240:205–13.

11.

Adler H, Redmond CE, Heneghan HM, Swan N, Maguire D, Traynor O, et al. Pancreatectomy for metastatic disease: A systematic review. European Journal of Surgical Oncology (EJSO). 2014;40(4):379–86.

12.

Santoni M, Conti A, Porta C, Procopio G, Sternberg CN, Basso U, et al. Sunitinib, Pazopanib or Sorafenib for the Treatment of Patients with Late Relapsing Metastatic Renal Cell Carcinoma. The Journal of Urology. 2015;193(1):41–7.

13.

Santoni M, Conti A, Partelli S, Porta C, Sternberg CN, Procopio G, et al. Surgical resection does not improve survival in patients with renal metastases to the pancreas in the era of tyrosine kinase inhibitors. Ann Surg Oncol. 2015;22(6):2094–100.

14.

Fong Y, Fortner J, Sun RL, Brennan MF, Blumgart LH. Clinical score for predicting recurrence after hepatic resection for metastatic colorectal cancer: analysis of 1001 consecutive cases. Ann Surg 1999;230(3):309–18.

15.

Simmonds PC, Primrose JN, Colquitt JL, Garden OJ, Poston GJ, Rees M. Surgical resection of hepatic metastases from colorectal cancer: A systematic review of published studies. Br J Cancer. 2006;94(7):982–99.

16.

Wiltberger G, Bucher JN, Krenzien F, Benzing C, Atanasov G, Schmelzle M, et al. Extended resection in pancreatic metastases: feasibility, frequency, and long-term outcome: a retrospective analysis. BMC Surg. 2015;15(1):126.

17.

Samra JS, Bachmann RA, Choi J, Gill A, Neale M, Puttaswamy V, et al. One hundred and seventy-eight consecutive pancreatoduodenectomies without mortality: role of the multidisciplinary approach. Hepatobiliary Pancreat Dis Int. 2011;10(4):415–21.
Ethics declarations
Competing Interests
The authors declare that they have no competing interest.
About this article
Cite this article
Chua, T.C., Petrushnko, W., Mittal, A. et al. Pancreatic Metastasectomy—an Analysis of Survival Outcomes and Prognostic Factors. J Gastrointest Surg 20, 1188–1193 (2016). https://doi.org/10.1007/s11605-016-3106-2
Received:

Accepted:

Published:

Issue Date:
Keywords
Pancreatoduodenectomy

Metastasis

Chemotherapy

Pancreas

Metastasectomy