Abstract
Mucinous appendiceal neoplasm occurs in less than 1 % of appendicectomies. Majority of what is known in the literature is about pseudomyxoma peritonei, which exists as its disseminated form. Pictorial imagery of its pre-disseminated form is rarely observed. We present in a case report form a case of low-grade mucinous neoplasm of the appendix resulting in focal intussusception including images captured from this unique case that will become a learning case for readers of the journal.
This is a preview of subscription content, log in to check access.
Access options
Buy single article
Instant access to the full article PDF.
US$ 39.95
Price includes VAT for USA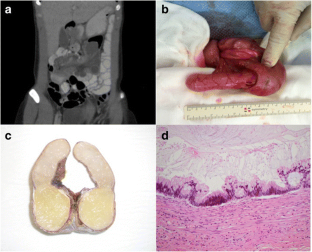 References
1.

Misdraji J, Yantiss RK, Graeme-Cook FM, Balis UJ, Young RH. Appendiceal mucinous neoplasms: a clinicopathologic analysis of 107 cases. Am J Surg Pathol. 2003;27(8):1089–103.

2.

Turaga KK, Pappas S, Gamblin TC. Right hemicolectomy for mucinous adenocarcinoma of the appendix: just right or too much?. Ann Surg Oncol. 2013;20(4):1063–7.

3.

Panarelli NC, Yantis RK. Mucinous Neoplasms of the Appendix and Peritoneum. Arch Pathol Lab Med. 2011;135:1261–8.

4.

Chua TC, Moran BJ, Sugarbaker PH, Levine EA, Glehen O, Gilly FN, et al. Early- and Long-Term Outcome Data of Patients With Pseudomyxoma Peritonei From Appendiceal Origin Treated by a Strategy of Cytoreductive Surgery and Hyperthermic Intraperitoneal Chemotherapy. Journal of Clinical Oncology. 2012;30(20):2449–56.
Ethics declarations
Conflict of Interest
The authors declare that they have no competing interests.
About this article
Cite this article
Chua, T.C., Gill, P., Gill, A.J. et al. Ileocecal Intussusception Caused by an Appendiceal Neoplasm. J Gastrointest Surg 20, 867–868 (2016). https://doi.org/10.1007/s11605-015-3037-3
Received:

Accepted:

Published:

Issue Date:
Keywords
Appendicitis

Appendix cancer

Low-grade appendiceal mucinous neoplasm

Pseudomyxoma peritonei