Abstract
Introduction
Safety of synchronous hepatectomy and colorectal resection (CRR) for metastatic colorectal cancer remains controversial. We hypothesized that both the extent of hepatectomy and CRR influences postoperative outcomes.
Methods
Prospective 2005–2013 ACS-NSQIP data were retrospectively reviewed for mortality and major morbidity (MM) after (1) isolated hepatectomy, (2) isolated CRR, and (3) synchronous resection for colorectal cancer. Hepatectomy and CRR risk categories were created based on mortality and MM of respective isolated resections. The synchronous cohort was then stratified based on risk categories. Cumulative asynchronous mortality and MM were estimated compared to that observed in the synchronous cohort via unadjusted relative risk and risk difference.
Results
There were 43,408 patients identified. Among isolated hepatectomy patients (N = 6,661), trisectionectomy and right hepatectomy experienced the greatest mortality and were defined as "major" hepatectomy. Among isolated CRR patients (N = 35,825), diverted left colectomy, abdominoperineal resection, total abdominal colectomy, and total abdominal proctocolectomy experienced the greatest MM and were defined as "high risk" CRR. Synchronous patients (N = 922) were stratified by hepatectomy and CRR risk categories; mortality and MM varied from 0.9 to 5.0 % and 25.5 to 55.0 %, respectively. Mortality and MM were greatest for patients undergoing "high risk" CRR and "major" hepatectomy and lowest for synchronous CRR and "minor" hepatectomy. As both CRR and hepatectomy risk categories increased, there was a significant trend in increasing mortality and MM in synchronous patients. Additionally, comparison of the synchronous resections versus the estimated cumulative asynchronous outcomes showed that (1) mortality was significantly less after synchronous minor hepatectomy and either low or high risk CRR, and (2) neither mortality nor major morbidity differed significantly after major hepatectomy with either high or low risk CRR.
Conclusion
Major morbidity after synchronous hepatic and colorectal resections vary incrementally and are related to both the risk of hepatectomy and CRR. Stratification of outcomes by the hepatectomy and CRR components may reflect a more accurate description of risks. Comparison of synchronous and combined outcomes of individual operations supports a potential benefit for synchronous resections with minor hepatectomy.
Access options
Buy single article
Instant access to the full article PDF.
USD 39.95
Price excludes VAT (USA)
Tax calculation will be finalised during checkout.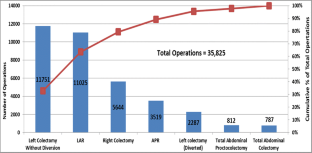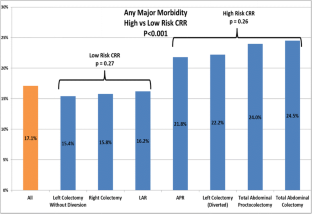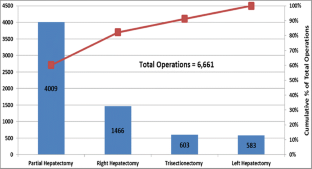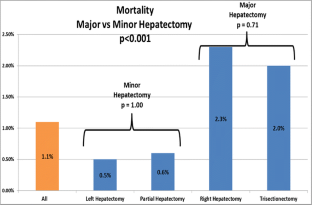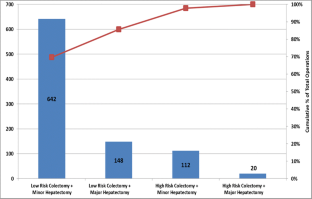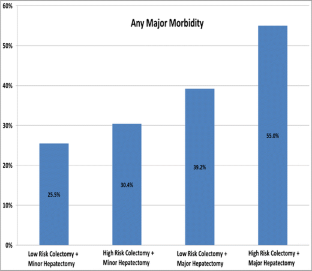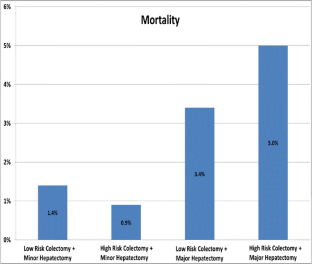 References
Edwards BK, Noone AM, Mariotto AB, et al. Annual Report to the Nation on the status of cancer, 1975–2010, featuring prevalence of comorbidity and impact on survival among persons with lung, colorectal, breast, or prostate cancer. Cancer. 2014;120:1290–1314. doi:10.1002/cncr.28509.

Siegel R, Desantis C, Jemal A. Colorectal cancer statistics, 2014. CA Cancer J Clin. 2014;64:104–117. doi:10.3322/caac.21220.

Howlader N, Noone A, Krapcho M, et al. SEER Cancer Statistics Review, 1975–2011. Natl Cancer Inst. 2014:based on November 2013 SEER data submission, poste. http://seer.cancer.gov/csr/1975_2011/.

Manfredi S, Lepage C, Hatem C, Coatmeur O, Faivre J, Bouvier A-M. Epidemiology and management of liver metastases from colorectal cancer. Ann Surg. 2006;244:254–259. doi:10.1097/01.sla.0000217629.94941.cf.

Goldberg RM, Sargent DJ, Morton RF, et al. A randomized controlled trial of fluorouracil plus leucovorin, irinotecan, and oxaliplatin combinations in patients with previously untreated metastatic colorectal cancer. J Clin Oncol. 2004;22:23–30. doi:10.1200/JCO.2004.09.046.

Saltz LB, Clarke S, Díaz-Rubio E, et al. Bevacizumab in combination with oxaliplatin-based chemotherapy as first-line therapy in metastatic colorectal cancer: a randomized Phase III study.; 2008. doi:10.1200/JCO.2007.14.9930.

Van Cutsem E, Köhne C-H, Hitre E, et al. Cetuximab and chemotherapy as initial treatment for metastatic colorectal cancer. N Engl J Med. 2009;360:1408–1417. doi:10.1056/NEJMoa0805019.

Nordlinger B, Sorbye H, Glimelius B, et al. Perioperative chemotherapy with FOLFOX4 and surgery versus surgery alone for resectable liver metastases from colorectal cancer (EORTC Intergroup trial 40983): a randomised controlled trial. Lancet. 2008;371:1007–1016. doi:10.1016/S0140-6736(08)60455-9.

Adam R, Delvart V, Pascal G, et al. Rescue surgery for unresectable colorectal liver metastases downstaged by chemotherapy: a model to predict long-term survival. Ann Surg. 2004;240:644–657; discussion 657–658. doi:10.1097/01.sla.0000141198.92114.f6.

Tomlinson JS, Jarnagin WR, DeMatteo RP, et al. Actual 10-year survival after resection of colorectal liver metastases defines cure. J Clin Oncol. 2007;25:4575–4580. doi:10.1200/JCO.2007.11.0833.

Choti MA, Sitzmann J V, Tiburi MF, et al. Trends in long-term survival following liver resection for hepatic colorectal metastases. Ann Surg. 2002;235:759–766. doi:10.1097/00000658-200206000-00002.

Simmonds PC, Primrose JN, Colquitt JL, Garden OJ, Poston GJ, Rees M. Surgical resection of hepatic metastases from colorectal cancer: a systematic review of published studies. Br J Cancer. 2006;94:982–999. doi:10.1038/sj.bjc.6603033.

Fong Y, Fortner J, Sun RL, Brennan MF, Blumgart LH. Clinical score for predicting recurrence after hepatic resection for metastatic colorectal cancer: analysis of 1001 consecutive cases. Ann Surg. 1999;230(3):309–321. doi:10.1097/00000658-199909000-00004.

Reddy SK, Pawlik TM, Zorzi D, et al. Simultaneous resections of colorectal cancer and synchronous liver metastases: a multi-institutional analysis. Ann Surg Oncol. 2007;14:3481–3491. doi:10.1245/s10434-007-9517-2.

Martin RCG, Augenstein V, Reuter NP, Scoggins CR, McMasters KM. Simultaneous versus staged resection for synchronous colorectal cancer liver metastases. J Am Coll Surg. 2009;208:842–850. doi:10.1016/j.jamcollsurg.2009.01.031.

Ayez N, Burger JW a, van der Pool AE, et al. Long-term results of the "liver first" approach in patients with locally advanced rectal cancer and synchronous liver metastases. Dis Colon Rectum. 2013;56:281–287. doi:10.1097/DCR.0b013e318279b743

Belghiti J, Hiramatsu K, Benoist S, Massault P, Sauvanet A, Farges O. Seven hundred forty-seven hepatectomies in the 1990s: an update to evaluate the actual risk of liver resection. J Am Coll Surg. 2000;191(1):38–46. http://www.ncbi.nlm.nih.gov/pubmed/10898182.

Jarnagin WR, Gonen M, Fong Y, et al. Improvement in perioperative outcome after hepatic resection: analysis of 1,803 consecutive cases over the past decade. Ann Surg. 2002;236(4):397. doi:10.1097/01.SLA.0000029003.66466.B3.

Cheng W, Poon KH, Lui VC, et al. Esophageal atresia and achalasialike esophageal dysmotility. J Pediatr Surg. 2004;39(10):1581–1583. http://www.ncbi.nlm.nih.gov/pubmed/15486912.

Dimick JB, Wainess RM, Cowan JA, Upchurch Jr. GR, Knol JA, Colletti LM. National trends in the use and outcomes of hepatic resection. J Am Coll Surg. 2004;199(1):31–38. doi:10.1016/j.jamcollsurg.2004.03.005.

Chua HK, Sondenaa K, Tsiotos GG, Larson DR, Wolff BG, Nagorney DM. Concurrent vs. staged colectomy and hepatectomy for primary colorectal cancer with synchronous hepatic metastases. Dis Colon Rectum. 2004;47(8):1310–1316. http://www.ncbi.nlm.nih.gov/pubmed/15484344.

Faitot F, Faron M, Adam R, et al. Two-stage hepatectomy versus 1-stage resection combined with radiofrequency for bilobar colorectal metastases: a case-matched analysis of surgical and oncological outcomes. Ann Surg. 2014;260(5):822–828. doi:10.1097/SLA.0000000000000976.

Abbott AM, Parsons HM, Tuttle TM, Jensen EH. Short-term outcomes after combined colon and liver resection for synchronous colon cancer liver metastases: a population study. Ann Surg Oncol. 2012. doi:10.1245/s10434-012-2515-z.

Mayo SC, Pulitano C, Marques H, et al. Surgical management of patients with synchronous colorectal liver metastasis: a multicenter international analysis. J Am Coll Surg. 2013;216:707–718. doi:10.1016/j.jamcollsurg.2012.12.029.

Slesser AAP, Simillis C, Goldin R, Brown G, Mudan S, Tekkis PP. A meta-analysis comparing simultaneous versus delayed resections in patients with synchronous colorectal liver metastases. Surg Oncol. 2013;22(1):36–47. doi:10.1016/j.suronc.2012.11.002.

Weber JC, Bachellier P, Oussoultzoglou E, Jaeck D. Simultaneous resection of colorectal primary tumour and synchronous liver metastases. Br J Surg. 2003;90:956–962. doi:10.1002/bjs.4132.

Roxburgh CS, Richards CH, Moug SJ, Foulis AK, McMillan DC, Horgan PG. Determinants of short- and long-term outcome in patients undergoing simultaneous resection of colorectal cancer and synchronous colorectal liver metastases. Int J Colorectal Dis. 2012;27(3):363–369. doi:10.1007/s00384-011-1339-9.

Vigano L, Langella S, Ferrero A, Russolillo N, Sperti E, Capussotti L. Colorectal cancer with synchronous resectable liver metastases: monocentric management in a hepatobiliary referral center improves survival outcomes. Ann Surg Oncol. 2013;20(3):938–945. doi:10.1245/s10434-012-2628-4.

Worni M, Mantyh CR, Akushevich I, Pietrobon R, Clary BM. Is there a role for simultaneous hepatic and colorectal resections? A contemporary view from NSQIP. J Gastrointest Surg. 2012;16:2074–2085. doi:10.1007/s11605-012-1990-7.

Wise KB, Merchea A, Cima RR, Colibaseanu DT, Thomsen KM, Habermann EB. Proximal intestinal diversion is associated with increased morbidity in patients undergoing elective colectomy for diverticular disease: an ACS-NSQIP study. J Gastrointest Surg. 2014. doi:10.1007/s11605-014-2700-4.

Kwaan MR, Al-Refaie WB, Parsons HM, Chow CJ, Rothenberger D a, Habermann EB. Are right-sided colectomy outcomes different from left-sided colectomy outcomes?: study of patients with colon cancer in the ACS NSQIP database. JAMA Surg. 2013;148:504–510. doi:10.1001/jamasurg.2013.1205.

Shubert C, Habermann E, Truty M, Thomsen K, Kendrick M, Nagorney D. Defining perioperative risk after hepatectomy based on diagnosis and extent of resection. J Gastrointest Surg. 2014;18(11):1917–1928. http://www.ncbi.nlm.nih.gov/pubmed/25199947. Accessed November 18, 2014.

Andreou A, Vauthey JN, Cherqui D, et al. Improved long-term survival after major resection for hepatocellular carcinoma: a multicenter analysis based on a new definition of major hepatectomy. J Gastrointest Surg. 2013;17(1):66–77; discussion p 77. doi:10.1007/s11605-012-2005-4.

Enker WE, Merchant N, Cohen AM, et al. Safety and efficacy of low anterior resection for rectal cancer: 681 consecutive cases from a specialty service.; 1999.

Zaheer S, Pemberton JH, Farouk R, Dozois RR, Wolff BG, Ilstrup D. Surgical treatment of adenocarcinoma of the rectum. Ann Surg. 1998;227:800–811. doi:10.1097/00000658-199806000-00003.

Krämer W. Probability & measure. Comput Stat Data Anal. 1995;20(6):703. doi:10.1016/0167-9473(95)90197-3.

Shafer G, Vovk V. The origins and legacy of Kolmogorov's Grundbegriffe. October. 2005. doi:10.1214/088342305000000467.

Oehlert GW. A note on the delta method. Am Stat. 1992;46:27–29. doi:10.1080/00031305.1992.10475842.

Ver Hoef JM. Who invented the delta method? Am Stat. 2012;66(2):124–127. doi:10.1080/00031305.2012.687494.

Yin Z, Liu C, Chen Y, et al. Timing of hepatectomy in resectable synchronous colorectal liver metastases (SCRLM): simultaneous or delayed? Hepatology. 2013;57(6):2346–2357. doi:10.1002/hep.26283.
About this article
Cite this article
Shubert, C.R., Habermann, E.B., Bergquist, J.R. et al. A NSQIP Review of Major Morbidity and Mortality of Synchronous Liver Resection for Colorectal Metastasis Stratified by Extent of Liver Resection and Type of Colorectal Resection. J Gastrointest Surg 19, 1982–1994 (2015). https://doi.org/10.1007/s11605-015-2895-z
Received:

Accepted:

Published:

Issue Date:

DOI: https://doi.org/10.1007/s11605-015-2895-z
Keywords
Synchronous liver resection

Colorectal metastasis

Risk stratification

Extent of liver resection

Extent of colorectal resection

Safety of synchronous resection