Abstract
Background
While sarcopenia is typically defined using total psoas area (TPA), characterizing sarcopenia using only a single axial cross-sectional image may be inadequate. We sought to evaluate total psoas volume (TPV) as a new tool to define sarcopenia and compare patient outcomes relative to TPA and TPV.
Method
Sarcopenia was assessed in 763 patients who underwent pancreatectomy for pancreatic adenocarcinoma between 1996 and 2014. It was defined as the TPA and TPV in the lowest sex-specific quartile. The impact of sarcopenia defined by TPA and TPV on overall morbidity and mortality was assessed using multivariable analysis.
Result
Median TPA and TPV were both lower in women versus men (both P < 0.001). TPA identified 192 (25.1 %) patients as sarcopenic, while TPV identified 152 patients (19.9 %). Three hundred sixty-nine (48.4 %) patients experienced a postoperative complication. While TPA-sarcopenia was not associated with higher risk of postoperative complications (OR 1.06; P = 0.72), sarcopenia defined by TPV was associated with morbidity (OR 1.79; P = 0.002). On multivariable analysis, TPV-sarcopenia remained independently associated with an increased risk of postoperative complications (OR 1.69; P = 0.006), as well as long-term survival (HR 1.46; P = 0.006).
Conclusion
The use of TPV to define sarcopenia was associated with both short- and long-term outcomes following resection of pancreatic cancer. Assessment of the entire volume of the psoas muscle (TPV) may be a better means to define sarcopenia rather than a single axial image.
Access options
Buy single article
Instant access to the full article PDF.
USD 39.95
Price excludes VAT (USA)
Tax calculation will be finalised during checkout.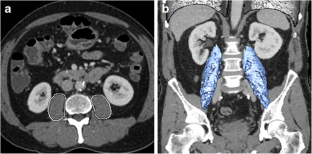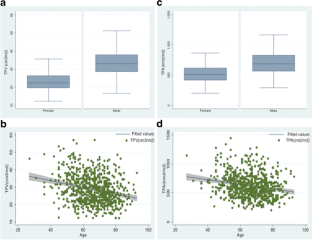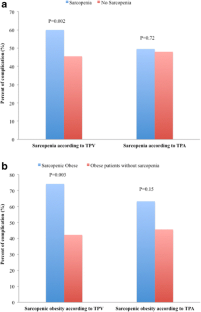 References
Jemal A, Bray F, Center MM, Ferlay J, Ward E, Forman D. Global cancer statistics. CA: A Cancer Journal for Clinicians 2011;61:69–90.

Winter J, Brennan M, Tang L, D'Angelica M, DeMatteo R, Fong Y, Klimstra D, Jarnagin W, Allen P. Survival after Resection of Pancreatic Adenocarcinoma: Results from a Single Institution over Three Decades. Annals of Surgical Oncology 2012;19:169–75.

Serrano P, Cleary S, Dhani N, Kim PW, Greig P, Leung K, Moulton C-A, Gallinger S, Wei A. Improved Long-Term Outcomes After Resection of Pancreatic Adenocarcinoma: A Comparison Between Two Time Periods. Annals of Surgical Oncology 2014;1–8.

DeOliveira ML, Winter JM, Schafer M, Cunningham SC, Cameron JL, Yeo CJ, Clavien P-A. Assessment of complications after pancreatic surgery: a novel grading system applied to 633 patients undergoing pancreaticoduodenectomy. Ann Surg 2006;244:931.

Greenblatt DY, Kelly KJ, Rajamanickam V, Wan Y, Hanson T, Rettammel R, Winslow ER, Cho CS, Weber SM. Preoperative factors predict perioperative morbidity and mortality after pancreaticoduodenectomy. Annals of surgical oncology 2011;18:2126–35.

Cameron JL, Riall TS, Coleman J, Belcher KA. One thousand consecutive pancreaticoduodenectomies. Ann Surg 2006;244:10–5.

Li QG, Li P, Tang D, Chen J, Wang DR. Impact of postoperative complications on long-term survival after radical resection for gastric cancer. World J Gastroenterol 2013;19:4060–5.

Löppenberg B, von Bodman C, Brock M, Roghmann F, Noldus J, Palisaar R. Effect of perioperative complications and functional outcomes on health-related quality of life after radical prostatectomy. Quality of Life Research 2014;23:2743–56.

Mavros MN, de Jong M, Dogeas E, Hyder O, Pawlik TM. Impact of complications on long-term survival after resection of colorectal liver metastases. The British journal of surgery 2013;100:711–8.

Spolverato G, Yakoob MY, Kim Y, Alexandrescu S, Marques HP, Aldrighetti L, Clark Gamblin T, Maithel S, Pulitano C, Bauer TW, Shen F, Poultsides GA, Wallis Marsh J, Pawlik TM. Impact Of Complications On Long-Term Survival After Resection Of Intrahepatic Cholangiocarcinoma. Cancer 2015.

Gillis C, Li C, Lee L, Awasthi R, Augustin B, Gamsa A, Liberman AS, Stein B, Charlebois P, Feldman LS, Carli F. Prehabilitation versus rehabilitation: a randomized control trial in patients undergoing colorectal resection for cancer. Anesthesiology 2014;121:937–47.

Deyle S, Banz VM, Wagner M, Becker K, Inderbitzin D, Gloor B, Candinas D. Estimation of Physiologic Ability and Surgical Stress Score Does Not Predict Immediate Outcome After Pancreatic Surgery. Pancreas 2011;40:723–9 10.1097/MPA.0b013e318212c02c.

Braga M, Capretti G, Pecorelli N, Balzano G, Doglioni C, Ariotti R, Di Carlo V. A prognostic score to predict major complications after pancreaticoduodenectomy. Ann Surg 2011;254:702–7; discussion 7–8.

Shah R, Velanovich V, Syed Z, Swartz A, Rubinfeld I. Limitations of Patient-Associated Co-Morbidity Model in Predicting Postoperative Morbidity and Mortality in Pancreatic Operations. Journal of Gastrointestinal Surgery 2012;16:986–92.

Rockwood K. Frailty and its definition: a worthy challenge. Journal of the American Geriatrics Society 2005;53:1069–70.

Ferrucci L, Guralnik J, Studenski S, Fried L, Cutler Jr G, Walston J. Interventions on Frailty Working Group: Designing randomized, controlled trials aimed at preventing or delaying functional decline and disability in frail, older persons: a consensus report. J Am Geriatr Soc 2004;52:625–34.

Fried LP, Tangen CM, Walston J, Newman AB, Hirsch C, Gottdiener J, Seeman T, Tracy R, Kop WJ, Burke G, McBurnie MA. Frailty in Older Adults: Evidence for a Phenotype. The Journals of Gerontology Series A: Biological Sciences and Medical Sciences 2001;56:M146-M57.

Lang P-O, Michel J-P, Zekry D. Frailty syndrome: a transitional state in a dynamic process. Gerontology 2009;55:539–49.

Brown M, Sinacore DR, Binder EF, Kohrt WM. Physical and Performance Measures for the Identification of Mild to Moderate Frailty. The Journals of Gerontology Series A: Biological Sciences and Medical Sciences 2000;55:M350-M5.

Puts MTE, Lips P, Deeg DJH. Static and dynamic measures of frailty predicted decline in performance-based and self-reported physical functioning. Journal of Clinical Epidemiology 2005;58:1188–98.

Verghese J, Holtzer R, Lipton RB, Wang C. Mobility Stress Test Approach to Predicting Frailty, Disability, and Mortality in High‐Functioning Older Adults. Journal of the American Geriatrics Society 2012;60:1901–5.

Pel-Littel RE, Schuurmans MJ, Emmelot-Vonk MH, Verhaar HJJ. Frailty: Defining and measuring of a concept. J Nutr Health Aging 2009;13:390–4.

Clegg A, Rogers L, Young J. Diagnostic test accuracy of simple instruments for identifying frailty in community-dwelling older people: a systematic review. Age and Ageing 2014;

Cooper C, Dere W, Evans W, Kanis J, Rizzoli R, Sayer A, Sieber C, Kaufman J-M, van Kan GA, Boonen S. Frailty and sarcopenia: definitions and outcome parameters. Osteoporosis International 2012;23:1839–48.

Baracos VE, Reiman T, Mourtzakis M, Gioulbasanis I, Antoun S. Body composition in patients with non-small cell lung cancer: a contemporary view of cancer cachexia with the use of computed tomography image analysis. Am J Clin Nutr 2010;91:1133S–7S.

Prado CM, Lieffers JR, McCargar LJ, Reiman T, Sawyer MB, Martin L, Baracos VE. Prevalence and clinical implications of sarcopenic obesity in patients with solid tumours of the respiratory and gastrointestinal tracts: a population-based study. Lancet Oncol 2008;9:629–35.

Voron T, Tselikas L, Pietrasz D, Pigneur F, Laurent A, Compagnon P, Salloum C, Luciani A, Azoulay D. Sarcopenia Impacts on Short- and Long-term Results of Hepatectomy for Hepatocellular Carcinoma. Ann Surg 2014;

Meza-Junco J, Montano-Loza AJ, Baracos VE, Prado CMM, Bain VG, Beaumont C, Esfandiari N, Lieffers JR, Sawyer MB. Sarcopenia as a Prognostic Index of Nutritional Status in Concurrent Cirrhosis and Hepatocellular Carcinoma. Journal of Clinical Gastroenterology 2013;47:861–70 10.1097/MCG.0b013e318293a825.

Reisinger KW, van Vugt JL, Tegels JJ, Snijders C, Hulsewe KW, Hoofwijk AG, Stoot JH, Von Meyenfeldt MF, Beets GL, Derikx JP, Poeze M. Functional Compromise Reflected by Sarcopenia, Frailty, and Nutritional Depletion Predicts Adverse Postoperative Outcome After Colorectal Cancer Surgery. Ann Surg 2014;

Peng PD, van Vledder MG, Tsai S, de Jong MC, Makary M, Ng J, Edil BH, Wolfgang CL, Schulick RD, Choti MA, Kamel I, Pawlik TM. Sarcopenia negatively impacts short-term outcomes in patients undergoing hepatic resection for colorectal liver metastasis. HPB : the official journal of the International Hepato Pancreato Biliary Association 2011;13:439–46.

Peng P, Hyder O, Firoozmand A, Kneuertz P, Schulick R, Huang D, Makary M, Hirose K, Edil B, Choti M, Herman J, Cameron J, Wolfgang C, Pawlik T. Impact of Sarcopenia on Outcomes Following Resection of Pancreatic Adenocarcinoma. Journal of Gastrointestinal Surgery 2012;16:1478–86.

Dodson RM, Firoozmand A, Hyder O, Tacher V, Cosgrove DP, Bhagat N, Herman JM, Wolfgang CL, Geschwind JF, Kamel IR, Pawlik TM. Impact of sarcopenia on outcomes following intra-arterial therapy of hepatic malignancies. Journal of Gastrointestinal Surgery 2013;17:2123–32.

Prasad SR, Jhaveri KS, Saini S, Hahn PF, Halpern EF, Sumner JE. CT tumor measurement for therapeutic response assessment: comparison of unidimensional, bidimensional, and volumetric techniques initial observations. Radiology 2002;225:416–9.

Mozley PD, Schwartz LH, Bendtsen C, Zhao B, Petrick N, Buckler AJ. Change in lung tumor volume as a biomarker of treatment response: a critical review of the evidence. Annals of oncology : official journal of the European Society for Medical Oncology / ESMO 2010;21:1751–5.

Clavien P-A, Camargo Jr CA, Croxford R, Langer B, Levy GA, Greig PD. Definition and classification of negative outcomes in solid organ transplantation. Application in liver transplantation. Ann Surg 1994;220:109.

Valero V, 3rd, Amini N, Spolverato G, Weiss MJ, Hirose K, Dagher NN, Wolfgang CL, Cameron AA, Philosophe B, Kamel IR, Pawlik TM. Sarcopenia Adversely Impacts Postoperative Complications Following Resection or Transplantation in Patients with Primary Liver Tumors. Journal of Gastrointestinal Surgery 2014;

Edge SB, Compton CC. The American Joint Committee on Cancer: the 7th edition of the AJCC cancer staging manual and the future of TNM. Annals of Surgical Oncology 2010;17:1471–4.

Hill JS, McPhee JT, Whalen GF, Sullivan ME, Warshaw AL, Tseng JF. In-hospital mortality after pancreatic resection for chronic pancreatitis: population-based estimates from the nationwide inpatient sample. Journal of the American College of Surgeons 2009;209:468–76.

Seiler C, Wagner M, Bachmann T, Redaelli C, Schmied B, Uhl W, Friess H, Büchler M. Randomized clinical trial of pylorus‐preserving duodenopancreatectomy versus classical Whipple resection—long term results. British journal of surgery 2005;92:547–56.

Balcom JHT, Rattner DW, Warshaw AL, Chang Y, Fernandez-del Castillo C. Ten-year experience with 733 pancreatic resections: changing indications, older patients, and decreasing length of hospitalization. Arch Surg 2001;136:391–8.

Al-Homoud S, Purkayastha S, Aziz O, Smith JJ, Thompson MD, Darzi AW, Stamatakis JD, Tekkis PP. Evaluating operative risk in colorectal cancer surgery: ASA and POSSUM-based predictive models. Surgical oncology 2004;13:83–92.

Bilimoria KY, Talamonti MS, Tomlinson JS, Stewart AK, Winchester DP, Ko CY, Bentrem DJ. Prognostic Score Predicting Survival After Resection of Pancreatic Neuroendocrine Tumors: Analysis of 3851 Patients. Annals of Surgery 2008;247:490–500.

Braga M, Capretti G, Pecorelli N, Balzano G, Doglioni C, Ariotti R, Di Carlo V. A prognostic score to predict major complications after pancreaticoduodenectomy. Annals of Surgery 2011;254:702–8.

Ansell GL, Montgomery JE. Outcome of ASA III patients undergoing day case surgery. British Journal of Anaesthesia 2004;92:71–4.

Audisio RA, Ramesh H, Longo WE, Zbar AP, Pope D. Preoperative assessment of surgical risk in oncogeriatric patients. The oncologist 2005;10:262–8.

Cruz-Jentoft AJ, Michel JP. Sarcopenia: A useful paradigm for physical frailty. European Geriatric Medicine 2013;4:102–5.

Control CfD, Prevention. Trends in aging--United States and worldwide. MMWR Morbidity and mortality weekly report 2003;52:101.

Hatzaras I, Schmidt C, Klemanski D, Muscarella P, Melvin WS, Ellison EC, Bloomston M. Pancreatic resection in the octogenarian: a safe option for pancreatic malignancy. Journal of the American College of Surgeons 2011;212:373–7.

Oliveira-Cunha M, Malde DJ, Aldouri A, Morris-Stiff G, Menon KV, Smith AM. Results of pancreatic surgery in the elderly: is age a barrier? HPB : the official journal of the International Hepato Pancreato Biliary Association 2013;15:24–30.

Lahat G, Sever R, Lubezky N, Nachmany I, Gerstenhaber F, Ben-Haim M, Nakache R, Koriansky J, Klausner JM. Pancreatic cancer: surgery is a feasible therapeutic option for elderly patients. World journal of surgical oncology 2011;9:10.

Buchs N, Addeo P, Bianco F, Gangemi A, Ayloo S, Giulianotti P. Outcomes of Robot-Assisted Pancreaticoduodenectomy in Patients Older Than 70 Years: A Comparative Study. World J Surg 2010;34:2109–14.

Adam R, Frilling A, Elias D, Laurent C, Ramos E, Capussotti L, Poston GJ, Wicherts DA, de Haas RJ. Liver resection of colorectal metastases in elderly patients. British Journal of Surgery 2010;97:366–76.

Lieffers J, Bathe O, Fassbender K, Winget M, Baracos V. Sarcopenia is associated with postoperative infection and delayed recovery from colorectal cancer resection surgery. British journal of cancer 2012;107:931–6.

Gowdra Halappa V, Corona-Villalobos CP, Bonekamp S, Li Z, Reyes D, Cosgrove D, Pawlik TM, Diaz LA, Bhagat N, Eng J, Geschwind JF, Kamel IR. Neuroendocrine liver metastasis treated by using intraarterial therapy: volumetric functional imaging biomarkers of early tumor response and survival. Radiology 2013;266:502–13.

Korc-Grodzicki B, Downey RJ, Shahrokni A, Kingham TP, Patel SG, Audisio RA. Surgical Considerations in Older Adults With Cancer. Journal of Clinical Oncology 2014;32:2647–53.

Chow WB, Rosenthal RA, Merkow RP, Ko CY, Esnaola NF. Optimal preoperative assessment of the geriatric surgical patient: a best practices guideline from the American College of Surgeons National Surgical Quality Improvement Program and the American Geriatrics Society. Journal of the American College of Surgeons 2012;215:453–66.

Braga M, Ljungqvist O, Soeters P, Fearon K, Weimann A, Bozzetti F. ESPEN guidelines on parenteral nutrition: surgery. Clinical nutrition 2009;28:378–86.

Kaido T, Ogawa K, Fujimoto Y, Ogura Y, Hata K, Ito T, Tomiyama K, Yagi S, Mori A, Uemoto S. Impact of Sarcopenia on Survival in Patients Undergoing Living Donor Liver Transplantation. American Journal of Transplantation 2013;13:1549–56.

Frontera WR, Hughes VA, Fielding RA, Fiatarone MA, Evans WJ, Roubenoff R. Aging of skeletal muscle: a 12-yr longitudinal study. J Appl Physiol (1985) 2000;88:1321–6.
About this article
Cite this article
Amini, N., Spolverato, G., Gupta, R. et al. Impact Total Psoas Volume on Short- and Long-Term Outcomes in Patients Undergoing Curative Resection for Pancreatic Adenocarcinoma: a New Tool to Assess Sarcopenia. J Gastrointest Surg 19, 1593–1602 (2015). https://doi.org/10.1007/s11605-015-2835-y
Received:

Accepted:

Published:

Issue Date:

DOI: https://doi.org/10.1007/s11605-015-2835-y
Keywords