Abstract
Purpose
There is a growing interest in surgery regarding the balance between appropriate hospital length of stay (LOS) and prevention of unnecessary readmissions. This study examines the relationship between postoperative LOS and unplanned readmission after colorectal resection, exploring whether patients discharged earlier have different readmission risk profiles.
Methods
Patients undergoing colorectal resection were selected by Common Procedural Terminology (CPT) code from the 2012 ACS National Surgical Quality Improvement Program (NSQIP) database. Patients were stratified by LOS quartile. Kaplan-Meier analysis was used to examine characteristics associated with 30-day unplanned readmission. Factors with a p < 0.1 were included in the Cox proportional hazards model. Subsequently, chi-square analysis compared LOS, patient, and perioperative factors with the primary reason for readmission. Factors with a p < 0.2 were included in a multivariable logistic regression for each readmission reason.
Results
For 33,033 patients undergoing colorectal resection, the overall 30-day unplanned readmission rate was 11 %. After adjusting for patient and perioperative factors, a postoperative LOS ≥8 days was associated with a 55 % increase in the relative hazard of readmission. Patients with a ≤3-day LOS were more likely to be readmitted with ileus/obstruction (odds ratio (OR): 1.8, p = 0.001) and pain (OR: 2.2, p = 0.007). LOS was not significantly associated with readmission for intraabdominal infection or medical complications.
Conclusions
Patients with longer LOS and complicated hospital courses continue to be high risk post-discharge, while straightforward early discharges have a different readmission risk profile. More targeted readmission prevention strategies are critical to focusing resource utilization for colorectal surgery patients.
Access options
Buy single article
Instant access to the full article PDF.
US$ 39.95
Tax calculation will be finalised during checkout.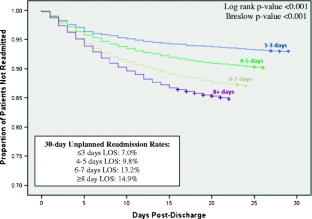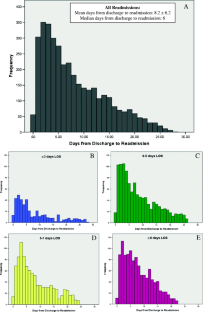 References
1.

Joynt KE, Jha AK. A path forward on Medicare readmissions. The New England journal of medicine. Mar 28 2013;368(13):1175–1177.

2.

Association of American Medical Colleges: Selected Medicare Hospital Quality Provisions Under the ACA. http://www.aamc.org/advocacy/medicare/153882/selected_medicare_hospital_quality_provisions_under_the_aca.html. Accessed 4/24/2014.

3.

Jencks SF, Williams MV, Coleman EA. Rehospitalizations among patients in the Medicare fee-for-service program. The New England journal of medicine. Apr 2 2009;360(14):1418–1428.

4.

Kelly KN, Rickles AS, Iannuzzi JC, Garimella V, Fleming FJ, Monson JR. Unplanned readmissions following surgery for colorectal cancer. Colorect. Cancer. 2013;2(4):297–307.

5.

Azimuddin K, Rosen L, Reed JF, 3rd, Stasik JJ, Riether RD, Khubchandani IT. Readmissions after colorectal surgery cannot be predicted. Diseases of the colon and rectum. Jul 2001;44(7):942–946.

6.

Gorski TF, Rosen L, Lawrence S, Helfrich D, Reed JF, 3rd. Usefulness of a state-legislated, comparative database to evaluate quality in colorectal surgery. Diseases of the colon and rectum. Nov 1999;42(11):1381–1387.

7.

Messaris E, Sehgal R, Deiling S, et al. Dehydration is the most common indication for readmission after diverting ileostomy creation. Diseases of the colon and rectum. Feb 2012;55(2):175–180.

8.

Hayden DM, Pinzon MC, Francescatti AB, et al. Hospital readmission for fluid and electrolyte abnormalities following ileostomy construction: preventable or unpredictable? Journal of gastrointestinal surgery : official journal of the Society for Surgery of the Alimentary Tract. Feb 2013;17(2):298–303.

9.

Hansen DG, Fox JP, Gross CP, Bruun JS. Hospital readmissions and emergency department visits following laparoscopic and open colon resection for cancer. Diseases of the colon and rectum. Sep 2013;56(9):1053–1061.

10.

Hendren S, Morris AM, Zhang W, Dimick J. Early discharge and hospital readmission after colectomy for cancer. Diseases of the colon and rectum. Nov 2011;54(11):1362–1367.

11.

Schneider EB, Hyder O, Brooke BS, et al. Patient readmission and mortality after colorectal surgery for colon cancer: impact of length of stay relative to other clinical factors. Journal of the American College of Surgeons. Apr 2012;214(4):390–398; discussion 398–399.

12.

Greenblatt DY, Weber SM, O'Connor ES, LoConte NK, Liou JI, Smith MA. Readmission after colectomy for cancer predicts one-year mortality. Annals of surgery. Apr 2010;251(4):659–669.

13.

Spanjersberg WR, Reurings J, Keus F, van Laarhoven CJ. Fast track surgery versus conventional recovery strategies for colorectal surgery. Cochrane database of systematic reviews (Online). 2011(2):CD007635.

14.

Nicholson A, Lowe MC, Parker J, Lewis SR, Alderson P, Smith AF. Systematic review and meta-analysis of enhanced recovery programmes in surgical patients. The British journal of surgery. Feb 2014;101(3):172–188.

15.

ACS NSQIP: Participants. http://site.acsnsqip.org/participants/. Accessed 04/21/2014.

16.

Khuri SF. The NSQIP: a new frontier in surgery. Surgery. Nov 2005;138(5):837–843.

17.

Fleming FJ, Francone TD, Kim MJ, Gunzler D, Messing S, Monson JR. A laparoscopic approach does reduce short-term complications in patients undergoing ileal pouch-anal anastomosis. Diseases of the colon and rectum. Feb 2011;54(2):176–182.

18.

Kelly KN, Iannuzzi JC, Rickles AS, Monson JR, Fleming FJ. Risk Factors Associated with 30-Day Postoperative Readmissions in Major Gastrointestinal Resections. Journal of gastrointestinal surgery : official journal of the Society for Surgery of the Alimentary Tract. Sep 25 2013.

19.

Kassin MT, Owen RM, Perez SD, et al. Risk factors for 30-day hospital readmission among general surgery patients. Journal of the American College of Surgeons. Sep 2012;215(3):322–330.

20.

Kelly M, Sharp L, Dwane F, Kelleher T, Comber H. Factors predicting hospital length-of-stay and readmission after colorectal resection: a population-based study of elective and emergency admissions. BMC health services research. 2012;12:77.

21.

O'Brien DP, Senagore A, Merlino J, Brady K, Delaney C. Predictors and outcome of readmission after laparoscopic intestinal surgery. World journal of surgery. Dec 2007;31(12):2430–2435.

22.

Kiran RP, Delaney CP, Senagore AJ, Steel M, Garafalo T, Fazio VW. Outcomes and prediction of hospital readmission after intestinal surgery. Journal of the American College of Surgeons. Jun 2004;198(6):877–883.

23.

Wick EC, Shore AD, Hirose K, et al. Readmission rates and cost following colorectal surgery. Diseases of the colon and rectum. Dec 2011;54(12):1475–1479.

24.

Kariv Y, Wang W, Senagore AJ, Hammel JP, Fazio VW, Delaney CP. Multivariable analysis of factors associated with hospital readmission after intestinal surgery. American journal of surgery. Mar 2006;191(3):364–371.

25.

Abarca F, Saclarides TJ, Brand MI. Laparoscopic colectomy: complications causing reoperation or emergency room/hospital readmissions. The American surgeon. Jan 2011;77(1):65–69.

26.

Fiore JF, Jr., Bialocerkowski A, Browning L, Faragher IG, Denehy L. Criteria to determine readiness for hospital discharge following colorectal surgery: an international consensus using the Delphi technique. Diseases of the colon and rectum. Apr 2012;55(4):416–423.

27.

Nagle D, Pare T, Keenan E, Marcet K, Tizio S, Poylin V. Ileostomy pathway virtually eliminates readmissions for dehydration in new ostomates. Diseases of the colon and rectum. Dec 2012;55(12):1266–1272.

28.

Harrison JD, Young JM, Auld S, Masya L, Solomon MJ, Butow PN. Quantifying postdischarge unmet supportive care needs of people with colorectal cancer: a clinical audit. Colorectal disease : the official journal of the Association of Coloproctology of Great Britain and Ireland. Dec 2011;13(12):1400–1406.
Conflict of Interest
None
Additional information
Discussion
Dr. Scott R. Steele (Fort Lewis, WA): I would like to congratulate Dr. Kelly and associates on a very well-written study evaluating the association of timing of discharge and readmission after colorectal surgery. In this changing climate of health care, where coverage and reimbursement for complications and readmission may be radically altered, as well an increased focus on appropriate utilization management of all hospital resources including bed occupancy, studies such as these are increasingly important. As expected, a longer LOS reflects a more complicated hospital course with overall higher readmission rates, while early discharge mirrors higher rates of readmission for "failure to thrive" reasons (e.g., pain and ileus). By identifying these risk factors, we have highlighted potentially modifiable metrics that may aid both in counseling and interventions prior to (or even after) discharge. A few questions: (1) While there was no way to identify those institutions with and without enhanced recovery pathways, should we be altering our data collection to account for this in light of the emerging data demonstrating improved outcomes? (2) Despite the associations you identified in your paper, is there really anything we can do to predict or do anything about readmission based on LOS—i.e., if patients are "ready for discharge" by whatever criteria the surgeon utilizes, are we changing our practice patterns at all to reflect an attempt to impact your findings? While you recommend targeted interventions for distinct complications such as dehydration or follow-up phone calls for everyone, how do these interventions relate to your study specifically regarding LOS and readmission?
Closing Discussant
Dr. Kelly: Thank you very much Dr. Steele for the comments and questions.
To address your first question regarding data collection on enhanced recovery pathways, we agree that having this information would be incredibly useful for examining outcomes. Certainly, we can infer from our data that the patients with 2–3-day stays were more likely to have received an enhanced recovery protocol, but there is no way of knowing this for sure. To examine the full effects of these protocols on length of stay and postoperative outcomes, we would ideally like to collect information on which patients were included, the specific components, and whether it was successfully completed.
Your second point regarding predicting readmission with length of stay is an excellent one, and as mentioned before, we do not believe that this should be treated as a modifiable factor. Rather, we believe it highlights the fact that postoperative course should be an important consideration in terms of readmission and other outcomes. Patients qualifying for early discharge by their surgeon's criteria will likely need different discharge strategies and resources than those patients with longer lengths of stay. Moving forward, more research is needed examining the role of discharge criteria and planning as they relate to surgical outcomes and quality.
Appendices
Appendices
About this article
Cite this article
Kelly, K.N., Iannuzzi, J.C., Aquina, C.T. et al. Timing of Discharge: a Key to Understanding the Reason for Readmission after Colorectal Surgery. J Gastrointest Surg 19, 418–428 (2015). https://doi.org/10.1007/s11605-014-2718-7
Received:

Accepted:

Published:

Issue Date:
Keywords
Colorectal surgery

Unplanned readmission

Length of stay

Readmission timing

Readmission reason