Abstract
Introduction
Patients with metastatic colorectal cancer can develop jaundice from intrahepatic or extrahepatic causes. Currently, there is little data on the underlying causes and overall survival after onset of jaundice. The purpose of this study was to characterize the causes of jaundice and determine outcomes.
Methods
Six hundred twenty-nine patients treated for metastatic colorectal cancer between 2004 and 2010 were retrospectively reviewed. Those developing jaundice were grouped as having intrahepatic or extrahepatic obstruction. Demographics, clinicopathologic, and outcome data were analyzed.
Results
Sixty-two patients with metastatic colorectal cancer developed jaundice. Intrahepatic biliary obstruction was most common, occurring in younger patients. Time from metastatic diagnosis to presentation of jaundice was similar between groups, as was the mean number of prior lines of chemotherapy. Biliary decompression was successful 41.7 % of the time and was attempted more commonly for extrahepatic causes. Median overall survival after onset of jaundice was 1.5 months and it was similar between groups, but improved to 9.6 months in patients who were able to receive further chemotherapy.
Conclusions
Jaundice due to metastatic colorectal cancer is an ominous finding, representing aggressive tumor biology or exhaustion of therapies. Biliary decompression is often difficult and should only be pursued when additional treatment options are available.
Access options
Buy single article
Instant access to the full article PDF.
USD 39.95
Price excludes VAT (USA)
Tax calculation will be finalised during checkout.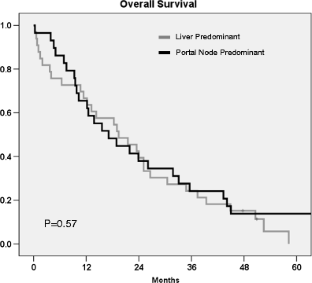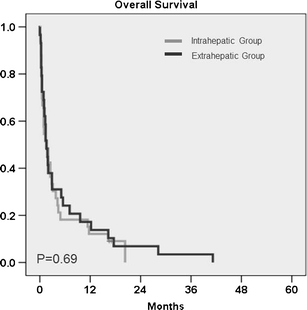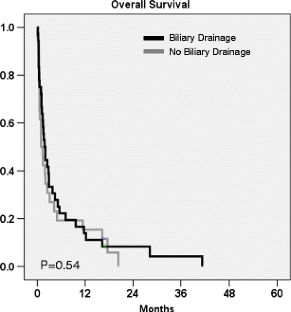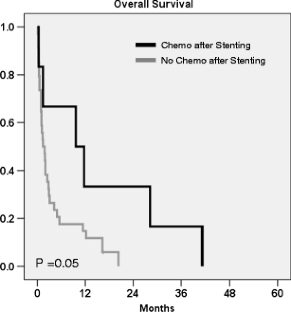 References
Manfredi S, Lepage C, Hatem C, et al. Epidemiology and management of liver metastases from colorectal cancer. Ann Surg. 2006;244(2):254–259.

Leporrier J, Maurel J, Chiche L, et al. A population-based study of the incidence, management and prognosis of hepatic metastases from colorectal cancer. Br J Surg 2006;93(4):465–474.

Lam VW, Spiro C, Laurence JM, et al. A systematic review of clinical response and survival outcomes of downsizing systemic chemotherapy and rescue liver surgery in patients with initially unresectable colorectal liver metastases. Ann Surg Oncol 2012; 19(4):1292–1301.

Abdalla EK, Bauer TW, Chun YS, et al. Locoregional surgical and interventional therapies for advanced colorectal cancer liver metastases: expert consensus statements. HPB(Oxford) 2013;15(2):119–130.

Warshaw AL and Welch JP. Extrahepatic biliary obstruction by metastatic colon carcinoma. Ann Surg 1978;188(5):593–597.

Douillard JY, Siena S, Cassidy J, et al. Randomized, phase III trial of panitumumab with infusional fluorouracil, leucovorin, and oxaliplatin (FOLFOX4) versus FOLFOX4 alone as first-line treatment in patients with previously untreated metastatic colorectal cancer: the PRIME study. J Clin Oncol 2010;28(31):4697–4705.

Tveit KM, Guren T, Glimelius B, et al. Phase III trial of cetuximab with continous or intermittent fluorouracil, leucovorin, and oxaliplatin (Nordic FLOX) versus FLOX alone in first-line treatment of metastatic colorectal cancer: the NORDIC-VII study. J Clin Oncol 2012;30(15):1755–1762.

Van Laethem JL, De Broux S, Eisendrath P, et al. Clinical Impact of biliary drainage and jaundice resolution in patients with obstructive jaundice at the hilum. Am J Gastroenterol 2003;98(6):1271–1277.

Lo CY and Lai EC. Palliation for extrahepatic biliary obstruction by metastatic colorectal carcinoma. Am J Gastroenterol 1994;89(10):1852–1855.

Elias DM and Ouellet JF. Incidence, distribution, and significance of hilar node metastases in hepatic colorectal metastases. Surg Oncol Clin N Am 2003;12(1):221–229.

Bennett JJ, Schmidt CR, Klimstra DS, et al. Perihepatic lymph node micrometastases impact outcome after partial hepatectomy for colorectal metastases. Ann Surg Oncol 2008;15(4):1130–1136.

Rodgers MS, and McCall JL. Surgery for colorectal liver metastases with hepatic lymph node involvement: a systemic review. Br J Surg 2000;87(9):1142–1155.

Laurent C, Sa Cunha A, Rullier E, et al. Smith Impact of microscopic hepatic lymph node involvement on survival after resection of colorectal liver metastases. J Am Coll Surg 2004;198(6):884–891.

Beckurts KT, Holscher AH, Thorban S, et al. Significance of lymph node involvement at the hepatic hilum in the resection of colorectal liver metastases. Br J Surg 1997;(8):1081–1084.

Iwatsuki S, Dvorchik I, Madariaga JR, et al. Hepatic Resection for Metastatic Colorectal Adenocarcinoma: A Proposal of a Prognostic Scoring System. J Am Coll Surg 1999;189(3):291–299.

Caprizo DR, Are C, Jarnagin W, Dematteo R, Fong Y, Gonen M, Blumgart L, D'Angelica M. Liver resection for metastatic colorectal cancer in patients with concurrent extrahepatic disease: results in 127 patients treated at a single center. Ann Surg Onc. 2009;16(8):2138–2146.

Nakamura S, Suzuki S, and Konno H. Resection of hepatic metastases of colorectal carcinoma: 20 years' experience. J Hepatobiliary Pancreat Surg 1999;6(1):16–22.

Ercolani G, Grazi GL, Ravaioli M, et al. The role of lymphadenectomy for liver tumors. Ann Surg. 2004;239(2):202–209.

Jamison RL Donohue JH Nagorney DM et al. Hepatic resection for metastatic colorectal cancer results in cure for some patients. Arch Surg. 1997;132(5):505–510.

Elias D, Ouellet JF, Bellon N, et al. Extrahepatic disease does not contraindicate hepatectomy for colorectal liver metastases. Br J Surg 2003;90(5):567–574.
Funding
No grant or funding was used during this study.
About this article
Cite this article
Nichols, S.D., Albert, S., Shirley, L. et al. Outcomes in Patients with Obstructive Jaundice from Metastatic Colorectal Cancer and Implications for Management. J Gastrointest Surg 18, 2186–2191 (2014). https://doi.org/10.1007/s11605-014-2670-6
Received:

Accepted:

Published:

Issue Date:

DOI: https://doi.org/10.1007/s11605-014-2670-6
Keywords
Metastatic colorectal cancer

Hepatic metastasis

Biliary obstruction

Jaundice

Hyperbilirubinemia