Abstract
Background
Postoperative ileus (POI) can worsen outcomes, increase cost, and prolong hospitalization. An objective marker could help identify POI patients who should not be prematurely fed. We developed a disposable, non-invasive acoustic gastro-intestinal surveillance (AGIS) biosensor. We tested whether AGIS can distinguish healthy controls from patients recovering from abdominal surgery.
Study Design
AGIS is a disposable plastic device embedded with a microphone that adheres to the abdominal wall and connects to a computer that measures acoustic event rates. We compared intestinal rates of healthy subjects using AGIS for 60 min after a standardized meal to recordings of two postoperative groups: (1) patients tolerating standardized feeding and (2) POI patients. We compared intestinal rates among groups using ANOVA and t tests.
Results
There were 8 healthy controls, 7 patients tolerating feeding, and 25 with POI; mean intestinal rates were 0.14, 0.03, and 0.016 events per second, respectively (ANOVA p < 0.001). AGIS separated patients from controls with 100 % sensitivity and 97 % specificity. Among patients, rates were higher in fed versus POI subjects (p = 0.017).
Conclusion
Non-invasive, abdominal acoustic monitoring distinguishes POI from non-POI subjects. Future research will test whether AGIS can identify patients at risk for development of POI and assist with postoperative feeding decisions.
Access options
Buy single article
Instant access to the full article PDF.
USD 39.95
Price excludes VAT (USA)
Tax calculation will be finalised during checkout.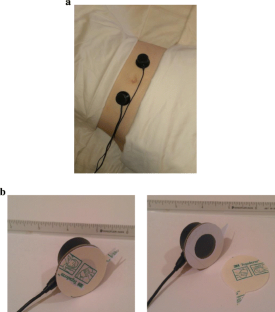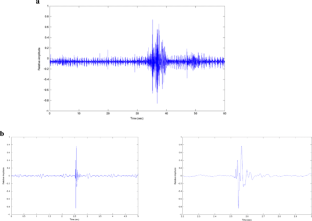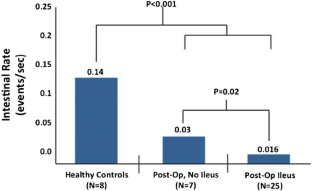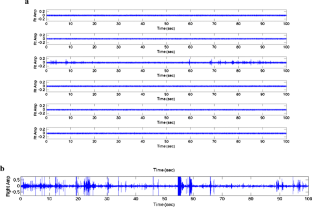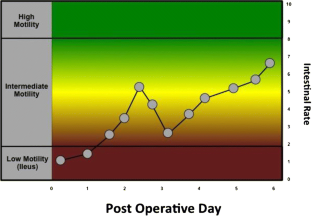 References
Doorly MG, Senagore AJ. Pathogenesis and clinical and economic consequences of postoperative ileus. Surg Clin North Am 2012;92:259–72, viii.

Lubawski J, Saclarides T. Postoperative ileus: strategies for reduction. Ther Clin Risk Manag 2008;4:913–7.

Kehlet H, Holte K. Review of postoperative ileus. Am J Surg 2001;182:3S-10S.

Asgeirsson T. Postoperative ileus: it costs more than you expect. J Am Coll Surg 2010;210:228–31.

Prasad M, Matthews JB. Deflating postoperative ileus. Gastroenterology 1999;117:489–92.

Lewis SJ, Egger M, Sylvester PA, Thomas S. Early enteral feeding versus "nil by mouth" after gastrointestinal surgery: systematic review and meta-analysis of controlled trials. BMJ 2001;323:773–6.

Andersen HK, Lewis SJ, Thomas S. Early enteral nutrition within 24h of colorectal surgery versus later commencement of feeding for postoperative complications. Cochrane Database Syst Rev 2006:CD004080.

Lewis SJ, Andersen HK, Thomas S. Early enteral nutrition within 24h of intestinal surgery versus later commencement of feeding: a systematic review and meta-analysis. J Gastrointest Surg 2009;13:569–75.

Warren J, Bhalla V, Cresci G. Postoperative diet advancement: surgical dogma vs evidence-based medicine. Nutr Clin Pract 2011;26:115–25.

Wolff BG, Viscusi ER, Delaney CP, Senagore AJ, Fort JG, Du W, Techner L, Wallin B. Patterns of gastrointestinal recovery after bowel resection and total abdominal hysterectomy: pooled results from the placebo arms of alvimopan phase III North American clinical trials. J Am Coll Surg 2007;205:43–51.

Iyer S, Saunders WB, Stemkowski S. Economic burden of postoperative ileus associated with colectomy in the United States. J Manag Care Pharm 2009;15:485–94.

Asgeirsson T, El-Badawi KI, Mahmood A, Barletta J, Luchtefeld M, Senagore AJ. Postoperative ileus: it costs more than you expect. J Am Coll Surg 2010;210:228–31.

Barletta JF, Senagore AJ. Reducing the Burden of Postoperative ileus: Evaluating and Implementing an Evidence-based Strategy. World J Surg 2014.

Muller S, Zalunardo MP, Hubner M, Clavien PA, Demartines N. A fast-track program reduces complications and length of hospital stay after open colonic surgery. Gastroenterology 2009;136:842–7.

Gu Y, Lim HJ, Moser MA. How useful are bowel sounds in assessing the abdomen? Dig Surg 2010;27:422–6.

Massey RL. Return of bowel sounds indicating an end of postoperative ileus: is it time to cease this long-standing nursing tradition? Medsurg Nurs 2012;21:146–50.

Tomomasa T, Morikawa A, Sandler RH, Mansy HA, Koneko H, Masahiko T, Hyman PE, Itoh Z. Gastrointestinal sounds and migrating motor complex in fasted humans. Am J Gastroenterol 1999;94:374–81.

Dobkin BH, Xu X, Batalin M, Thomas S, Kaiser W. Reliability and validity of bilateral ankle accelerometer algorithms for activity recognition and walking speed after stroke. Stroke 2011;42:2246–50.

Au LK, Batalin MA, Stathopoulos T, Bui AA, Kaiser WJ. Episodic sampling: towards energy-efficient patient monitoring with wearable sensors. Conf Proc IEEE Eng Med Biol Soc 2009;2009:6901–5.

Xu JY, Chang HI, Chien C, Kaiser WJ, Pottie GJ. Context-driven, Prescription based Personal Activity Classification: Methodology, Architecture and End-to-End Implementation. IEEE J Biomed Health Inform 2013.

Shibata Y, Toyoda S, Nimura Y, Miyati M. Patterns of intestinal motility recovery during the early stage following abdominal surgery: clinical and manometric study. World J Surg 1997;21:806–9; discussion 809–10.
Conflict of Interest
This study was conducted with funding from the Principal Investigators (B.S. and W.K.). The technology described in this study was developed by B.S. and W.K. and is managed by the UCLA Office of Intellectual Property (OIP). At the time of this study, UCLA submitted a patent application and was evaluating university in-licensing options. The authors did not receive outside funding to conduct this study. The opinions and assertions contained herein are the sole views of the authors and are not to be construed as official or as reflecting the views of the Department of Veteran Affairs.
Additional information
This study was presented as an abstract at the 2014 Digestive Disease Week (DDW) in Chicago, Illinois.
About this article
Cite this article
Spiegel, B.M.R., Kaneshiro, M., Russell, M.M. et al. Validation of an Acoustic Gastrointestinal Surveillance Biosensor for Postoperative Ileus. J Gastrointest Surg 18, 1795–1803 (2014). https://doi.org/10.1007/s11605-014-2597-y
Received:

Accepted:

Published:

Issue Date:

DOI: https://doi.org/10.1007/s11605-014-2597-y
Keywords