Abstract
Introduction
Vertical banded gastroplasty (VBG) originated as a simplified bariatric operation to avoid malabsorption and provide lasting results due to a fixed stoma. Short-term results were excellent (50–70 % excess weight loss); however, patients often displayed maladaptive eating behaviors, and many failed to either achieve or sustain adequate long-term weight loss. Complications were also common including severe reflux and regurgitation, gastric outlet stenosis or stricture, gastrogastric fistula, and breakdown of the staple line.
Methods
VBG conversions to Roux-en-Y gastric bypass or sleeve gastrectomy as well as endoscopic interventions such as band removal have been described but have very high complication rates. We describe conversion of VBG to biliopancreatic diversion with duodenal switch using endoscopic guidance to take down the VBG staple line and the mesh around the outlet.
Results
This technique can also be used to safely convert a VBG to a stand-alone sleeve gastrectomy.
Conclusion
Complication rates have been low by this technique, and we encourage others to adopt this technique.
Access options
Buy single article
Instant access to the full article PDF.
USD 39.95
Price includes VAT (USA)
Tax calculation will be finalised during checkout.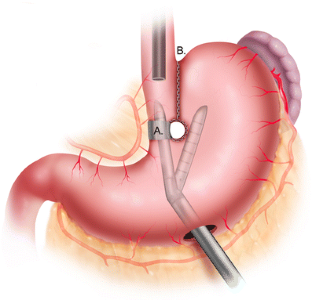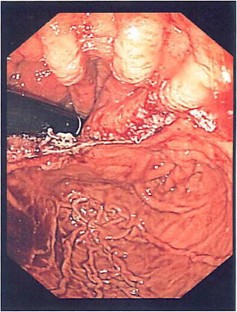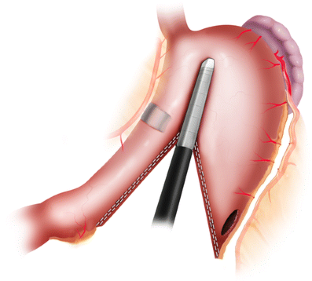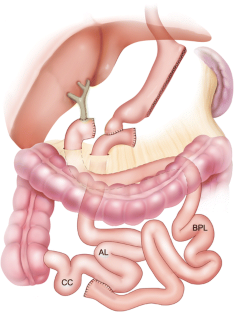 References
1.

Mason, E.E., Vertical banded gastroplasty for obesity. Arch Surg, 1982. 117(5): p. 701–6.

2.

Hess, D.W. and D.S. Hess, Laparoscopic Vertical Banded Gastroplasty with Complete Transection of the Staple-Line. Obes Surg, 1994. 4(1): p. 44–46.

3.

Ojo, P. and E. Valin, Cost-effective restrictive bariatric surgery: laparoscopic vertical banded gastroplasty versus laparoscopic adjustable gastric band. Obes Surg, 2009. 19(11): p. 1536–41.

4.

Nocca, D., et al., Laparoscopic vertical banded gastroplasty. A multicenter prospective study of 200 procedures. Surg Endosc, 2007. 21(6): p. 870–4.

5.

Scozzari, G., et al., 10-year follow-up of laparoscopic vertical banded gastroplasty: good results in selected patients. Ann Surg, 2010. 252(5): p. 831–9.

6.

Brolin, R.E., et al., Weight loss and dietary intake after vertical banded gastroplasty and Roux-en-Y gastric bypass. Ann Surg, 1994. 220(6): p. 782–90.

7.

Berende, C.A., et al., Laparoscopic sleeve gastrectomy feasible for bariatric revision surgery. Obes Surg, 2012. 22(2): p. 330–4.

8.

Greenbaum, D.F., et al., Duodenal switch with omentopexy and feeding jejunostomy--a safe and effective revisional operation for failed previous weight loss surgery. Surg Obes Relat Dis, 2011. 7(2): p. 213–8.

9.

Sugerman, H.J., et al., Conversion of failed or complicated vertical banded gastroplasty to gastric bypass in morbid obesity. Am J Surg, 1996. 171(2): p. 263–9.

10.

Karmali, S., et al., Endoscopic management of eroded prosthesis in vertical banded gastroplasty patients. Surg Endosc, 2010. 24(1): p. 98–102.

11.

Sudan, R., V. Puri, and D. Sudan, Robotically assisted biliary pancreatic diversion with a duodenal switch: a new technique. Surg Endosc, 2007. 21(5): p. 729–33.

12.

Marsk, R., et al., High revision rates after laparoscopic vertical banded gastroplasty. Surg Obes Relat Dis, 2009. 5(1): p. 94–8.
Conflict of interest
The authors have no commercial associations that might be a conflict of interest in relation to this article.
About this article
Cite this article
Jain-Spangler, K., Portenier, D., Torquati, A. et al. Conversion of Vertical Banded Gastroplasty to Stand-Alone Sleeve Gastrectomy or Biliopancreatic Diversion with Duodenal Switch. J Gastrointest Surg 17, 805–808 (2013). https://doi.org/10.1007/s11605-013-2165-x
Received:

Accepted:

Published:

Issue Date:
Keywords
Sleeve gastrectomy

Duodenal switch

Biliopancreatic diversion

Vertical banded gastroplasty

Robotic