Abstract
Objective
We recently reported in a multi-institutional, randomized study of laparoscopic paraesophageal hernia repair (LPEHR) that the anatomic recurrence rate at a median of approximately 5 years was >50%. This study focuses exclusively on the symptomatic response to LPEHR and its relationship with the development of a recurrent hernia.
Methods
During 2002 to 2005, 108 patients underwent LPHER with or without biologic mesh. A standardized symptom severity questionnaire, SF-36 health survey, and upper gastrointestinal series were performed at baseline, 6 months, and during 2008–2009.
Results
Of 108 patients, 72 (average age of 68 ± 10 years) underwent clinical assessment, and 60 of them also had radiologic studies at a median follow-up of 58 (40–78) months. Radiographic recurrence (≥20 mm) was 14% at 6 months and 57% at the time of follow-up, and the average recurrence size was 40 ± 10 mm. All symptoms were significantly improved at long-term follow-up and, with the exception of heartburn, were unaffected by the presence or size of the recurrence. Two patients (3%) with recurrent symptoms related to their hernia underwent reoperation.
Conclusion
Despite frequent radiologic recurrences after LPEHR, symptoms remain well controlled, patient satisfaction is high, and the need for reoperation is low.
Access options
Buy single article
Instant access to the full article PDF.
US$ 39.95
Tax calculation will be finalised during checkout.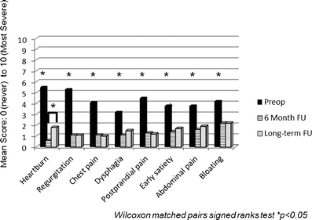 References
1.

Oelschlager BK, Pellegrini CA, Hunter JG, Brunt ML, Soper NJ, Sheppard BC, Polissar NL, Neradilek, NB, Mitsumori LM, Rohrmann CA, Swanstrom LL. Biologic Prosthesis to Prevent Recurrence after Laparoscopic Paraesophageal Hernia Repair: Long-term Follow-up from a Multi-center, Prospective, Randomized Trial. Presented at American College of Surgeons 96th Annual Meeting 2010.

2.

Dallemagne B, Kohnen L, Perretta S, Weerts J, Markiewicz S, Jehaes C. Laparoscopic repair of paraesophageal hernia. Long-term follow-up reveals good clinical outcome despite high radiological recurrence rate. Ann Surg 2011;253:291–6.

3.

Hashemi M, Peters JH, DeMeester TR, Huprich JE, Quek M, Hagen JA, Crookes PF, Theisen J, DeMeester SR, Sillin LF, Bremner CG. Laparoscopic repair of large type III hiatal hernia: objective followup reveals high recurrence rate. J Am Coll Surg 2000;190:553–60; discussion 60–1.

4.

Luketich JD, Nason KS, Christie NA, Pennathur A, Jobe BA, Landreneau RJ, Schuchert MJ, Outcomes after a decade of laparoscopic giant paraesophageal hernia repair. J Thorac Cardiovasc Surg 2010;139:395–404, e1.

5.

Smith GS, Isaacson JR, Draganic BD, Baladas HG, Falk GL. Symptomatic and radiological follow-up after para-esophageal hernia repair. Dis Esophagus 2004;17:279–84.

6.

Oelschlager BK, Pellegrini CA, Hunter J, Soper N, Brunt M, Sheppard B, Polissar N, Mitsumori L, Nelson J, Swanstrom L. Biologic prosthesis reduces recurrence after laparoscopic paraesophageal hernia repair: a multicenter, prospective, randomized trial. Ann Surg 2006;244:481–90.

7.

Zehetner J, Demeester SR, Ayazi S, Kilday P, Augustin F, Hagen JA, Lipham JC, Sohn HJ, Demeester TR. Laparoscopic versus Open Repair of Paraesophageal Hernia: The Second Decade. J Am Coll Surg 2011;212:813–20.

8.

Aly A, Munt J, Jamieson GG, Ludemann R, Devitt PG, Watson DI. Laparoscopic repair of large hiatal hernias. Br J Surg 2005;92:648–53.

9.

Khaitan L, Houston H, Sharp K, Holzman M, Richards W. Laparoscopic paraesophageal hernia repair has an acceptable recurrence rate. Am Surg 2002;68:546–51; discussion 51–2.

10.

Casabella F, Sinanan M, Horgan S, Pellegrini CA. Systematic use of gastric fundoplication in laparoscopic repair of paraesophageal hernias. Am J Surg 1996;171:485–9.

11.

Gantert WA, Patti MG, Arcerito M, Feo C, Stewart L, DePinto M, Bhoyrul S, Rangel S, Tyrrell D, Fujino Y, Mulvihill SJ, Way LW. Laparoscopic repair of paraesophageal hiatal hernias. J Am Coll Surg 1998;186:428–32; discussion 32–3.

12.

Martin TR, Ferguson MK, Naunheim KS. Management of giant paraesophageal hernia. Dis Esophagus 1997;10:47–50.

13.

Oddsdottir M, Franco AL, Laycock WS, Waring JP, Hunter JG. Laparoscopic repair of paraesophageal hernia. New access, old technique. Surg Endosc 1995;9:164–8.

14.

Perdikis G, Hinder RA, Filipi CJ, Walenz T, McBride PJ, Smith SL, Katada N, Klingler PJ, Laparoscopic paraesophageal hernia repair. Arch Surg 1997;132:586–9; discussion 90–1.

15.

Pitcher DE, Curet MJ, Martin DT, Vogt DM, Mason J, Zucker KA. Successful laparoscopic repair of paraesophageal hernia. Arch Surg 1995;130:590–6.

16.

Mattar SG, Bowers SP, Galloway KD, Hunter JG, Smith CD. Long-term outcome of laparoscopic repair of paraesophageal hernia. Surg Endosc 2002;16:745–9.

17.

Horgan S, Pohl D, Bogetti D, Eubanks T, Pellegrini C. Failed antireflux surgery: what have we learned from reoperations? Arch Surg 1999;134:809–15; discussion 15–7.

18.

van Beek DB, Auyang ED, Soper NJ. A comprehensive review of laparoscopic redo fundoplication. Surg Endosc 2011;25:706–12.
Acknowledgments
This work was supported in part by Cook Biotech, the Mary and Dennis Wise Fund, and the Byers Endowed Professorship, University of Washington.
Additional information
Discussant
Dr. Vic Velanovic (Tampa, FL): Dr. Petersen and colleagues should be congratulated on both their persistence in obtaining long-term follow-up on their randomized controlled trial patients and their integrity in presenting data which, on its face, contradicts their original publication. But to me, the importance of this study is not that a biological mesh did not improve hiatal hernia recurrence rates at 5 years compared to 6 months, rather it is the patient-centered outcomes which are important. We previously published some years ago that quality of life improves after paraesophageal hernia repair, and very few develop symptomatic recurrences. Dr. Petersen's study also shows that few of the recurrences required reoperation due to symptoms. In my mind, this corresponds to the shift we have seen in de novo management of paraesophageal hernias. Namely, as asserted in a publication by our president, the asymptomatic ones can be watched. Therefore, the rhetorical question I will pose is: Is a conversion of a symptomatic paraesophageal hernia to an asymptomatic hiatal hernia truly a "failure"? My answer to that is no, and I believe that we need to spend less time obsessing about X-rays and more time determining whether or not our operations improved the lot of our patients.
Therefore, my questions are:
Do we need a new standard of measuring outcomes of hiatal hernia repair?
There is a concept of quality-adjusted life years in comparative effectiveness decision-making, should we develop a similar "symptom-improved" adjusted life years to assess the impact of our operations on patients' lives?
Closing Discussant
Dr. Rebecca P. Petersen: Thank you Dr. Velanovich for your very insightful comments and questions. We too agree that outcomes should be more patient centered, especially since we and others are seeing such a large discrepancy between anatomic and symptomatic recurrence. I think that radiographic recurrence has been an attractive endpoint to most because it is a clear, single objective measurement and is easily reproducible at different follow-up periods and between different studies. Also, I think that it was previously believed to serve as a potential surrogate marker for later worsening symptoms which has not proven to be the case in our study. We realize that there is a much bigger picture of success and that has to do with how the patient feels in regards to symptoms and whether their quality of life is improved following surgery which is why we did this analysis. Unfortunately, these outcomes have not been standardized from study to study and the results remain difficult to compare.
I think your idea of reporting an adjusted life years, symptom improvement measure is an excellent one. Ideally, we would develop a disease-specific quality of life survey for paraesophageal hernias, perhaps by modifying your GERD quality of life tool, and this would be used as the standard outcome measure. As the expert in quality of life surveys, perhaps you would like to partner with us to come up with such a survey.
About this article
Cite this article
Oelschlager, B.K., Petersen, R.P., Brunt, L.M. et al. Laparoscopic Paraesophageal Hernia Repair: Defining Long-Term Clinical and Anatomic Outcomes. J Gastrointest Surg 16, 453–459 (2012). https://doi.org/10.1007/s11605-011-1743-z
Received:

Accepted:

Published:

Issue Date:
Keywords
Laparoscopic paraesophageal hernia

Recurrence rate

Long-term clinical outcomes