Abstract
Background
MicroRNAs are endogenous small noncoding RNAs that aberrantly expressed in various carcinomas. MiR-148a and miR-152, which have the same "seed region", have not been comprehensively investigated in gastrointestinal cancers.
Methods
Total RNA was extracted from the tissues of 101 patients with gastric cancer and 101 patients with colorectal cancer as well as their matched nontumor adjacent tissues. After polyadenylation and reverse transcription, the expression of miR-148a and miR-152 was determined using quantitative real-time polymerase chain reaction. The protein level of cholecystokinin B receptor, which might be the target gene of miR-148a and miR-152, was analyzed by Western blot in 40 patients with gastric cancer.
Results
Expression levels of miR-148a and miR-152 in human gastric (p < 0.001 and p = 0.038, respectively, t-test) and colorectal (all p < 0.001) cancers were significantly lower than that in their matched nontumor adjacent tissues. Moreover, their low expression was also found in several gastrointestinal cancer cell lines compared with normal gastric epithelial cell line and normal colorectal tissue, respectively. A strong correlation was found between the expression of miR-148a and miR-152 (all p < 0.001, Pearson's correlation). Furthermore, low expression of miR-152 was correlated with increased tumor size (p = 0.023 and 0.004, respectively, Mann–Whitney U test) and advanced pT stage (p = 0.018 and 0.002, respectively) in gastrointestinal cancers. Low expression of miR-148a was also correlated with increased tumor size (p = 0.045 and 0.018, respectively) in gastrointestinal cancers, but only correlated with advanced pT stage (p = 0.023) in colorectal cancer. We also found the expression of miR-148a (p < 0.001, chi-square test) and miR-152 (p = 0.002) inversely correlated with cholecystokinin B receptor protein in gastric cancer.
Conclusion
MiR-148a and miR-152 may be involved in the carcinogenesis of gastrointestinal cancers and might be potential biomarkers in these cancers.
Access options
Buy single article
Instant access to the full article PDF.
USD 39.95
Price excludes VAT (USA)
Tax calculation will be finalised during checkout.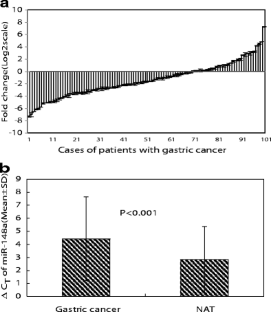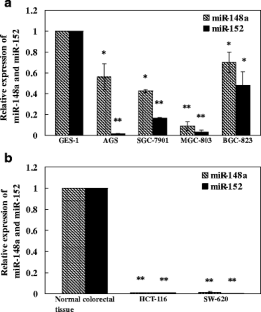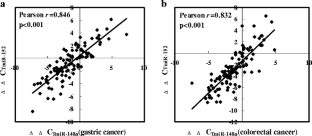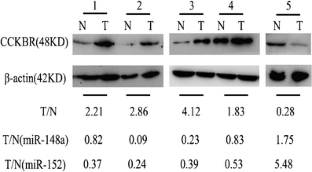 References
Bartel DP. MicroRNAs: genomics, biogenesis, mechanism, and function. Cell 2004;116:281-297.

Calin GA, Dumitru CD, Shimizu M, Bichi R, Zupo S, Noch E, Aldler H, Rattan S, Keating M, Rai K, Rassenti L, Kipps T, Negrini M, Bullrich F, Croce CM. Frequent deletions and down-regulation of micro- RNA genes mir15 and mir16 at 13q14 in chronic lymphocytic leukemia. Proc Natl Acad Sci USA 2002;99:15524-15529.

Calin GA, Ferracin M, Cimmino A, Di Leva G, Shimizu M, Wojcik SE, Iorio MV, Visone R, Sever NI, Fabbri M, Iuliano R, Palumbo T, Pichiorri F, Roldo C, Garzon R, Sevignani C, Rassenti L, Alder H, Volinia S, Liu CG, Kipps TJ, Negrini M, Croce CM. A microRNA signature associated with prognosis and progression in chronic lymphocytic leukemia. N Engl J Med 2005;353:1793-1801.

Krützfeldt J, Poy MN, Stoffel M. Strategies to determine the biological function of microRNAs. Nat Genet 2006;38(Suppl):S14-S19.

Cho WC. Oncomirs: the discovery and progress of microRNAs in cancers. Mol Cancer 2007;6:60.

Michael MZ, O' Connor SM, van Holst Pellekaan NG, Young GP, James RJ. Reduced accumulation of specific microRNAs in colorectal neoplasia. Mol Cancer Res 2003;1:882-891.

Akao Y, Nakagawa Y, Naoe T. Let-7 microRNA functions as a potential growth suppressor in human colon cancer cells. Biol Pharm Bull 2006;29:903-906.

Volinia S, Calin GA, Liu CG, Ambs S, Cimmino A, Petrocca F, Visone R, Iorio M, Roldo C, Ferracin M, Prueitt RL, Yanaihara N, Lanza G, Scarpa A, Vecchione A, Negrini M, Harris CC, Croce CM. A microRNA expression signature of human solid tumors defines cancer gene targets. Proc Natl Acad Sci USA 2006;103:2257-2261.

Chan SH, Wu CW, Li AF, et al. Mir-21 microRNA expression in human gastric carcinomas and its clinical association. Anticancer Res 2008;28:907-911.

Xiao B, Guo J, Miao Y, Jiang Z, Huan R, Zhang Y, Li D, Zhong J. Detection of miR-106a in gastric carcinoma and its clinical significance. Clin Chim Acta 2009;400:97-102.

Katada T, Ishiguro H, Kuwabara Y, Kimura M, Mitui A, Mori Y, Ogawa R, Harata K, Fujii Y. MicroRNA expression profile in undifferentiated gastric cancer. Int J Oncol 2009;34:537-542.

Shi R, Chiang VL. Facile means for quantifying microRNA expression by real-time PCR. Biotechniques 2005;39:519-525.

Livak KJ, Schmittgen TD. Analysis of relative gene expression data using real-time quantitative PCR and the 2 (delta delta c (T)) method. Methods 2001;25:402-408.

Wang CJ, Zhou ZG, Wang L, Yang L, Zhou B, Gu J, Chen HY, Sun XF. Clinicopathological significance of microRNA-31, -143 and -145 expression in colorectal cancer. Dis Markers 2009;26:27-34.

Sethupathy P, Megraw M, Hatzigeorgiou AG. A guide through present computational approaches for the identification of mammalian microRNA targets. Nat Methods 2006;3:881-886.

Lewis BP, Shih IH, Jones-Rhoades MW, Bartel DP, Burge CB. Prediction of mammalian microRNA targets. Cell 2003;115:787-798.

Krek A, Grün D, Poy MN, Wolf R, Rosenberg L, Epstein EJ, MacMenamin P, da Piedade I, Gunsalus KC, Stoffel M, Rajewsky N. Combinatorial microRNA target predictions. Nat Genet 2005;37:495-500.

Griffiths-Jones S, Grocock RJ, van Dongen S, Bateman A, Enright AJ. miRBase: microRNA sequences, targets and gene nomenclature. Nucleic Acids Res 2006;34(Database issue):D140-D144.

Lewis BP, Burge CB, Bartel DP. Conserved seed pairing, often flanked by adenosines, indicates that thousands of human genes are microRNA targets. Cell 2005;120:15-20.

Esquela-Kerscher A, Slack FJ. Oncomirs - microRNAs with a role in cancer. Nat Rev Cancer 2006;6:259-269.

Slaby O, Svoboda M, Fabian P, Smerdova T, Knoflickova D, Bednarikova M, Nenutil R, Vyzula R. Altered expression of miR-21, miR-31, miR-143 and miR-145 is related to clinicopathologic features of colorectal cancer. Oncology 2007;72:397-402.

Liang RQ, Li W, Li Y, Tan CY, Li JX, Jin YX, Ruan KC. An oligonucleotide microarray for microRNA expression analysis based on labeling RNA with quantum dot and nanogold probe. Nucleic Acids Res 2005;33:e17.

Lu J, Getz G, Miska EA, Alvarez-Saavedra E, Lamb J, Peck D, Sweet-Cordero A, Ebert BL, Mak RH, Ferrando AA, Downing JR, Jacks T, Horvitz HR, Golub TR. MicroRNA expression profiles classify human cancers. Nature 2005;435:834-838.

Duursma AM, Kedde M, Schrier M, le Sage C, Agami R. Mir-148 targets human DNMT3b protein coding region. RNA 2008;14:872-877.

Jin B, Yao B, Li JL, Fields CR, Delmas AL, Liu C, Robertson KD. DNMT1 and DNMT3B modulate distinct polycomb-mediated histone modifications in colon cancer. Cancer Res 2009;69:7412-7421.

Kim DY, Joo JK, Park YK, Ryu SY, Kim YJ, Kim SK. Predictors of long-term survival in node-positive gastric carcinoma patients with curative resection. Langenbecks Arch Surg 2007;392:131-134.

Kim JP, Kim YW, Yang HK, Noh DY. Significant prognostic factors by multivariate analysis of 3926 gastric cancer patients. World J Surg 1994;18:872-877; discussion 877-878.

Takagi S, Nakajima M, Mohri T, Yokoi T. Post-transcriptional regulation of human pregnane X receptor by Micro-RNA affects the expression of cytochrome P450 3A4. J Biol Chem 2008;283:9674-9680.

Pagliocca A, Wroblewski LE, Ashcroft FJ, Noble PJ, Dockray GJ, Varro A. Stimulation of the gastrin-cholecystokinin(B) receptor promotes branching morphogenesis in gastric AGS cells. Am J Physiol Gastrointest Liver Physiol 2002;283:G292-G299.

Colucci R, Blandizzi C, Tanini M, Vassalle C, Breschi MC, Del Tacca M. Gastrin promotes human colon cancer cell growth via CCK-2 receptor-mediated cyclooxygenase-2 induction and prostaglandin E2 production. Br J Pharmacol 2005;144:338-348.

Agirre X, Vilas-Zornoza A, Jiménez-Velasco A, Martin-Subero JI, Cordeu L, Gárate L, San José-Eneriz E, Abizanda G, Rodríguez-Otero P, Fortes P, Rifón J, Bandrés E, Calasanz MJ, Martín V, Heiniger A, Torres A, Siebert R, Román-Gomez J, Prósper F. Epigenetic silencing of the tumor suppressor microRNA Hsa-miR-124a regulates CDK6 expression and confers a poor prognosis in acute lymphoblastic leukemia. Cancer Res 2009;69:4443-4453.

Ma L, Teruya-Feldstein J, Weinberg RA. Tumour invasion and metastasis initiated by microRNA-10b in breast cancer. Nature 2007;449:682-688.

Lehmann U, Hasemeier B, Christgen M, Müller M, Römermann D, Länger F, Kreipe H. Epigenetic inactivation of microRNA gene hsa-mir-9-1 in human breast cancer. 2008;214:17-24.
Acknowledgement
This work was supported by the Program for New Century Excellent Talents in University (No. NCET-060296) and National Science Foundation of China (No. 30772137 and No. 30972879).
Additional information
Yue Chen and Yongxi Song contributed equally to this work.
About this article
Cite this article
Chen, Y., Song, Y., Wang, Z. et al. Altered Expression of MiR-148a and MiR-152 in Gastrointestinal Cancers and Its Clinical Significance. J Gastrointest Surg 14, 1170–1179 (2010). https://doi.org/10.1007/s11605-010-1202-2
Received:

Accepted:

Published:

Issue Date:

DOI: https://doi.org/10.1007/s11605-010-1202-2
Keywords