Abstract
Background
'Slowing down when you should' has been described as marking the transition from 'automatic' to 'effortful' functioning in professional practice. The ability to 'slow down' is hypothesized as an important factor in expert judgment. This study explored the nature of the 'slowing down' phenomenon intraoperatively and its link to surgical judgment.
Methods
Twenty-eight surgeons across different surgical specialties were interviewed from four hospitals affiliated with a large urban university. In grounded theory tradition, data were collected and analyzed in an iterative design, using a constant comparative approach. Emergent themes were identified and a conceptual framework was developed.
Results
Surgeons recognized the 'slowing down' phenomenon acknowledging its link to judgment and described two main initiators. Proactively planned 'slowing down' moments were anticipated preoperatively from operation-specific (tying superior thyroid vessels) or patient-specific (imaging abnormality) factors. Surgeons also described situationally responsive 'slowing down' moments to unexpected events (encountering an adherent tumor). Surgeons described several influencing factors on the slowing down phenomenon (fatigue, confidence).
Conclusions
This framework for 'slowing down' assists in making tangible the previously elusive construct of surgical judgment, providing a vocabulary for considering the events surrounding these critical moments in surgery, essential for teaching, self-reflection, and patient safety.
Access options
Buy single article
Instant access to the full article PDF.
US$ 39.95
Tax calculation will be finalised during checkout.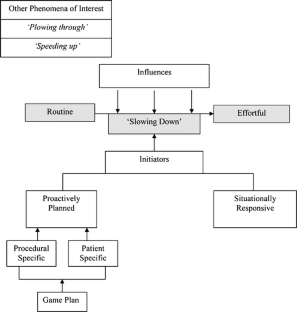 References
1.

Schön DA. The reflective practitioner: how professionals think in action. New York: Basic Books, 1983.

2.

Schön DA. Educating the reflective practitioner: toward a new design for teaching and learning in the professions. San Francisco: Jossey-Bass, 1987.

3.

Dreyfus HL, Dreyfus SE. Mind over machine. New York: Free, 1986.

4.

Moulton CA, Regehr G, Mylopoulos M, MacRae HM. Slowing down when you should: a new model of expert judgment. Acad Med 2007;82(10 Suppl):S109–S116.

5.

Glaser B, Strauss A. The discovery of grounded theory: strategies for qualitative research. Chicago: Aldine, 1967.

6.

Charmaz K. Grounded theory: objectivist and constructivist methods. In: Denzin N, Lincoln Y, eds. Handbook of qualitative research, 2nd ed. Thousand Oaks: Sage, 2000, pp 509–535.

7.

Strauss A, Corbin J. Basics of qualitative research: techniques and procedures for developing grounded theory, 2nd ed. Thousand Oaks: Sage, 1998.

8.

Morse J. The significance of saturation. Qual Health Res 1995;5:147–149.

9.

Kelle U. Computer-aided qualitative data analysis: theory, methods and practice. Thousand Oaks: Sage, 2002.

10.

Moulton C, Regehr G, Lingard L, Merritt C, MacRae H. Operating from the other side of the table: control dynamics and the surgeon educator. J Am Coll Surg 2010;210:79–86.

11.

Reason J. Safety in the operating theatre—part 2: human error and organisational failure. Qual Saf Health Care 2005;14(1):56–60.

12.

Carthey J, de Leval MR, Reason JT. Institutional resilience in healthcare systems. Qual Health Care 2001;10(1):29–32.

13.

Reason JT, Carthey J, de Leval MR. Diagnosing "vulnerable system syndrome": an essential prerequisite to effective risk management. Qual Health Care 2001;10(Suppl 2):ii21–ii25.

14.

Haynes AB, Weiser TG, Berry WR et al. A surgical safety checklist to reduce morbidity and mortality in a global population. N Engl J Med 2009;360(5):491–499.

15.

Lingard L, Regehr G, Orser B et al. Evaluation of a preoperative checklist and team briefing among surgeons, nurses, and anesthesiologists to reduce failures in communication. Arch Surg 2008;143(1):12–17.

16.

Custers EJ, Regehr G, Norman GR. Mental representations of medical diagnostic knowledge: a review. Acad Med 1996;71(10 Suppl):S55–S61.

17.

Regehr G, Norman GR. Issues in cognitive psychology: implications for professional education. Acad Med 1996;71(9):988–1001.

18.

Ericsson KA. Deliberate practice and the acquisition and maintenance of expert performance in medicine and related domains. Acad Med 2004;10:S1–S12.

19.

Kahneman D. Attention and effort. Englewood Cliffs: Prentice-Hall, 1973.

20.

Cowan N, Elliot EM, Saults JS et al. On the capacity of attention: Its estimation and its role in working memory and cognitive aptitudes. Cogn Psychol 2005;51:42–100.

21.

Simons DJ. Attentional capture and inattentional blindness. Trends Cogn Sci 2000;4(4):147–155.

22.

Rensink RA, Oregan JK, Clark JJ. To see or not to see: the need for attention to perceive changes in scenes. Psychol Sci 1997;8(5):368–373.

23.

Evans JSBT. Dual-processing accounts of reasoning, judgment, and social cognition. Annu Rev Psychol 2008;59:255–278.

24.

De NW, Glumicic T. Conflict monitoring in dual process theories of thinking. Cognition 2008;106(3):1248–1299.

25.

Burke K. A rhetoric of motives. Berkeley: University of California Press, 1969.

26.

Lingard L, Haber RJ. Teaching and learning communication in medicine: a rhetorical approach. Acad Med 1999;74(5):507–510.

27.

Endsley MR. Toward a theory of situation awareness in dynamic systems. Hum Factors 1995;37:32–64.

28.

Jones DG, Endsley MR. Sources of situation awareness errors in aviation. Aviat Space Environ Med. 1996;67(6):507–512.

29.

Franzese CB, Stringer SP. The evolution of surgical training: perspectives on educational models from the past to the future. Otolaryngol Clin North Am 2007;40(6):1227–1235, vii.

30.

Rosenthal DM. Consciousness and its function. Neuropsychologia 2008;46(3):829–840.

31.

Koriat A. The feeling of knowing: some metatheoretical implications for consciousness and control. Conscious Cogn 2000;9(2 Pt 1):149–171.

32.

Kentridge RW, Heywood CA. Metacognition and awareness. Conscious Cogn 2000;9:308–312.

33.

Mandler G. The consciousness continuum: from "qualia" to "free will". Psychol Res 2005;69(5–6):330–337.

34.

Regehr G, Eva K. Self-assessment, self-direction, and the self-regulating professional. Clin Orthop Relat Res 2006;449:34–38.

35.

Epstein RM, Siegel DJ, Silberman J. Self-monitoring in clinical practice: a challenge for medical educators. J Contin Educ Health Prof 2008;28(1):5–13.
Acknowledgments
This study was supported by a grant from Physicians Services Incorporated Foundation.
About this article
Cite this article
Moulton, Ca., Regehr, G., Lingard, L. et al. 'Slowing Down When You Should': Initiators and Influences of the Transition from the Routine to the Effortful. J Gastrointest Surg 14, 1019–1026 (2010). https://doi.org/10.1007/s11605-010-1178-y
Received:

Accepted:

Published:

Issue Date:
Keywords
Judgment

Nontechnical skills

Expertise

Automaticity

Slowing down