Abstract
Introduction
It is speculated that postoperative pathologic gastroesophageal reflux after Heller's myotomy can be diminished if the lateral and posterior phrenoesophageal attachments are left intact. The aim of this study was to evaluate the effectiveness of limited hiatal dissection in patients operated due to achalasia.
Methods
Prospective, randomized, 3 years follow-up of 84 patients operated due to achalasia. In 26 patients, Heller–Dor with complete hiatal dissection was done (G1), limited hiatal dissection combined with myotomy and Dor's procedure was performed in 36 patients (G2), and with Heller's myotomy alone in 22 (G3). Stationary manometry and 24 h pH study were performed in regular postoperative intervals.
Results
Postoperatively, higher median values of lower esophageal sphincter resting pressures were marked in G2 and G3, while patients in G1 were presented with higher median values of pH acid score (p < 0.001). Abnormal DeMeester score 3 years after surgery was present in 23.1% of patients in G1 and 8.5% and 9.1% in G2 and G3 accordingly. There was no statistical difference between the groups concerning postoperative dysphagia recurrence.
Conclusion
Indicating further long-term studies, 3 years after the operation limited hiatal dissection compared to complete obtains better reflux control in achalasia patients, regardless of Dor's fundoplication.
Access options
Buy single article
Instant access to the full article PDF.
USD 39.95
Price includes VAT (USA)
Tax calculation will be finalised during checkout.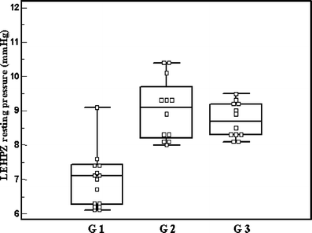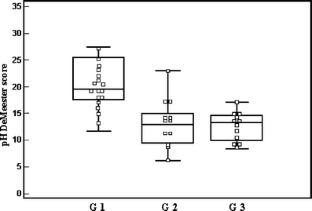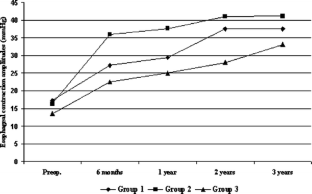 References
1.

Bonavina L, Nosadini A, Bardini R, Baessato M, Peracchia A. Primary treatment of esophageal achalasia: long-term results of myotomy and Dor fundoplication. Arch Surg 1992;127:222–227.

2.

Chen L-Q, Chughtai I, Sideris L, Nastos D, Taillefer R, Ferraro P, Duranceau A. Long-term effects of myotomy and partial fundoplication for esophageal achalasia. Dis Esophagus 2002;15:171–179.

3.

Shiino Y, Filipi CJ, Awad Z, Tomonaga T, Marsh RE. Surgery for Achalasia: 1998. J Gastrointest Surg 1999;3:447–455.

4.

Ruffato A, Mattioli S, Lugaresi MA, D'Ovidio F, Antonacci F, Di Simone MP. Long-term results after Heller-Dor operation for oesophageal achalasia. Eur J Cardio Thorac Surg 2006;29:914–919.

5.

Portale G, Constantini M, Rizzetto C, Guirroli E, Ceolin M, Salvador R, Ancona E, Zaninotto G. Long-term outcome of laparoscopic Heller-Dor surgery for esophageal achalasia: Possible detrimental role of previous endoscopic treatment. J Gastrointest Surg 2005;9:1332–1339.

6.

Constantini M, Zaninotto G, Guirroli E, Rizzetto C, Portale G, Ruol A, Nicoletti L, Ancona E. The laparoscopic Heller-Dor operation remains an effective treatment for esophageal achalasia at a minimum 6-year follow-up. Surg Endosc 2005;19:345–351.

7.

Ponce M, Ortiz V, Juan M, Garrigues V, Castellanos C, Ponce J. Gastroesophageal reflux, quality of life, and satisfaction in patients with achalasia treated with open cardiomyotomy and partial fundoplication. Am J Surg 2003;185:560–564.

8.

Zaninotto G, Costantini M, Portale G, Battaglia G, Molena D, Carta A, Costantino M, Nicoletti L, Ancona E. Etiology, diagnosis, and treatment of failures after laparoscopic Heller myotomy for achalasia. Ann Surg 2002;235:186–192.

9.

Ramacciato G, D'Angelo FA, Aurello P, Del-Gaudio M, Varotti G, Mercantini P, Bellagamba R, Ercolani G. Laparoscopic Heller myotomy with or without partial fundoplication: A matter of debate. World J Gastroenterol 2005;11:1558–1561.

10.

Robert M, Poncet G, Mion F, Boulez J. Results of laparoscopic Heller myotomy without anti-reflux procedure in achalasia. Monocentric prospective study of 106 cases. Surg Endosc 2008;22:866–874.

11.

Gupta R, Sample C, Bamehriz F, Birch D, Anvari M. Long term outcomes of laparoscopic Heller myotomy without an antireflux procedure. Surg Laparosc Endosc Percutan Tech 2005;15:129–132.

12.

Peters JH. An antireflux procedure is critical to the long-term outcome of esophageal myotomy for achalasia. J Gastrointest Surg 2001;5:17–20.

13.

Burpee SE, Mamazza J, Schlachta CM, Bendavid Y, Klein L, Moloo H, Poulin EC. Objective analysis of gastroesophageal reflux after laparoscopic Heller myotomy. An antireflux procedure is required. Surg Endosc 2005;19:9–14.

14.

Lyass S, Thoman D, Steiner JP, Phillips E. Current status of an antireflux procedure in laparoscopic Heller myotomy. Surg Endosc 2003;17:554–558.

15.

Richards WO, Torquati A, Holzman MD, Khaitan L, Byrne D, Lutfi R, Sharp KW. Heller myotomy versus Heller myotomy with Dor fundoplication for achalasia. A prospective randomized double-blind clinical trial. Ann Surg 2004;240:405–412; discussion 412-415

16.

Braghetto I, Korn O, Valladares H, Rodriguez A, Debandi A, Brunet L. Laparoscopic anterior cardiomyotomy plus anterior Dor fundoplication without division of lateral and posterior periesophageal anatomic structures for treatment of achalasia of the esophagus. Surg Laparosc Endosc Percutan Tech 2007;17:369–374.

17.

Bonavina L. Minimally invasive surgery for esophageal achalasia. World J Gastroenterol 2006;12:5921–5925.

18.

Pinotti HW, Habr-Gama A, Ceconello I, Felix VN, Zilberstein B. The surgical treatment of megaesophagus and megacolon. Dig Dis 1993;11:206–215.

19.

Smith CD, Stival A, Howell DL, Swafford V. Endoscopic therapy for achalasia before Heller myotomy results in worse outcomes than Heller myotomy alone. Ann Surg 2006;243:579-584; discussion 584–6

20.

Csendes A, Braghetto I, Henriquez A, Cortes C. Late results of a prospective randomized study comparing forceful dilatation and oesophagomyotomy in patients with achalasia. Gut 1989;30:299–304.

21.

Falkenback D, Johansson J, Oberg S, Kjellin A, Wenner J, Zilling T, Johnsson F, Von Holstein CS, Walther B. Heller's esophagomyotomy with or without a 360 degrees floppy Nissen fundoplication for achalasia. Long-term results from a study. Dis Esophagus 2003;16:284–290.

22.

Hunter JG, Trus TL, Branum GD, Waring JP. Laparoscopic Heller myotomy and fundoplication for achalasia. Ann Surg 1997;225:655–665.

23.

Finley C, Clifton J, Yee J, Finley RJ. Anterior fundoplication decreases esophageal clearance in patients undergoing Heller myotomy for achalasia. Surg Endosc 2007;21:2178–2182.

24.

Dempsey DT, Delano M, Bradely K, Kolff J, Fisher C, Caroline D, Gaughan J, Meilahn JE, Daly JM. Laparoscopic esophagomyotomy for achalasia. Does anterior hemifundoplication affect clinical outcome? Ann Surg 2004;239:779–785; discussion 785–787

25.

Mital R, Balaban D. The esophagogastric junction. New Eng J Med 1997;336:924–932.

26.

Kilgore SP, Ormsby AH, Gramlich TL, Rice TW, Richter JE, Falk GW, Goldblum JR. The gastric cardia. Fact or a fiction? Am J Gastroenterol 2000;95:921–924

27.

Castrini G, Pappalardo G, Mobarham S. New approach to esophagocardiomyotomy. J Thorac Cardiovasc Surg 1982;84:575–578.

28.

Ackroyd R, Watson DI, Devitt PG, Jamieson GG. Laparoscopic cardiomyotomy and partial fundoplication for achalasia. Surg Endosc 2001;15:683–686.

29.

Horvat KD, Jobe BA, Herron DM, Swanstrom LL. Laparoscopic Toupet fundoplication is an inadequate procedure for patients with severe reflux disease. J Gastrointest Surg 1999;3:583–591.

30.

Farrell T, Archer S, Galloway K, Branum GD, Smith CD, Hunter JG. Heartburn is more likely to reoccur after Toupet fundoplication than Nissen fundoplication. Am Surg 2000;66:229–236.

31.

Bonavina L, Incarbone R, Reitano M, Antoniazzi L, Peracchia A. Does previous endoscopic treatment affect the outcome of laparoscopic Heller myotomy? Ann Chir 2000;125:45–49.

32.

Pandolfino JE, Kwiatek MA, Naalis T, Bulsiewicz W, Post J, Kahrilas PJ. Achalasia: A new clinically relevant classification by high-resolution manometry. Gastroenterology 2008;135:1526–1533.

33.

Schneider J, Peters J, Kirkman E, Bremner CG, DeMeester TR. Are the motility abnormalities of achalasia reversible? An experimental outflow obstruction in the feline model. Surgery 1999;125:498–503.

34.

Little AG, Filippo SC, Calleja IJ, Montag AG, Chow Y, Ferguson K. Effect of incomplete obstruction on feline esophageal function with a clinical correlation. Surgery 1986;100:430–5.

35.

Campos CT, Ellis FH Jr, LoCicero J III. Pseudoachalasia: a report of two cases with comments on possible causes and diagnosis. Dis Esophagus 1997;10:220–4.

36.

Csendes A, Braghetto I, Burdiles P, Korn O, Csendes P, Henríquez A. Very late results of esophagomyotomy for patients with achalasia: clinical, endoscopic, histologic, manometric, and acid reflux studies in 67 patients for a mean follow-up of 190 months. Ann Surg 2006;243:196–203.
Additional information
Presented at 11th World Congress of the International Society for Diseases of the Esophagus. Free papers session/motor disorders: diagnosis and treatment. Budapest, September 10th–13th, 2008
About this article
Cite this article
Simić, A.P., Radovanović, N.S., Skrobić, O.M. et al. Significance of Limited Hiatal Dissection in Surgery for Achalasia. J Gastrointest Surg 14, 587–593 (2010). https://doi.org/10.1007/s11605-009-1135-9
Received:

Accepted:

Published:

Issue Date:
Keywords
Achalasia

Esophageal manometry

Myotomy

Limited hiatal dissection