Abstract
Introduction
Roux-en-Y gastric bypass (RNYGB) surgery offers an effective and enduring treatment for morbid obesity. Gastric bypass may alter gastrointestinal (GI) flora possibly resulting in bacterial overgrowth and dysmotility. Our hypothesis was that daily use of probiotics would improve GI outcomes after RNYGB.
Methods
Forty-four patients undergoing RNYGB were randomized to either a probiotic or control group; 2.4 billion colonies of Lactobacillus were administered daily postoperatively to the probiotic group. The outcomes of H2 levels indicative of bacterial overgrowth, GI-related quality of life (GIQoL), serologies, and weight loss were measured preoperatively and at 3 and 6 months postoperatively. Categorical variables were analyzed by χ 2 test and continuous variables were analyzed by t test with a p < 0.05 for significance.
Results
At 6 months, a statistically significant reduction in bacterial overgrowth was achieved in the probiotic group with a preoperative to postoperative change of sum H 2 part per million (probiotics = −32.13, controls = 0.80). Surprisingly, the probiotic group attained significantly greater percent excess weight loss than that of control group at 6 weeks (controls = 25.5%, probiotic = 29.9%) and 3 months (38.55%, 47.68%). This trend also continued but was not significant at 6 months (60.78%, 67.15%). The probiotic group had significantly higher postoperative vitamin B12 levels than the control group. Both probiotic and control groups significantly improved their GIQoL.
Conclusion
In this novel study, probiotic administration improves bacterial overgrowth, vitamin B12 availability, and weight loss after RNYGB. These data may provide further evidence that altering the GI microbiota can influence weight loss.
Access options
Buy single article
Instant access to the full article PDF.
USD 39.95
Price excludes VAT (USA)
Tax calculation will be finalised during checkout.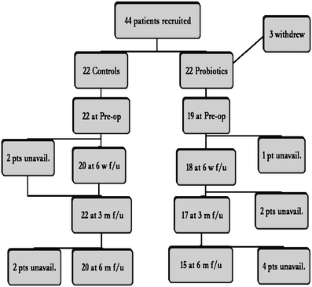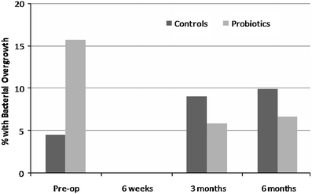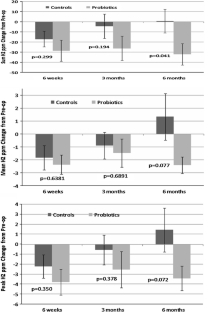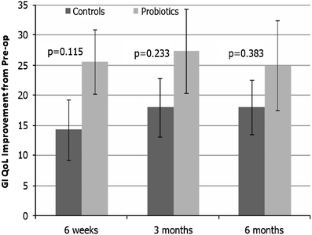 References
Bleich S, Cutler D, Murray C, Adams A. Why is the developed world obese. Ann Rev Public Health 2008;29:273–279.

CDC National Center for Health Statistics. New CDC Study Finds No Increase in Obesity Among Adults; But Levels Still High. CDC National Center for Health Statistics, 2007.

McTigue KM, Harris R, Hemphill B, et al. Screening and interventions for obesity in adults: summary of the evidence for the U.S. Preventive Services Task Force. Ann Intern Med 2003;139(11):933–949.

Christou NV, Sampalis JS, Liberman M, et al. Surgery decreases long-term mortality, morbidity, and health care use in morbidly obese patients. Ann Surg 2004;240(3):416–423. discussion 423–424. doi:10.1097/01.sla.0000137343.63376.19.

Gustavsson S, Ilstrup DM, Morrison P, Kelly KA. Roux-Y stasis syndrome after gastrectomy. Am J Surg 1988;155(3):490–494. doi:10.1016/S0002-9610(88)80120-X.

Saltzman JR, Russell RM. Nutritional consequences of intestinal bacterial overgrowth. Compr Ther 1994;20(9):523–530.

Dallal RM, Cottam D. "Candy cane" Roux syndrome—a possible complication after gastric bypass surgery. Surg Obes Relat Dis 2007;3(3):408–410. doi:10.1016/j.soard.2007.02.011.

Husebye E. The patterns of small bowel motility: physiology and implications in organic disease and functional disorders. Neurogastroenterol Motil 1999;11(3):141–161. doi:10.1046/j.1365-2982.1999.00147.x.

Murphy MF, Sourial NA, Burman JF, Doyle DV, Tabaqchali S, Mollin DL. Megaloblastic anaemia due to vitamin B12 deficiency caused by small intestinal bacterial overgrowth: possible role of vitamin B12 analogues. Br J Haematol 1986;62(1):7–12. doi:10.1111/j.1365-2141.1986.tb02894.x.

Almeida JA, Kim R, Stoita A, McIver CJ, Kurtovic J, Riordan SM. Lactose malabsorption in the elderly: role of small intestinal bacterial overgrowth. Scand J Gastroenterol 2008;43(2):146–154. doi:10.1080/00365520701676617.

Halsted CH. The small intestine in vitamin B12 and folate deficiency. Nutr Rev 1975;33(2):33–37.

Fromm H, Sarva RP, Ravitch MM, McJunkin B, Farivar S, Amin P. Effects of jejunoileal bypass on the enterohepatic circulation of bile acids, bacterial flora in the upper small intestine, and absorption of vitamin B12. Metabolism 1983;32(12):1133–1141. doi:10.1016/0026-0495(83)90060-4.

Skroubis G, Sakellaropoulos G, Pouggouras K, Mead N, Nikiforidis G, Kalfarentzos F. Comparison of nutritional deficiencies after Roux-en-Y gastric bypass and after biliopancreatic diversion with Roux-en-Y gastric bypass. Obes Surg 2002;12(4):551–558. doi:10.1381/096089202762252334.

Xu J, Gordon JI. Inaugural Article: Honor thy symbionts. Proc Natl Acad Sci U S A 2003;100(18):10452–10459. doi:10.1073/pnas.1734063100.

Ley RE, Backhed F, Turnbaugh P, Lozupone CA, Knight RD, Gordon JI. Obesity alters gut microbial ecology. Proc Natl Acad Sci U S A 2005;102(31):11070–11075. doi:10.1073/pnas.0504978102.

Zuccotti GV, Meneghin F, Raimondi C, et al. Probiotics in clinical practice: an overview. J Int Med Res 2008;36(Suppl 1):1A–53A.

Jonkers D, Stockbrugger R. Review article: probiotics in gastrointestinal and liver diseases. Aliment Pharmacol Ther 2007;26(Suppl 2):133–148.

Guslandi M. Probiotic agents in the treatment of irritable bowel syndrome. J Int Med Res 2007;35(5):583–589.

Veereman-Wauters G. Pouchitis prevention with probiotics. J Pediatr Gastroenterol Nutr 2003;37(5):636. doi:10.1097/00005176-200311000-00027.

Laake KO, Bjorneklett A, Aamodt G, et al. Outcome of four weeks' intervention with probiotics on symptoms and endoscopic appearance after surgical reconstruction with a J-configurated ileal-pouch-anal-anastomosis in ulcerative colitis. Scand J Gastroenterol 2005;40(1):43–51. doi:10.1080/00365520410009339.

Rufo PA, Bousvaros A. Current therapy of inflammatory bowel disease in children. Paediatr Drugs 2006;8(5):279–302. doi:10.2165/00148581-200608050-00002.

Iyer C, Kosters A, Sethi G, Kunnumakkara AB, Aggarwal BB, Versalovic J. Probiotic Lactobacillus reuteri promotes TNF-induced apoptosis in human myeloid leukemia-derived cells by modulation of NF-kappaB and MAPK signalling. Cell Microbiol 2008;10:1442–1452.

Ma Y, Pagoto SL, Olendzki BC, et al. Predictors of weight status following laparoscopic gastric bypass. Obes Surg 2006;16(9):1227–1231. doi:10.1381/096089206778392284.

Theisen J, Nehra D, Citron D, et al. Suppression of gastric acid secretion in patients with gastroesophageal reflux disease results in gastric bacterial overgrowth and deconjugation of bile acids. J Gastrointest Surg 2000;4(1):50–54. doi:10.1016/S1091-255X(00)80032-3.

Claxton AJ, Cramer J, Pierce C. A systematic review of the associations between dose regimens and medication compliance. Clin Ther 2001;23(8):1296–1310. doi:10.1016/S0149-2918(01)80109-0.

Eisen SA, Miller DK, Woodward RS, Spitznagel E, Przybeck TR. The effect of prescribed daily dose frequency on patient medication compliance. Arch Intern Med 1990;150(9):1881–1884. doi:10.1001/archinte.150.9.1881.

Farmer KC, Jacobs EW, Phillips CR. Long-term patient compliance with prescribed regimens of calcium channel blockers. Clin Ther 1994;16(2):316–326. discussion 271–272.

Backhed F, Ding H, Wang T, et al. The gut microbiota as an environmental factor that regulates fat storage. Proc Natl Acad Sci U S A 2004;101(44):15718–15723. doi:10.1073/pnas.0407076101.

Christakis NA, Fowler JH. The spread of obesity in a large social network over 32 years. N Engl J Med 2007;357(4):370–379. doi:10.1056/NEJMsa066082.

Pasarica M, Dhurandhar NV. Infectobesity: obesity of infectious origin. Adv Food Nutr Res 2007;52:61–102. doi:10.1016/S1043-4526(06)52002-9.

Atkinson RL. Could viruses contribute to the worldwide epidemic of obesity? Int J Pediatr Obes 2008;3(Suppl 1):37–43. doi:10.1080/17477160801896754.

Atkinson RL. Viruses as an etiology of obesity. Mayo Clin Proc 2007;82(10):1192–1198. doi:10.4065/82.10.1192.

Vasilakopoulou A, le Roux CW. Could a virus contribute to weight gain? Int J Obes Lond 2007;31(9):1350–1356. doi:10.1038/sj.ijo.0803623.

Dhurandhar NV. Infectobesity: obesity of infectious origin. J Nutr 2001;131(10):2794S–2797S.

Flegal KM, Troiano RP. Changes in the distribution of body mass index of adults and children in the US population. Int J Obes Relat Metab Disord 2000;24(7):807–818. doi:10.1038/sj.ijo.0801232.

Ley RE, Turnbaugh PJ, Klein S, Gordon JI. Microbial ecology: human gut microbes associated with obesity. Nature 2006;444(7122):1022–1023. doi:10.1038/4441022a.
About this article
Cite this article
Woodard, G.A., Encarnacion, B., Downey, J.R. et al. Probiotics Improve Outcomes After Roux-en-Y Gastric Bypass Surgery: A Prospective Randomized Trial. J Gastrointest Surg 13, 1198–1204 (2009). https://doi.org/10.1007/s11605-009-0891-x
Received:

Accepted:

Published:

Issue Date:

DOI: https://doi.org/10.1007/s11605-009-0891-x
Keywords