Abstract
Background
We set out to evaluate early commencement of post-operative enteral nutrition versus traditional management in patients undergoing gastrointestinal surgery.
Methods
Electronic databases were searched, references lists were scanned and authors contacted for additional information. We looked for randomised controlled trials comparing early commencement of feeding (within 24 h) with no feeding in patients undergoing gastrointestinal surgery. Primary endpoints were wound infections, intra-abdominal abscesses, pneumonia, anastomotic leakage, mortality, length of hospital stay and complications of feeding. Data were combined to estimate the common relative risk of post-operative complications and associated 95% confidence intervals.
Results
Thirteen trials, with a total of 1,173 patients, fulfilled our inclusion criteria. Mortality was reduced with early post-operative feeding. Early post-operative feeding increased vomiting. The direction of effect is suggestive of a reduction of risk of post-surgical complications and reduced length of hospital stay.
Conclusion
There is no obvious advantage in keeping patients 'nil by mouth' following gastrointestinal surgery. Early enteral nutrition is associated with reduced mortality, though the mechanism is not clear. This review supports the notion that early commencement of enteral feeding may be of benefit.
Access options
Buy single article
Instant access to the full article PDF.
USD 39.95
Price excludes VAT (USA)
Tax calculation will be finalised during checkout.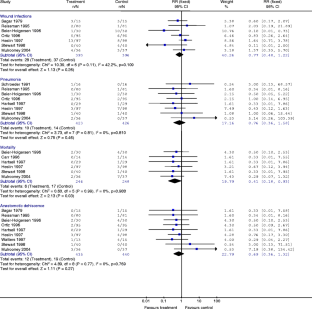 References
Hill GL, Pickford I, Young GA et al. Malnutrition in surgical patients; an unrecognised problem. Lancet 1977;1:689–92. doi:10.1016/S0140-6736(77)92127-4.

Lennard-Jones JE. A positive approach to nutrition as a treatment. London: King's Fund Centre, 1992.

McWhirter JP, Pennington CR. Incidence and recognition of malnutrition in hospital. BMJ 1994;308:945–8.

The veterans affairs total parenteral nutrition cooperative study group. Perioperative total parenteral nutrition in surgical patients. N Engl J Med. 1991;325:525–32.

Schroeder D, Gillanders L, Mahr K et al. Effects of immediate postoperative enteral nutrition on body composition, muscle function, and wound healing. J Parenter Enter Nutr 1991;15:376–83. doi:10.1177/0148607191015004376.

Moore FA, Feliciano DV, Andrassy RJ et al. Early enteral feeding, compared with parenteral, reduces postoperative septic complications. Ann Surg 1992;216:172–83. doi:10.1097/00000658-199208000-00008.

Sagar S, Harland P, Shields R. Early postoperative feeding with elemental diet. BMJ 1979;i:293–5.

Beier-Holgersen R, Boesby S. Influence of postoperative enteral nutrition on postsurgical infections. Gut 1996;39:833–5. doi:10.1136/gut.39.6.833.

Everitt N, McMahon M. Nutrition and the surgical patient. In Heatley RV, Green JH, Losowsky MS, eds. Consensus in clinical nutrition. Cambridge: Cambridge University Press, 1994.

Moher D, Pham B, Jones A et al. Does quality of reports of randomised trials affect estimates of intervention efficacy reported in meta-analyses? Lancet 1998;352:609–13. doi:10.1016/S0140-6736(98)01085-X.

Schulz KF, Chalmers I, Hayes RJ et al. Empirical evidence of bias. Dimensions of methodological quality associated with estimates of treatment effects in controlled trials. JAMA 1995;273:408–12. doi:10.1001/jama.273.5.408.

Hoover HC, Ryan JA, Anderson EJ et al. Nutritional benefits of immediate postoperative jejunal feeding of an elemental diet. Am J Surg 1980;139:153–9. doi:10.1016/0002-9610(80)90245-7.

Ryan JA, Page CP, Babcock L. Early postoperative jejunal feeding of elemental diet in gastrointestinal surgery. Am Surg 1981;47:393–403.

Mulrooney LJ, Bagley JS, Wilkinson JA et al. Nasojejunal feeding does not improve clinical outcomes and is poorly tolerated following colorectal surgery. Proc Nutr Soc 2005;64(Suppl 1):9A.

Heslin MJ, Latkany L, Leung D et al. A prospective, randomized trial of early enteral feeding after resection of upper gastrointestinal malignancy. Ann Surg 1997;226:567–680. doi:10.1097/00000658-199710000-00016.

Ortiz H, Armendariz P, Yarnoz C. Is early postoperative feeding feasible in elective colon and rectal surgery? Int J Colorectal Dis 1996;11:119–21. doi:10.1007/s003840050032.

Reissman P, Teoh TA, Cohen SM et al. Is early oral feeding safe after elective colorectal surgery? Ann Surg 1995;222:73–7. doi:10.1097/00000658-199507000-00012.

Smedley F, Goodger C, Oldale C et al. Benefits of extended pre- and post-operative oral nutritional supplementation (ONS): A prospective randomised controlled trial. Br J Surg 2004;91:983–90. doi:10.1002/bjs.4578.

Stewart BT, Woods RJ, Collopy BT et al. Early feeding after elective open colorectal resections: a prospective randomized trial. Aust N Z J Surg 1998;68:125–8. doi:10.1111/j.1445-2197.1998.tb04721.x.

Carr CS, Ling KDE, Boulos P et al. Randomised trial of safety and efficacy of immediate postoperative enteral feeding in patients undergoing gastrointestinal resection. BMJ 1996;312:869–71.

Watters JM, Kirkpatrick SM, Norris SB et al. Immediate postoperative enteral feeding results in impaired respiratory mechanics and decreased mobility. Ann Surg 1997;226:369–80. doi:10.1097/00000658-199709000-00016.

Binderow SR, Cohen SM, Wexner SD et al. Must early postoperative oral intake be limited to laparoscopy? Dis Colon Rectum 1994;37:584–9. doi:10.1007/BF02050994.

Hartsell PA, Frazee RC, Harrison JB et al. Early postoperative feeding after elective colorectal surgery. Arch Surg 1997;132:518–21.

Lewis SJ, Egger M, Sylvester PA et al. Early enteral feeding versus "nil by mouth" after gastrointestinal surgery: systematic review and meta-analysis of controlled trials. BMJ 2001;323:773–6. doi:10.1136/bmj.323.7316.773.
Acknowledgements
We would like to thank the authors who provided additional data: R Beier-Holgersen, B Stewart, S Wexner, JE Fischer, MF Brennan and H Ortiz. We would also like to thank the following manufacturers of enteral feeds for assisting in the collection of data: Nutricia Ltd, Fresenius Kabi Ltd, Novartis Nutrition UK Ltd, Ross Products, Clintec Nutrition Ltd, Nestlé (Clinical Nutrition), SHS International and Mead Johnson Nutrition.
Guarantor of the article
Stephen J Lewis
Specific author contributions
Search strategies were developed and primary trials were evaluated using a data extraction form developed by HKA and SJL. HKA, SJL and ST were all involved in data extracting, interpretation and drafting the review.
Financial support
Danish Institute for Health Technology Assessment
Potential competing interests
SJL and ST have received financial support for clinical trials from Numico Research, Wageningen, The Netherlands.
About this article
Cite this article
Lewis, S.J., Andersen, H.K. & Thomas, S. Early Enteral Nutrition Within 24 h of Intestinal Surgery Versus Later Commencement of Feeding: A Systematic review and Meta-analysis. J Gastrointest Surg 13, 569–575 (2009). https://doi.org/10.1007/s11605-008-0592-x
Received:

Accepted:

Published:

Issue Date:

DOI: https://doi.org/10.1007/s11605-008-0592-x
Keywords
Early

Enteral

Nutrition

Post-operative