Abstract
Introduction
Pancreatic cancer is the fourth leading cause of cancer-related death in Western countries with a poor prognosis (5-year survival rates, 25% in patients after tumor resection with adjuvant treatment; overall, the 5-year survival rate is about 4%; Jemal et al., CA Cancer J Clin, 55:10–30, 2005). Many patients develop a cachectic status during the progression of the disease, and this syndrome accounts for up to 80% of deaths in patients with advanced pancreatic cancer. Remarkably, there are only a few data available on the impact of cachexia in patients with pancreatic cancer scheduled for tumor resection.
Material and Methods
Therefore, in this study, 227 consecutive patients with ductal adenocarcinoma of the pancreas were documented over an 18-month period regarding the prevalence of cachexia and its influence on perioperative morbidity and mortality with a special interest to postoperative weight gain and survival in a prospectively designed database and followed up.
Results
In 40.5% of the patients, cachexia was already present at the time of operation. The cachectic patients did present in a worse nutritional status, represented by lower protein, albumins, and hemoglobin levels. Despite no significant differences in tumor size, lymph node status, and CA19-9 levels, the resection rate in patients with cachexia was reduced (77.8% vs. 48.9%) due to a higher rate of metastatic disease in patients with cachexia. The morbidity and in-hospital mortality revealed no significant difference. However, patients with and without cachexia lost weight after operation, and the weight gain started not until 6 months after operation. The survival in patients with cachexia was significantly reduced in patients undergoing tumor resection as well as in palliative treated patients.
Conclusion
Cachexia has a significant impact on survival and performance status in palliative patients as well as in patients operated for pancreatic cancer. But tumor-related cachexia is not necessarily dependent on tumor size or load and that metastatic dedifferentiation of the tumor might be a critical step in the development of tumor-associated cachexia.
Access options
Buy single article
Instant access to the full article PDF.
US$ 39.95
Tax calculation will be finalised during checkout.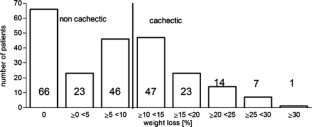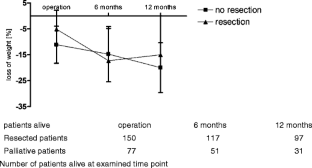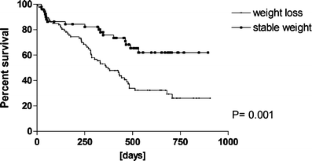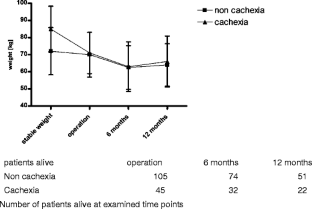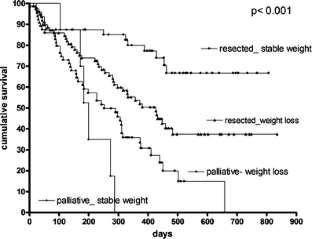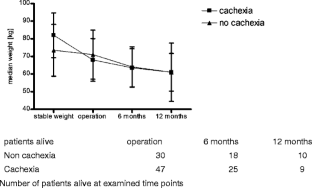 References
1.

Jemal A, Murray T, Ward E et al. Cancer statistics, 2005. CA Cancer J Clin 2005;55:10–30.

2.

Nakao A, Fujii T, Sugimoto H et al. Oncological problems in pancreatic cancer surgery. World J Gastroenterol 2006;12:4466–4472.

3.

Noto M, Miwa K, Kitagawa H et al. Pancreas head carcinoma: frequency of invasion to soft tissue adherent to the superior mesenteric artery. Am J Surg Pathol 2005;29:1056–1061.

4.

Schafer M, Mullhaupt B, Clavien PA. Evidence-based pancreatic head resection for pancreatic cancer and chronic pancreatitis. Ann Surg 2002;236:137–148.

5.

Trede M, Richter A, Wendl K. Personal observations, opinions, and approaches to cancer of the pancreas and the periampullary area. Surg Clin North Am 2001;81:595–610.

6.

Kleeff J, Michalski C, Friess H et al. Pancreatic cancer: from bench to 5-year survival. Pancreas 2006;33:111–118.

7.

Kleeff J, Michalski CW, Friess H et al. Surgical treatment of pancreatic cancer: the role of adjuvant and multimodal therapies. Eur J Surg Oncol 2007;33:817–823.

8.

Beger HG, Rau B, Gansauge F et al. Treatment of pancreatic cancer: challenge of the facts. World J Surg 2003;27:1075–1084.

9.

Conlon KC, Klimstra DS, Brennan MF. Long-term survival after curative resection for pancreatic ductal adenocarcinoma. Clinicopathologic analysis of 5-year survivors. Ann Surg 1996;223:273–279.

10.

Imamura M, Doi R, Imaizumi T et al. A randomized multicenter trial comparing resection and radiochemotherapy for resectable locally invasive pancreatic cancer. Surgery 2004;136:1003–1011.

11.

Wagner M, Redaelli C, Lietz M et al. Curative resection is the single most important factor determining outcome in patients with pancreatic adenocarcinoma. Br J Surg 2004;91:586–594.

12.

Friess H, Isenmann R, Berberat P et al. [Prognosis in pancreatic carcinoma]. Ther Umsch 1996;53:401–407.

13.

Alexakis N, Halloran C, Raraty M et al. Current standards of surgery for pancreatic cancer. Br J Surg 2004;91:1410–1427.

14.

Liu SL, Friess H, Kleeff J et al. Surgical approaches for resection of pancreatic cancer: an overview. Hepatobiliary Pancreat Dis Int 2002;1:118–125.

15.

Ihse I, Anderson H, Andren S. Total pancreatectomy for cancer of the pancreas: is it appropriate? World J Surg 1996;20:288–293.

16.

Karpoff HM, Klimstra DS, Brennan MF et al. Results of total pancreatectomy for adenocarcinoma of the pancreas. Arch Surg 2001;136:44–47.

17.

Neoptolemos JP, Stocken DD, Friess H et al. A randomized trial of chemoradiotherapy and chemotherapy after resection of pancreatic cancer. N Engl J Med 2004;350:1200–1210.

18.

Davidson W, Ash S, Capra S et al. Weight stabilisation is associated with improved survival duration and quality of life in unresectable pancreatic cancer. Clin Nutr 2004;23:239–247.

19.

Nelson KA. Modern management of the cancer anorexia–cachexia syndrome. Curr Oncol Rep 2000;2:362–368.

20.

Palesty JA, Dudrick SJ. What we have learned about cachexia in gastrointestinal cancer. Dig Dis 2003;21:198–213.

21.

Ripamonti C. Management of dyspnea in advanced cancer patients. Support Care Cancer 1999;7:233–243.

22.

Argiles JM, Meijsing SH, Pallares-Trujillo J et al. Cancer cachexia: a therapeutic approach. Med Res Rev 2001;21:83–101.

23.

Inui A. Cancer anorexia–cachexia syndrome: are neuropeptides the key? Cancer Res 1999;59:4493–4501.

24.

Lorite MJ, Smith HJ, Arnold JA et al. Activation of ATP–ubiquitin-dependent proteolysis in skeletal muscle in vivo and murine myoblasts in vitro by a proteolysis-inducing factor (PIF). Br J Cancer 2001;85:297–302.

25.

Moses AW, Slater C, Preston T et al. Reduced total energy expenditure and physical activity in cachectic patients with pancreatic cancer can be modulated by an energy and protein dense oral supplement enriched with n-3 fatty acids. Br J Cancer 2004;90:996–1002.

26.

Tisdale MJ. Cachexia in cancer patients. Nat Rev Cancer 2002;2:862–871.

27.

Laviano A, Meguid MM, Inui A et al. Therapy insight: cancer anorexia–cachexia syndrome—when all you can eat is yourself. Nat Clin Pract Oncol 2005;2:158–165.

28.

Tisdale MJ. Metabolic abnormalities in cachexia and anorexia. Nutrition 2000;16:1013–1014.

29.

Ripamonti C. Management of dyspnea in advanced cancer patients. Support Care Cancer 1999;7:233–243.

30.

Costelli P, Baccino FM. Mechanisms of skeletal muscle depletion in wasting syndromes: role of ATP–ubiquitin-dependent proteolysis. Curr Opin Clin Nutr Metab Care 2003;6:407–412.

31.

Bosaeus I, Daneryd P, Svanberg E et al. Dietary intake and resting energy expenditure in relation to weight loss in unselected cancer patients. Int J Cancer 2001;93:380–383.

32.

Fearon KC, Barber MD, Falconer JS et al. Pancreatic cancer as a model: inflammatory mediators, acute-phase response, and cancer cachexia. World J Surg 1999;23:584–588.

33.

Kobari M, Matsuno S. Staging systems for pancreatic cancer: differences between the Japanese and UICC systems. J Hepatobiliary Pancreat Surg 1998;5:121–127.

34.

Pankreas. In Wittekind C, Meyer HJ, Bootz F, eds. TNM Klassifikation Maligner Tumoren. New York: Springer, 2006, pp 83–85.

35.

Buchler MW, Friess H, Wagner M et al. Pancreatic fistula after pancreatic head resection. Br J Surg 2000;87:883–889.

36.

Friess H, Beger HG, Sulkowski U et al. Randomized controlled multicentre study of the prevention of complications by octreotide in patients undergoing surgery for chronic pancreatitis. Br J Surg 1995;82:1270–1273.

37.

Deans C, Wigmore SJ. Systemic inflammation, cachexia and prognosis in patients with cancer. Curr Opin Clin Nutr Metab Care 2005;8:265–269.

38.

Hiratsuka S, Watanabe A, Aburatani H et al. Tumour-mediated upregulation of chemoattractants and recruitment of myeloid cells predetermines lung metastasis. Nat Cell Biol 2006;8:1369–1375.

39.

Glare P. Clinical predictors of survival in advanced cancer. J Support Oncol 2005;3:331–339.

40.

Locker GY, Hamilton S, Harris J et al. ASCO 2006 update of recommendations for the use of tumor markers in gastrointestinal cancer. J Clin Oncol 2006;24:5313–5327.

41.

Dank M. [Tumorus anorexia/cachexia syndrome]. Magy Onkol 2001;45:431–436.
About this article
Cite this article
Bachmann, J., Heiligensetzer, M., Krakowski-Roosen, H. et al. Cachexia Worsens Prognosis in Patients with Resectable Pancreatic Cancer. J Gastrointest Surg 12, 1193 (2008). https://doi.org/10.1007/s11605-008-0505-z
Received:

Accepted:

Published:
Keywords
Cachexia

Pancreatic cancer

Nutritional status

Survival