Abstract
Background
In liver transplantation, a minimum graft to patient body weight (BW) ratio is required for graft survival; in liver resection, total liver volume (TLV) calculated from body surface area (BSA) is used to determine the future liver remnant (FLR) volume needed for safe hepatic resection. These two methods of estimating liver volume have not previously been compared. The purpose of this study was to compare FLR volumes standardized to BW versus BSA and to assess their utility in predicting postoperative hepatic dysfunction after hepatic resection.
Methods
Records were reviewed of 68 consecutive noncirrhotic patients who underwent major hepatectomy after portal vein embolization between 1998 and 2006. FLR (cubic centimeter) was measured preoperatively with three-dimensional helical computed tomography; TLV (cubic centimeter) was calculated from the patients' BSA. The relationship between FLR/TLV and FLR/BW (cubic centimeter per kilogram) was examined using linear regression analysis. Receiver operating characteristic (ROC) curve analysis was used to determine FLR/TLV and FLR/BW cutoff values for predicting postoperative hepatic dysfunction (defined as peak bilirubin level > 3 mg/dl or prothrombin time > 18 s).
Results
Regression analysis revealed that the FLR/TLV and FLR/BW ratios were highly correlated (Pearson correlation coefficient, 0.98). The area under the ROC curve was 0.85 for FLR/TLV and 0.84 for FLR/BW (95% confidence interval, 0.71–0.97). Sixteen of the 68 patients developed postoperative hepatic dysfunction. The ROC curve analysis yielded a cutoff FLR/BW value of ≤0.4, which had a positive predictive value (PPV) of 78% and a negative predictive value (NPV) of 85%. The corresponding FLR/TLV cutoff value of ≤20% had a PPV of 80% and a NPV of 86%.
Conclusions
Based on the strong correlation between the FLR measurements standardized to BW and BSA and their similar ability to predict postoperative hepatic dysfunction, both methods are appropriate for assessing liver volume. In noncirrhotic patients, a FLR/BW ratio of ≤0.4 and FLR/TLV of ≤20% provide equivalent thresholds for performing safe hepatic resection.
Access options
Buy single article
Instant access to the full article PDF.
USD 39.95
Price excludes VAT (USA)
Tax calculation will be finalised during checkout.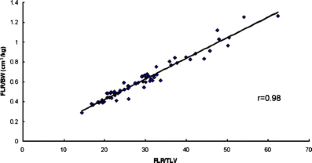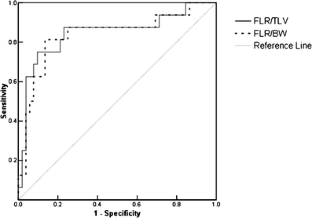 References
Choti MA, Sitzmann JV, Tiburi MF, Sumetchotimetha W, Rangsin R, Schulick RD, Lillemoe KD, Yeo CJ, Cameron JL. Trends in long-term survival following liver resection for hepatic colorectal metastases. Ann Surg 2002;235:759–766.

Todo S, Furukawa H. Living donor liver transplantation for adult patients with hepatocellular carcinoma: experience in Japan. Ann Surg 2004;240:451–459 (discussion 459–461).

Kiuchi T, Kasahara M, Uryuhara K, Inomata Y, Uemoto S, Asonuma K, Egawa H, Fujita S, Hayashi M, Tanaka K. Impact of graft size mismatching on graft prognosis in liver transplantation from living donors. Transplantation 1999;67:321–327.

Abdalla EK, Barnett CC, Doherty D, Curley SA, Vauthey JN. Extended hepatectomy in patients with hepatobiliary malignancies with and without preoperative portal vein embolization. Arch Surg 2002;137:675–680 (discussion 680–681).

Makuuchi M, Thai BL, Takayasu K, Takayama T, Kosuge T, Gunven P, Yamazaki S, Hasegawa H, Ozaki H. Preoperative portal embolization to increase safety of major hepatectomy for hilar bile duct carcinoma: a preliminary report. Surgery 1990;107:521–527.

Heymsfield SB, Fulenwider T, Nordlinger B, Barlow R, Sones P, Kutner M. Accurate measurement of liver, kidney, and spleen volume and mass by computerized axial tomography. Ann Intern Med 1979;90:185–187.

Henderson JM, Heymsfield SB, Horowitz J, Kutner MH. Measurement of liver and spleen volume by computed tomography. Assessment of reproducibility and changes found following a selective distal splenorenal shunt. Radiology 1981;141:525–527.

Urata K, Kawasaki S, Matsunami H, Hashikura Y, Ikegami T, Ishizone S, Momose Y, Komiyama A, Makuuchi M. Calculation of child and adult standard liver volume for liver transplantation. Hepatology 1995;21:1317–1321.

Lo CM, Fan ST, Liu CL, Chan JK, Lam BK, Lau GK, Wei WI, Wong J. Minimum graft size for successful living donor liver transplantation. Transplantation 1999;68:1112–1116.

Broering DC, Hillert C, Krupski G, Fischer L, Mueller L, Achilles EG, Schulte am Esch J, Rogiers X. Portal vein embolization vs. portal vein ligation for induction of hypertrophy of the future liver remnant. J Gastrointest Surg 2002;6:905–913 (discussion 913).

Vauthey JN, Abdalla EK, Doherty DA, Gertsch P, Fenstermacher MJ, Loyer EM, Lerut J, Materne R, Wang X, Encarnacion A, Herron D, Mathey C, Ferrari G, Charnsangavej C, Do KA, Denys A. Body surface area and body weight predict total liver volume in Western adults. Liver Transpl 2002;8:233–240.

DeLand FH, North WA. Relationship between liver size and body size. Radiology 1968;91:1195–1198.

Madoff DC, Abdalla EK, Vauthey JN. Portal vein embolization in preparation for major hepatic resection: evolution of a new standard of care. J Vasc Interv Radiol 2005;16:779–790.

Johnson TN, Tucker GT, Tanner MS, Rostami–Hodjegan A. Changes in liver volume from birth to adulthood: a meta-analysis. Liver Transpl 2005;11:1481–1493.

Mosteller RD. Simplified calculation of body-surface area. N Engl J Med 1987;317:1098.

Vauthey JN, Pawlik TM, Ribero D, Wu TT, Zorzi D, Hoff PM, Xiong HQ, Eng C, Lauwers GY, Mino-Kenudson M, Risio M, Muratore A, Capussotti L, Curley SA, Abdalla EK. Chemotherapy regimen predicts steatohepatitis and an increase in 90-day mortality after surgery for hepatic colorectal metastases. J Clin Oncol 2006;24:2065–2072.

Little SA, Jarnagin WR, DeMatteo RP, Blumgart LH, Fong Y. Diabetes is associated with increased perioperative mortality but equivalent long-term outcome after hepatic resection for colorectal cancer. J Gastrointest Surg 2002;6:88–94.

Shoup M, Gonen M, D'Angelica M, Jarnagin WR, DeMatteo RP, Schwartz LH, Tuorto S, Blumgart LH, Fong Y. Volumetric analysis predicts hepatic dysfunction in patients undergoing major liver resection. J Gastrointest Surg 2003;7:325–330.

Ribero D, Abdalla EK, Madoff DC, Donadon M, Loyer EM, Vauthey JN. Portal vein embolization before major hepatectomy and its effects on regeneration, resectability and outcome. Br J Surg 2007 (in press).

Cook NR. Use and misuse of the receiver operating characteristic curve in risk prediction. Circulation 2007;115:928–935.

Zweig MH, Campbell G. Receiver-operating characteristic (ROC) plots: a fundamental evaluation tool in clinical medicine. Clin Chem 1993;39:561–577.

Shirabe K, Shimada M, Gion T, Hasegawa H, Takenaka K, Utsunomiya T, Sugimachi K. Postoperative liver failure after major hepatic resection for hepatocellular carcinoma in the modern era with special reference to remnant liver volume. J Am Coll Surg 1999;188:304–309.

Ijichi M, Makuuchi M, Imamura H, Takayama T. Portal embolization relieves persistent jaundice after complete biliary drainage. Surgery 2001;130:116–118.

Vauthey JN, Chaoui A, Do KA, Bilimoria MM, Fenstermacher MJ, Charnsangavej C, Hicks M, Alsfasser G, Lauwers G, Hawkins IF, Caridi J. Standardized measurement of the future liver remnant prior to extended liver resection: methodology and clinical associations. Surgery 2000;127:512–519.

Uesaka K, Nimura Y, Nagino M. Changes in hepatic lobar function after right portal vein embolization. An appraisal by biliary indocyanine green excretion. Ann Surg 1996;223:77–83.

Vauthey JN, Pawlik TM, Abdalla EK, Arens JF, Nemr RA, Wei SH, Kennamer DL, Ellis LM, Curley SA. Is extended hepatectomy for hepatobiliary malignancy justified? Ann Surg 2004;239:722–730 (discussion 730–732).

Truant S, Oberlin O, Sergent G, Lebuffe G, Gambiez L, Ernst O, Pruvot FR. Remnant liver volume to body weight ratio > or =0.5%: A new cut-off to estimate postoperative risks after extended resection in noncirrhotic liver. J Am Coll Surg 2007;204:22–33.

Yigitler C, Farges O, Kianmanesh R, Regimbeau JM, Abdalla EK, Belghiti J. The small remnant liver after major liver resection: how common and how relevant? Liver Transpl 2003;9:S18–S25.

Kubota K, Makuuchi M, Kusaka K, Kobayashi T, Miki K, Hasegawa K, Harihara Y, Takayama T. Measurement of liver volume and hepatic functional reserve as a guide to decision-making in resectional surgery for hepatic tumors. Hepatology 1997;26:1176–1181.

Aloia T, Sebagh M, Plasse M, Karam V, Levi F, Giacchetti S, Azoulay D, Bismuth H, Castaing D, Adam R. Liver histology and surgical outcomes after preoperative chemotherapy with fluorouracil plus oxaliplatin in colorectal cancer liver metastases. J Clin Oncol 2006;24:4983–4990.

Zorzi D, Laurent A, Pawlik TM, Lauwers GY, Vauthey JN, Abdalla EK. Chemotherapy-associated hepatotoxicity and surgery for colorectal liver metastases. Br J Surg 2007;94:274–286.
About this article
Cite this article
Chun, Y.S., Ribero, D., Abdalla, E.K. et al. Comparison of Two Methods of Future Liver Remnant Volume Measurement. J Gastrointest Surg 12, 123–128 (2008). https://doi.org/10.1007/s11605-007-0323-8
Received:

Accepted:

Published:

Issue Date:

DOI: https://doi.org/10.1007/s11605-007-0323-8
Keywords
Future liver remnant

Total liver volume

Hepatic insufficiency