Abstract
The gastrointestinal (GI) tract is a common site of melanoma metastases although reports of small bowel intussusception are relatively rare. Most patients with intussusception will be symptomatic and resection will provide significant palliation. In rare instances, patients will have solitary metastases to the small intestine, and resection can provide long-term palliation and chance for cure. We describe a case of a patient with a widely metastatic melanoma who presented with crampy abdominal pain and CT findings of small bowel metastases. Exploration revealed jejunojejunal intussusception and resection provided excellent palliation.
Access options
Buy single article
Instant access to the full article PDF.
USD 39.95
Price excludes VAT (USA)
Tax calculation will be finalised during checkout.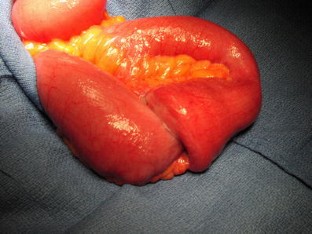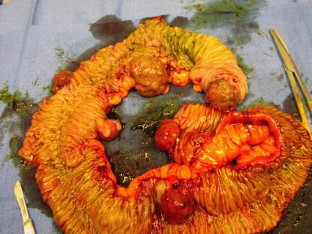 References
Patel JK, Didolkar MS, Pickren JW, Moore RH. Metastatic pattern of malignant melanoma. A study of 216 autopsy cases. Am J Surg 1978;135:807–810.

Dasgupta TK, Brasfield RD. Metastatic melanoma of the gastrointestinal tract. Arch Surg 1964;88:969–973.

Schuchter LM, Green R, Fraker D. Primary and metastatic diseases in malignant melanoma of the gastrointestinal tract. Curr Opin Oncol 2000;12:181–185.

Liang KV, Sanderson SO, Nowakowski GS, Arora AS. Metastatic malignant melanoma of the gastrointestinal tract. Mayo Clin Proc 2006;81:511–516.

Rampone B, Roviello F, Marrelli D, De Marco G, Rossi S, Corso G, Cerullo G, Pinto E. Late recurrence of malignant melanoma presenting as small bowel intussusception. Dig Dis Sci 2006;51:1047–1048.

Berger AC, Buell JF, Venzon D, Baker AR, Libutti SK. Management of symptomatic malignant melanoma of the gastrointestinal tract. Ann Surg Oncol 1999;6:155–160.

Gatsoulis N, Roukounakis N, Kafetzis I, Gasteratos S, Mavrakis G. Small bowel intussusception due to metastatic malignant melanoma. A case report. Tech Coloproctology 2004;8(Suppl 1):s141–s143.

Bilello JF, Peterson WM. Retrograde jejunojejunal intussusception secondary to metastatic melanoma. Mayo Clin Proc 2005;80:1098.

Ollila DW, Essner R, Wanek LA, Morton DL. Surgical resection for melanoma metastatic to the gastrointestinal tract. Arch Surg 1996;131:975–979.

Gutman H, Hess KR, Kokotsakis JA, Ross MI, Guinee VF, Balch CM. Surgery for abdominal metastases of cutaneous melanoma. World J Surg 2001;25:750–758.
About this article
Cite this article
Mucci, T., Long, W., Witkiewicz, A. et al. Metastatic Melanoma Causing Jejunal Intussusception. J Gastrointest Surg 11, 1755–1757 (2007). https://doi.org/10.1007/s11605-007-0215-y
Received:

Accepted:

Published:

Issue Date:

DOI: https://doi.org/10.1007/s11605-007-0215-y
Keywords
Malignant melanoma

Intussusception

Palliation