Abstract
Purpose
To explore the prognostic value of the distance between the two lesions that were farthest apart (Dmax) on baseline 18F-FDG PET/CT in peripheral T lymphoma (PTCL) and establish a new prognostic model for predicting the survival outcomes of patients with PTCL.
Methods
In this study, a retrospective analysis of 95 patients with PTCL who underwent baseline 18F-FDG PET/CT was performed to assess the predictive value of Dmax. The total metabolic tumour volume (TMTV), total lesion glycolysis (TLG), standardized uptake value (SUV), and Dmax were calculated with LIFEx software. Progression-free survival (PFS) and overall survival (OS) were used as endpoints. The prognostic model was developed based on the results of the multivariate analysis. The time-dependent area under the ROC curve (tdAUC), calibration curves, Harrell C-index, and decision curve analysis (DCA) were used to assess the model.
Results
Patients were followed up for a median of 17.0 months. Multivariate analysis showed that bone marrow biopsy (BMB) and Dmax were independent predictors of PFS (HR: 1.889, P = 0.039; HR: 1.965, P = 0.047) and OS (HR: 1.923, P = 0.031; HR: 1.982, P = 0.034). The model consisting of Dmax, TMTV, and BMB had substantial prognostic value for survival outcomes of PTCL and could successfully identify four groups of patients with significantly different prognoses (χ2 = 13.731, P = 0.003 for PFS; χ2 = 11.841, P = 0.008 for OS). The tdAUC, C-index, calibration curves, and DCA supported that the model was superior to the prognostic index for T-cell lymphoma (PIT) and International Prognostic Index (IPI) scores.
Conclusion
BMB and Dmax were independent predictors of PTCL in our study. Moreover, a prognostic model based on the Dmax, TMTV, and BMB could be useful for predicting the survival outcomes of patients with PTCL.
Access options
Buy single article
Instant access to the full article PDF.
USD 39.95
Price excludes VAT (USA)
Tax calculation will be finalised during checkout.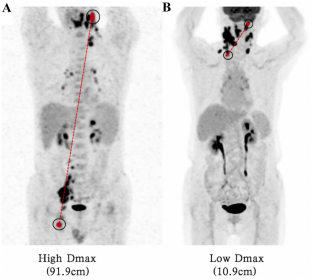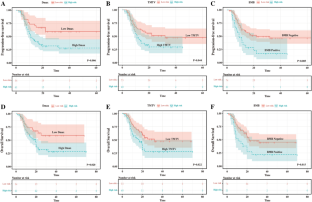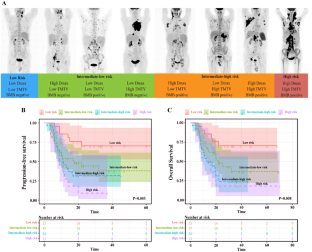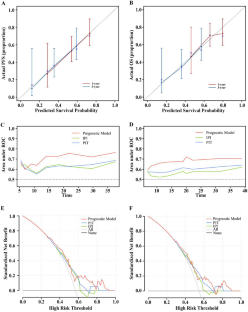 Funding
The research did not receive specific funding.
Ethics declarations
Conflict of interest
The authors declare that they have no competing interests.
Ethical approval
This study was conducted in accordance with the ethical standards set out in the 1964 Declaration of Helsinki and all subsequent revisions.
Consent to participate
Approval was obtained from the institution review boards, and all of the subjects signed a written consent form.
Additional information
Publisher's Note
Springer Nature remains neutral with regard to jurisdictional claims in published maps and institutional affiliations.
About this article
Cite this article
Xie, Y., Teng, Y., Jiang, C. et al. Prognostic value of 18F-FDG lesion dissemination features in patients with peripheral T-cell lymphoma (PTCL). Jpn J Radiol 41, 777–786 (2023). https://doi.org/10.1007/s11604-023-01398-y
Received:

Accepted:

Published:

Issue Date:

DOI: https://doi.org/10.1007/s11604-023-01398-y
Keywords