Abstract
Purpose
To assess the diagnostic value of multidetector computed tomography (MDCT) in small bowel obstruction (SBO) patients.
Methods
Relevant literature was searched from the Cochrane Library, Pubmed and Embase. The extracted effective data was calculated using the Meta-Disc 1.4 software; statistical heterogeneity was evaluated using Cochran's Q test and I2.
Results
A total of five articles were selected for the meta-analysis. In addition, the pooled sensitivity, specificity, positive likelihood ratio (PLR), negative likelihood ratio (NLR), as well as the diagnostic odds ratio (DOR) were 0.878 (95% CI 0.822–0.921), 0.807 (95% CI 0.753–0.854), 8.137 (95% CI 2.268–29.192), 0.127 (95% CI 0.040–0.4078) and 72.384 (95% CI 10.841–483.31), respectively. Furthermore, the AUC was 0.9648 with the Q of 0.9116.
Conclusions
The data suggest that MDCT is an effective method for diagnosis of SBO.
Access options
Buy single article
Instant access to the full article PDF.
US$ 39.95
Tax calculation will be finalised during checkout.
Subscribe to journal
Immediate online access to all issues from 2019. Subscription will auto renew annually.
US$ 79
Tax calculation will be finalised during checkout.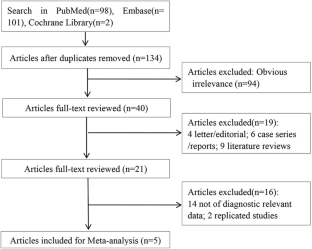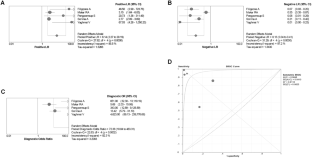 Data availability
All data generated or analysed during this study are included in this published article.
References
1.

Maung AA, Johnson DC, Piper GL, Barbosa RR, Rowell SE, Bokhari F, et al. Evaluation and management of small-bowel obstruction: an Eastern Association for the Surgery of Trauma practice management guideline. J Trauma Acute Care Surg. 2012;73:S362.

2.

Hayanga AJ, Bass-Wilkins K, Bulkley GB. Current management of small-bowel obstruction. Adv Surg. 2005;39:1–33.

3.

Hayden GE, Sprouse KL. Bowel obstruction and hernia. Emerg Med Clin N Am. 2011;29:319–45.

4.

O'Connor DB, Winter DC. The role of laparoscopy in the management of acute small-bowel obstruction: a review of over 2,000 cases. Surg Endosc Other Interv Tech. 2012;26:12–7.

5.

Kendrick ML. Partial small bowel obstruction: clinical issues and recent technical advances. Abdom Imaging. 2009;34:329–34.

6.

Dayton MT, Dempsey DT, Larson GM, Posner AR. New paradigms in the treatment of small bowel obstruction—current problems in surgery. Curr Probl Surg. 2012;49:642–717.

7.

Scott T, John B, John D, Santhi SV. Corrigendum: American College of Gastroenterology Guidelines: management of acute pancreatitis. Am J Gastroenterol. 2014;109:1400–15.

8.

Suri S, Gupta S, Sudhakar PJ, Venkataramu NK, Sood B, Wig JD. Comparative evaluation of plain films, ultrasound and CT in the diagnosis of intestinal obstruction. Act Radiol. 1999;40:422.

9.

Maglinte D, Gage S, Harmon B, Kelvin F, Hage J, Chua G, et al. Obstruction of the small intestine: accuracy and role of CT in diagnosis. Radiology. 1993;188:61–4.

10.

Sinha R, Verma R. Multidetector row computed tomography in bowel obstruction Part 2 Large bowel obstruction. Clin Radiol. 2005;60:1068–75.

11.

Chang WC, Ko KH, Lin CS, Hsu HH, Tsai SH, Fan HL, et al. Features on MDCT that predict surgery in patients with adhesive-related small bowel obstruction. PLoS ONE. 2014;9:e89804.

12.

Idris M, Kashif N, Idris S, Memon WA, Tanveer UH, Haider Z. Accuracy of 64-slice multidetector computed tomography scan in detection of the point of transition of small bowel obstruction. Jpn J Radiol. 2012;30:235–41.

13.

Hwang J, Lee J, Lee J. Value of multidetector CT in decision making regarding surgery in patients with small-bowel obstruction due to adhesion. Eur Radiol. 2009;19:2425–31.

14.

Makar R, Bashir M, Haystead C, Iseman C, Mayes N, Hebert S, et al. Diagnostic performance of MDCT in identifying closed loop small bowel obstruction. Abdom Radiol (New York). 2016;41:1253–60.

15.

Pongpornsup S, Tarachat K, Srisajjakul S. Accuracy of 64 sliced multi-detector computed tomography in diagnosis of small bowel obstruction. J Med Assoc Thai. 2009;92:1651–61.

16.

Scrima A, Lubner MG, King S, Pankratz J, Kennedy G, Pickhardt PJ. Value of MDCT and clinical and laboratory data for predicting the need for surgical intervention in suspected small-bowel obstruction. Am J Roentgenol. 2017;208:785–93.

17.

Filippone A, Cianci R, Grassedonio E, Fabio FD, Storto M. Four-section multidetector computed tomographic imaging of bowel obstruction: usefulness of axial and coronal plane combined reading. J Comput Assist Tomogr. 2007;31:499–507.

18.

Yaghmai V, Nikolaidis P, Hammond N, Petrovic B, Gore R, Miller F. Multidetector-row computed tomography diagnosis of small bowel obstruction: can coronal reformations replace axial images? Emerg Radiol. 2006;13:69–72.

19.

Whiting P, Rutjes AWS, Reitsma JB, Bossuyt PMM, Kleijnen J. The development of QUADAS: a tool for the quality assessment of studies of diagnostic accuracy included in systematic reviews. BMC Med Res Methodol. 2003;3:25.

20.

Zamora J, Abraira V, Muriel A, Khan K, Coomarasamy A. Meta-DiSc: a software for meta-analysis of test accuracy data. BMC Med Res Methodol. 2006;6:31.

21.

Taourel P, Kessler N, Lesnik A, Blayac P, Morcos L, Bruel J. Non-traumatic abdominal emergencies: imaging of acute intestinal obstruction. Eur Radiol. 2002;12:2151–60.

22.

Savvas N, Brian K, Stephen H, Jenny S, Karim A. Imaging of acute small-bowel obstruction. Am J Roentgenol. 2005;185:1036–44.

23.

Frank JP. Volume CT: state-of-the-art reporting. Am J Roentgenol. 2007;189:528.
Funding
This study was funded by The Social Development Fund of Nantong (Grant number MS32019013 and HS2019002); The Fifth Round of the "Programme 226" of Nantong (Grant number CPCNT ODMC 2017027); Young Medical Talents Fund of Nantong (Grant number WKZL2018017, QA2019007 and QA2019008); Jiangsu Provincial Key Medical Talents Program for Youth (Grant number QNRC2016404); and The Clinical Fund of Nantong University (Grant number 2019LZ002).
Ethics declarations
Conflict of interest
The authors declare that they have no competing interests.
Additional information
Publisher's Note
Springer Nature remains neutral with regard to jurisdictional claims in published maps and institutional affiliations.
Electronic supplementary material
Below is the link to the electronic supplementary material.
About this article
Cite this article
Zhou, J., Cong, R., Shi, J. et al. Diagnostic significance of multidetector computed tomography (MDCT) in patients with small bowel obstruction: a meta-analysis. Jpn J Radiol 38, 458–462 (2020). https://doi.org/10.1007/s11604-020-00923-7
Received:

Accepted:

Published:

Issue Date:
Keyword
Multidetector computed tomography

Small bowel obstruction

Meta-analysis

Diagnosis