Abstract
Purpose
To determine the accuracy of 64-slice multidetector computed tomography scans in detecting the point of transition of small bowel obstruction by using surgical findings as the gold standard.
Materials and methods
Cross-sectional study of 59 patients with SBO who underwent 64-slice MDCT scans of the abdomen followed by surgery from 1 June 2008 to 31 January 2010 at a tertiary care center. Point of transition between distended and collapsed small bowel loops were precisely determined on 64-slice MDCT and subsequently correlated with surgical findings. Data analysis was done on SPSS version 16. Sensitivity, specificity, positive and negative predictive values, and diagnostic accuracy of MDCT in detection of the point of transition were calculated.
Results
Out of 59 patients, 64-slice MDCT was able to detect the point of transition of SBO in 90% (53/59) of patients, while in 10% (6/59) of these patients the point of transition was not found on MDCT. Overall for detection of the point of transition of small bowel obstruction 64-slice MDCT has 93% sensitivity, 67% specificity, 98% positive predictive value, 33% negative predictive value and 92% accuracy, respectively.
Conclusion
Sixty-four-slice MDCT is highly accurate in diagnosing the point of transition of small bowel obstruction with an accuracy of 92%. It can be used as a localizing tool before surgery for small bowel obstruction.
Access options
Buy single article
Instant access to the full article PDF.
USD 39.95
Price excludes VAT (USA)
Tax calculation will be finalised during checkout.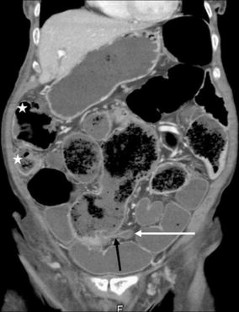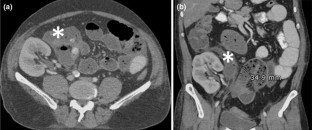 References
Mehmood Z, Aziz A, Iqbal M, Sattar I, Khan A. Causes of intestinal obstruction: a study of 257 patients. J Surg Pak Mar. 2005;10(1):17–9.

Filippone A, Cianci R, Storto ML. Bowel obstruction: comparison between multidetector-row CT axial and coronal planes. Abdom Imaging. 2007;32:310–6.

Taourel P, Kessler N, Lesnik A. Non traumatic abdominal emergencies: imaging of acute intestinal obstruction. Eur Radiol. 2002;12:2151–60.

Frager D, Medwid SW, Baer JW, Mollinelli B, Friedman M. CT of small-bowel obstruction: value in establishing the diagnosis and determining the degree and cause. AJR Am J Roentgenol. 1994;162:37–41.

Patak MA, Mortele KJ, Ros PR. Multidetector row CT of small bowel. Radiol Clin North Am. 2005;43(6):1063–77.

Khan MI. Spontaneous fulminant gangrene of distal colon and rectum. J Coll Physicians Surg Pak. 2005;15(3):174–5.

Mucha P. Small intestinal obstruction. Surg Clin N Am. 1987;67:597–620.

Markus JB, Somers S, Franic SE, Moola C, Stevenson GW. Interobserver variation in the interpretation of abdominal radiographs. Radiology. 1989;171:69–71.

Herlinger H, Rubesin SE, Morris JB. Small bowel obstruction. In: Gore RM, Levine MS, editors. Textbook of gastrointestinal radiology. 2nd ed. Philadelphia: Saunders; 2000. p. 815–37.

Frager DH, Baer JW. Role of CT in evaluating patients with small-bowel obstruction. Semin Ultrasound CT MR. 1995;16:127–40.

Frager D. Intestinal obstruction role of CT. Gastroenterol Clin North Am. 2002;31:777–99.

Hodel J, Zins M, Desmottes L, Boulay-Coletta I, Julle MC, Nakache JP, et al. Location of the transition zone in CT of small bowel obstruction: added value of multiplanar reformations. Abdom Imaging. 2009;34(1):35–41.

Lazarus DE, Slywotsky C, Bennett GL. Frequency and relevance of the "small-bowel feces" sign on CT in patients with SBO. AJR Am J Roentgenol. 2004;183:1361–6.

Parrish FJ. Volume CT: state-of-the-art-reporting. AJR Am J Roentgenol. 2007;189:528–34.

Yaghmai V, Nikolaidis P, Hammond NA, Petrovic B, Gore RM, Miller FH, et al. Multi detector computed tomography diagnosis of small bowel obstruction: can coronal reformation replace axial images? Emerg Radiol. 2006;13:69–72.

Savvas N, Brian K, Stephen H, Jenny S, Karim A, Nicolaou S, Kai B, Ho S, Su J, Ahamed K. Imaging of acute small-bowel obstruction. AJR Am J Roentgenol. 2005;185:1036–44.

Megibow AJ, Balthazar EJ, Cho KC, Medwid SW, Birnbaum BA, Noz ME. Bowel obstruction: evaluation with CT. Radiology. 1991;180(2):313–8.

Pongpornsup S, Tarachat K, Srisajjakul S. Accuracy of 64 sliced multi-detector computed tomography in diagnosis of small bowel obstruction. J Med Assoc Thai. 2009;92(12):1651–61.

Jones K, Mangram AJ, Lebron RA, Nadalo L, Dunn E. Can a computed tomography scoring system predict the need for surgery in small-bowel obstruction? Am J Surg. 2007;194:780–4.

Sandhu PS, Joe BN, Coakley FV, Qayyum A, Webb EM, Yeh BM, et al. Bowel transition points: multiplicity and posterior location at ct are associated with small-bowel volvulus. Radiology. 2007;245:160–7.

Maglinte DDT, Balthazar EJ, Kelvin FM, Megibow AJ. The role of radiology in the diagnosis of small-bowel obstruction. AJR Am J Roentgenol. 1997;168:1171–80.

Delabrousse E, Lubrano J, Jehl J, Morati P, Rouget C, Mantion GA, Kastler BA, et al. Small-bowel obstruction from adhesive bands and matted adhesions: CT differentiation. AJR Am J Roentgenol. 2009;192:693–7.

Miller G, Boman J, Shrier I, Gordon PH. Etiology of small bowel obstruction. Am J Surg. 2000;180:33–6.

Tazeen Z, Naheed S. Prevalence of intestinal tuberculosis amongst cases of bowel obstruction in Pakistan. J Surg. 2004;20(2):82–5.

Naseer AB, Khan MB, Mohammad AM, Shehzada AA, Babar. Spectrum of mechanical intestinal obstruction. J Surg Pak. 2002;7(1):7–9.

Ismail, Mumtaz K, Aslam S, Nisar A. Pattern of dynamic intestinal obstruction in adults. J Postgrad Med Inst. 2005;19(2):157–61.

Asim A, Irfan S. Gallstone ileus: a rare complication of gallstone and cause of intestinal obstruction. Pak Armed Forces Med J. 2005;55(1):78–9.

Petrovic B, Nikalaidis P, Hammond NA, Grant TH, Miller FH. Identification of adhesions on CT in small bowel obstruction. Emerg Radiol. 2006;12:88–93.
Acknowledgments
We are thankful to Dr. Humera Ahsan, consultant radiologist, for her valuable support in the initiation of this study; Dr, Rizwan Khan, consultant surgeon, for his support with clinical data acquisition; Dr. Waseem Akhtar Mirza for his help with statistical analysis; Mr. Zafar Jamil, senior technologist, CT Section, Aga Khan University Hospital, for the technical support. No funding or any other financial support was used for this study.
Additional information
All authors contributed equally to the work.
About this article
Cite this article
Idris, M., Kashif, N., Idris, S. et al. Accuracy of 64-slice multidetector computed tomography scan in detection of the point of transition of small bowel obstruction. Jpn J Radiol 30, 235–241 (2012). https://doi.org/10.1007/s11604-011-0038-3
Received:

Accepted:

Published:

Issue Date:

DOI: https://doi.org/10.1007/s11604-011-0038-3
Keywords
Small bowel obstruction

Point of transition

Sixty-four-slice MDCT