Abstract
Floods are the most frequent and most distractive natural disaster around the globe. Pakistan is facing frequent flooding since 1929 and floods in the Indus river basin cost more than 7000 lives and caused mighty changes in land use and land covers (LULC) since 1947. District Layyah hit by flood on August 1, 2010. Landsat ETM+ with 30 m spatial resolution was utilized to investigate the LULC changes in district Layyah for the 2010 flood. It was revealed water area increased 8.05% from July 3 (379.13 km2) to August 20 (656.02 km2) in district Layyah. Vegetation cover increased from 1149.62 km2 on July 3 to 1842.23 km2 on August 20 in district Layyah and showed a 20.13% increment. Barren/built-up area showed a decrement of 28.18% from 1911.72 km2 in pre-flood analysis to 941.90 km2 in the post-flood analysis. Total 15 union councils (UC) of district Layyah were affected by flood from which 10 lies in tehsil Layyah and 5 belongs to tehsil Karor Lal Esan. Flood affects 177 settlements in district Layyah from which 156 belong to tehsil Layyah and 21 were from tehsil Karor Lal Esan. These results suggest that the impacts of the flood on LULC need more attention to cope with the challenge of frequent flooding and impacts in Pakistan.
Graphic abstract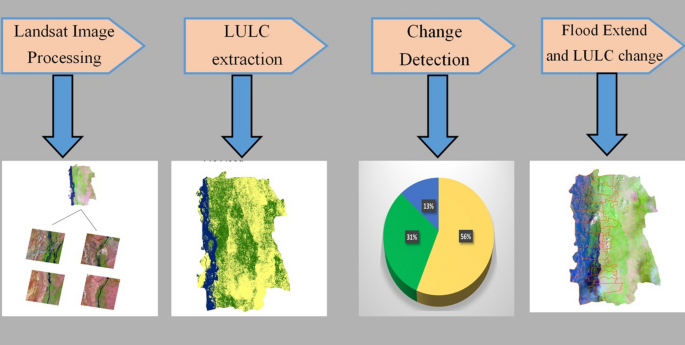 Access options
Buy single article
Instant access to the full article PDF.
USD 39.95
Price includes VAT (USA)
Tax calculation will be finalised during checkout.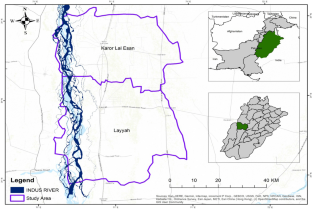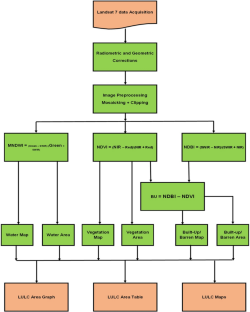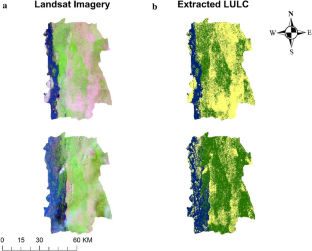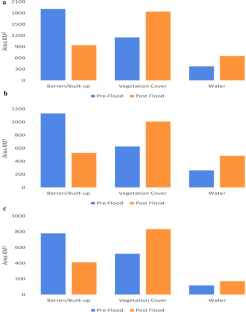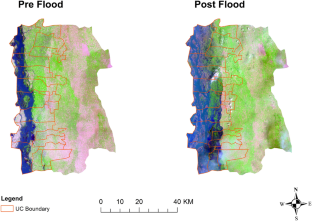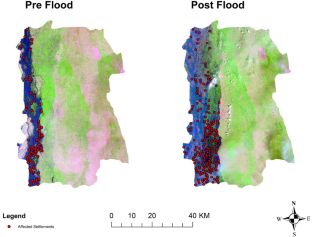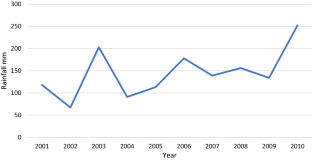 Data availability
Data cannot be made publicly available; readers should contact the corresponding author for details.
References
Al-Ali Z et al (2020) A comparative study of remote sensing classification methods for monitoring and assessing desert vegetation using a UAV-based multispectral sensor. Environ Monit Assess 192(389):1–14. https://doi.org/10.1007/s10661-020-08330-1

Ali A (2013) Mechanisms, Impacts, and Management. In: Asian Development Bank, pp. 1–55. http://hdl.handle.net/11540/810

Banerjee L (2010a) Effects of flood on agricultural productivity in Bangladesh. Oxford Dev Stud 38(3):339–356. https://doi.org/10.1080/13600818.2010.505681

Bank R, Zones IH (2017) Geoplanning identification of river bank erosion and innundation hazard zones using Geo-spacial techniques—a case study of Indus river near Layyah. J Geomatics Plan 4(2):121–130

Bookhagen B, Burbank DW (2010) Toward a complete Himalayan hydrological budget: Spatiotemporal distribution of snowmelt and rainfall and their impact on river discharge. J Geophys Res Earth Surf. https://doi.org/10.1029/2009JF001426

Cann K et al (2013a) Extreme water-related weather events and waterborne disease. Epidemiol Infect 141(4):671–686. https://doi.org/10.1017/S0950268812001653

Chaudary ZALI, Sarwar MK (2014) Rehabilitated taunsa barrage : prospects and concerns. Sci Technol Dev 33(3):127–131

Dawood M et al (2017a) Impact of rainfall fluctuation on river discharges in Hindu Kush Region, Pakistan. Abasyn J Soc Sci 10(November):246–259

El Bastawesy M, Gabr S, Mohamed I (2015) Assessment of hydrological changes in the Nile River due to the construction of Renaissance Dam in Ethiopia. Egypt J Remote Sens Space Sci 18(1):65–75

El-zeiny AM, Hala AE (2017) Environmental monitoring of spatiotemporal change in land use/land cover and its impact on land surface temperature in El-Fayoum governorate Egypt. Remote Sens Appl Soc Environ 8(July):266–277. https://doi.org/10.1016/j.rsase.2017.10.003

Faisal N, Sadiq N (2009) Climatic zonation of Pakistan through precipitation-effectiveness index. Pakistan J Meteorol 6(11):51–60

FFC (2010) Annual flood report, Fedral flood commision, Ministry of Water and power.

Fida M, Hussain I, Tao W, Rashid A, Ali Shah SA (2020) Land use and land cover change analysis of District Charsadda, Pakistan along Kabul River in 2010 flood: using an advance geographic information system and remote sensing techniques. Nat Hazards Earth Syst Sci Discuss 2020:1–16

Gao B (1996) NDWI a normalized difference water index for remote sensing of vegetation liquid water from space. Remote Sens Environ 266(April):257–266. https://doi.org/10.1016/S0034-4257(96)00067-3

Gaurav K, Sinha R, Panda PK (2011) The Indus flood of 2010 in Pakistan: a perspective analysis using remote sensing data. Nat Hazards 59(3):1815

Gaurav S, Cole S, Tobacman J (2011) Marketing complex financial products in emerging markets: evidence from rainfall insurance in India. J Market Res 48(SPL):S150–S162

Ghosh D, Mandal M, Banerjee M (2015) Environmental impact of embankment breaching: a case study along lower reaches of Ajay River, West Bengal, India. Int J Arts Humanit Manag Stud 01(9):44–54

Haq M et al (2012a) Techniques of remote sensing and GIS for flood monitoring and damage assessment: a case study of Sindh province, Pakistan. Egypt J Remote Sens Space Sci 15(2):135–141. https://doi.org/10.1016/j.ejrs.2012.07.002

Hashmi HN, Tallat Q, Siddiqui M, Ghumman AR, Kamal A, Mughal R (2012) A critical analysis of 2010 floods in Pakistan. African J Agric Res 7(7):1054–1067

Howe JOE, White I (2002) The geography of the autumn 2000 floods in England and Wales: causes and solutions. Geography 87(2):116–124

Jilani R, Rahman S, Haq M, Munir S, Muhammad S (2010) Pakistan floods monitoring using MODIS Data. Proceedings, 17–20 November 2010, CTWF Beijing, China

Khalid B et al (2018) Riverine flood assessment in Jhang district in connection with ENSO and summer monsoon rainfall over Upper Indus Basin for 2010. Nat Hazards 92(2):971–993. https://doi.org/10.1007/s11069-018-3234-y

Khan B, Iqbal MJ, Yosufzai MAK (2011) Flood risk assessment of river Indus of Pakistan. Arab J Geosci 4(1):115–122

Khandelwal A, Karpatne A, Marlier ME, Kim J, Lettenmaier DP, Kumar V (2017) An approach for global monitoring of surface water extent variations in reservoirs using MODIS data. Remote Sens Environ 202:113–128

Kussul N, Shelestov A, Serhiy S, Kravchenko O (2008) Data assimilation technique for flood monitoring and prediction. Int J Inf Theor Appl 15(123):76–83

Laghari AN, Vanham D, Rauch W (2012) The Indus basin in the framework of current and future water resources management. Hydrol Earth Syst Sci 16(4):1063–1083. https://doi.org/10.5194/hess-16-1063-2012

Li H et al (2017) Mapping urban bare land automatically from landsat imagery with a simple index. Remote Sens 9(3):249. https://doi.org/10.3390/rs9030249

Lunetta RS, Knight JF, Ediriwickrema J, Lyon JG, Worthy LD (2006) Land-cover change detection using multi-temporal MODIS NDVI data. Remote Sens Environ 105(2):142–154

Mahmood S, Rani R (2018) Extent of 2014 flood damages in Chenab Basin Upper Indus Plain. Nat Hazards Risk Assess Vulnerability Reduct 2018:75–84

Mahmood S, ul Khan AH, Ullah S (2016) Assessment of 2010 flash flood causes and associated damages in Dir Valley, Khyber Pakhtunkhwa Pakistan. Int J Disaster Risk Reduct 16:215–223

Mahmood S, Rahman A, Sajjad A (2019) Assessment of 2010 flood disaster causes and damages in district Muzaffargarh, Central Indus Basin. Pakistan Environ Earth Sci 78(3):63

Messner F, Penning-Rowsell E, Green C, Meyer V, Tunstall S, Veen A (2007) Evaluating flood damage: guidance and recommendations on principles and methods. Integrated Flood Risk Analysis and Management Methodologies, T09-06-01, 2_2_P44

Milly PCD et al (2002a) Increasing risk of great floods in a changing climate. Nature 415(6871):514–517

Neelam M, Afzal I, Nawaz M, Ahmad SS (2014) Flood damages and its management strategies (2010) in Layyah district. Pakistan International J Sci Eng Res 5(11):375–379

Ogilvie A et al (2015) Decadal monitoring of the Niger Inner Delta flood dynamics using MODIS optical data. J Hydrol 523:368–383. https://doi.org/10.1016/j.jhydrol.2015.01.036

Ohl CA, Tapsell S (2000) Flooding and human health: the dangers posed are not always obvious. BMJ 321(7270):1167–1168. https://doi.org/10.1136/bmj.321.7270.1167

Oxfam (2009) Missing pieces? Assessing the impact of humanitarian reform in Pakistan. Oxfam International

Oxfam (2011) Six months into the floods Resetting Pakistan's priorities through reconstruction. Oxfam International

PBS (2017) Provinsional summary results of 6th population and housing census-2017. Paksitan bureau of Statistics.

Rahman A-U, Khan A (2005) An assessment of flood hazard causes for efficient flood plain management: a case of Neelum-Jhelum Valley. Pakistan Geogr Rev 60:42–53

Rahman AU, Khan AN (2013) Analysis of 2010-flood causes, nature and magnitude in the Khyber Pakhtunkhwa. Pakistan Nat Hazards 66(2):887–904. https://doi.org/10.1007/s11069-012-0528-3

Raziq A, Xu A, Li Y (2016) Monitoring of land use/land cover changes and urban sprawl in Peshawar City in Khyber Pakhtunkhwa: an application of geo-information techniques using of multi-temporal satellite data. J Remote Sens GIS 05:174. https://doi.org/10.4172/2469-4134.1000174

Sajjad A, Lu JZ, Chen XL, Chisenga C, Mahmood S (2010) The riverine flood catastrophe in Punjab, Pakistan: potential causes, extent and damage assessment. Appl Ecol Environ Res 17(August):14121–14142

Sardar A, Javed SA, Amir-ud-din R (2016) Natural disasters and economic growth in Pakistan: an enquiry into the floods related hazards triad Sajid Amin Javed Department of Environmental Economics Natural Disasters and Economic Growth in Pakistan: an enquiry into the floods related hazards. Pakistan Inst Dev Econ, No. 10, pp 1–19

Shahzad Sardar M, Avais Tahir M, Iqbal Zafar M (2008) Life and social sciences poverty in Riverine areas: vulnerabilities, social gaps and flood damages. Pakistan J Life Soc Sci 6:25–31

Syvitski JPM, Brakenridge GR (2012) Causation and avoidance of catastrophic flooding along the Indus River. Pakistan Geol Soc Am 23(1):4–10

Tariq MAUR, van de Giesen N (2012) Floods and flood management in Pakistan. Phys Chem Earth Parts A/B/C 47–48:11–20

UN (2010) Pakistan Intial Floods Emergency response Plan

UN (2011) Pakistan Floods 2011 Early Recovery Framework

Walder JS, O'Connor JE (1997) Methods for predicting peak discharge of floods caused by failure of natural and constructed earthen dams. Water Resour Res 33(10):2337–2348

Xu H (2006) Modification of normalised difference water index (NDWI) to enhance open water features in remotely sensed imagery. Int J Remote Sens 27(14):3025–3033

Yin G, Mariethoz G, McCabe MF (2017) Gap-filling of Landsat 7 Imagery using the direct sampling method. Remote Sens 9:1–20. https://doi.org/10.3390/rs9010012

Zafar Z et al (2020) Trend analysis of the decadal variations of water bodies and land cover/land Use through MODIS imagery: an in-depth study from Gilgit Baltistan. Pakistan Water Supply 21(2):927–940. https://doi.org/10.2166/ws.2020.355

Zeng C, Shen H, Zhang L (2013) Recovering missing pixels for Landsat ETM+ SLC-off imagery using multi-temporal regression analysis and a regularization method. Remote Sens Environ 131:182–194. https://doi.org/10.1016/j.rse.2012.12.012

Zhai K, Wu X, Qin Y, Du P (2015) Comparison of surface water extraction performances of different classic water indices using OLI and TM imageries in different situations. Geo-Spatial Inf Sci 18(1):32–42

Zhao H, Chen X (2005) Use of normalized difference bareness index in quickly mapping bare areas from TM/ETM+ in Proceedings. In: IEEE international geoscience and remote sensing symposium. IGARSS, vol 3, pp 1666–1668

Zhou C, Luo J, Yang C, Ll B, Wang S (2000) Flood monitoring using multi-temporal AVHRR and RADARSAT imagery. Photogramm Eng Remote Sens 66(5):633–638

Zia A, Khan AA (2021) Effectiveness of baggase ash for performance improvement of asphalt concrete pavements. SN Appl Sci 3:502
Acknowledgements
The author's wish to acknowledge and thankful to Pakistan Meteorological Department (PMD) and Water Development Authority (WAPDA) of Pakistan for providing important and valuable data for the research.
Funding
This work was funded by Projects of National Natural Science Foundation of China (51979250), Key projects of National Natural Science Foundation of China (51739009), Key Research and Promotion Projects (Technological development) in Henan Province (202102310587) and National Key Research Priorities Program of China (2017YFC0404402).
Ethics declarations
Conflict of interest
The authors declare no conflict of interest.
Additional information
Communicated by Dr. Michael Nones (CO-EDITOR-IN-CHIEF).
About this article
Cite this article
Soomro, Seh., Hu, C., Boota, M.W. et al. Mapping flood extend and its impact on land use/land cover and settlements variations: a case study of Layyah District, Punjab, Pakistan . Acta Geophys. (2021). https://doi.org/10.1007/s11600-021-00677-4
Received:

Accepted:

Published:
Keywords
Flood

Settlements

NDBI

NDVI

LULC

Pakistan