Abstract
Compact gravity inversion (CGI) is widely used to invert gravity data following the principle of minimising the volume of the causative body due to its simplicity, high efficiency, and sharp-boundary inversion results. In this study, the compactness weighting function is generalised and the depth weighting function is introduced to CGI to obtain the reweighted CGI (RCGI) method. Although RCGI exhibits better flexibility than CGI, selecting an appropriate compactness factor α and depth weighting function β is difficult, and we design a parameter selection rule to search the proper \(\alpha\) and \(\beta\) quantitively. Furthermore, we improve RCGI for boasting superior computational efficiency by gradually eliminating the model blocks that reach the designated boundaries in the iterative algorithm of inversion. This approach is termed the reweighted and element-elimination CGI (REECGI) method. The inversion results show that both RCGI and REECGI result in better inversion accuracy than CGI, and REECGI has higher computational efficiency than RCGI and CGI, which increases with the number of iterations.
This is a preview of subscription content, log in to check access.
Access options
Buy single article
Instant access to the full article PDF.
US$ 39.95
Price includes VAT for USA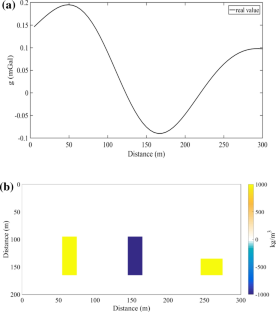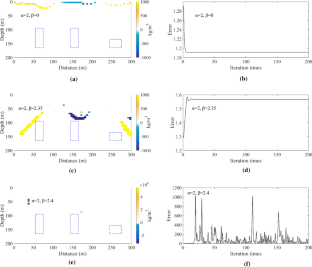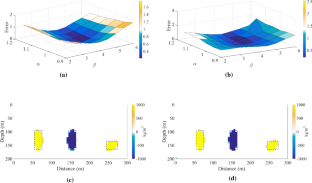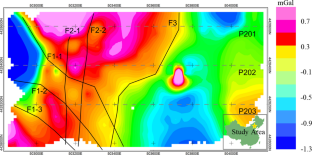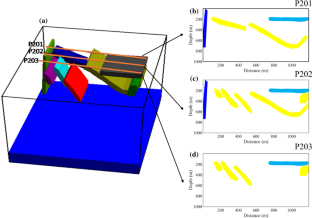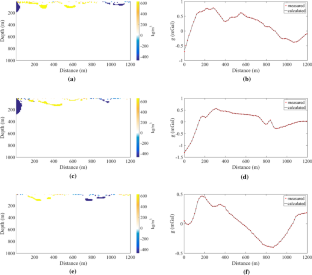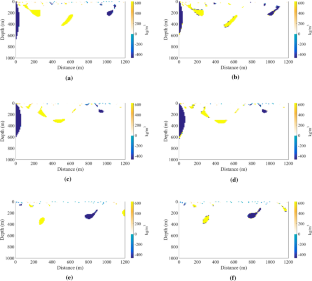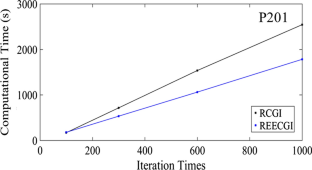 References
Acar R, Vogel CR (1994) Analysis of total variation penalty methods. Inverse Prob 10:1217–1229

Barbosa VCF, Silva JBC (1994) Gen Compact Gravity Invers Geophys 59(1):57–68

Blakely RJ (1995) Potential theory in gravity and magnetic applications. Cambridge University Press, Cambridge

Chen S, Zhang J, Shi YL (2008) Gravity inversion using the frequency characteristics of the density distribution. Appl Geophys 5(2):99–106

Constable SC, Parker RC, Constable GG (1987) Occam's inversion: a practical algorithm for generating smooth models from EM sounding data. Geophys 52:289–300

Ghalehnoee MH, Ansari A, Ghorbani A (2017) Improving compact gravity inversion using new weighting functions. Geophys J Int 28(1):546–560

Guillen A, Menichetti V (1984) Gravity and magnetic inversion with minimization of a specific functional. Geophys 49:1354–1360

Hadamard J (1902) Sur les problèmes aux derivées partielles et leur signification physique. Princeton Univ Bull 13: 49–52. Reprinted in his Oeuvres, Centre Nat Rech Sci, Paris, 3:1099–1105

Karaoulis K, Revil A, Minsley B et al (2014) Time-lapse gravity inversion with an active time constraint. Geophys J Int 196:748–759

Last BJ, Kubik K (1983) Compact gravity invers Geophys 34:65–74

Levenberg K (1944) A method for the solution of certain nonlinear problems in least squares. Q Appl Math 2:164–168

Li YG, Oldenburg DW (1998) 3-D inversion of gravity data. Geophys 63(1):109–119

Marquardt DW (1963) An algorithm for least squares estimation of nonlinear parameters. SIAM J 11:431–441

Mendonca CA, Silva JBC (1994) The equivalent data concept applied to the interpolation of potential field data. Geophys 59(5):722–732

Mendonca CA, Silva JBC (1995) Interpolation of potential field data by equivalent layer and minimum curvature: a comparative analysis. Geophys 60(2):399–407

Menke W (1989) Geophysical data analysis: discrete inverse theory, Revised edn. Academic Press, Cambridge

Pilkington M (1997) 3-D magnetic imaging using conjugate gradients. Geophys 62:1132–1142

Pilkington M (2009) 3D magnetic data-space inversion with sparseness constraints. Geophys 74(1):L7–L15

Portniaguine O, Zhdanov MS (1999) Focusing Geophys Invers Images Geophys 64(3):874–887

Roland M, Vadim M, Dimitri K et al (2013) Gravity inversion using wavelet-based compression on parallel hybrid CPU/GPU systems: application to southwest Ghana. Geophys J Int 195:1594–1619

Rosas-Carbajal M, Jourde K, Marteau J et al (2017) Three-dimensional density structure of La Soufrière de Guadeloupe lava dome from simultaneous muon radiographies and gravity data. Geophys Res Lett 44(13):6743–6751

Rudin LI, Osher S, Fatemi E (1992) Nonlinear total variation-based noise removal algorithms. Phys D 60:259–268

Silva FJS, Barbosa CF, Silva JBC (2009) 3D gravity inversion through an adaptive-learning procedure. Geophys 74(3):I9–I21

Silva FJS, Barbosa CF, Silva JBC (2011) Adaptive learning 3D gravity inversion for salt-body imaging. Geophys 76(3):I49–I57

Silva JBC, Barbosa VCF (2006) Interactive gravity inversion. Geophysics 71(1):J1–J9

Smith RT, Zoltani CK, Klem GJ, Coleman MW (1991) Reconstruction of the tomographic images from sparse data sets by a new finite element maximum entropy approach. Appl Opt 30:573–582

Williams NC (2008) Geologically-constrained UBC-GIF gravity and magnetic inversion with examples from the Agnew-Wiluna greenstone belt, Western Australia. PhD thesis, The University of British Colombia, Faculty of Geophysics

Zhdanov MS (2015) Inverse theory and applications in geophysics. Elsevier, Amsterdam
Acknowledgements
We would like to thank Prof. Shi Chen of the Institute of Geophysics, China Earthquake Administration for providing field data as well as specific guidance. We also thank Prof. Bofeng Guo of Tianjin University for offering constructive comments and editing the manuscript. Further, we would like to thank Editage (www.editage.cn) for English language editing.
Funding
This research was funded by the National Key R & D Program of China, Grant Nos. 2018YFC1503606 and 2017YFC1500501.
Ethics declarations
Conflict of interest
The authors declare no conflict of interest.
Code availability
Applicable.
Electronic supplementary material
Below is the link to the electronic supplementary material.
About this article
Cite this article
Zhu, W., Peng, J., Luo, S. et al. Generalisation and improvement of the compact gravity inversion method. Acta Geophys. (2020). https://doi.org/10.1007/s11600-020-00495-0
Received:

Accepted:

Published:
Keywords
Compact gravity inversion

Inversion theory

Compactness factor

Weighting function

Inversion accuracy

Computational efficiency