Abstract
This work aims at developing a hybrid ground motion prediction equation (GMPE) for spectral acceleration in Western Himalayas and North-Eastern India. The GMPE is derived using an efficient nonparametric modelling based on neural network algorithm. In this study, owing to sparsity in the recorded ground motions (498 recordings) for the region, the available information is combined with 13,294 records from the well-tested NGA-West 2 database. For the methodology adopted in the study, regional flags are assigned to the records. Thus, given a magnitude, distance, shear wave velocity, fault type and region, the model is able to predict the possible spectral acceleration. The developed GMPE is observed to be unbiased with respect to region. Further, the inter- and intra-event standard deviations are also in acceptable ranges. It is observed that developed GMPE for Western Himalayas and North-Eastern India is able to capture all the known ground motion characteristics. Additionally, the GMPE is compared with the existing GMPE for rock-type soil condition available for the Western Himalayas and North-Eastern India. Furthermore, applicability of the developed GMPE model in estimating hazard is analysed by obtaining the uniform hazard response spectra for Delhi and Guwahati.
Access options
Buy single article
Instant access to the full article PDF.
USD 39.95
Price excludes VAT (USA)
Tax calculation will be finalised during checkout.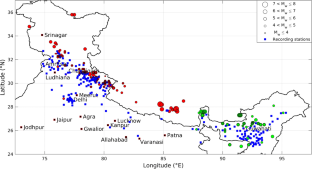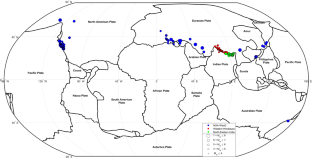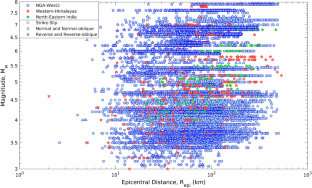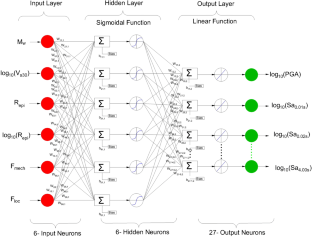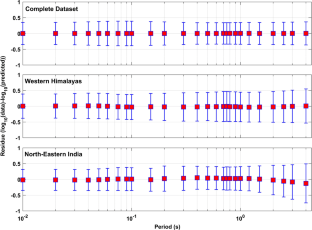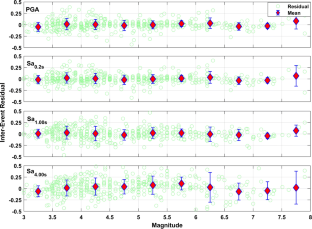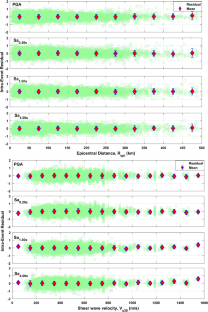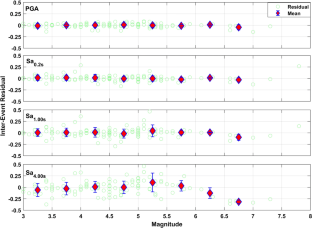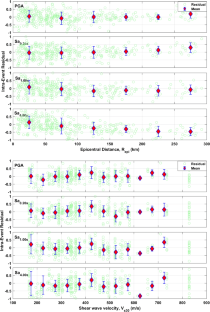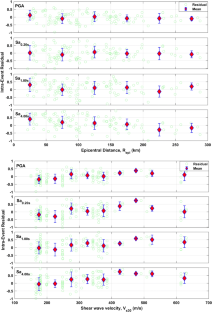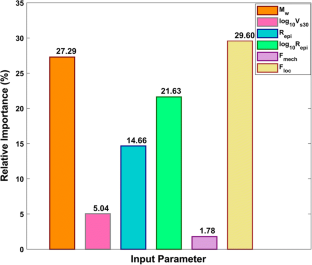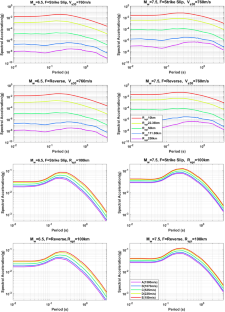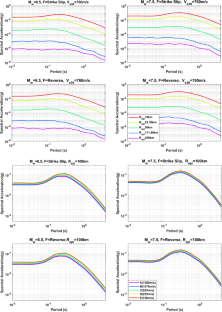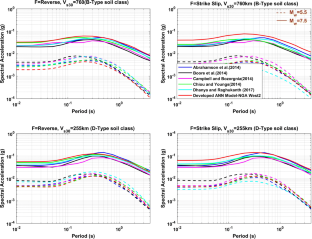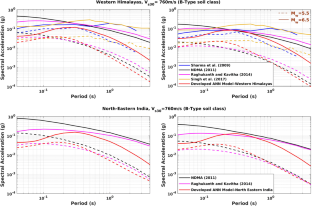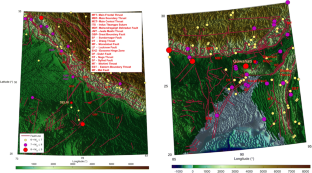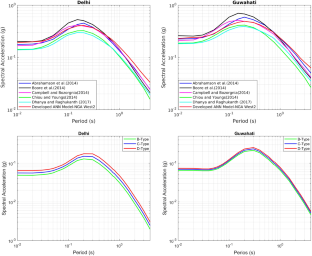 References
Abrahamson NA, Youngs R (1992) A stable algorithm for regression analyses using the random effects model. B Seismol Soc Am 82(1):505–510

Abrahamson NA, Silva WJ, Kamai R (2014) Summary of the ASK14 ground motion relation for active crustal regions. Earthq Spectra 30(3):1025–1055

Berry M, Linoff G (1997) Data mining techniques: for marketing, sales and marketing support. Wiley, Hoboken

Boore DM, Stewart JP, Seyhan E, Atkinson GM (2014) NGA-West2 equations for predicting PGA, PGV, and 5% damped PSA for shallow crustal earthquakes. Earthq Spectra 30(3):1057–1085

Campbell KW (2003) Prediction of strong ground motion using the hybrid empirical method and its use in the development of ground-motion (attenuation) relations in eastern north america. B Seismol Soc Am 93(3):1012–1033

Campbell KW, Bozorgnia Y (2014) NGA-West2 ground motion model for the average horizontal components of PGA, PGV, and 5% damped linear acceleration response spectra. Earthq Spectra 30(3):1087–1115

Chadha R, Srinagesh D, Srinivas D, Suresh G, Sateesh A, Singh S, Pérez-Campos X, Suresh G, Koketsu K, Masuda T et al (2015) CIGN, a strong-motion seismic network in central indo-gangetic plains, foothills of himalayas: first results. Seismol Res Lett 87(1):37–46

Chiou BSJ, Youngs RR (2014) Update of the chiou and youngs nga model for the average horizontal component of peak ground motion and response spectra. Earthq Spectra 30(3):1117–1153

Cornell CA (1968) Engineering seismic risk analysis. B Seismol Soc Am 58(5):1583–1606

Derras B, Bard PY, Cotton F (2014) Towards fully data driven ground-motion prediction models for europe. B Earthq Eng 12(1):495–516

Dhanya J, Raghukanth STG (2018) Ground motion prediction model using artificial neural network. Pure Appl Geophys 175(3):1035–1064

Douglas J (2018) Ground motion prediction equations 1964–2018. University of Strathclyde, Glasgow

Garson GD (1991) Interpreting neural-network connection weights. AI Expert 6(4):46–51

GSI (2000) Seismotectonic atlas of India and its environs. Geological Survey of India

Gupta I (2018) Uniformly processed strong motion database for himalaya and northeast region of india. Pure Appl Geophys 175(3):829–863

IBC I (2015) International building code. International Code Council, Inc (formerly BOCA, ICBO and SBCCI)

Iyengar R, Raghukanth STG (2004) Attenuation of strong ground motion in Peninsular India. Seismol Res Lett 75(4):530–540

Kiureghian AD, Ang AH (1977) A fault-rupture model for seismic risk analysis. B Seismol Soc Am 67(4):1173–1194

Kramer SL (1996) Geotechnical earthquake engineering. In: Hall WJ (ed) Prentice-hall international series in civil engineering and engineering mechanics. Prentice-Hall, Upper Saddle River

Kumar A, Harinarayan N, Verma V, Anand S, Borah U, Bania M (2018) Seismic site classification and empirical correlation between standard penetration test n value and shear wave velocity for guwahati based on thorough subsoil investigation data. Pure Appl Geophys 175(8):2721–2738

Muthuganeisan P (2017) Development of seismic displacement and velocity hazard maps of India. Ph.D. thesis, Indian Institute of Technology Madras

NDMA (2010) Development of probabilistic seismic hazard map of India. The National Disater Management Authority, p 86

Pezeshk S, Zandieh A, Tavakoli B (2011) Hybrid empirical ground-motion prediction equations for eastern north america using nga models and updated seismological parameters. B Seismol Soc Am 101(4):1859–1870

Raghucharan M, Somala SN (2017) Simulation of strong ground motion for the 25 April 2015 Nepal (Gorkha) Mw 7.8 earthquake using the SCEC broadband platform. J Seismol 21(4):777–808

Raghukanth STG, Kavitha B (2014) Ground motion relations for active regions in india. Pure Appl Geophys 171(9):2241–2275

Satyam DN, Rao K (2010) Multi channel analysis of surface wave (MASW) testing for dynamic site characterization of Delhi region. In: Fifth international conference on recent advances on geotechnical earthquake engineering and soil dynamics and symposium in honor of Professor I. M. Idriss. 24–29 May 2010, San Diago, CA

Sharma ML, Douglas J, Bungum H, Kotadia J (2009) Ground-motion prediction equations based on data from the Himalayan and Zagros regions. J Earthq Eng 13(8):1191–1210

Singh S, Srinagesh D, Srinivas D, Arroyo D, Pérez-Campos X, Chadha R, Suresh G, Suresh G (2017) Strong ground motion in the indo-gangetic plains during the 2015 Gorkha, Nepal, earthquake sequence and its prediction during future earthquakes. B Seismol Soc Am 107(3):1293–1306

Tavakoli B, Pezeshk S (2005) Empirical-stochastic ground-motion prediction for eastern North America. B Seismol Soc Am 95(6):2283–2296
Acknowledgements
I would like to acknowledge Dr. D. Srinagesh, Chief Scientist, National Geophysical Research Institute, (NGRI), Hyderabad, for providing the data of 2015 Nepal Earthquake recorded by CIGN network. This research has been supported by National Disaster Management Authority (NDMA) for the development of "Probabilistic seismic hazard map of India" under project no:RB1920CE465NDMA008344.
Ethics declarations
Conflict of interest
The authors declare that they have no conflict of interest.
Electronic supplementary material
Below is the link to the electronic supplementary material.
About this article
Cite this article
Dhanya, J., Raghukanth, S.T.G. Neural network-based hybrid ground motion prediction equations for Western Himalayas and North-Eastern India. Acta Geophys. 68, 303–324 (2020). https://doi.org/10.1007/s11600-019-00395-y
Received:

Accepted:

Published:

Issue Date:

DOI: https://doi.org/10.1007/s11600-019-00395-y
Keywords
Western Himalayas

North-Eastern India

GMPE

Hybrid ANN