Abstract
Owing to treatment complexity in chemotherapy administration, nurses are usually required at the beginning, end, and at certain times during the treatment period to ensure high-quality infusion. It is, thus, critical for an outpatient chemotherapy unit to design a scheduling template that can effectively match nursing resources with treatment requirements. The template contains appointment slots of different lengths and thus allows schedulers to place patients into these slots according to the provider's order. As the template is often used over a period of several months, there usually exists a mismatch between the daily patient mix and the fixed structure of the given template. Hence, override policies must be employed to adjust to demand. However, these policies are often manually performed by schedulers. We propose a mixed-integer linear programming model to systematically develop optimal override policies in place of the manual process to improve template utilization while maintaining template stability. Numerical experiments based on real-life data from a chemotherapy unit are conducted to demonstrate the effectiveness of the proposed approach.
Access options
Buy single article
Instant access to the full article PDF.
USD 39.95
Price excludes VAT (USA)
Tax calculation will be finalised during checkout.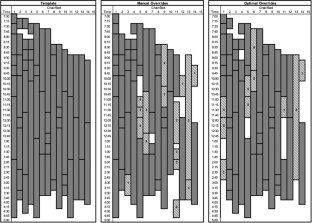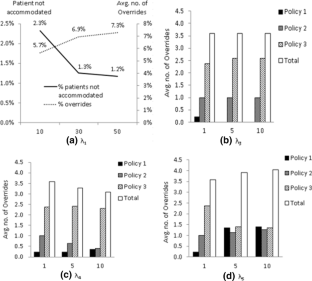 References
Bailey, N.T.: A study of queues and appointment systems in hospital out-patient departments, with special reference to waiting-times. Journal of the Royal Statistical Society. Series B (Methodological) pp. 185–199 (1952)

Berg, B.P., Denton, B.T., Erdogan, S.A., Rohleder, T., Huschka, T.: Optimal booking and scheduling in outpatient procedure centers. Comput. Oper. Res. 50, 24–37 (2014)

Cayirli, T., Veral, E.: Outpatient scheduling in health care: a review of literature. Prod. Oper. Manag. 12(4), 519–549 (2003)

Cayirli, T., Veral, E., Rosen, H.: Designing appointment scheduling systems for ambulatory care services. Health Care Manag. Sci. 9(1), 47–58 (2006)

Denton, B., Gupta, D.: A sequential bounding approach for optimal appointment scheduling. IIE Trans. 35(11), 1003–1016 (2003)

Erdogan, S.A., Denton, B.: Dynamic appointment scheduling of a stochastic server with uncertain demand. INFORMS J. Comput. 25(1), 116–132 (2013)

Fetter, R.B., Thompson, J.D.: Patients waiting time and doctors idle time in the outpatient setting. Health Serv. Res. 1(1), 66 (1966)

Gupta, D., Denton, B.: Appointment scheduling in health care: challenges and opportunities. IIE Trans. 40(9), 800–819 (2008)

Gurvich, I., Luedtke, J., Tezcan, T.: Staffing call centers with uncertain demand forecasts: a chance-constrained optimization approach. Manag. Sci. 56(7), 1093–1115 (2010)

Ho, C.J., Lau, H.S.: Minimizing total cost in scheduling outpatient appointments. Manag. Sci. 38(12), 1750–1764 (1992)

Huang, Y.L., Bach, S.M., Looker, S.A.: Chemotherapy scheduling template development using an optimization approach. Int. J. Health Care Quality Assur. 5, 19 (2019)

Huang, Y.L., Bryce, A.H., Culbertson, T., Connor, S.L., Looker, S.A., Altman, K.M., Collins, J.G., Stellner, W., McWilliams, R.R., Moreno-Aspitia, A., et al.: Alternative outpatient chemotherapy scheduling method to improve patient service quality and nurse satisfaction. J. Oncol. Practice 14(2), e82–e91 (2018)

Jiang, R., Ryu, M., Xu, G.: Data-driven distributionally robust appointment scheduling over wasserstein balls. arXiv preprint arXiv:1907.03219 (2019)

Kaandorp, G.C., Koole, G.: Optimal outpatient appointment scheduling. Health Care Manag. Sci. 10(3), 217–229 (2007)

Kall, P., Wallace, S.W.: Stochastic Programming. Springer, Berlin (1994)

Kong, Q., Lee, C.Y., Teo, C.P., Zheng, Z.: Scheduling arrivals to a stochastic service delivery system using copositive cones. Oper. Res. 61(3), 711–726 (2013)

Mak, H.Y., Rong, Y., Zhang, J.: Sequencing appointments for service systems using inventory approximations. Manuf. Serv. Oper. Manage. 16(2), 251–262 (2014)

Mak, H.Y., Rong, Y., Zhang, J.: Appointment scheduling with limited distributional information. Manag. Sci. 61(2), 316–334 (2015)

Muthuraman, K., Lawley, M.: A stochastic overbooking model for outpatient clinical scheduling with no-shows. IIE Trans. 40(9), 820–837 (2008)

Shen, S., Wang, J.: Stochastic modeling and approaches for managing energy footprints in cloud computing service. Serv. Sci. 6(1), 15–33 (2014)

Turkcan, A., Zeng, B., Lawley, M.: Chemotherapy operations planning and scheduling. IIE Trans. Healthcare Syst. Eng. 2(1), 31–49 (2012)

Zacharias, C., Pinedo, M.: Managing customer arrivals in service systems with multiple identical servers. Manuf. Serv. Oper. Manag. 19(4), 639–656 (2017)
Additional information
Publisher's Note
Springer Nature remains neutral with regard to jurisdictional claims in published maps and institutional affiliations.
About this article
Cite this article
Huang, YL., Sikder, I. & Xu, G. Optimal override policy for chemotherapy scheduling template via mixed-integer linear programming. Optim Lett 16, 1549–1562 (2022). https://doi.org/10.1007/s11590-021-01796-z
Received:

Accepted:

Published:

Issue Date:

DOI: https://doi.org/10.1007/s11590-021-01796-z
Keywords
Chemotherapy

Scheduling template

Override policy

Mixed-integer linear programming