Abstract
The emerging information technology of internet of things (IoT) has caught much attention from both theoretical research and production practice. The application of IoT in manufacturing industry can dramatically improve business process efficiency and promote organizational performance. However, firms tend to hesitate in the investment decisions, which poses great challenges to the IoT application progress. Besides the investment nature of long cycle and high risk, the "organizational factors" are also non-ignorable. A general organizational change model is first refined according to the organizational change of Jianghuai Auto Company when applying IoT. Based on the binomial lattice tree framework, we propose a two-stage real options model to solve the optimal investment problems in both stages of internal pilot and product life-cycle management (PLM) expansion. Investment costs and future benefits are considered to investigate the promoting effect of organizational factors in project implementation. This paper demonstrates the internal causes and significances of organizational change for IoT development project, which is also theoretically meaningful for explanation of real options approach in organizational area.
This is a preview of subscription content,
to check access.
Access this article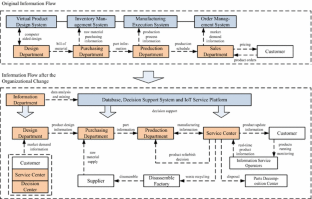 References
Hvistendahl, M.: China pushes the 'Internet of Things'. Science 336, 1223–1223 (2012)

Lim, M.K., Bahr, W., Leung, S.C.H.: RFID in the warehouse: a literature analysis (1995–2010) of its applications, benefits, challenges and future trends. Int. J. Prod. Econ. 145, 409–430 (2013)

Stratopoulos, T., Dehning, B.: Does successful investment in information technology solve the productivity paradox? Inform. Manage-Amster. 38, 103–117 (2000)

Qiang, Y., Lanli, Y., Lan, Z.: Relationship between IoT and economic growth: from an investment perspective. China. Commun. 8, 126–131 (2011)

Zhang, C., Dhaliwal, J.: An investigation of resource-based and institutional theoretic factors in technology adoption for operations and supply chain management. Int. J. Prod. Econ. 120, 252–269 (2009)

Challis, D., Samson, D., Lawson, B.: Impact of technological, organizational and human resource investments on employee and manufacturing performance: Australian and New Zealand evidence. Int. J. Prod. Res. 43, 81–107 (2005)

Dunbar, R.L.M., Starbuck, W.H.: Learning to design organizations and learning from designing them. Organ. Sci. 17, 171–178 (2006)

Ramezan, M.: Intellectual capital and organizational organic structure in knowledge society: how are these concepts related? Int. J. Inform. Manage. 31, 88–95 (2011)

Huang, Q., Davison, R.M., Gu, J.: Impact of personal and cultural factors on knowledge sharing in China. Asia. Pac. J. Manag. 25, 451–471 (2008)

Jacobs, G., Van, W.A., Christe-Zeyse, J.: A theoretical framework of organizational change. J. Organ. Change. Manag. 26, 772–792 (2013)

Fernandes, R., Gouveia, B., Pinho, C.: A real options approach to labour shifts planning under different service level targets. Eur. J. Oper. Res. 231, 182–189 (2013)

Wamba, S.F., Chatfield, A.T.: A contingency model for creating value from RFID supply chain network projects in logistics and manufacturing environments. Eur. J. Inform. Syst. 18, 615–636 (2009)

Lin, C.Y., Ho, Y.H.: An empirical study on the adoption of RFID technology for logistics service providers in China. Int. Bus. Res. 2, 23–36 (2009)

Strüker, J., Gille, D.: RFID adoption and the role of organizational size. Bus. Process Manag. J. 16, 972–990 (2010)

Sower, V.E., Abshire, R.D.: Radio frequency identification technology utilization and organizational agility. J. Comput. Inform. Syst. (2011)

Leonardi, P.M.: Activating the informational capabilities of information technology for organizational change. Organ. Sci. 18, 813–831 (2007)

Schwartz, E.: The real options approach to valuation: challenges and opportunities. Latin. Amer. J. Econ. 50, 163–177 (2013)

Shi, W., Min, K.J.: Product remanufacturing: a real options approach. IEEE. T. Eng. Manage. 61, 237–250 (2014)

Custódio, C., Metzger, D.: Financial expert CEOs: CEO' s work experience and firm' s financial policies. J. Financ. Econ. 114, 125–154 (2014)

Almeida, H., Philippon, T.: The risk-adjusted cost of financial distress. J. Financ. 62, 2557–2586 (2007)

Cassimon, D., Engelen, P.J., Yordanov, V.: Compound real option valuation with phase-specific volatility: a multi-phase mobile payments case study. Technovation 31, 240–255 (2011)

Slade, M.E.: Valuing managerial flexibility: an application of real-option theory to mining investments. J. Environ. Econ. Manag. 41, 193–233 (2001)

Benaroch, M.: Managing information technology investment risk: a real options perspective. J. Manage. Inform. Syst. 19, 43–84 (2002)

Willigers, B.J.A., Hansen, T.L.: Project valuation in the pharmaceutical industry: a comparison of least- squares Monte Carlo real option valuation and conventional approaches. R&D Manage. 38, 520–537 (2008)

Grundfest, J.A., Huang, P.H.: The unexpected value of litigation: a real options perspective. Stanford. Law. Rev. 58, 1267–1336 (2006)

Gilroy, B.M., Lukas, E.: The choice between greenfield investment and cross-border acquisition: a real option approach. Q. Rev Econ. Financ. 46, 447–465 (2006)

Kyläheiko, K., Sandström, J.: Strategic options-based framework for management of dynamic capabilities in manufacturing firms. J. Manuf. Tech. Manage. 18, 966–984 (2007)

Li, Y., James, B.E., Madhavan, R., et al.: Real options: taking stock and looking ahead. Adv. Strateg. Manag. 24, 31–66 (2007)

Wang, J., Hwang, W.L.: A fuzzy set approach for R&D portfolio selection using a real options valuation model. Omega-Int. J. Manage. S. 35, 247–257 (2007)

Collan, M., Fullér, R., Mezei, J.: A fuzzy pay-off method for real option valuation. J. Appl. Math. Decis. Sci. (2009). doi:10.1155/2009/238196

Chevalier-Roignant, B., Flath, C.M., Huchzermeier, A., et al.: Strategic investment under uncertainty: a synthesis. Eur. J. Oper. Res. 215, 639–650 (2011)

Copeland, T., Antikarov, V.: Real Options. Texere, New York (2001)

Copeland, T., Tufano, P.: A real-world way to manage real options. Harvard Bus. Rev. 82, 90–99 (2004)

Smith, J.E.: Alternative approaches for solving real-options problems: (Comment on Brandão, et al.: 2005). Decision Anal. 2, 89–102 (2005)

Hayya, J.C., Ramasesh, R.V., Tyworth, J.G., et al.: JIT delivery with stochastic lead time. J. Oper. Res. Soc. 64, 97–105 (2013)

Geunes, J., Pardalos, P.M.: Network optimization in supply chain management and financial engineering: an annotated bibliography. Networks. 42, 66–84 (2003)

Manzini, R., Gamberi, M., Gebennini, E., et al.: An integrated approach to the design and management of a supply chain system. Int. J. Manuf. Tech. 37, 625–640 (2008)

Bousquin, J., Gambeta, E., Esterman, M., et al.: Life cycle assessment in the print industry. J. Ind. Ecol. 16, S195–S205 (2012)

Tempelmeier, H.: A multi-level inventory system with a make-to-order supplier. Int. J. Prod. Res. 51, 6880–6890 (2013)

Gatheral, J., Schied, A.: Optimal trade execution under geometric Brownian motion in the Almgren and Chriss framework. Int. J. Theor. Appl. Financ. 14, 353–368 (2011)
Acknowledgments
This work is supported by National Nature Science Foundation of China (Nos. 71231004, 71521001, 71171071, 71501058 and 71571060), Anhui Province Natural Science Foundation (No. 1608085QG167) and the Humanities and Social Sciences Foundation of the Chinese Ministry of Education (No. 15YJC630097). Panos M. Pardalos is partially supported by the project of "Distinguished International Professor by the Chinese Ministry of Education" (MS2014HFGY026).
About this article
Cite this article
Zhou, Z., Liu, X., Pei, J. et al. Real options approach to explore the effect of organizational change on IoT development project. Optim Lett 11, 995–1011 (2017). https://doi.org/10.1007/s11590-016-1006-8
Received:

Accepted:

Published:

Issue Date:

DOI: https://doi.org/10.1007/s11590-016-1006-8
Keywords