Abstract
A new composite solid polymer electrolyte (SPE) PPC-PEO 10 W [5:5]-1%wt LAGP with high conductivity is successfully prepared. The relationships between the conductivities and compositions are systematically characterized. The optimal composite polymer electrolyte presents a maximum conductivity of 8.39 × 10−4 S cm−1 with a 4.5 V electrochemical window and excellent stability with lithium at 60 °C. The relevant mechanisms of the conductivity improvement are studied. Finally, the all-solid-state lithium battery (ASSLB) LiFePO4/Li cells are assembled and the initial discharge specific capacities of the cells are 152.9, 135.1, 114.9, and 99.1 mAh g−1 at 0.1, 0.2, 0.5, and 1 C at 60 °C, respectively. The LFP/Li cells show good discharge retentions of 88.2% (~ 103.1 mAh g−1) after 700 cycles at 0.5 C and 73.4% after 500 cycles at 1 C. This work presents a promising composite polymer electrolyte for ASSLBs, which is a highly attractive candidate for practical application.
Access options
Buy single article
Instant access to the full article PDF.
USD 39.95
Price excludes VAT (USA)
Tax calculation will be finalised during checkout.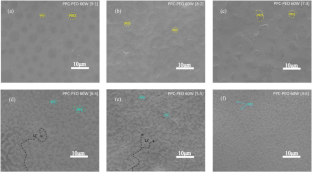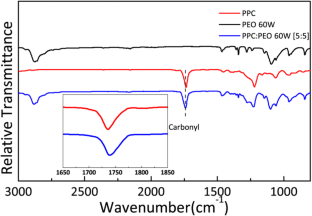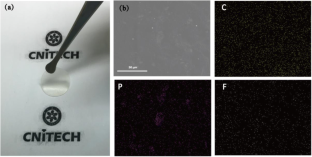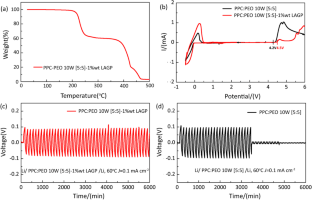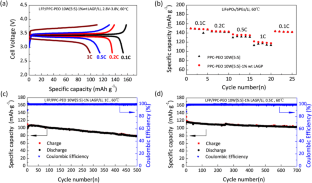 Funding
The work was supported by funding from the National Key R&D Program of China (Grant No. 2016YFB0100105), the Strategic Priority Program of the Chinese Academy of Sciences (Grant No. XDA09010201), the National Natural Science Foundation of China (Grant No. 51502317), Zhejiang Provincial Natural Science Foundation of China (Grant No. LQ16E020003, LY18E020018, LY18E030011, LD18E020004), and Youth Innovation Promotion Association of the Chinese Academy of Sciences (Grant No. 2017342).
Additional information
Publisher's note
Springer Nature remains neutral with regard to jurisdictional claims in published maps and institutional affiliations.
Electronic supplementary material
About this article
Cite this article
Wang, Z., Gu, H., Wei, Z. et al. Preparation of new composite polymer electrolyte for long cycling all-solid-state lithium battery. Ionics 25, 907–916 (2019). https://doi.org/10.1007/s11581-019-02852-6
Received:

Revised:

Accepted:

Published:

Issue Date:

DOI: https://doi.org/10.1007/s11581-019-02852-6
Keywords