One-step synthesis of PEDOT-PSS●TiO2 by peroxotitanium acid: a highly stable electrode for a supercapacitor
Abstract
Pseudo capacitors can reserve high energy and power densities with a high efficiency, and a long life period. In this work, a hybrid material of poly (3,4-ethylenedioxythiophene) (PEDOT)-poly(4-styrene sulfonic acid) (PSS)-titanium dioxide (TiO2) was synthesized by the facile one-pot method by novel and low-cost oxidant peroxotitanium acid (PTiA) for the first time. PTiA acts as both oxidant and source for TiO2. XRD, EDAX, and XPS analysis supported the formation of the hybrid material. The hybrid material showed bundles of nanofibers morphology and stable up to 315 °C. This hybrid material was explored as a stable electrode material in symmetric supercapacitor cell configuration. This device showed a specific capacitance (SC) of 162 F g−1 at a current density of 0.25 A g−1. Subjected the call for 38,000 charge–discharge (CD) cycles at a higher current density of 1.25 A g−1 and it showed 52% retention of initial capacitance (125 F g−1).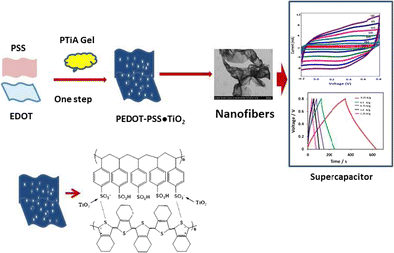 Keywords
Capacitors 
XRD 
Electrochemical characterizations 
Thermal analyses 
Notes
Acknowledgements
We are thankful to Dr. S. Chandrasekhar, Director, Dr. T. Shekharam, Head, PFM Division, CSIR-IICT, Hyderabad for their support.
Funding information
We thank CSIR, New Delhi under the TAPSUN program (NWP-0056) for funding.
Copyright information
© Springer-Verlag GmbH Germany 2017