Polyol technique synthesis of Nb2O5 coated on LiFePO4 cathode materials for Li-ion storage
Abstract
A novel approach has been made to tailor Niobium pentoxide (Nb2O5) as a coating material on the surface of lithium iron phosphate (LiFePO4) via a facile polyol technique. The coating content was optimized at 1 wt%. The superficial coating demonstrated superior discharge capacity than the pristine LiFePO4. However, increasing the coating content further would result in a capacity loss. This may be due to the electrochemical inactiveness that increases with the content of the coating material, and 1 wt% of Nb2O5-coated LiFePO4 sample exhibits initial discharge capacity of 163 mAh g−1 at a current of 0.1 C and retains a stable discharge capacity of 143 mAh g−1 up to 400 cycles at 1 C rate with a coulombic efficiency of 98%.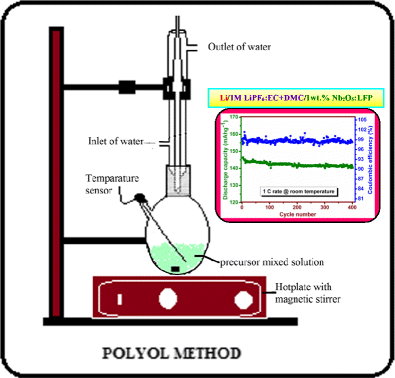 Keywords
Lithium iron phosphate 
Polyol technique 
Discharge capacity 
Notes
Funding information
One of the authors M.Sivakumar gratefully acknowledges for the financial support to carry out this work by Department of Science and Technology (DST), New Delhi, Government of India under DST-SERC major research project whose contract number is SR/S2/CMP-0049/2008.
Copyright information
© Springer-Verlag GmbH Germany 2017