Fabrication and characterization of next generation nano-structured organo-lead halide-based perovskite solar cell
Abstract
Generation of alternative source of energy is one of the talks of the present decade. In the present work, the focus has been given to produce energy from perovskite-based solar cells. For this purpose, a unique and novel nano-structured perovskite material ethyl ammonium lead chloride (C2H5NH3 +PbCl3 −) was prepared through a novel co-precipitation route using ethyl amine (C2H5NH2) and hydrochloric acid as the starting precursors with aqueous solution of Pb(CH3COO)23H2O. Finally acetic acid was added in the solution, and this solution was allowed to concentrate and cooled down at room temperature. Then the synthesized material was deposited over TiO2 film in order to fabricate the solar cell. Systematic study using XRD, SEM, UV, and photo conversion were conducted to properly analyze the structural, optical, and electrical properties of device. In the presence of light, this perovskite-based solar cell has shown energy conversion efficiency (η) of around 5.2% which is appreciably good. This result has depicted that this material is promising material for fabrication of highly efficient solar cells. This technology can be applied in industrial scale as substitute of the conventional energy in the future.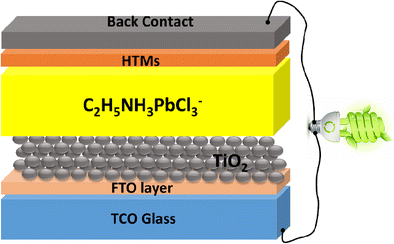 Keywords
Energy 
Band gap 
Solar cell 
Perovskite materials 
Notes
Acknowledgements
Dr. Rohit L. Vekariya was thankful to Ton Duc Thang University (TDTU-DEMASTED) for financial support.
Compliance with ethical standards
Conflict of interest
The authors declare that they have no conflict of interest.
Copyright information
© Springer-Verlag GmbH Germany 2017