Abstract
Amorphous and crystalline hybrid structure Co2SnO4/C composites have been prepared by a facile way using coprecipitation process and high-energy ball milling technology. Electrochemical performance tests show that the composite anodes could maintain reversible capacity of higher than 550 mAh g−1 up to 100 cycles, much better than that of pure Co2SnO4 (194.1 mAh g−1). These materials also present better rate performance with fairly stable capacity retention when the current ranges from 100 to 500 mA g−1. Impedance measurements confirm that these composites are more beneficial for lithium diffusion compared to pure Co2SnO4. The graphite carbon not only buffers the volume expansion-related cracking but also provides excellent conductivity for this material.
Access options
Buy single article
Instant access to the full article PDF.
US$ 39.95
Tax calculation will be finalised during checkout.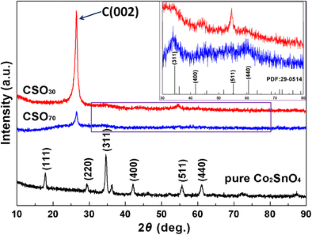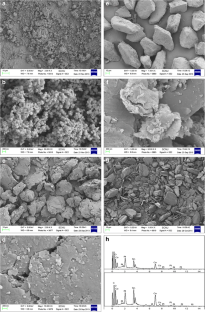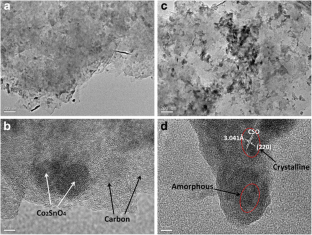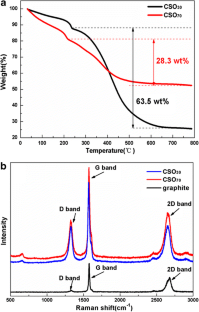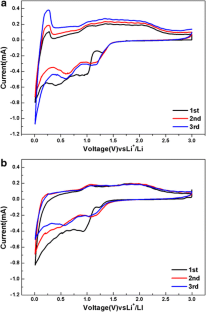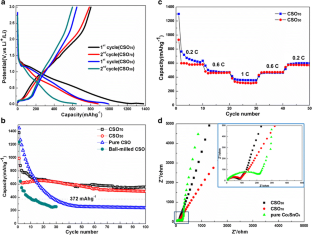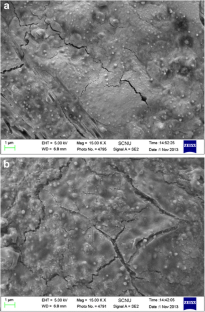 References
1.

Kang B, Ceder G (2009) Nature 458:190

2.

Palanichamy K (2011) Ionics 17:391

3.

Zhang QF, Uchaker E, Candelariaza SL, Cao GZ (2013) Chem Soc Rev 42:3127

4.

Wang DW, Wu MH, Wang QH, Wang TM, Chen J (2011) Ionics 17:163

5.

Jeong GJ, Kim YU, Kim H, Kim YJ, Sohn HJ (2011) Energy Environ Sci 4:1986

6.

Chen XB, Gratzel CLM, Kosteckid R, Mao SS (2012) Chem Soc Rev 41:7909

7.

Connor PA, Irvine JTS (2001) J Power Sources 97:223

8.

Lei SJ, Tang KB, Chen CH, Jin Y, Zhou L (2009) Mater Res Bull 44:393

9.

Song WT, Xie J, Hu WY, Liu SY, Cao GS, Zhu TJ, Zhao XB (2013) J Power Sources 229:6

10.

Qi Y, Du N, Zhang H, Wu P, Yang DR (2011) J Power Sources 196:10234

11.

Wang G, Gao XP, Shen PW (2009) J Power Sources 192:719

12.

Wang G, Liu ZY, Liu P (2011) Electrochim Acta 56:9515

13.

Lee WW, Lee JM (2015) J Mater Chem A. doi:10.1039/c3ta12830j

14.

Wu HB, Chen JS, Hng HH, Lou XW (2012) Nanoscale 4:2526

15.

Shamirian A, Edrisi M, Naderi M (2013) J Mater Eng Perform 22:306

16.

Chan CK, Peng HL, Liu G, McIlwrath K, Zhang XF, Huggins RA, Cui Y (2008) Nat Nanotech 3:31

17.

Hatchard TD, Dahn JR (2004) J Electrochem Soc 151:A838

18.

Epur R, Ramanathan M, Beck FR, Manivannan A, Kumta PN (2012) Mater Sci EngB 177:1157

19.

Tong YF, Xu Z, Liu C, Zhang GA, Wang J, Wu ZG (2014) J Power Sources 247:78

20.

Yin YJ, Wu P, Zhang H, Cai CX (2012) Electrochem Commun 18:1

21.

Huang L, Zheng XM, Wu YS, Xue LJ, Ke FS, Wei GZ, Sun SG (2009) Electrochem Commun 11:585

22.

Guo JC, Chen XL, Wang CS (2010) J Mater Chem 20:5035

23.

McCann JT, Lim B, Ostermann R, Rycenga M, Marquez M, Xia YN (2007) Nano Lett 7:2470

24.

Yoon YS, Jee SH, Lee SH, Nam SC (2011) Surf Coat Technol 206:553

25.

Nanda J, Datta MK, Remillard JT, O'Neill A, Kumta PN (2009) Electrochem Commun 11:235

26.

Alcantara R, Ortiz GF, Lavela P, Tirado JL (2006) Electrochem Commun 8:731

27.

Zheng SF, Hu JS, Zhong LS, Song WG, Wan LJ, Guo YG (2008) Chem Mater 20:3617

28.

Rong A, Gao XP, Li GR, Yan TY, Zhu HY, Qu JQ, Song DY (2006) J Phys Chem B 110:14754

29.

Yang SB, Song HH, Chen XH (2006) Electrochem Commun 8:137

30.

Huang XH, Tu JP, Zhang CQ, Xiang JY (2007) Electrochem Commun 9:1180

31.

Ha J, Park SK, Yu SH, Jin AH, Jang B, Bong S, Kim I, Sung YE, Piao YZ (2013) Nanoscale 5:8647

32.

Zhang ZL, Zhang MJ, Wang YH, Tan QQ, Lv X, Zhong ZY, Li H, Su FB (2013) Nanoscale 5:5384
Acknowledgments
This work was supported by the National Natural Science Foundation of China (Grant Nos. 51101062 and 51171065); Science and Technology Project of Guangzhou City, China (Grant No. 2011 J4100075); Foundation for Distinguished Young Talents in Higher Education of Guangdong, China (Grant No. LYM09052); China Scholarship Council (No. 201308440314); Extracurricular Science Foundation for Students in South China Normal University of Guangdong, China (Grant No. 13WDGB03); The Scientific Research Foundation of Graduate School of South China Normal University (Grant No. 2013KYJJ039); Guangdong Natural Science Foundation (Grant Nos. S2012020010937, 10351063101000001, and 2014A030313436); Guangdong Engineering Technology Research Center of Low Carbon and Advanced Energy Materials, Guangzhou 510631, China; and University-Industry Cooperation Projects of Guangdong Province, Ministry of Education and Science & Technology (Grant No. 2011A091000014).
About this article
Cite this article
An, B., Ru, Q., Hu, S. et al. Enhanced electrochemical performance of nanomilling Co2SnO4/C materials for lithium ion batteries. Ionics 21, 2485–2493 (2015). https://doi.org/10.1007/s11581-015-1437-8
Received:

Revised:

Accepted:

Published:

Issue Date:
Keywords
Lithium ion battery

Anode material

Co2SnO4/C composite

Nanomilling