Abstract
Anhydrous polymer electrolyte membranes with cross-linked structure have been prepared based on poly(vinyl alcohol-co-ethylene) (PVA-co-PE) copolymer. The PVA units of copolymer served to induce thermal cross-linking with 4,5-imidazole dicarboxylic acid (IDA) via esterification while PE units controlled the membrane swelling and the mechanical properties of films. Upon doping with phosphoric acid (PA, H3PO4) to form imidazole-PA complexes, the proton conductivity of membranes continuously increased with increasing PA content. As a result, proton conductivity reached 0.01 S/cm at 100 °C under anhydrous conditions. X-ray diffraction analysis revealed that both the d-spacing and crystalline peak of membranes were reduced upon introduction of IDA/PA due to the cross-linking effect. The PVA-co-PE/IDA/PA membranes exhibited good mechanical properties, e.g., 150 MPa of Young's modulus, as determined by a universal testing machine. Thermal gravimetric analysis also represented that the thermal stability of membranes was increased up to 200 °C upon introduction of IDA/PA.
This is a preview of subscription content, log in to check access.
Access options
Buy single article
Instant access to the full article PDF.
US$ 39.95
Price includes VAT for USA
Subscribe to journal
Immediate online access to all issues from 2019. Subscription will auto renew annually.
US$ 99
This is the net price. Taxes to be calculated in checkout.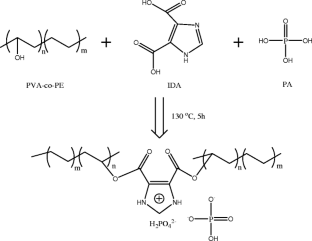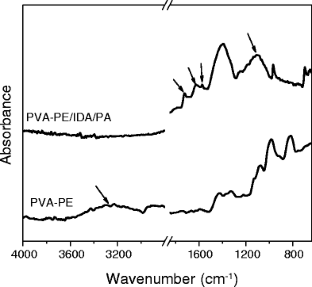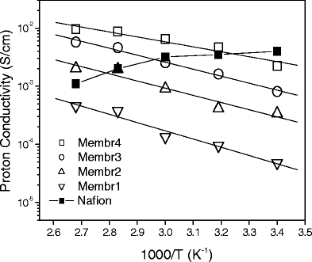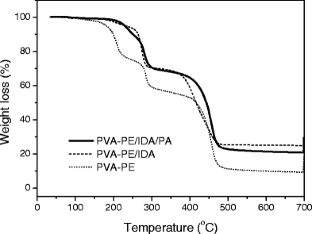 References
1.

Mikhailenko SD, Wang KP, Kaliaguine S, Xing PX, Robertson GP, Guiver MD (2004) J Membr Sci 233:93

2.

Nasef MM, Zubir NA, Ismail AF, Dahlan KZM, Saidi H, Khayet M (2006) J Power Sources 156:200

3.

Ismail AF, Zubir N, Nasef MM, Dahlan KM, Hassan AR (2005) J Membr Sci 254:189

4.

Smitha B, Sridhar S, Khan AA (2003) J Membr Sci 225:63

5.

Smitha B, Sridhar S, Khan AA (2005) J Membr Sci 259:10

6.

Itoh T, Hirai K, Tamura M, Uno T, Kubo M, Aihara Y (2008) J Power Sources 178:627

7.

Ünügür Çelik S, Bozkurt A (2008) Eur Polym J 44:213

8.

Ünügür Çelik S, Akbey U, Bozkurt A, Graf R, Spiess HY (2008) Macromol Chem Phys 209:593

9.

Yamada M, Honma I (2005) Electrochim Acta 50:2837

10.

Yamada M, Honma I (2005) Polymer 46:2986

11.

Di Vona ML, D'Epifanio A, Marani D, Trombetta M, Traversa E, Licoccia S (2006) J Membr Sci 279:186

12.

Kopitzke RW, Linkous CA, Anderson HR, Melson GL (2000) J Electrochem Soc 147:1677

13.

Wang JT, Lin WF, Weber M, Wasmus S, Savinell RF (1998) Electrochim Acta 43:3821

14.

Schuster M, Meyer WH, Wegner G, Herz HG, Ise M, Schuster M (2001) Solid State Ionics 145:85

15.

Sun J, MacFarlane DR, Forsyth M (2001) Electrochim Acta 46:1673

16.

Mabh S, Noda A, Mitsushima S, Watanabe M (2003) Chem Commun 938

17.

Kim YW, Choi JK, Park JT, Kim JH (2008) J Membr Sci 313:315

18.

Lee DK, Kim YW, Choi JK, Min BR, Kim JH (2008) J Appl Polym Sci 107:819

19.

Kim DS, Park HB, Rhim JW, Lee YM (2004) J Membr Sci 240:37

20.

Park JT, Lee KJ, Kang MS, Kang YS, Kim JH (2007) J Appl Polym Sci 106:4083

21.

Bozkurt A, Meyer HW (2001) Solid State Ionics 138:259

22.

Rajendran S, Sivakumar M, Subadevi R (2004) Solid State Ionics 167:335

23.

Asensio JA, Gomez-Romero P (2005) Fuel Cells 5:336
Acknowledgment
This work was supported by the Korea Science and Engineering Foundation (KOSEF) grant funded by the Korea government (MEST) (R01-2008-000-10112-0) and (MOEHRD, Basic Research Promotion Fund) (KRF-2008-331-D00152).
About this article
Cite this article
Ahn, S.H., Lee, D.K., Seo, J.A. et al. Preparation and characterization of anhydrous polymer electrolyte membranes based on poly(vinyl alcohol-co-ethylene) copolymer. Ionics 16, 475–480 (2010). https://doi.org/10.1007/s11581-009-0412-7
Received:

Revised:

Accepted:

Published:

Issue Date:
Keywords
Polymer electrolyte membrane

Anhydrous

Cross-linking

Proton conductivity

Fuel cells